CryptoBridge Exchange Reviews (CLOSED)
May 29, 2020
Update 31.01.2020:
Cryptobridge exchange has been closed! In December of 2019 CryptoBridge announced that it's going to stop functioning providing 2 weeks for the users to withdraw all their funds. Below you can see an exchange review written before the shutdown of the exchange.
CryptoBridge is a decentralized cryptocurrency exchange. It would be more accurate to say that this platform is a gateway to the Bitshares decentralized exchange. It features a wide range of supported altcoins (there are about 80 currencies available for trading). Some of these currencies are well-established and popular while others are quite new and not widely known. The company stresses that one of CryptoBridge's missions is to connect traders with new projects.
Moreover, there's a statement on the platform's website saying that the target audience of CryptoBridge is traders frustrated over the numerous problems associated with centralized exchanges. They include bad performance, hacks, price manipulations, stealing, and government intrusions. The company is going to establish a multi-signature Federated Gateway network for investments. The exchange is based on the Graphene blockchain and is available online but also can be used through the application.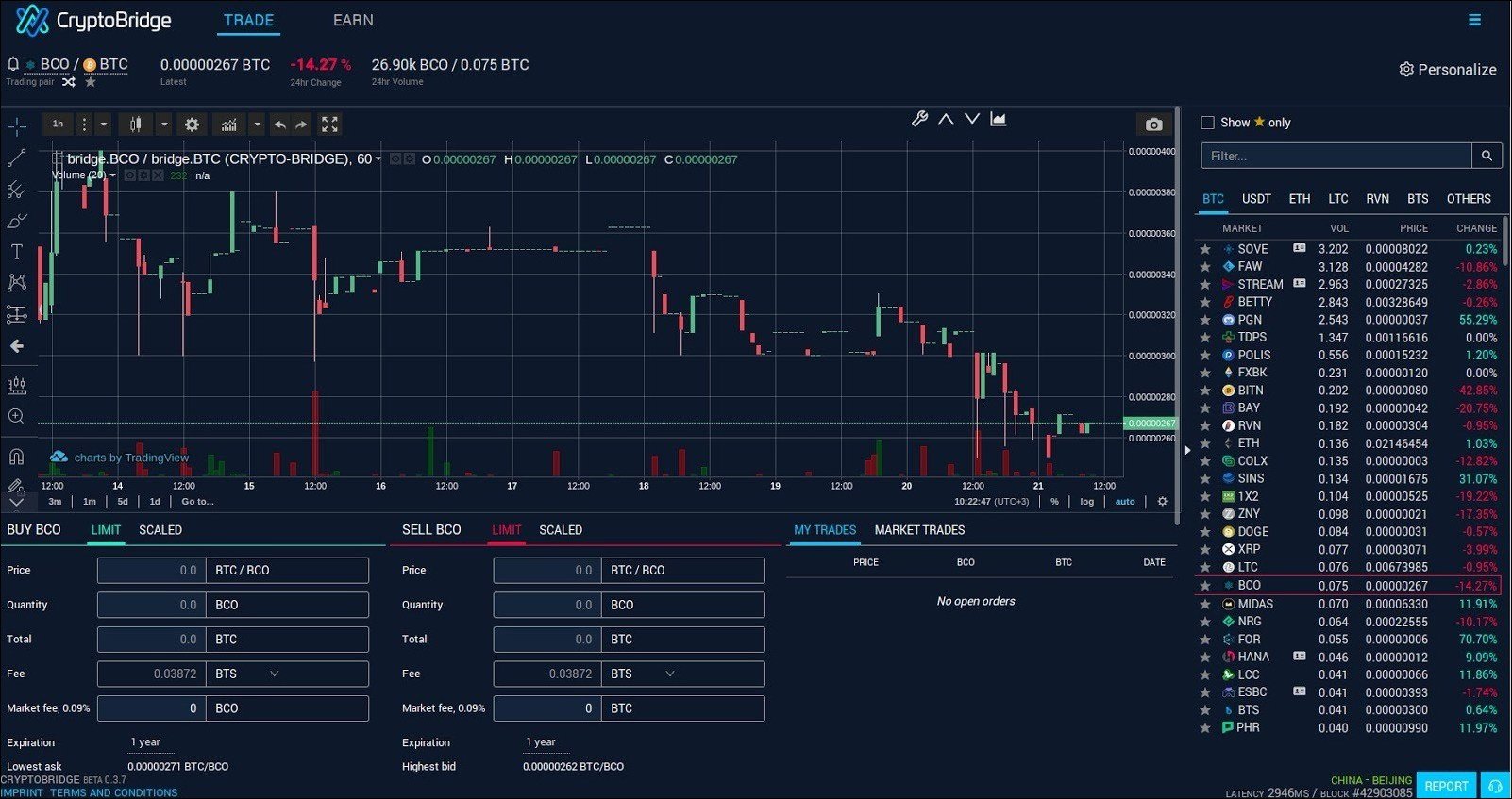 CryptoBridge Overview
CryptoBridge exchange was founded in 2017. Some reviews claim that the platform was created in the US, although there are no straight facts to defend this point of view. There is no distinct information on the team standing behind this project. Neither the website nor the reviews reflect on the location of the headquarters and the identities of the founders. Nevertheless, one can contact the CoinBridge team via Discord channel or Twitter.
On November 19, 2019, the Bitcoin market trading volume on CryptoBridge was $149,995 USD. There's no info concerning the limitations of the use of the exchange in different countries. Probably the CryptoBridge is available in any country where traders can use cryptocurrency exchanges legally using their real credentials as CryptoBridge is KYC-compliant.
To date, CryptoBridge supports dozens of cryptocurrencies including Bitcoin (BTC), Ethereum (ETH), Bitcoin Cash (BCH), Litecoin (LTC), Verge (XVG), Ripple (XRP), Dash (DASH), Tether (USDT), FOIN (FOIN), PGN (PGN), Polis (POLIS), Raven Coin (RVN), Phore (PHR), $PAC (PAC), BitBay (BAY), Deviant Coin (DEV), Midas (MIDAS), 1X2 (1X2), ALQO (ALQO), Birake (BIR), TRTT (TRTT), SafeInsure (SINS), Monkey Project (MONK), Bitcoin Green (BITG), Electra (ECA), Bulwark (BWK), Stakinglab (LABX), Sand Coin (SND), KLKS (KLKS), Litecoin Cash (LCC), Dogecash (DOGEC), Beetle Coin (BEET), SmartCash (SMART), Seedcoin (XSD), DogeCoin (XDOGE), LOBS (LOBS), Hanacoin (HANA), Stipend (SPD), PIVX (PIVX), BridgeCoin (BCO), Gentarium (GTM), FORCE (FOR), NRG (NRG), COTN (COTN), Bitzeny (ZNY), Vertcoin (VTC), Apollo Coin (XAP), Sumokoin (SUMO), Social Send (SEND), PAWS Fund (PAWS), ColossusCoinXT (COLX), Flash (FLASH), GRV (GRV), Trollcoin (TROLL), ZClassic (ZCL), MonaCoin (MONA), Market Arbitrage Coin (MARC), APR (APR), DigiByte (DGB), UFO Coin (UFO), Argoneum (AGM), Mobius (MOBI), TrezarCoin (TZC), Northern (NORT), Know Your Developer (KYD), Impleum (IMPL), SHIELD (XSH), Bitcoin Atom (BCA), Plus One Coin (PLUS), GoByte (GBX), HTH (HTH), Polymath Network (POLY), XDNA (XDNA), ACED (ACED), Altbet (ABET), CATO (CATO), GIN (GIN), Desire (DSR), AXS (AXS), LUXCoin (LUX), Vitae (VITAE), FolmCoin (FLM), VIVO (VIVO), Aegeus (AEG), EVOS (EVOS), Garlicoin (GRLC), NEETCOIN (NEET), XMN (XMN), Printerium (PRX), SUQA (SUQA), EPIC (EPIC), ZCore (ZCR), CARE (CARE), LUCKY (LUCKY), Madcoin (MDC), MERO (MERO), ECC (ECC), XXX (XXX), Hilux (HLX), SHARD (SHARD), DachCoin (DACHX), CTS Coin (CTSC), Beacon (BECN), Coin2Play (C2P), Infinex (IFX), TSC (TSC), Exus Coin (EXUS), NoLimitCoin (NLC), Monoeci (XMCC), ToaCoin (TOA), Dynamic (DYN), Sequence (SEQ), Shekel (JEW), OP Coin (OPC), STRAKS (STAK), Medic Coin (MEDIC), Stone Coin (STONE), Qbic (QBIC), ZCoin (XZC), PinkCoin (PINK), CheeseCoin (CHEESE), Crave (CRAVE), and many others.
CryptoBridge Features
CryptoBridge has most of the features typical for DEXs (decentralized exchanges). The order book is hosted on the blockchain, the platform staff has no access to the users' private keys, and it's almost impossible to hack the exchange.
BitShates network boasts a fascinating performance of 100,000 transactions per second. Just for comparison, VISA makes 24,000 transactions per second at best (some dispute this figure). It means that the poor performance can't be the case on CryptoBridge. It is considered that the transaction processing on CryptoBridge takes 3 seconds.
This exchange doesn't use the only gateway of BitShares. Instead, it leans on an amalgamation of numerous gateways of the distributed BitShares network. It is believed that the way this system is organized makes it immune to any known jeopardy.
CryptoBridge has its own coin, a native token called BridgeCoin (BCO). This currency is used to raise money for further development of the exchange. The BridgeCoin holders can stake their coins to receive the rewards from the network (up to 50% of the income made by the exchange).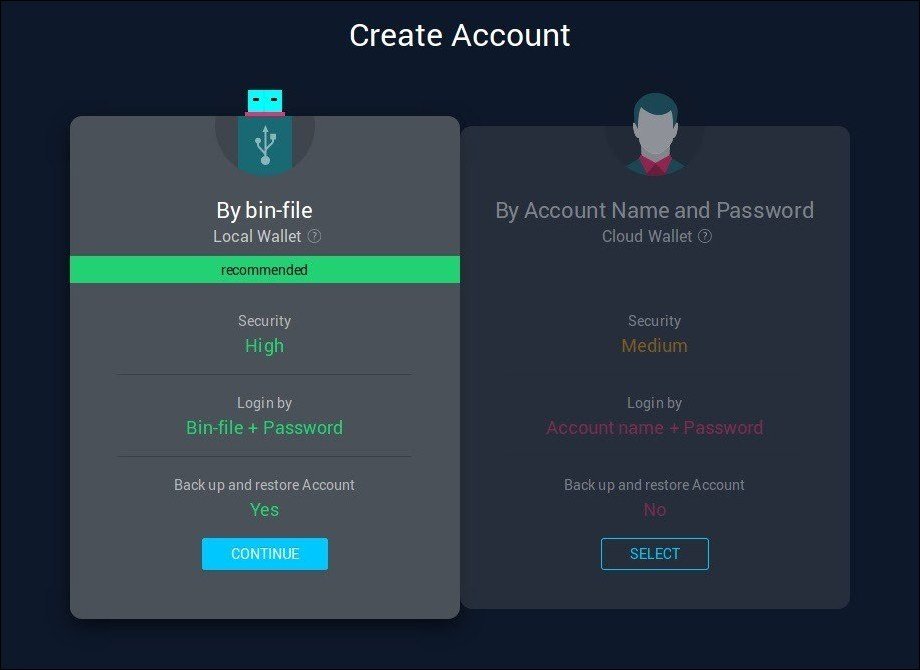 To trade on CryptoBridge one must use a BitShares account. Happily, it can be created via the CryptoBridge interface. Each potential trader should decide on the account type as there are two options: an account with a cloud wallet and the account with a local wallet.
The cloud wallet can be created faster. Moreover, it can be accessed from any device and any location. The trader should insert the correct pair of a user name and a password to enter the account. There's no way to backup the cloud account and its prone to brute force attacks. That's why the platform recommends creating a local wallet.
The local wallet can be accessed only from a single device or browser but it has much better security. The owner can use a backup option or a brainkey to change the browser or device associated with the account and wallet. Such wallets can be accessed via Bin-file and password.
The same login credentials are relevant both for desktop client and web browser versions of the exchange. The web interface is compatible both with a cloud account and a local account. The local (desktop) client provides stronger security but puts a limitation over the use of multiple devices and browsers. It is possible to create more than one account on CryptoBridge. One needs to create several cloud wallets and import the private keys to a local wallet.
To make the trading process faster this exchange is using Contracts for Difference (or CFDs). So in the process of trading traders don't actually buy and sell the coins specified in their orders but derivative assets associated with these coins.
The exchange interface is intuitive and conventional. If you've seen other exchanges you will probably find the CryptoBridge interface quite familiar. There are many available tools for manipulations with the graphs. XABCD Pattern can be changed to Triangle Pattern, Cypher Pattern, Sine Line, and many others. A cursor can be displayed as a cross, arrow, dot, or can be changed to an eraser. It is possible to add Trend lines, arrows, Trend angles, and other marks for more convenient analysis. Also, there is a set of available pitchforks. Traders can see Long or Short positions or can switch to Data or Price range, or see other graphs. There are many types of available brushes and ways to add text. Moreover, the users can choose if they prefer usual candle bars or hollow bars, Heikin Ashi, Line, Area, or Baseline. The long list of tools for graph adjustments can be continued.

On CryptoBridge traders can use Limit and Scale orders. A limit order is an order placed by a trader who wants to buy or sell an asset at a specific or better price. It means that Buy Limit Orders are executed only at the specified price or at the lower price. Sell Limit Orders are executed at the limit or higher price. Some limit orders are never executed because the specified limit price (as well as better prices) is not reached at a significant span of time.
Scale orders include multiple limit orders with gradually increasing or decreasing prices. For example, the sell scale order contains a pyramid of limit orders increasing in price. It prompts traders to buy the assets for higher prices while the price is getting higher. Such orders help traders to improve the average price and avoid serious losses in case of unwanted trend changes.
As CryptoBridge is based on BitShares, it uses the BitShares trading API.
Available Deposit and Payment Methods
It's important to stress that fiat money can't be deposited to CryptoBridge and is not supported in general. Entry-level investors should look for a different place to buy cryptocurrencies before trading on CryptoBridge.
Cryptocurrencies can be deposited in a usual way via the wallet addresses. For a BTC deposit transaction, it's usually needed 3 - 10 confirmations. After the confirmations, the deposited coins appear on the CryptoBridge account. 
Staking on CryptoBridge
BCO holders can stake their coins and receive a 50% share of the platform's profits. In order to stake BCO one needs to proceed to the Staking tab in the Wallet section of the exchange. The next step is specifying the amount one is going to stake and setting the period of time of staking. According to the FAQ section of Bridgecoin, 100 BCO staked for a period of one year bring 100% reward so the user gets back 200 BCO. It's understood that the longer periods of staking bring richer rewards. It's important to hold in mind that staking is not free and the platform charges a small staking fee. 

CryptoBridge Fees
Just like many other cryptocurrency exchanges, CryptoBridge doesn't collect deposit fees.
As for trading fees, this platform treats market makers and takers equally, charging them with a 0.2% fee. So, it doesn't matter if a trader increases liquidity by placing limit orders or removes it by emptying the order book taking the orders placed by other traders. All of them pay 0.2% which can't be called a low fee. It's rather an average one. Some of the exchanges favor market makers and charge them with lower fees.
Gateway withdrawal fees are not specified anywhere officially. More than that, it is clear that CryptoBridge is adjusting the size of these fees at times. At the very moment of the withdrawal of funds, the user can check the fees for the transaction that is going to be executed.
Also, there's such an unusual type of fee as a Cancel/Place order fee. This fee is around 0.00009 BTS.
And, finally, another fee collected by CryptoBridge is a staking fee. This fee is collected anytime a trader is staking coins. This fee is not specified. The fee size is regulated by the BTS Committee. The BCO commission is decreasing or increasing in accordance with the BTS fees. 
Is CryptoBridge Safe?
First, let's review the security measures provided by CryptoBridge. As we already know, the decentralized nature of this exchange makes the use of this platform quite secure by default. Nevertheless, some find it strange that this decentralized exchange is KYC-compliant. KYC-compliance can be viewed both as an advantage and disadvantage when we speak of security.
As a decentralized exchange, CryptoBridge is immune to the restrictive regulations that can be established by the governments skeptical towards cryptocurrencies. Hacking of a centralized exchange is about hacking a central server. As CryptoBridge relies on a distributed network it cannot be hacked all at once. As DEXs are harder to hack, CryptoBridge is better protected from thieves. It is not maintained via a single server like centralized exchanges. What is even better is that decentralized exchanges are not likely to experience hardware issues.
All the critical information related to the CryptoBridges exchange is stored on the blockchain. This data includes all the info related to withdrawals, deposits, and so on, user data, all order books, and so on. If the servers associated with the exchange get hacked, the thieves won't be able to steal money because the assets are not stored by the decentralized exchange.
When creating an account every user is required to set a 45 character PIN of letters and numbers to secure her/his account with it. The user is granted full control over the private keys and the exchange staff doesn't have access to such information.
What is not good is that the exchange doesn't provide such a standard security measure as 2-factor authentication. 2fa is creating an additional layer of protection making it impossible to enter the account or execute any critical actions without accessing the user's device containing 2fa token. The lack of this measure theoretically makes it possible for fraudsters to enter the account in case if they have obtained the user's credentials.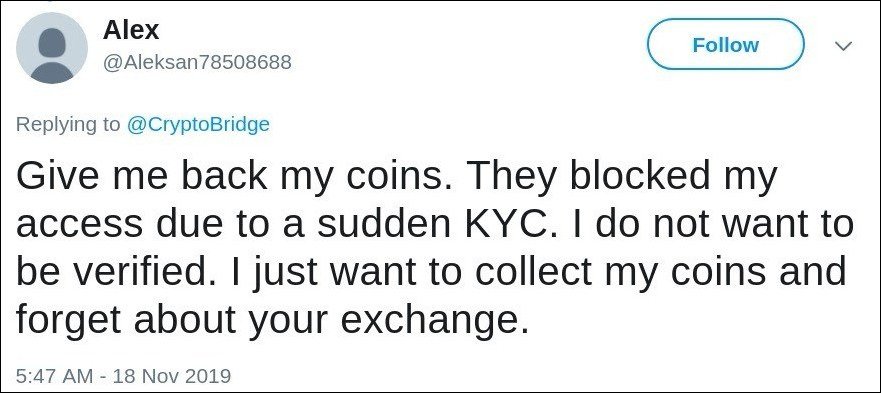 Another side of security is the way the exchange is working in reality. We can learn a lot from analyzing the feedback coming from the users of the platform. Some users are concerned by the lack of information about the actual location of CryptoBridge headquarters and the anonymity of the team. On Twitter, there are users frustrated by the fact that they are forced to make KYC even if they are trying to withdraw relatively small amounts of money. The support team of the exchange is also a subject of criticism. For example, some claim that the company representatives refuse to take responsibility for the leak of information (although it's really not easy to figure out who's to blame). Another reason for criticism is that sometimes the support team is not answering for weeks. Please note that we have seen similar complaints regarding legit companies. Unfortunately, the work of the support team is a problem common for many platforms. Also, there are complaints regarding the coins that were withdrawn but didn't hit the wallet. It's hard to say if these problems were resolved or the money was lost. Some ex-users claim that the exchange is prone to bot attacks and people lose their money because of that. That's the reason why some of these people even claim that CryptoBridge is a scam. Unfortunately, we cannot check if these reviews are true.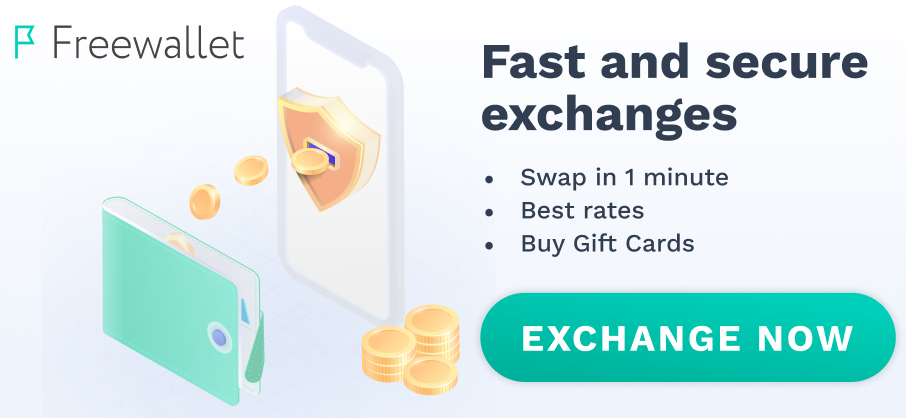 I've spent so much time and energy for trading, now I finally see some results.
The exchange is stable. It works smoothly.
I use cryptobridge from time to time, but not very often. Mostly the exchange is OK
I would agree with the review, in general, cryptobridge is ok, but there is issue with the security and support. Will the exchange deal with that things? That is question. In my experience, I managed to avoid this problem and trading without that obstacles. These guys deserve a chance to fix it.