Coss Exchange Review 2021 - Is It Safe?
Full address:
Herengracht 420, 1017BZ Amsterdam
Fees:
Please, visit https://coss.io/c/fees to access the fee schedule.
Fees:
Please, visit https://coss.io/c/fees to access the fee schedule.
May 29, 2020
Ultimate Coss exchange review by Cryptogeek team. Is it safe to use? Should you really use it? Read this review and find out.
COSS Overview
COSS (Crypto-One-Stop-Solution) - is a young cryptocurrency exchange that was registered in 2017 and is based in Singapore. Singapore is one of the largest donors to Asian cryptocurrency exchanges. The service provides an OTC trading platform and news service. It also has its own COS token.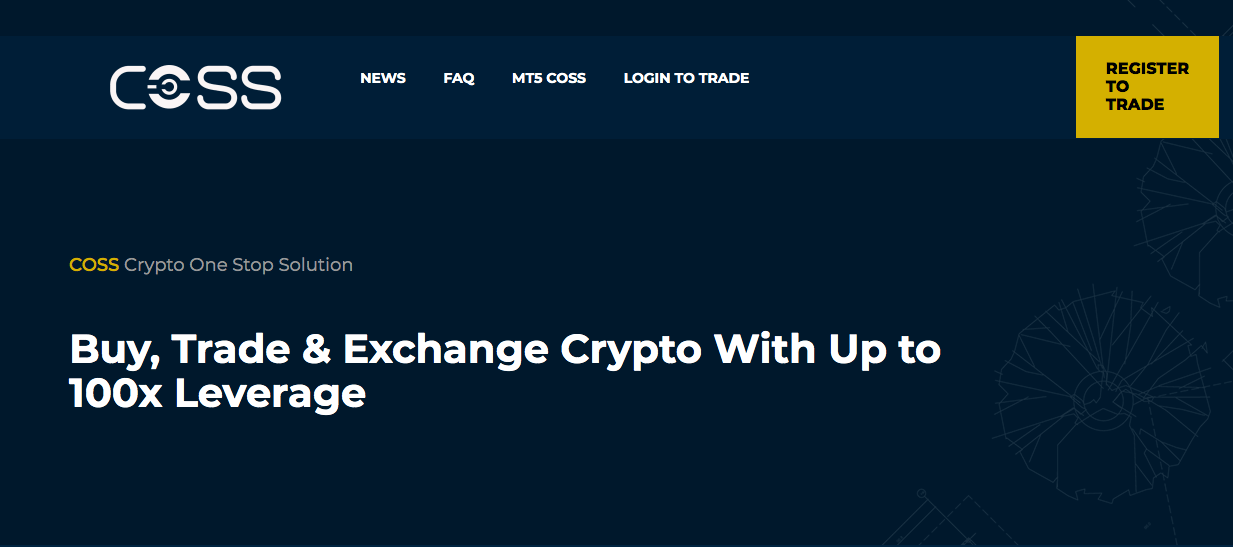 When a newcomer enters the cryptocurrency market, it is faced with the fact that it needs to look for many different services, go to a lot of different sites. With COSS, a beginner gets a convenient platform where you can learn the latest news from the world of cryptocurrencies, you can trade on the exchange and it is also profitable to exchange cryptocurrencies or immediately withdraw to your card.
On the platform, you can perform operations with three dozen cryptocurrencies in pairs with Bitcoin and Ethereum. However, margin trading is not supported by the service. The peculiarity of COSS is that, in addition to standard exchange operations, it provides payment solutions for those online and offline stores that sell goods for digital currency. Thus, sellers can quickly and comfortably get paid for their goods or services. Today, among the clients of the platform are hundreds of shops and three hundred traders.
Features
COSS is a large cryptocurrency platform that includes the exchange, a payment gateway, a platform for sellers, a news portal, as well as various services and applications.
COSS promotes five factors as the main advantages of its trading platform. Among them: transparency, instant conversion, state-of-the-art security, integrated cash flow, and FSA. FSA says that 50% of all trading commissions charged by the exchange are sent back to the owners in the exchange's own token - the COS token.

The birthplace of the cryptocurrency platform is Singapore, which is recognized as the mecca of the entire modern cryptocurrency market. This is proof of reliability and expected stability, sustainability in the market.
Like any other service, the COSS exchange has its pros and cons.
Pros:
The ability to input and output fiat money. Today, the platform offers only fiat conversion. This option is available for sellers; this provision does not apply to participants in the exchange itself;
Low commission. The level of commission is calculated for each user, depending on his/her monthly trading volume, which is an average indicator of the entire industry;
Protection system. The platform uses end-to-end encryption mechanisms and a 2FA security system;
Methods of depositing/withdrawing funds. Input/output is carried out only in cryptocurrencies. The withdrawal is made to hot and cold wallets, and then to bank cards and other directions;
Nice interface. The resource interface is as simple and convenient as possible; there are no professional tools for detailed market analysis.</li>
Country/region. Registered platform in Singapore, serving users from all over the world.
Cons:
Language support. The site operates in English only;
Customer care. No high-quality support.
COSS Fees
The commission rate pleases with its size, which is in the range from 0.04% to 0.2%. The commission directly depends on the volume of transactions that the user carries out: the higher the activity, the lower the level of rates.
Each transaction on the service occurs between two parties: the manufacturer whose order exists in the order book before the transaction, and the buyer who places the order. Manufacturers create liquidity in the market, and buyers remove this liquidity by comparing manufacturers' orders with their own.
Trading fees for buyers at COSS are 0.25%. This fee corresponds to the industry average. The exchange also offers excellent offers for manufacturers who do not need to pay a commission for trading at all. In case your trading volume reaches a certain level, trading fees are reduced. Owners can pay only 0.15%, and manufacturers can get paid for trading.
How to Get Started with COSS
To start working with any service, you need to go through the registration process. But this service is not that simple as it seems.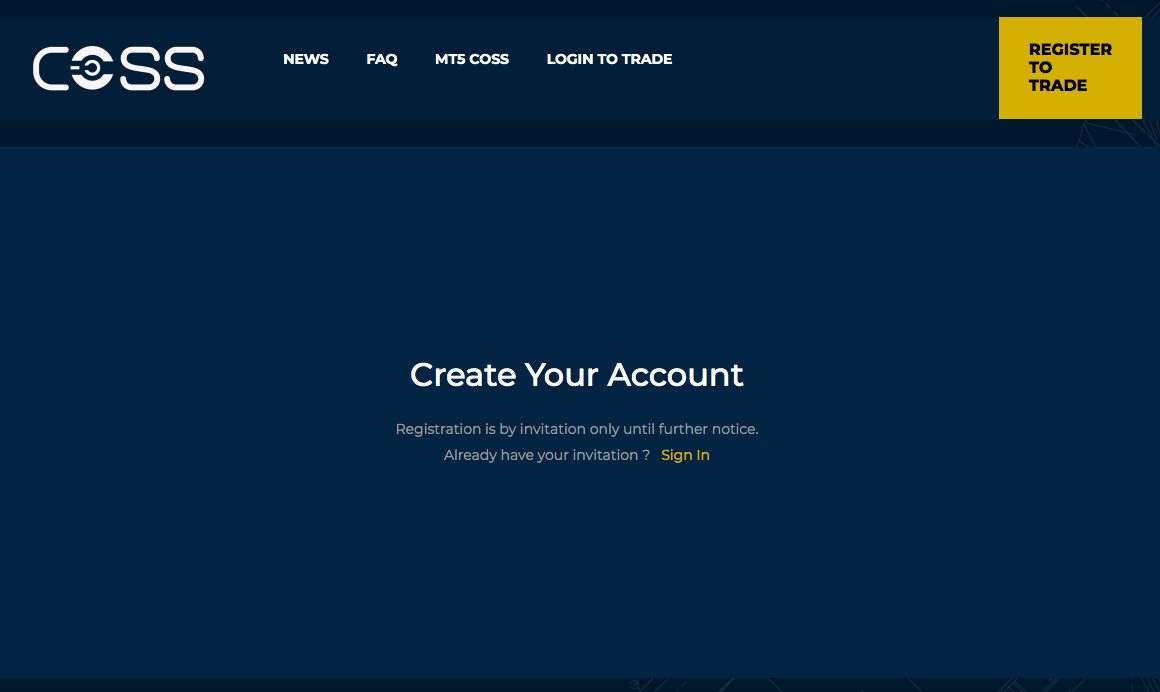 In order to enter the platform, users need to receive an invitation. If you have already used the beta version of the platform, then you have the opportunity to log in to the platform. If you (like us) do not have a link, then, unfortunately, at this point of time, you will not be able to go through the registration process.
How to Use COSS
All exchanges have a different trading interface. Therefore, it is difficult to choose a single system that is convenient for all users.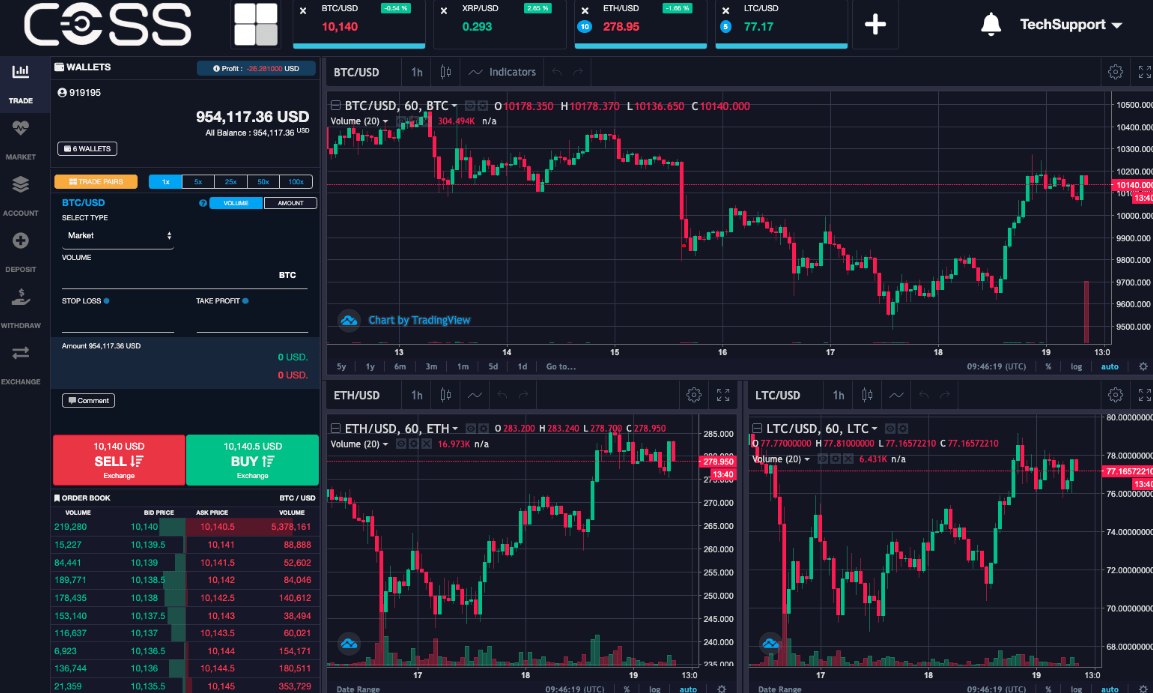 What is common in the trading interface of all exchanges is that they all have a book of orders, a price chart with selected cryptocurrencies, and a history. They usually also have blocks of purchase and sale.

COSS exchange does not set any trading limit for users. It means that customers can trade any amount on the exchange.
Verification
COSS exchange requires the KYC verification. In order to go through the verification process, you will need to provide the set of documents. COSS will only accept the documents that meet the following criteria:
Documents must be valid (please check the issue date)
Photos/scans of both sides of the documents should be uploaded
Scanned images should be in color and high resolution (at least 300 dpi)
Allowed formats: JPG, GIF, PNG, TIFF or PDF
File size should be no more than 5 MB
Photos/Scans should not be older than 3 months
The verification is mandatory. It is to ensure preparedness and being done in good faith to ensure 100% of accounts on COSS comply with AML/KYC policies and coins are being returned to their rightful owners. Withdrawals without KYC will not be possible.
Customer Support
Support on the platform is quite poor. There is no online chat on the site and users who have questions can send a message by clicking the "Report a Problem" button to support@coss.io. The estimated time of response is about a day or two.
There is also a FAQ for users, where customers can find answers to most of their questions.

However, the COSS community has widely stated that the communication of COSS developers is strong on social media.
Is COSS Safe?
The platform official website says that the service uses modern applications with advanced security features for the maximum level of protection. To protect user data, the confidentiality of their operations, and the information provided, advanced two-factor authentication is used.

For the safety of storing users' funds, the platform stores all the money in cold wallets, which gives an additional guarantee in case of hacking.

Also, the participation in such associations as the Singapore Association of Cryptocurrencies and Blockchain and the Chamber of Commerce of Romania guarantees support and resistance to external factors.

The COSS exchange has a legal document that indicates its legitimacy, but it is also important to remember that COSS is not managed by any supervisor at the moment. This is what you should consider in order to move forward.
Conclusion
Unfortunately, we cannot give a complete overview of this service due to limited registration. Nevertheless, with all that said, COSS is certainly an interesting platform that is likely to be further distributed. Given that there are so many competitors, hard to say where COSS will ultimately stop.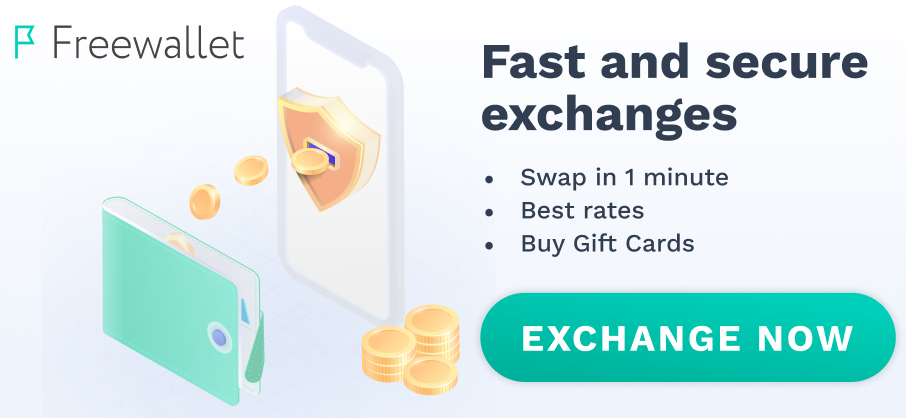 COSS has been a scam since it was taken over. Hundred (thousands?) of users have had their funds locked in the exchange with no hope of getting them returned for more than 3 years.
Martin Alekseevich
2 December 2020
Nice exchange. Fees are OK and support team is responsive