CoinDCX Review - Is It Safe to Use?
Aug 18, 2021
Contents
CoinDCX is touted as one of the safest platforms for crypto trading in the world. In today's CoinDCX review, we will talk about the product's features, general features, fees, and API. We will touch on hard-fact information that will help you understand the platform a little better as well as review the opinions of fellow consumers. We will naturally touch upon the perennial question, which is – is CoinDCX safe? For the answer of this and more, read through our full CoinDCX review.
What is CoinDCX?
CoinDCX is a leading cryptocurrency exchange platform established in 2018 and operating out of its headquarters in Singapore. The company has been operating over 200 types of cryptocurrencies, making it one of the best choices for cryptocurrency investors, whether this has to do with Bitcoin, Ethereum or any altcoin. The platform is often cited as a go-to choice when looking to pick from a much better variety of crypto assets that are often not listed on other exchanges and platforms.
Where Is CoinDCX Located and Who Is CEO?
CoinDCX launched in 2018 in Singapore which is its main basis of operation. Over the years, the company quickly expanded to Mumbai, India and has been successful in attracting investment from established and trusted names in the industry, including Polychain, 100x Ventures and Bain Capital Ventures. For the purposes of our CoinDCX review, we confirmed this information by referencing publicly-available sources. The company is led by Sumit Gupta who has been its chief executive officer since incorporation in 2018.
CoinDCX Features
CoinDCX comes with a range of services that underpin what is already a reliable experience. The platform takes pride in delivering a user and investor experience that is above board, transparent and reliably outlines what you can expect as a result of using its platform.
As such, CoinDCX is fast and simple with consumers able to set up their accounts and start investing within 10 minutes. CoinDCX is similarly completely safe and the company has not been associated with any negative press.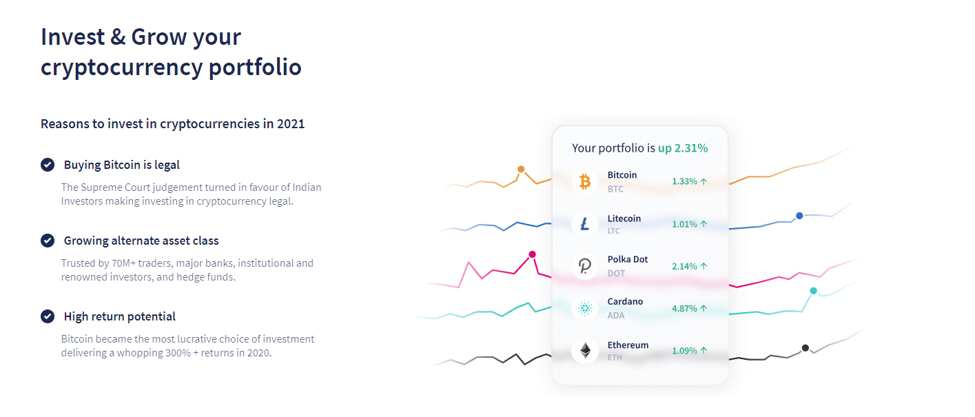 The platform allows you to pick from a growing alternate asset class and currently has over 70 million traders, major banks, and institutional investors. CoinDCX has confirmed 300% returns in 2020 alone.
CoinDCX uses a number of preferred investment tools, including futures, margin and spot trading, lending solutions with a high yield and stakes. The platform further keeps a simplified user interface with a focus on its main products that allows consumers to quickly get involved and start benefiting from CoinDCX's numerous features.
CoinDCX Fees
To better understand what a platform has to offer, you should always consider its associated trading and withdrawal fees. CoinDCX's success and strength lies in the number of tradable assets and reliable products offered. Therefore, the company has chosen to go with nominal fees that make it a preferred choice for many.
CoinDCX will charge you between 0.04% and 0.06% depending on whether you are a taker or maker. This puts the platform well below the industry average with competitors often charging far more to conduct similar operations.
In comparison, other platforms may charge between 0.10% and 0.15% for the same operations, which puts CoinDCX and its consumers at a significant advantage. One small drawback is that BTC withdrawals may be worth around 0.001 BTC which is somewhat steep, although still well in line with industry standards.
CoinDCX API
One notable feature that focuses on improving the overall trading experience is the introduction of an API. CoinDCX publicly lists its API documentation allowing traders to benefit from a powerful solution that is transparent and allows them to access funds, get profile information and place market or limit orders.
There are several notable features that make CoinDCX's API a viable choice. The fast trade execution will make it possible for your orders to be completed faster, owing to the high liquidity available. The low deposit and withdrawal fees further add to your comfort and make it easier to enjoy trading.
Not least, the CoinDCX API charges nominal fees of 0.1%. This summarizes the available uses of the API with the rest of the information available in the public documentation of the API solution.
CoinDCX KYC/Verification Process Overview
CoinDCX is safe because it takes significant pains to ensure that everyone who registers is indeed the person they claim they are. This means that you will have to undergo email and email verifications, which are the first level of verification and mandatory for every trader. You will receive an OTP on your phone to confirm that you are indeed the owner of the device.
Then, you will also need to verify your bank account following several steps. You will need to navigate to your profile and click on the dedicated button that is Verify Bank Account. Make sure to fill out your information correctly and enter the 12-digit UTR number to receive verification.
Then, you need to consider a KYC verification which, while optional, will be important to have. You need to upload a pan card or an identity card to verify your address and identity. Undergoing the simple and straightforward KYC project will allow you to achieve greater benefits from the platform, such as higher withdrawable limits. Local government ID must be offered to complete the process.
Customer Service and User Reviews
CoinDCX has what to be proud of when it comes to the customer service measures offered by the platform. Consumers will find that they have 24-hour access to trained customer care agents who are able to provide assistance on a range of issues or refer you to the relevant team member.
The platform focuses on ensuring that you always have a quick and easy line of communication with the relevant parties and you will find the agents very helpful when it comes to onboard, INR management, and other related services. There have been extensive reviews about the platform by consumers.
We consider these to be another point of reference. Generally speaking, consumers are happy with a number of features, including the wide range of coins available to trade, adequate liquidity and exceptionally low transfer fees. Users approve of the instant buy-and-sell functionality that facilitates all operations.
Some criticism has been offered in reviews, but mostly with the overall functionality and focus of the platform. For example, users have brought up the lack of alternative FIAT currencies apart from INR and the fact that you need to undergo the KYC verification process
Is CoinDCX Safe and Legit?
The legitimacy of each crypto platform plays a significant part in consumer choice. Whether operators go along with a platform or not depends on its track record, particularly when it comes to upholding safety standards. While some consumers prefer to avoid certain verification processes, such as KYC checks for example, they are there to ensure that the platform's integrity is kept.

When it comes to security, CoinDCX argues that its offer is "above everything." The platform uses deep encryption so that passwords and personal data may never be leaked. CoinDCX guarantees that consumer funds are always safe as it utilizes multi-sig cold wallets for the purpose.
The platform is further protected by BitGo and guarantees that you don't have to worry about a thing. Coinbase Ventures and BitMEX are both investors in the platform, which can be described as a rival option. Still, both of these companies recognize its potential, attesting to its safety.
Conclusion
At the end of the day, CoinDCX brings a lot to the table. The platform is touted as one of the safest options if you are looking to trade crypto. You will be able to choose from over 200 cryptocurrencies. While not all of them are thoroughly vetted and some are far more speculative than others, the fact remains that CoinDCX applies strict criteria when it comes to its overall security.
In this manner, even if speculative currencies are introduced, CoinDCX is perfectly capable of filtering through unreliable consumer accounts, for example. Overall, the platform is touted as one of the safest trading options out there and whether you trade API, margins or spots, you will find CoinDCX to be up to the expected standard.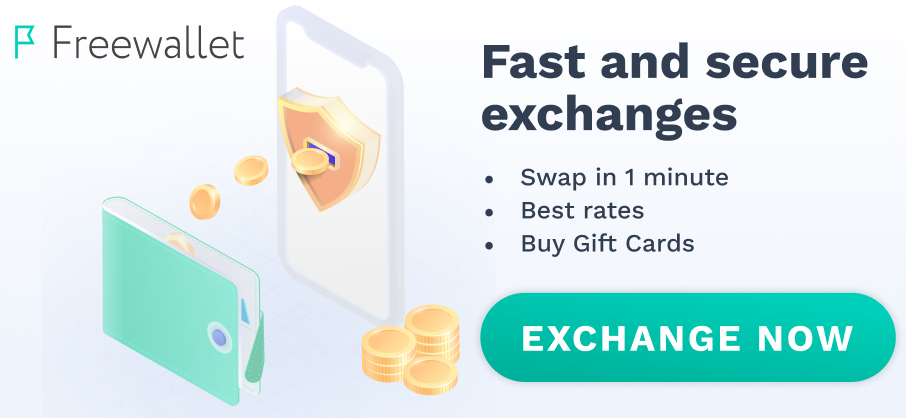 Cody Graham
4 November 2021
I like the instant buy feature, especially given the low trading and withdrawal fees. It does not reach 5/5 unless due to tech ​support. It's too long to wait for an answer