Bitstamp Exchange Review 2021 - Is It Safe?
Volume:
$ 4,294,967,295.0
Full address:
Bitstamp Ltd 5 New Street Square London EC4A 3TW United Kingdom
Fees:
Fee % | 30 days USD volume
0.50% < $10,000
0.25% < $20,000
0.24% < $100,000
0.22% < $200,000
0.20% < $400,000
0.15% < $600,000
0.14% < $1,000,000
0.13% < $2,000,000
0.12% < $4,000,000
0.11% < $20,000,000
0.10% < $50,000,000
0.07% < $100,000,000
0.05% < $500,000,000
0.03% < $2,000,000,000
0.01% < $6,000,000,000
0.005% < $10,000,000,000
0.0% > $10,000,000,000

Full fee schedule: https://www.bitstamp.net/fee-schedule/
May 03, 2021
Cryptocurrency and blockchain technology in large has revolutionized the financial landscape in recent years. The rise of cryptocurrency adoption has brought about the launch of several crypto exchanges with different userbase and functions. 
In today's review, we would be looking at Bitstamp, one of the oldest crypto exchanges. Bitstamp is one of the most popular among crypto traders across the world, with several branches across the globe. 
This review would be an objective one, with the view of providing unbiased and the latest information regarding the exchange.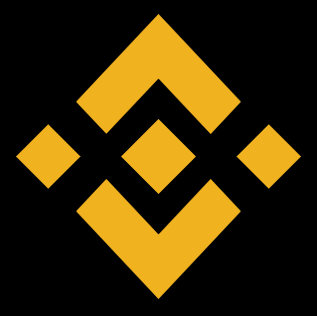 Get Profits with HODLing on Binance Earn
Bitstamp Review
Pros
Fiat trading: Bitstamp enables users to purchase cryptocurrencies via fiat gateways. This makes it easy for crypto enthusiasts to hold cryptocurrency as it offers trades in Dollars and Euros
Multiple Payment Methods: Bitstamp enables traders to make purchases via popular means like credit cards, bank transfers, and SEPA transfers. 
Secured Platform: Bitstamp has been able to integrate adequate security measures and has recovered well from the major hack in 2015 and is among the safest exchanges on the market. 
Excellent Customer Service: Bitstamp has excellent online reviews regarding its customer support services. This is excellent for newbie traders as the platform has a comprehensive FAQ page and responds to Email inquiries promptly. 
Low transaction fees: Bitstamp has one of the lowest transaction fees, among other exchanges. This makes it a good platform for crypto enthusiasts to purchase digital assets. 
Cons
Few Crypto Pairs: Bitstamp only offers 12 crypto pairs, which is due to the number of cryptocurrencies (5) supported by the platform. This could be a problem for experienced traders who may desire more trading pairs that other platforms offer. 
Complex User Interface: Bitstamp offers complex advanced trading indicators that could be overwhelming for the average trader. 
What Is Bitstamp?
Bitstamp is a crypto exchange founded in 2011 by Slovenian developers Nejc Kodric and Damijan Merlak to provide crypto services for European traders. This was a response to the growing dominance of Asian exchange Mt Gox. 
The platform was developed to have guiding rules that ensured that customer's funds were safe from breaches. The crypto exchange became popular as it was one of the first that allowed users to purchase cryptocurrencies using popular fiat currencies. 
The exchange offers users a gateway for exchanging large amounts of cryptos into fiat currencies. Also, it places within the top 15 exchanges in terms of transaction volume with over $700 million worth of crypto trades daily.
Bitstamp has also struck partnerships with some top financial institutions across the globe with the likes of Swissquote, Chicago Mercantile Exchange and Silvergate among its list of partners.

Where is Bitstamp Located?
Bitstamp has its major office in Slovenia but has opened several branches across Europe in recent years. The crypto exchange initially opened a branch in London which is the financial headquarters of Europe before moving to Luxembourg where they were licensed to operate as a financial firm. 
In 2018 Bitstamps was bought by Belgium firm NXMH, which is the current parent company of the exchange. It is believed that the acquisition cost around $400 million to complete.
NXHM has continued to develop the platform with the firm retaining Nejc Kodric as the CEO as it looks to expand to more countries across the globe.
Is Bitstamp Safe?
Bitstamp takes users' security seriously and utilizes the latest security protocols to safeguard data within its platform. The crypto exchange has suffered its own share of attacks and lived through hacks between 2014 to 2015, with about 19,000 BTC stolen. It's important to stress that no users' funds were affected. These security breaches made the platform work better on its security with several protocols put in place to prevent the recurrence of such hacks in future.
The platform uses an SSL certificate for its URL, which means that communications within the platform are protected with encryption. Another measure aimed at protection of these funds is multi-signature technology. In addition, Bitstamp uses a high-end algorithm to secure data transfer within the platform. Also, around 98% of its crypto assets are kept in cold storage and the exchange uses internal controls to limit errors and access to users' information. It means that most of the users' private keys cannot be accessed by hackers remotely.
Users also have the option of activating 2-factor authorization (2fa). It is highly advisable to use 2-factor authorization as it dramatically reduces the risk of hacks to your account. This feature, if enabled, makes it mandatory to enter a short one-time password each time when anyone is trying to enter the account, request the withdrawal of funds, or do another critical action. These passwords are generated locally on the account owner's mobile device and are valid only for 30 seconds. If the hacker didn't steal your cell phone, he won't be able to access your account. Another layer that can be added to your account's protection is withdrawal confirmations that are executed via email. Everytime anyone requests the withdrawal, you will get an email with the link to confirm that the action is requested by you. If the withdrawal is requested by a stranger he won't be able to complete the transaction without access to your email.
Supported Currencies
As of the time of writing Bitstamp supports five major cryptocurrencies, which are Bitcoin, Ethereum, Bitcoin Cash, Ripple, and Litecoin.  The platform lets users trade with 12 market pairs linked to Bitcoin and the two fiat currencies supported Euro and US Dollar. 
As one of the top crypto exchanges in the world, Bitstamp has high liquidity and over €90 million worth of trades in its Euro pairing and over $350 million in its US Dollar pairings. 
Bitstamp Wallet
Bitstamp offers an inbuilt wallet for users to store cryptocurrencies on its platform.
The exchange offers wallets for the five cryptocurrencies supported on its platform (Ripple, Bitcoin, Bitcoin Cash, Litecoin and Ethereum).
According to the exchange the platform stores users' assets on both hot and cold wallets with 98% stored on its cold wallets. It also regularly backups your details to keep your account safe from hackers and snoops.
Despite the relative safety of Bitstamp, it is never advisable to keep all your cryptocurrencies online.  Always use a combination of cold and hot wallets to be safe or use hardware wallets with excellent reputations.
It is also important that you keep your private keys private to prevent theft of cryptocurrencies from your wallet. While you can also activate the 2fa authorization service to give further security to your account.
Bitstamp Fees
Bitstamp fees are relatively low when compared to other crypto exchanges in the market. The exchange platform has a comprehensive list of trading fees on its website that can be checked by users. 

Bitstamp trading fees vary depending on the amount transacted by users with the highest percentage at 0.50% for transactions below $10,000. The trading fee reduces as the amount transacted increases with zero fees for transactions above $10 million. 
Bitstamp, like most crypto exchanges, does not charge deposit fees for cryptocurrency deposits. However, credit card deposits attract a deposit fee of 5% while International wire deposits attract a percentage fee of 0.5%. Surprisingly SEPA deposits are free of charge on the exchange.
Bitstamp withdrawal fees differ depending on the mode of transfer from the exchange. SEPA withdrawals cost 3 Euros, while credit card withdrawals attract 5% of the withdrawal amount, which is quite expensive. 
Bitcoin standard withdrawal has a fee of 0.0005 BTC. Users can also use the Bitgo instant withdrawal method, which attracts a withdrawal fee of 0.1% of the total amount. Ethereum has a withdrawal fee of 0.001 ETH, while the Ripple withdrawal fee is 0.02XRP.
Looking at these figures, it is similar to the market value for withdrawal fees across the crypto exchange market. 
Bitstamp API
Bitstamp uses its custom made application programming interface (API) which gives users the access to operate their accounts using custom software. The exchange has details on its API which can be found on its website.
Licensing
Bitstamp is one of the top crypto exchanges in terms of partnerships and licenses over the years. The platform was the first Gateway platform for popular cryptocurrency Ripple and is part of its incentive program. 
It is also the first crypto exchange to be fully licensed in Europe, which was achieved in 2016 with the Luxembourg Financial Industry Supervisory Commission (CSSF). This means that Bitstamp is licensed in all European countries as a financial institution.
Also, Bitstamp is licensed in the US after receiving a BitLicense from the New York State Department of Financial Services. The much-heralded license means that the platform had met the stringent procedures set by the regulatory body.
This means that Bitstamp is being held to the high standards accorded to other mainstream financial institutions and can expand operations across the North American nation. 
How To Register On Bitstamp
Bitstamp registration process is fairly simple as all you need to do is visit their website and create a free account via the signup process. We would be walking you the process with image tutorials. 
The first step after visiting the website is to look for the 'register' menu at the top right corner of the homepage. You would be redirected to a menu where you would be offered two options which are individual or a corporate account.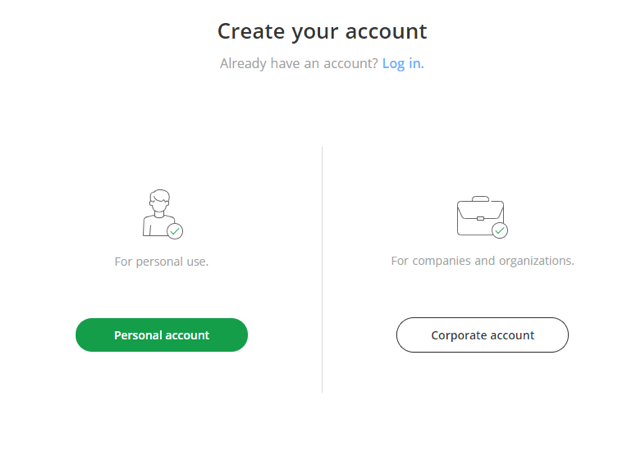 After choosing the desired option, you will be taken to a page where you will give your name and Email address. After completing this process, an email would be sent to your inbox for confirmation. 
After confirming the account, you would be redirected to the next page to input your desired password.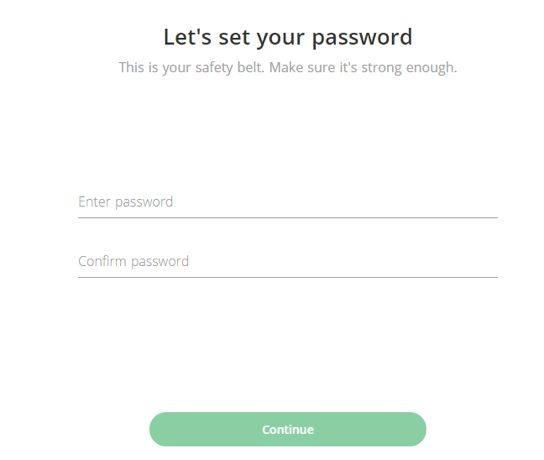 Verification
The next phase of registration is the Bitstamp verification, where you would be required to provide details about your identity. Unlike other exchanges where you get limited access without verification, Bitstamp does not allow access to accounts without verification.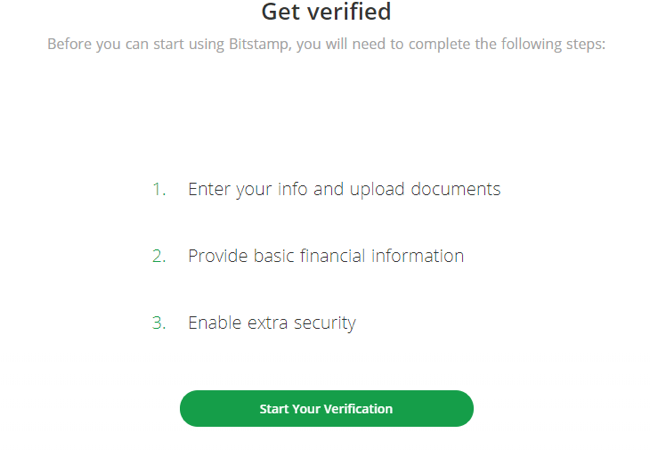 You would need to input your name, home address, and postal code number. You would also need to input your phone number after which a verification code would be sent to the contact number.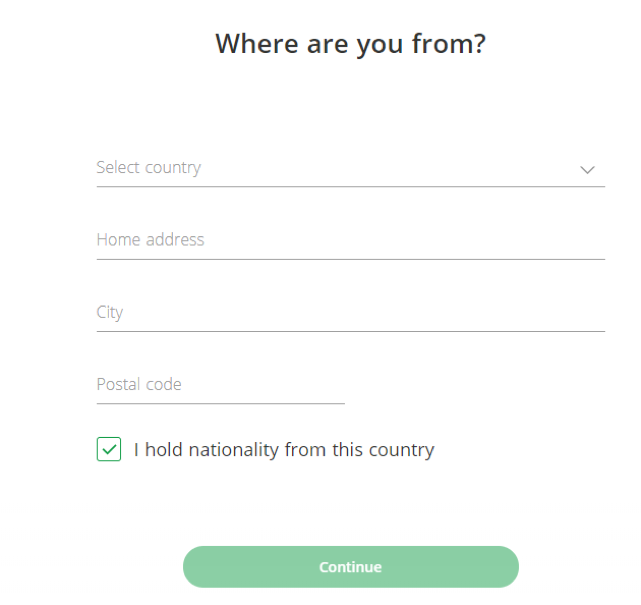 After this process, you would be required to submit a valid ID, which could include National ID, Passport or driver's license and proof of residence, which could be utility bills. 
Once this process is complete, you would gain unlimited access to the full features of your Bitstamp account and begin trading. You would also be able to make deposits and withdrawals via the various means on the platform. 
Making Deposits
After verification, you would need to make deposits to trade or purchase cryptocurrencies. Bitstamp has a number of means to embark on this, as mentioned earlier. All that is required is to click on the Deposit tab in your account and choose the means you prefer. 
You can deposit directly from crypto wallets outside the platform to the inbuilt wallets depending on your crypto of choice. In addition, Fiat deposits are accepted and can be made via credit cards or wire transfers. 
Deposits typically take between 1 to 3 days, but there have been reports of quicker deposit times by users. Once your trading account is credited, you can begin quick trading on the platform by clicking the buy/sell menu. 
Bitstamp Trading Platform
Bitstamp has a comprehensively detailed trading platform with detailed charts from the trading view. There are no options for a simplified view, which would have been a useful feature for new traders.
The trading chart is positioned in the middle of the trading menu, with the default trading sequence set at BTC/USD trading pairs.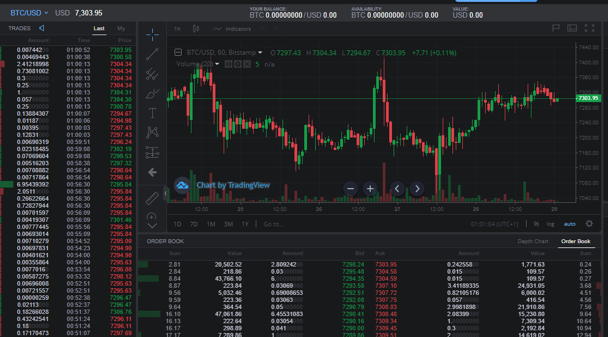 At the top left corner, you can toggle between other trading pairs supported on the platform.  Bitstamp offers Buy, Sell, Limit, and Stop orders that are common in most crypto exchanges. 
These options are located on the right corner of the trading view chart, and you can begin trading instantly.
 Below the trading chart is the order book, while there are different tools just beside the trading chart that can be used to predict the movement of the market.
 Overall the trading platform is well detailed, which would be the delight for experienced traders who want sophisticated analytical tools.
Mobile App
Bitstamp has an optimized mobile app for users that enables them to keep track of transactions on their accounts. 
In addition, the app integrates the latest security protocols as Users can log in using Fingerprint ID or Face ID. Users can quickly monitor price changes and movements in the market on the go.  
Bitstamp also integrates a simple interface with a range of analytical tools to guide traders.
This enables an easy learning curve for both new and experienced traders.
Other features include a private mode which lets vital information like balances and account statements to remain hidden. In addition, users can switch multiple accounts and place buy/sell orders on the app. 
The Mobile app is available on both Android and iOS devices and has garnered decent reviews on both platforms. 

Customer Support
Customer Support is one area where Bitstamp excels as the crypto exchange uses a variety of methods to answer users' complaints and inquiries. There is an email address where users can send their complaints to, according to reviews, mails take between 1-3 days before they are responded to.
 In addition, there are phone lines on the website footer that indicates the customer service numbers for each of its three offices in Luxembourg, London, and New York. 
One area that is impressive is the FAQ section, which has a lot of resources regarding the crypto exchange.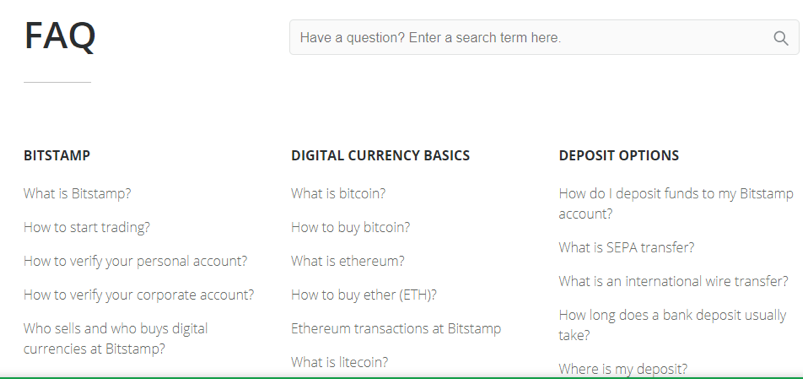 There are different answers to questions ranging from account management to trading options and many more. 
 The section is detailed, and users would be able to get conscience guides to issues without contacting a customer support representative. 
Bitstamp Vs Kraken
Bitstamp and Kraken are two exchanges that are regularly compared due to their early entry into the crypto exchange market. Both exchanges were launched in 2011 and have become key players within the crypto landscape. 
They both have their similarities in terms of trading fees with minute differences. 
Also, both platforms use advanced trading tools, which may not be easy for beginner traders. 
There are some key differences with Kraken the bigger of the two in terms of market share with the platform ranked 12th in the list of largest exchanges, Bitstamp is ranked 15th and has around 6% of the total market share. 
Another key difference is in terms of the currencies offered on each platform. Kraken offers 17 cryptocurrencies for users to trade, which is more than the five supported by Bitstamp. In addition, Bitstamp only offers US Dollars and Euros as fiat currency, unlike Kraken that offers both currencies alongside Japanese Yen, Canadian Dollars and the British Pounds. 
This could be a telling factor for traders seeking to trade in multiple currencies when comparing both exchanges. 
One area where Bitstamp has an advantage is in terms of customer service support. The platform responds quicker to customer complaints, and lets users have a stable platform to trade with. Kraken is more features and functionality based with several users complaining about its customer support system. 
Overall, if you want more functionalities and trading tools Kraken is your best bet while Bitstamp offers stability and better customer support. However, both platforms have longevity as a factor. 
Bitstamp Vs Coinbase
Bitstamp and Coinbase are two of the biggest crypto exchange platforms in the world with slightly different approaches. 
While Bitstamp offers services as a regular exchange that brings buyers and sellers together. Coinbase is more of a brokerage exchange as it does not offer trading pairs but instead offers conversion services. This effectively means that it serves as a third party in crypto transactions. 
In terms of cryptocurrencies traded, Coinbase has the advantage as you can buy tons of cryptocurrencies on the platform. Bitstamp only supports five cryptocurrencies, which are Bitcoin, Ripple, Bitcoin Cash, Ethereum and Litecoin. 
In addition, Bitstamp accepts fiat currencies with the platform supporting trades in US Dollars and Euros. Coinbase supports more than six times the number of currencies as users in all 32 supported countries can purchase digicoins in their native currencies. 
Bitstamp has significantly lower trading fees than Coinbase with the platform 0.25% for trades below $20.000 and charging no fee for SEPA deposits while credit card transactions incur a 5% charge on the amount withdrawn. 
Coinbase meanwhile charges around 1.50% for each transaction with cryptocurrencies, In addition, the platform charges $10 dollars for withdrawals made on its platform. Bitstamp is clearly the winner in this aspect as its fees are among the lowest in the market. 
Coinbase trading interface is simpler than Bitstamp which is to be expected as it is merely a brokerage exchange. Bitstamp has more analytical tools and charts that would be ideal for experienced traders. 
Coinbase also takes the props in terms of its mobile app as the platform has been able to develop an app liked by users. There have been positive reviews about the app with users citing its flexibility and ease of use. Bitstamp app has a good interface but does not provide an optimized experience for users. 
Overall, Coinbase is ideal for quick purchases of cryptocurrencies as it supports more local currencies. Bitstamp is perfect for users that want a comprehensive trading experience with its advanced trading features. 
Is Bitstamp Legit?
From our comprehensive review, we can say that Bitstamp is a legit exchange that has a sterling reputation. The exchange has been in existence in 2011 long before the crypto explosion in 2017.
This gives it the leverage and experience that many new exchanges don't have. In addition, the licensing of the platform by the Luxembourg and US government means that your assets are in safe hands.
It is also an excellent platform for newbies due to the ability to purchase popular cryptos like Bitcoin and Ethereum with fiat currencies. In addition, low transaction fees also make it an excellent option for users across the world.
We also like that the customer support system is comprehensive enough, with the FAQ section well detailed.
Like any objective review, Bitstamp still has room for improvements, particularly with its mobile app, which is not as optimized as the web version. Its trading interface can also be improved with a simpler view option added for beginners.
In addition, the platform could also add support for more cryptocurrencies on its platform while there could also be the addition of Live chat function to its website for easier customer support.
In conclusion, Bitstamp is an excellent platform for businesses and individuals looking for a safe platform for transactions. You would be getting what is promised with no fear of losing your digital assets. You can always read the review more than once for a comprehensive view of the platform. 
Gery
11 February 2020, 6:09 AM
A small European exchange usually is operated quite all right. Bitstamp is not exception. The platform is solid with good functionality, but without big variety of coins. I'd like to see more coins.
Slodrek
8 February 2020, 2:35 PM
I'd say bitstamp is cheap if we compare it to the options on the market. But at the same it is second to none among the paid exchanges. I started to use just a year ago and I am satisfied. All my actions is operated just in time
Takata
24 January 2020, 1:06 PM
Bitstamp is my favorite at that moment. The fee is relatively lower then the fee on the other exchange. Additionally, it provides fast transactions, that's extremely important for me.
Gotarrd
24 January 2020, 8:23 AM
I would recommend to use Bitstamp .I believe it has everything that should have a prompt exchange and even more, I mean the Bitstamp mobile app. That's an important for me, cause I don't have opportunity to use the computer or laptop a lot, but the phone is always by me and bbx app helps trading this way.
Wourth
19 January 2020, 10:37 PM
I don't understand this fuss about the verification. I've completed it pretty fast. I think sometimes traders don't comprehend what they are asking for. I did everything what I was demanded and now I don't have the problems with the trading.
Raddi
19 January 2020, 3:25 PM
Great helpdesk, I got 2fa problem and the helpdesk help me out very fast. I haven't seen such a great service before. I appreciate that.
Chuck Norris
18 January 2020, 2:46 PM
For BTC was demanded just 4 conformation and it took 3 hours. I gotta say that's not bad, I mean, it could be faster but I'm glad that I didn't waste days on this operation.
Mido
16 January 2020, 6:33 AM
I really like trading here
Holgerd
15 January 2020, 11:01 AM
I decided to transfer my euros to BTC. The operation was made, my euros have gone, but in a couple of days I saw the message in my BTC transaction has been suspended. I don't see my deposit and I'm really worried now
Yemen
9 January 2020, 9:16 PM
I have controversial feelings about the exchange, from one point of view, I often fave the problem with the withdrawals and transactions, they stuck from time to time, but the other point, the support is really helpful, all my tickets have been resolved, I appreciate that. I'm gonna give the platform the chance, but it has some down slides, for sure.
Rocket John
9 January 2020, 1:11 PM
Very good exchange!
Respect