AscendEX (BitMax) Review 2022 - Is It Safe?
Mar 30, 2022
Some crypto exchanges manage to gain huge liquidity in just several months or a couple of years. One of the well-known examples is Binance that was launched in 2017 and quickly became the world's leading exchange by liquidity. Another exchange that has gained big trading volume in a short period is BitMax, a secure and multifunctional trading platform that has since changed its name to AscendEX. In this review, we will show what are the main features available for the AscendEX users, what are the protection measures that can be used to safeguard funds and data, we'll see how we can tell that AscendEx isn't a scam, and answer other questions.
What Is AscendEX (BitMax)?
AscendEX (BitMax) is a Singapore-based cryptocurrency exchange that was launched in 2018 under the name of BitMax. The rebranding was put into action in March 2021. According to the company announcement, the new name reflects the team's belief in the bright future of cryptocurrencies. The name and the new logo must make us think of the ascending trend on the market. The change of the name helps to avoid confusion with Bitmex, a different crypto exchange founded in 2014.
BitMax has officially rebranded to AscendEX! 🚀🌙 Visit our new website at https://t.co/QzyIOEXdNG.

Core functionality of the BitMax platform is unchanged, and it's still the same team behind everything!

Log in to AscendEX using your https://t.co/ZgbxdXzvT8 account info 🔥 pic.twitter.com/Q6NzHpdTtQ

— AscendEX (@AscendEX_Global) March 22, 2021
The core members of the AscendEX team have strong experience in finance and close spheres. Thanks to their skills, AscendEX (BitMax) quickly gained a strong presence on the market. As of November 17, the exchange occupies the 16th position in terms of daily trading volume which nearly reaches $190 million.
The exchange supports 240 cryptocurrencies and offers a wide range of features including futures trading, margin trading, earn platform, copy trading, and more. Together with high liquidity, it makes AscendEX an attractive platform for crypto traders. ASD, a native token of the exchange, allows users to earn via staking and enjoy fee discounts.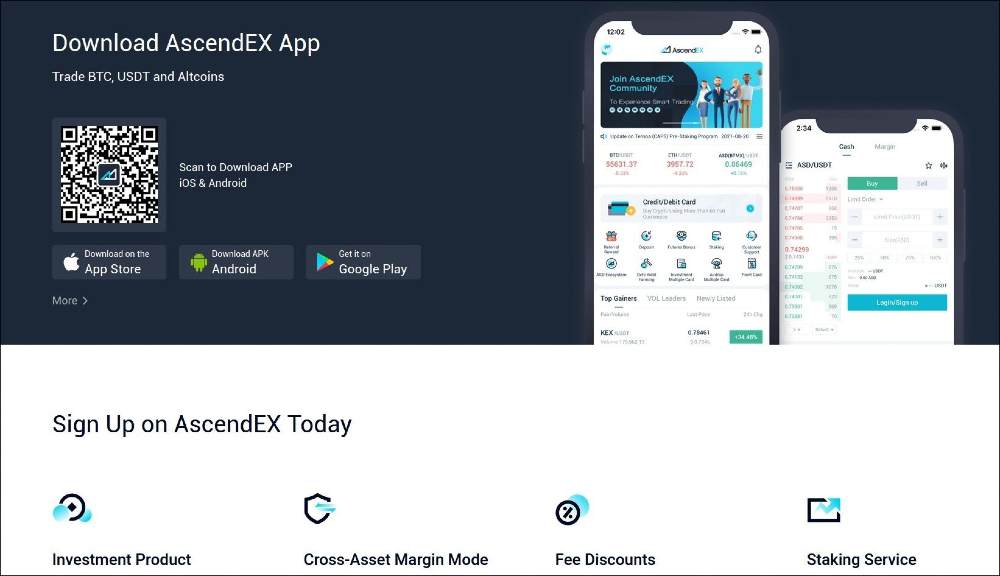 Please note that you cannot use AscendEX (BitMax) if you reside in China (Mainland), Singapore, USA, Puerto Rico, the U.S. Virgin Islands, Guam and the Northern Mariana Islands in the North Pacific Ocean, American Samoa, Algeria, Bangladesh, Bolivia, Belarus, Burundi, Burma, Côte D'Ivoire, Crimea, Sevastopol, Cuba, Democratic Republic of Congo, Ecuador, Iran, Iraq, Lebanon, Libya, Liberia, Mali, Morocco, North Korea, Nepal, Somalia, Sudan, Syria, Yemen, or Zimbabwe. The website is available in 13 languages which makes it accessible for a wide truly global audience.
Registration and KYC
The signing up process is easy. You just should provide your phone or email, mark your location, and set the password. If you are going to register a corporate account you should click on Institutional sign up. If you just want a regular individual account then tap on Next. Then, you will need to verify your account via email. When you are done with it, you can start using AscendEX (BitMax). However, to make withdrawals and participate in auctions you will have to come through a KYC procedure.
KYC on AscendEX requires providing your first name, last name, country of residence, date of birth, ID type, and ID/passport number. The next step is uploading a selfie that will help AscendEX to verify that the document you upload belongs to you. As soon as your identity is verified, you will be able to withdraw and perform all the rest actions on the platform.
Main Features
AscendEX (BitMax) offers many features. You don't have any crypto you can buy them in the Buy Crypto tab. There are several service providers supported on AscendEX: Mercuryo, Banxa, Simplex, and Moonpay. VISA/Mastercard, ApplePay, GooglePay, SWIFT, and SEPA are the available payment methods. 
If you wish to convert one cryptocurrency to another instantly you can use the Convert feature that can be accessed in the Trade section of the main menu. Converting is free of fees, however, it is not clear what is the basis of the conversion rates, so there is a chance that the fees are hidden. Nevertheless, it's up to you to check if the rates are good enough for you. You may convert one coin for another really quickly. The list of the coins that can be converted is quite huge. You will find dozens of coins there.
The main trading functionality can be found in the Markets section of the AscendEX (BitMax) website. In this section, you can access both spot and futures markets. In the spot market, you can use 3x to 25x leverage for certain pairs. The maximum leverage can be used for trading Ether and Bitcoin against Tether. Margin trading is one of the main ways to boost your profits and earn significant amounts of money through trading. Margin trading requires a strong understanding of the market and good experience, though. All cryptocurrencies can be traded against USDT or BTC, and the only pair without BTC or USDT is LINK/ETH. The futures market offers 35 trading pairs. When you click on any pair you are interested in, you get to the exchange interface with a candlestick chart, order book, section where you can form and post orders, and so on.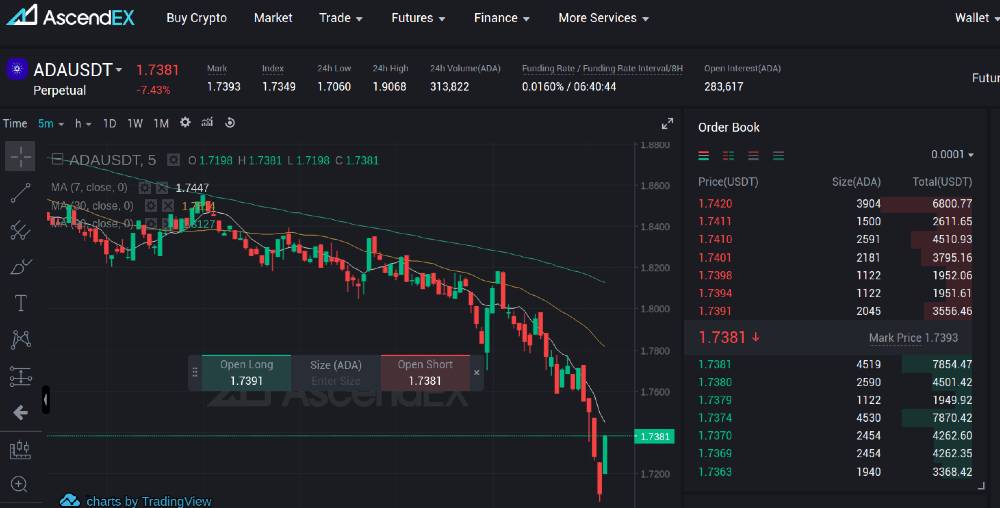 Apart from the standard section and tools, the futures trading view contains the section called Margin Mode where you can set the collateral balance, see margin ratio, and so on. In the Futures Account, you can see the PnL and Total Collateral amounts. The contract details section is also in place. All these sections can be found on the left from the candlestick graph. Please note that unfortunately, you won't find indicators on this page.
Another notable and trendy feature on AscendEX (BitMax) is copy trading. You can find it in the Futures section. When you proceed to this page, you see the list of professional traders with their stats. You can start copying trades of any of them for free but after 5 days of the free trial, you will have to decide whether you want to pay and continue or quit. Happily, you can see if professionals fulfill their promises as the actual monthly return is highlighted on AscendEX (BitMax). You won't probably wish to copy trades of professionals whose return is negative.
Other ways to gain profit on AscendEX (BitMax) are earning interest (staking) and participating in auctions, price predictions, and token presales. Also, you can purchase cards that give you discounts on repayment of margin interest or an opportunity to earn interest/rewards while participating in airdrops or investments. You can find them in the More Services section.
Those who prefer to trade on the run can use a mobile app (both iOS and Android are available). It provides access to the platform's functionality in the interface optimized for small screens. 
Fees
Trading fees on AscendEX (BitMax) vary depending on the currency. Bitcoin, Ether, Tether, XRP, and other "large market cap assets" are cheaper to trade — takers and makers are charged only 0.1% per trade. In other cases, the fee is quite high — 0.2%. Many popular exchanges (e.g. Binance, HitBTC, etc) charge only 0.1% per trade or less and provide fee discounts for active traders.

Users trading in large amounts and holding certain amounts of ASD tokens are charged with smaller fees or at some level VIP traders get rebates instead of paying fees. As for withdrawal fees (for Bitcoin, for instance), the rate is quite standard: 0.0005 BTC.
Is AscendEX Safe?
Depositing your money to the exchange before you make sure this platform is legit and safe would be risky. Any exchange no matter how popular it is and how big liquidity it has should be first checked in terms of security. Mt. Gox once was a popular exchange. It didn't prevent it from being unsafe. Its users lost their money. So before you register and invest any money, you should read through the user reports which can usually be easily found online. Try to figure out which ones are adequate and authentic and then make your conclusion. Apart from that, you should see what security measures are applied by the platform to safeguard the users' data and funds. Also, it is important to make sure that the platform provides you with all security measures you see necessary to protect your account from hacking because not all exchanges or wallets even have a 2-factor authentication feature.
There are not many negative reports from alleged AscendEX (BitMax) users online. For an exchange with that huge user base and liquidity, the amount of negativity can be considered negligible. However, it's up to you to decide whether the complaints can be dismissed or taken seriously enough to turn away from AscendEX (BitMax). On Reddit, you can find a post about the manipulation with the native token release conditions that are seen by OP as a blatant scam. However, apart from this sad story, it is a tough task to find adequate scam accusations aimed at AscendEX (BitMax). In general, it's a good sign. Another reason to trust this platform is that the core team members are publicly known. Most shady exchanges prefer not to reveal their true names and faces. Still, deciding if AscendEX looks like a legit platform or a scam is your burden.
Now, let's see how the users' money and information are protected on AscendEX (BitMax). First, it's important to activate 2-factor authentication which is not only supported on this exchange but is mandatory for all traders. You literally cannot start trading until your account is not protected by 2fa. When you enable 2fa, your account becomes nearly unreachable for those who don't have your mobile device. Only the account owner's device can generate the one-time password requested when you enter an account or try to withdraw funds. It is good that AscendEX (BitMax) offers this feature.
It is possible to enable an anti-phishing code that will be attached to every message in the correspondence between you and the exchange. The messages from the exchange without this code are not authentic so you will easily see if you are approached by a scammer. If you see any suspicious activity, you can easily freeze your account in one click. There is a Freeze button in the account settings. Near it, you can see the logins list with IP addresses and other info that will help you to notice unauthorized activity. Unfortunately, there is not much info about the ways AscendEX (BitMax) protects its servers and so on. That's rather a drawback. However, considering how big the liquidity is and how little criticism you can find about the platform, it seems that the exchange does enough to secure your funds.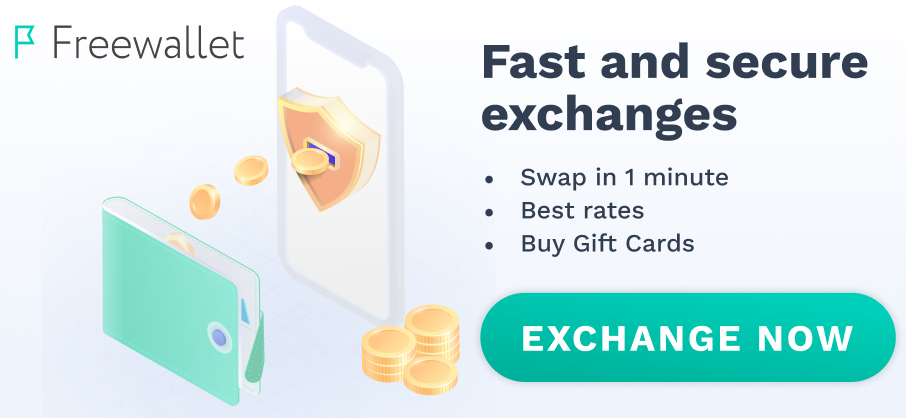 they ban my account "frozen" becouse market manipulation , i was trading in normal in cash and future , baam logout , i cant login , reason , marketmanipulation , while i i do realy realy just normal trading ... i get banned, while i had a x20 future position open , iam sure it gets liquidated, and they will sit on my money
the scammers lost access to the account, after half a year of writing and sending photos, they finally wrote back that they unlocked manually, and the next half a year, nothing, after half a year I try to send a new e-mail, and now I have 4 days of silence. Have my funds been defrauded, or the gielby service can not force me to log in with a password and phone number as it is on binance and kucoin?

Please be careful
Avoid this exchange. Excessive withdrawal fees (
0.0005 btc atm) They raise also the minimum withdrawal limit to 100usdt...