Bitbns Exchange Review 2023 - Is It Safe?
Full address:
BENGALURU, Karnataka (The exchange does not disclose the exact location of its office)
Fees:
Withdrawal Fee • 0.25% Taker Fee • 0.25% Maker Fee

Full fee schedule:
https://bitbns.com/fees/
Fees:
Withdrawal Fee • 0.25% Taker Fee • 0.25% Maker Fee

Full fee schedule:
https://bitbns.com/fees/
May 01, 2021
In this article, we'll review Bitbns exchange and cover the key facts, main features, fees, and other useful information about the exchange. 
Is Bitbns safe to use? What are the exchange fees? How to use it? All that you should know about Bitbns in this complete platform review.
What Is Bitbns?
Let's start the review with some key facts about Bitbns.
Bitbns was founded two years ago, and it went live on December 14, 2017. It is an Indian cryptocurrency exchange, and its name is an acronym meaning 'Bitcoin buy and sell'. On the 'about us page', the exchange does not mention the real names of its founders. 
The exchange supports over 50 coins. There are 73 digital assets, as indicated on their webpage. On the coinparika.com site, we can see the details of the trading volume.

As of July 2019, the trading volume is declining. On coinlib.io site, we see that are currently 72 traded pairs, and there are only two supported fiat currencies, INR and IDR. Not Euros and not US Dollars at all.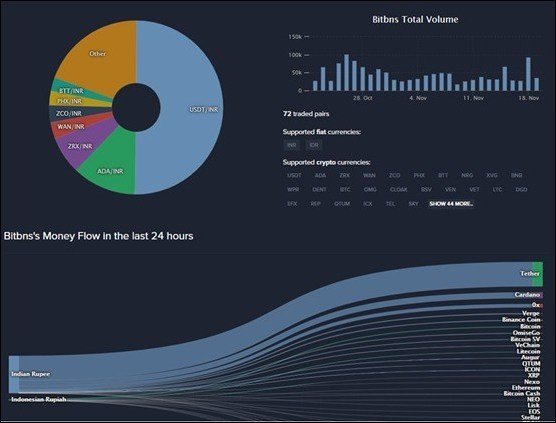 As of November 21, 2019, for the period October- November 2019, the highest trading volume was during late October 2019, with a figure of $101K. We must mention the fact that cryptocurrencies are not legal currencies in India. The supported countries are several, such as India, Argentina, Australia, Brazil, France, Germany, Italy, Spain. The USA is not mentioned in the supported countries.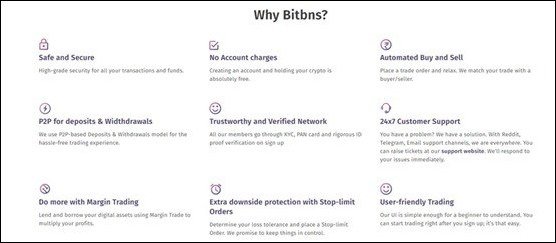 Bitbns Features
What are the main features of the exchange? There are video tutorials to help you navigate the platform and start trading various coins.
Some of the main advantages of the platform are:
• Relatively low trading fees. 
• Relatively low transfer fees.
• A large variety of coins to trade, they mention 73 coins on the webpage.
• There is an affiliate program you can join to make extra income.
• Margin funding and trading are available for 28 digital assets only, not all the coins available to trade. Some of the most common coins for margin trading are BTC, EOS, XRP, ETH, USDT, and ADA.
• There is a social media presence on Facebook, Telegram, Reddit, and a newsroom with blockchain and cryptocurrency news, blockchain guides, opinion and information on wallets, and other exchange news.
• Fiat deposits are supported but only in the local currency, i.e., INR (Indian Rupee).
• The platform offers overall a pleasant experience. There are price charts available and other useful information such as the order history and the order book. 
• A wallet is offered to traders to store their cryptocurrencies. There is also available the option to use other third-party wallets. 
• The speed of executing trades is good. There is instant trading.
• You can set a price alert, and types of orders accepted are limit, stop-limit, and bracket. Trade history information is provided, such as price, volume, the high-low price for the coins. For bracket orders, you can set a trailing stop-limit and a trailing stop-limit time interval as well.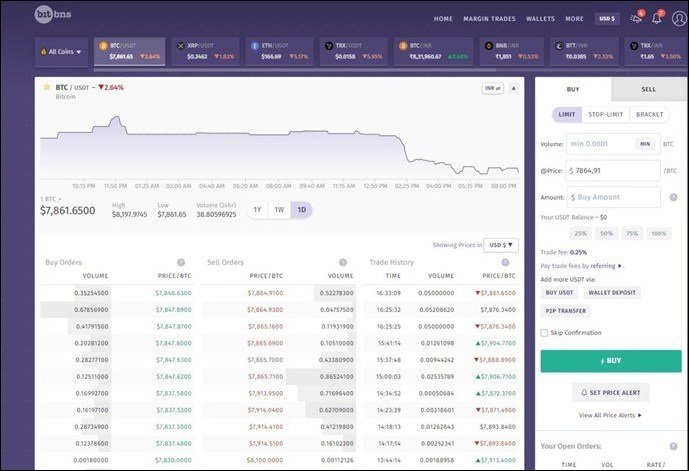 Bitbns Fees
What about Bitbns fees?
For trading fees, there is only a flat 0.25% trade fee according to the volume. The deposit fees both for the cryptocurrencies and the local currency are free. As expected, there are, however, withdrawal fees, variable according to the coin traded.
For Bitcoin, the fee is 0.0005; for Cardano, the fee is 1; for Neo, the fee is 0; for Dash, the fee is 0.02, for EOS, the fee is 0.01, and for Tether the fee is 4. As mentioned, users can start trading instantly.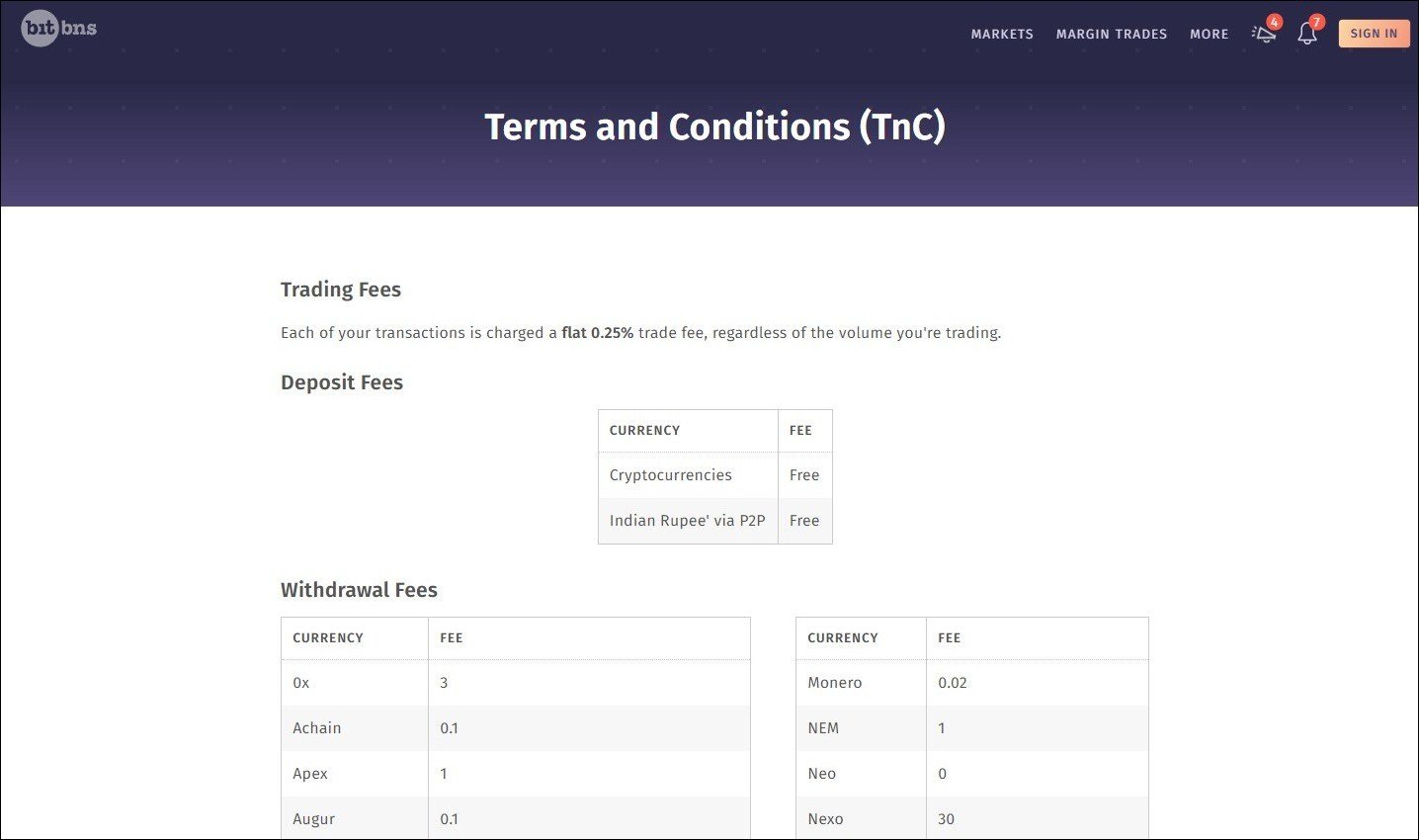 Bitbns API
There is a page named Ticker API, which, when clicked, opens a window with information on last traded price and volume. On September 24, 2018, there was an official tweet that API trading was available on the trading platform.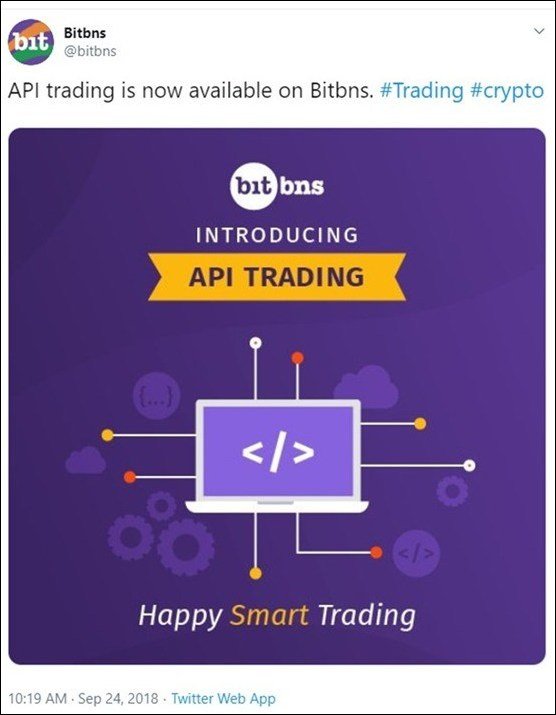 How to Use Bitbns Exchange?
Exchange sign up is relatively easy and quick. Especially, if you live in India. An email is sent for verification and an SMS to your mobile phone. There is the option to verify your account, or you can proceed without verification. There is also a detailed list that you must check to proceed with using the platform. 
From paying attention to https protocol for avoiding any phishing attacks to do not disclose any personal information such as your passport or using any other browser extensions except Chrome and Firefox, plenty of attention has been given to security. More on Bbitbns KYC and Bitbns verification is mentioned below.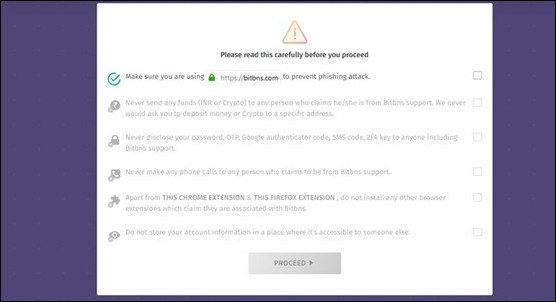 The exchange KYC and verification process are the following ones. The exchange itself urges you to get verified. In this platform, crypto trading does not need KYC verification. It is not compulsory. However, for practical reasons such as depositing and withdrawing in fiat currency and even increasing the current limits to withdraw cryptocurrencies, you must complete the verification process, which should take only a few minutes. 
This is very strange as you can deposit and even trade coins without having completed the actual KYC verification process. Still, in order to withdraw any potential profits from trading, you must verify your identity. Practically this means that KYC verification is only a matter of time to complete. It makes Bitbns KYC a necessity.
If you are a local user, an Indian user, the required documents to complete the KYC verification are the Personal Account Number (PAN), your Bank account details, and your Driving or Voter ID. If you are an international user, the required documents for the KYC verification process are only the national ID and driver's license. 
If you come from another exchange, then you can fill two forms, one from Zebpay and one from Coinex, to claim the refund associated with the withdrawal fee.
There is a video about how to deposit and withdraw cryptocurrencies on the platform. 
To buy any coin, you click to the wallet tab, click deposit and copy the address, and you paste it in another digital assets exchange such as Koinex. A tag is a must for any Ripple transfers. You must use the authentication OTP and click next to submit the withdrawal request. Then you can check the history to check the number of coins deposited, minus the fees. To withdraw coins, you click the withdraw button and is the same procedure in reverse. 
Bitbns withdrawal limit is different for each coin. For Cardano, you need more than two coins to have available to withdraw. For Bitcoin, you will need to have more than 0.00101 BTC to complete the withdrawal request. There are also withdrawal fees mentioned above.
The trading process is simple, you choose any coin, press the trade button, and you can see the price expressed in both local currency and US dollars. You then have the option to press the trade now button or the borrow/lend button to monitor any open margin orders. Additional information on volume, rate, and the number of days is available.
Customer Service
For customer service, there is a customer support page with the option to enter a search term in the box or to have a look at the knowledge base with an extensive list of questions. There is also the option to submit a ticket and ask anything. In this case, you must verify that you are not a robot. 
@bitbns @gauravdahake @BuyHatke

I was again made promise that my amount will be settled by today evening yesterday after escalating here which is pending from 9 days.
Still I have not recieved my funds and please dont tell again the transaction failed#cryptoscam #bitbns #scam pic.twitter.com/I7tVQJc1Q9

— Chandhan (@ChandhanGowda1) October 20, 2020
About Bitbns exchange reputation and reviews and common user problems visiting the Trustpilot site, there are only 13 reviews. 10 out of 13 reviews or 77% five an excellent rating. The users mention that there is good customer support, the application is user-friendly, and some suggest that it is the best crypto exchange based in India. In general, Bitbns reviews are excellent.
Frequently Asked Questions
The most common frequently asked questions are about registration and KYC verification process, trading, deposits and withdrawals, security, and margin trading. There are some announcements about contests and upgrades. An interesting question is about leverage. In the platform, you can only have 1x leverage. Also, the answer to the question of whether the mobile application and its availability are that for now, it is only available in India.
Is Bitbns Safe? 
Before you start trading on Bitbns you should make sure the platform is well protected and the money you earn is not going to be stolen. Unfortunately, cryptocurrency platforms attract many cyber criminals and cases in which users' funds get swiped are not that rare. Bitbns leaves a lot to be desired in terms of security.
Bitbns doesn't reveal much info about the ways the company guards the users' money and data. In the FAQ section it is stated that Bitbns is extremely safe and users can rest assured their funds cannot be compromised as the platform has an A-grade security level. The website provides many similar claims, however, it doesn't make it clear how exactly this level of protection is achieved.
There is no confirmed facts about successful Bitbns servers hackings which is good. However, it seems that the individual accounts of Bitbns users are quite easy to hack. The exchange allows users to enable 2-factor authentication (2fa). Usually this security measure is associated with the authenticator app installed on the mobile device which makes it very hard to crack the user account remotely. Unfortunately, Bitbns uses the weaker version of 2fa. The one-time password is sent via SMS or email which are easier targets for hackers. The history of account activity is also not available for the Bitbns users. If you feel that something suspicious is taking place you might log out from all accounts in a couple of clicks.
Judging from the users' reviews it seems that the Bitbns support team is slow to respond to the users' queries. At times accounts get hacked. Some users claim they have their money lost on Bitbns. There are people calling Bitbns a scam. Most of these accusations are not confirmed by evidence, however, you can consider them while deciding on whether you should or should not use Bitbns.
Conclusion
Bitbns is a new exchange to trade various cryptocurrencies, and they claim to be one of the fastest ways to trade cryptocurrencies in India. The platform is user-friendly with only a few primary tabs such as markets, margin trades, more. There are, however, some significant disadvantages to take into consideration. One drawback is that no anonymity is available. You must complete the KYC verification process to withdraw coins. Another problem is that no leverage is offered. Leverage is very risky, and most novice traders should avoid it, but if you are a more experienced trader, then you may want to trade with leverage. This is not an option for Bitbns. There are no credit cards accepted. This makes deposits a bit complicated. 
Overall, Bitbns seems an exciting choice as another crypto exchange with an extensive list of available coins and relatively low trading fees and transfer fees. New users will not have a lot of difficulties to experiment with the main features, and within a short amount of time, once verification is completed, they will be able to start trading.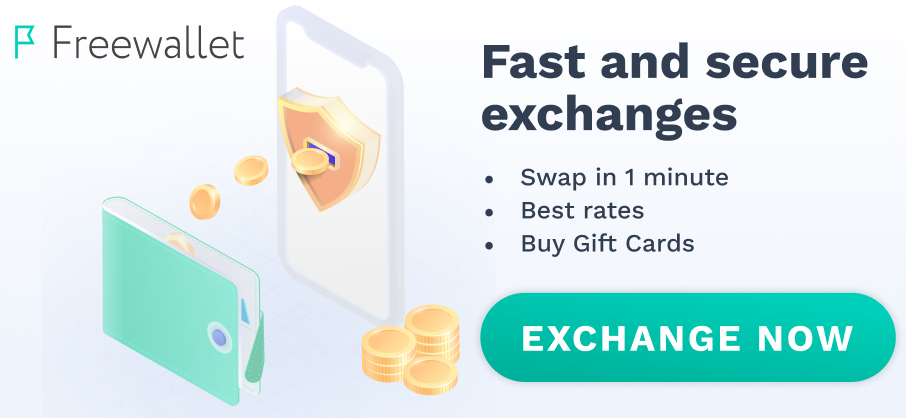 Surendra saini
5 July 2021
Sayad hi es se ghatiya exchange App hoga sala har din witdrawl problem deposit wale time par to turant le Le te ho
Awesome crypto trading platform...
More Convenient, Easy deposit, Less transfer speed
saikrushna suresh bolenwar
8 May 2021
very fake my account not login 2fa code add also not open my account
Не могу вывести криптовалюту. Обратился в поддержку и жду более суток. Плохо работают.