Bit-Z Exchange Reviews
May 23, 2020
Bit-Z is a Hong Kong-based cryptocurrency exchange that was launched towards the end of 2016. It is one of the top ten crypto exchanges around the world in terms of the reported trading volume.
The platform provides users with access to over 160 plus markets with high liquidity.
On Bit-Z, traders have access to more than 100 crypto coins with over 140 trading pairs.
Users will love the platform as it provides access to advanced charts, reports, trading history, real-time market information as well as API access, which all aid traders to make informed decisions.
Additionally, the Bit-Z exchange offers OTC trading services. These include an OTC trading platform where advertisements involving buying/selling of certain cryptocurrency assets can be posted and even listed.
Thanks to OTC trading the exchange offers, it's possible for users to make direct trading of the various crypto assets on offer.
The team behind Bit-Z exchange is made up of well-experienced professionals who have a diverse background when it comes to e-commerce, finance, gaming, and social networking.
The combined experience translates to a platform that is easy to use and secure.
One of the reasons why Bit-Z is so high on the list of top crypto exchanges is due to its liquidity.
The platform has a reported 24-hour trading volume of over $655 million as of the time of writing.
A glance at the official website of the platform reveals the four key factors that act as the selling points of Bit-Z to users, including security, convenience, professionalism, and synchronization.
Bit-Z exchange offers a flat fee of 0.1%, which is well below 0.25%, which serves as the industry average.
The favorable fee gives the exchange a strong competitive advantage within the crypto market as lower fees are seen as more appealing by specific users.
However, the withdrawal fees are not constant but it averages at around 0.0001 which is also below the industry average and offers Bit-Z an edge over other altcoin exchanges.
Even though the fees are quite low on Bit-Z, which is quite attractive to new users, the exchange may not be the most convenient to users that are new to the cryptocurrency space as the platform only supports crypto to crypto trades.
This means that users have to use another exchange that supports fiat to crypto trades to gain access to crypto assets, which can be sent to Bit-Z, and then they can get started on trading.
However, it is possible to use the OTC service which is provided by the exchange to make such trades on the side.
Since the Bit-Z is based in Hong Kong, it's not regulated like many other platforms. However, it prides itself on being transparent with their rules and security systems.
Bit-Z Trading Platform
Bit-Z uses its own proprietary web-based platform, which offers all the features an individual would expect from a competent crypto trading platform.
Its entire user interface is very user-friendly and intuitively designed.
The layout looks excellent as everything is positioned in a clean and optimized way to ensure it offers a great trading experience for users.
The crypto price chart is placed in the middle of the screen while the markets and the digital assets available on the left.
If you need to place an order, you will find that feature just below the chart. The current buy and sell orders are on the left, and the trade history is placed on the right.
The whole set up is excellently done and easy for new users to understand.
Bit-Z exchange makes it easier for all users to trade like professionals by giving them access to all the necessary tools, features, and information it takes to complete trades competently.
For instance, traders have access to advanced charting tools, real-time market information, reports, trade histories and API access for automated trading.
Bit-Z exchange runs on lightning-fast secure servers that allow for fast order execution even when there is high liquidity.
The dev team has done an excellent job when it comes to a trading platform, and the design suits both experienced and non-experienced traders.
Supported Cryptocurrencies
So far, Bit-Z supports a total of 105 digital assets. These include:
BTC, ETH, XRP, EOS, LTC, XLM, TRX, NEO, DASH, ETC, QTUM, ZEC, LSK, ONT, DOGE, DGB, XIN, ARK, ELA, NULS, FCT, MCO, SPHTX, HPB, TKY, XAS, CPX, BTX, INK, DCT, CVT, OCN, RNTB, EKT, ETP, IXT, PRA, AIDOC, SS, and LEO.
However, the exchange has set up a voting system where users can vote on which crypto assets they would love to see added.
Therefore, the platform is continuously adding new virtual assets based on the voting system to satisfy their customer needs.
Available Markets
As we saw above, the platform offers traders a wide range of digital assets to choose from, which can be traded in four different markets.
The crypto-assets can be traded against Bitcoin (BTC), Ethereum (ETH), DKK Token (DKKT), and Tether (USDT).
Bit-Z Fees
When it comes to depositing funds into your account, there are no Bit-Z deposit fees involved. However, there are charges involved when it comes to withdrawals.
As for trading fees, the exchange charger a meager 0.1% to all buy and sell transactions.
Bit-Z withdrawal fees vary depending on the crypto coin that is being transferred. Below is a list of some of the fees involved when it comes to the popular cryptocurrencies;
| | |
| --- | --- |
| Currency | Withdrawal Fee |
| Bitcoin | 0.0001 BTC |
| Ethereum | 0.01 ETH |
| Litecoin | 0.01 LTC |
| Tether | 10 USDT |
| Bitcoin Cash | 0.0001 BCH |
| DKK Token | 1 DKKT |
| Ethereum Classic | 0.01 ETC |
| Dogecoin | 20 Doge |
| ZCash | 0.005 ZEC |
| Dash | 0.002 DASH |
Transfer And Withdrawal Fees
For starters, it's essential to understand that before you can withdraw any funds from your account, one has to achieve a higher level of verification by providing your full name, birth date, and trading password.
After submitting this information, the verification of your account goes to level one, where you can withdraw as much as 2 BTC within 24 hours.
However, to access higher withdrawal limits, you will have to provide your country of residence, mobile number, and address.
Payment Methods
Also, in this Bit-Z review, we are going to have a look at the various modes of payment that are accepted on the exchange.
Since the Bit-Z only accepts crypto to crypto trading, the only way to deposit funds in your account is through cryptocurrency transfer.
But in case you are using the OTC service, there are three fiat currencies accepted, including US dollars (USD), Danish Krone (DKK) and Chinese Yuan (CNY).
As for the OTC service, the following payment methods are accepted; Cash, PayPal, WeChat, Bank Transfer, Alipay, Neteller, Western Union, and Cryptocurrency.
Duration Taken Before Funds Reflect On Your Account
There are a few factors that will determine how long the funds will take before they reflect on your account, including network congestion and the number of confirmations that are needed to complete the transaction.
As for fiat currencies, when carrying out an OTC trade, the transfer period will depend on the payment method chosen.
Countries Where You Can Access Bit-Z Exchange
Bit-Z is available in many countries around the globe, including the Bit-Z United States. But there are a few countries where it's not possible to access the platform.
Interested users are advised to contact the exchange directly to find out if they are legally allowed to access the platform from their country of residence.
Getting Started On Bit-Z
To get started on Bit-Z, you will have to visit the official website of the exchange and click on the Sign Up icon that can be found on the top left corner of the dashboard.
You will be taken to a page that offers you two options to sign up, either using your phone number or through an email address.
Chose the most convenient mode for you and proceed to enter the necessary details. As for the password, set a strong password that secures your account from being easily breached and store a copy of it at a secure location in case you forget or lose the password.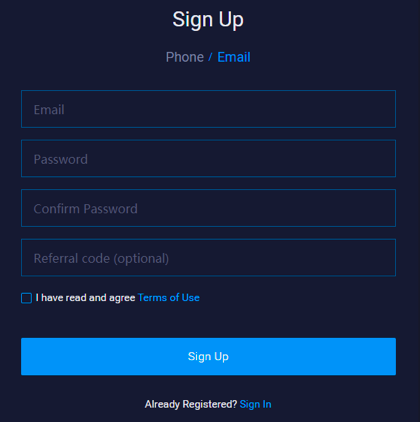 4. Solve the simple puzzle that appears after entering your details and clicking sign-up.
5. Go to your inbox and verify your email by clicking on the link that has been sent there.
6. Now that you have verified your email, you can sign in by entering the email address and password.
7. Once in, proceed to the overview section on the top bar, where you will be able to set up the security of your account before you start trading.

8. Activate the SMS authentication, which will be used for security verification when you log in, make withdraw requests, or when you are trying to modify your security settings.
9. Set the trade password that will be used for security verification when you operate OTC, Bit-Z API call, etc.
10. Set the google authentication that will be used for security verification when you log in, make withdraw requests and modify security settings
11. Finally, set up the anti-phishing code, which will help protect you from fake Bit-Z emails and websites.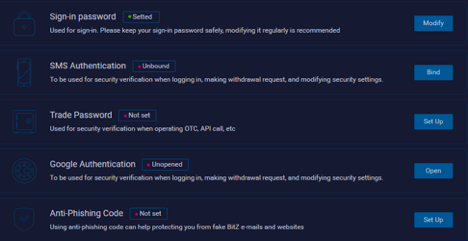 12. Continue to verify your account to raise the limit of withdrawals you have access to by entering the necessary details asked for. The first level allows a 24-hour withdrawal limit of 2 BTC.
The second level allows you to withdraw up to 50 BTC in 24 hours, and the third level provides access to higher limits.
To start trading, ensure you have deposited some cryptocurrency on your account. Then click on the exchange icon that is located on the top left corner on the main menu.
This will take you to the trading screen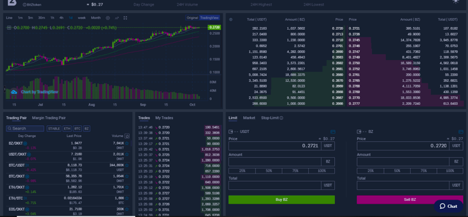 On the left side of the screen, you will see the trading pairs that are available in BTC, ETH, DKKT, and USDT.

Proceed to choose the currency you prefer and click on the currency you would like to trade it for. You can then use the box on the right to place you buy and sell orders.
BZ Token
BZ represents the official Bit-Z exchange coin. It appeared on coinmarketcap.com for the first time in July 2018. The token currently sits at number 226 and its trading at $0.27 with a market cap of $36 million.
BZ has a total supply of 684,307,071 million tokens, and these coins can only be purchased on the Bit-Z exchange.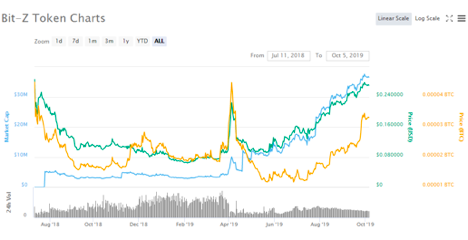 OTC Trades
OTC means "Over The Counter" trades, and they are growing in popularity among crypto exchanges. Bit-Z is one of the leaders when it comes to OTC trades.
These types of trades don't require an individual to use an account from other exchange platforms or their e-wallet.
They allow users to purchase currencies directly from other members of the site, and the orders don't appear on the exchange but in a separate "OTC" area.
Also, users can similarly sell their coins, and the system uses a member feedback rating system that allows one to check the other member's trading profile and feedback.

Security
Security is the most critical aspect when it comes to cryptocurrency exchanges, coupled with the ability to be transparent and fair.
Without these three factors, the exchange isn't worth pursuing. Thankfully, we found Bit-Z meets and exceeds these requirements.
Bit-Z exchange utilizes bank-level SSL technology on transactions and uses the Global Server Load Balancing for stability.
There is also a two-factor authentication process in place that comes to play when users are trying to deposit or withdraw funds from the platform.
This helps keep user accounts more secure.
Other security features that exist on the platform include email verification and double password verification.
As a testament to its strong security measures, within its short existence, Bit-Z hasn't been hacked.
As for fairness, all accounts on the platform are created the same, and no user is treated differently from the others.
Also, the exchange is very transparent with their rules and conditions of engagement, and they state the fees for buying, selling, and withdrawing cryptocurrencies.
Advantages
The exchange offers access to a wide range of cryptocurrency pairs
The exchange provides access to high trading volume
The platform provides OTC services for all large-scale volume traders
The platform supports two-factor authentications
The platform offers very competitive trading fees
Disadvantages
The exchange doesn't support fiat deposits
There is no margin trading available on the exchange
There is a limited amount of information that is available concerning the transaction limits that are available online.
Customer Support
Bit-Z offers users two ways of customer support, one is through live chat, and the other is through support tickets. Both options are available 24/7.
However, we found their response times to be a little bit lacking.
There have been incidences where users have reported the support to take a couple of days before finally responding to queries.
All in all, whenever a user has a question about their account or concerning any transaction, the exchange offers an online help center that has several frequently asked questions.
In case you don't find what you are looking for there, then you can submit a request via Zendesk. The exchange can also be accessed through email or its WeChat account.
Concerns
Within the short period, the exchange has managed to gain a reputation for itself within the altcoin trading space, even though it hasn't been completely a positive one.
Bit-Z exchange was one of the many exchanges that were named in the Alameda Research released earlier this year for blatantly faking its volume.
This is a strategy among many other malpractices that exchanges result to attract new users.
Also, some of the features of the website don't work on all browsers. However, we had the best experience using Google Chrome and Brave browsers.
Is Bit-Z Legit?
To sum up this Bit-Z exchange review, the platform is definitely one to watch out for, given that it has a large number of cryptocurrencies listed, and it's continuously adding on the list.
It's also accessible in many countries, and the platform fees are unrivaled.
Even though some people may have some concerns over its reputation, there is no taking away the fact that Bit-Z is a safe and secure platform that hasn't been breached since it began operation almost three years ago.
All main coins are supported and they are exchanged smoothly. Decent traiding room.
Convenient exchange for beginners.
High security, convenience, a large number of different currencies, vysokoy infromrativnost.
For me, the main drawback is the small number of currency pairs, otherwise I am satisfied with the exchange
Hess
6 February, 12:25 PM
I was astonished but the exchange. It's fast as the exchange can. The is extremely low, I don't know why, but it's true, it's almost nothing! Have no idea how long it will last, but today it's one my favorite.
Chronical
1 February, 1:45 PM
The exchange is quite convenient for a big trade. The liquidity is big and it doesn't seem fake. Additionally, it has got a big variety of coins, a big choice.
Maurizio
31 January, 7:18 AM
I'm going to agree with the review, it's definitely one of the great platform I've ever traded. It performs the work without failures and hacks. 5 stars out of 5
Coronovirus
30 January, 12:00 PM
Bit-z has got a great reputation among the traders. I never seen big hacks or long and illegal pending. The platform helps traiding and I'm glad that I'm doing it here.
I see that exchange offers a good service, the support answers within 10 minutes,my operations usually are completed whithin 1-2 hours. I guess, it's a good result.
Foxlight
20 November 2019, 8:36 PM
Let's get this clear, I'm not so expirienced trader, but I have some knowledge about the crypto market. So, I don't understand why my funds were frozen or blocked, I don't know, it was done without my permission. I haven't done any illegal action, just traded. But one day I see that I no longer have the acces to my funds and I'm supposed to contact the support to unblock them. I did but the support keeps silence and still don't know where my money is. In my opinion, that doesn't look like the work of a proper exchange.
Liam
18 November 2019, 12:58 PM
I've made a couple of operations with the eth token and they completed right away. Don't know about the criticism, for me, the exchange is perfect.
Morro
16 November 2019, 3:21 PM
It's not that bad, yeah, I saw the reviews that the liquidity may be fake, but my transactions went through and I have nothing to complaint about. Bit-Z is a good one.
Vittor
31 October 2019, 10:06 PM
It's a cool trading platform because there are different coins and you can exchange it between each other. But sometimes the exchange takes more time than it is expected. And it is bad for trading. But in general, I am satisfied.
benjamin bern
6 September 2019, 6:45 PM
Great exchange. I like the navigation of the exchange and the support. I never seen here any long pending or hacking. I wish it has the fiat currencies. But In general everything is fine
Laurence Kelly
6 September 2019, 6:13 PM
Good looking and easy to use web site. The support is quite fast and helpful. But the fee is rather high. Sometimes it's really frustrating.

Bit-Z Exchange Reviews