Shiba Inu (SHIB) Price and Reviews 2021
Sep 22, 2021
There is only one cryptocurrency that has a huge market capitalization and lacks the dev team, strong and unique technology, and a clear purpose. We are talking about Dogecoin, an infamous meme-based cryptocurrency with a Shibu Inu emblem on its logo. Even though the coin was created as a parody and is sometimes considered a bad version of Bitcoin (in terms of technology), Dogecoin became very popular. The power of the community was pushing its price up for years, and now Dogecoin is among the top 15 cryptocurrencies by market cap. 
No wonder, someone decided to use the fame of a Shiba Inu-based coin to create something more ambitious, mixing the experience and professionalism of the teams of other top crypto coins with Dogecoin's hilarious appeal. The new coin with Shiba Inu was created, please welcome — Shiba Inu token (SHIB)! This token has quickly gained attention and now is among the top 50 crypto coins by market cap. 
It's worth saying that there were many attempts to repeat and develop the success of Dogecoin. There are at least 6 crypto coins with the word "Shiba" in the name and about 5 tokens named "dog-something". These cryptocurrencies are more or less worthless. So obviously, it's not enough to create a new coin and call it a Shiba Inu token to get to the top 50. In this article, we will discuss the coin's price, the technology beyond the token, and highlight other important aspects of the Shiba Inu token.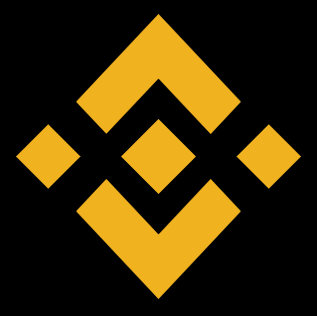 Get Profits with HODLing on Binance Earn
What Is Shiba Inu Token?
The Shiba Inu token is sometimes referred to as the Dogecoin killer. The project emerged on the market in august 2020. The pseudonymous (if real) leader of the Shiba Inu ecosystem is Ryoshi. The fact that there is no info about this person or a group of people is not a good sign. However, in the cryptocurrency field, there are still many actors preferring to keep their identity secret for whatever reason. The initial supply of SHIB coins was 1 quadrillion. A large part of this money was distributed between the wallets of Uniswap and Vitalik Buterin who sent all SHIB coins to the India Covid Relief Fund. Many coins were burnt via locking in the "dead" wallets. This unusual strategy was aimed at ensuring the stability and future success of the coin.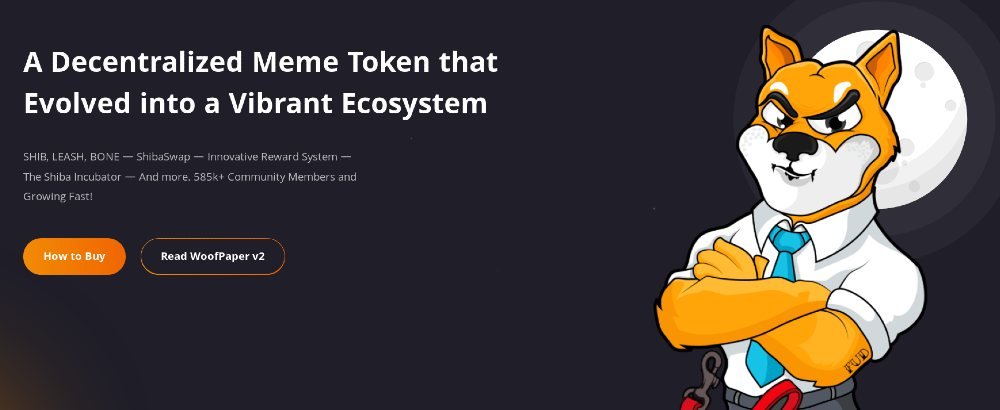 For the first months after the launch, the coin wasn't a popular one on the market. The price was seriously fluctuating. However, it always was well below 1 cent. The market cap of the entire SHIB supply was only a few thousand dollars. Only in the spring of 2021, the situation began to change drastically. The Dogecoin fever boosted by Elon Musk via Twitter pushed the Shiba Inu's price forward. In April, SHIB's market cap reached half a billion for a moment. In May the coin's price hit its all-time high and the market cap was over $14,5 billion. However, then the price has declined. As of September 20, the price is $0.00000695 while the market cap is $3,459,294,955, which is the 47th greatest market cap among all cryptocurrencies. Although the coin is worth little to nothing, its price volatility was allowing investors and traders to gain high profits. The overall growth of Shiba Inu's price in the first seven months of 2021 is estimated at over 2,000,000%. 
Shiba Inu Ecosystem
The Shiba Inu project claims to have a wider ecosystem that is greater than simply a cryptocurrency. Actually, the ecosystem is only a decentralized exchange that is yet to launch. Additionally, the project has three different assets. Shiba Inu is the basic currency of the ecosystem. It is available for purchasing, exchange, and is the first coin featured (and incentivized) on ShibaSwap, a decentralized exchange that is part of the Shiba Inu ecosystem.
The second currency of the project is LEASH. Initially, LEASH was created as a rebase token (a token that adjusts its supply in order to keep the overall value pegged to a certain asset's price). However, developers halted the rebase idea and turned LEASH into a different thing. It is a token with an incredibly small supply (107,646 tokens). It will be featured on ShibaSwap, as well.
🍖 $BONE : Did you know?

BONE will mint only 250,000,000 tokens, and is designed to fit perfectly between the two Ecosystem tokens $SHIB and $LEASH in regards to circulation supply.

The token is a Governance token which will allow the #ShibArmy to vote on upcoming proposals. pic.twitter.com/dSdG9YPwgV

— Shib (@Shibtoken) September 21, 2021
BONE is a third token of the Shiba Inu platform. It has a supply of 250 million tokens. BONE is a governance token that will be used for voting for further development of the Doggy DAO.  
All these tokens are available on the ShibaSwap DEX, UniSwap, and a number of centralized crypto exchanges. To buy any of these coins the Shiba website recommends you create a MetaMask wallet and deposit some ETH on it. Ethers can be swapped to SHIB or LEASH. 
ShibaSwap is promoted by its creators as the "next evolution in DeFi platforms" whatever it could mean. The users can provide liquidity ("dig"), stake tokens ("bury"), and gain profits ("woof returns") via swapping. The Shiba Inu ecosystem team promises the tools for passive income, as well. It is not, however, outlined explicitly in what way the Shiba investors will earn these rewards. On top of all mentioned, Shiba will provide you with such tools as portfolio tracker and NFTs marketplace.
Investment Potential
As of September 2021, the SHIB coin is already available on many large crypto exchanges. Mostly, SHIB is traded against USDT. The main major markets are available on Binance, Coinbase Pro, HitBTC, Hotbit, Crypto.com, Bitcoin.com Exchange, Gate.io, Huobi Global, OKEx, and other exchanges. As you can see, the coin is impressively popular. 
We can expect that the interest in the project is not going to fade away anytime soon. Therefore, investors will probably have time to consider investing in SHIB coins. Yet, it's not clear if the project has long-term investment potential, however, short-term Shiba Inu investment can play out well as the price keeps on fluctuating in a significant interval.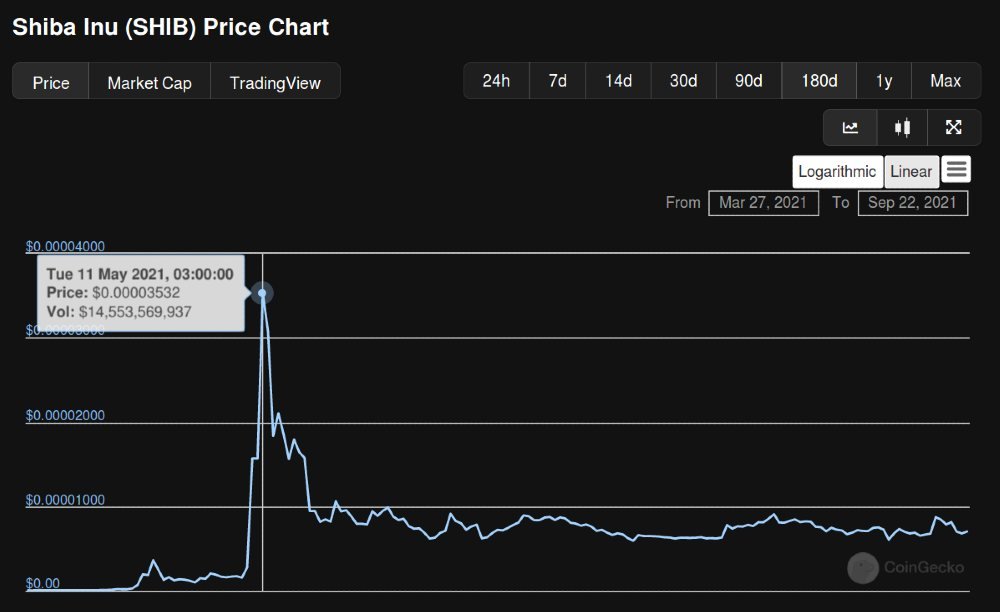 In the fall of 2020, it was really hard to count zeros to understand how little the price was against the USD. It is still challenging one year later, but now there are only 5 zeros. In September of 2020, there were 9 zeros. So you can see abnormal growth in just one year. Many experts note Dogecoin still has a serious influence on Shiba Inu's price. Both coins gain price and shrink almost simultaneously. 
Is Shiba Inu a Scam?
Overall marketing strategy of Shiba Inu coin is quite suspicious as they use the name of Vitalik Buterin as a part of the project while he's nowhere near. He was given a huge chunk of the SHIB supply but he wasn't asking for it. More than that, the website doesn't explicitly mention that it was Vitalik, not the Shiba team, who donated money to the India Covid Relief Fund. More than that, we do not know anything about the people working on the project. Are they great professionals? Are they good-intended?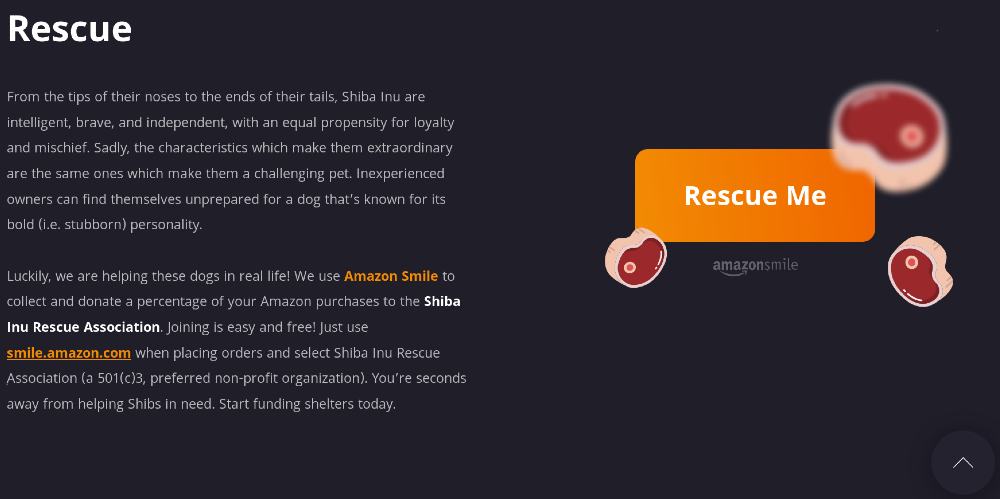 Yet, we don't have enough evidence to claim that the Shiba Inu coin is not a scam. And we have no evidence that it is a scam, either. What we see is that the team is using every questionable move to promote their coin, starting with the Dogecoin killer nickname that was coined by them, to inadequate speculations about Buterin's involvement and the false association with the AmazonSmile's Shiba Inu Rescue charity campaign (which is featured on the Shiba Inu token's website but in fact has no ties with the coin). 
Greg
22 September, 5:17 PM
This project has a lot of potential