12 Best 0x (ZRX) Wallets - Which One To Use?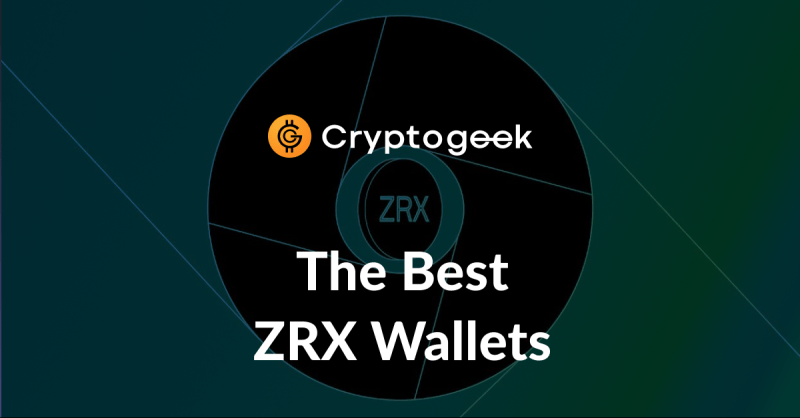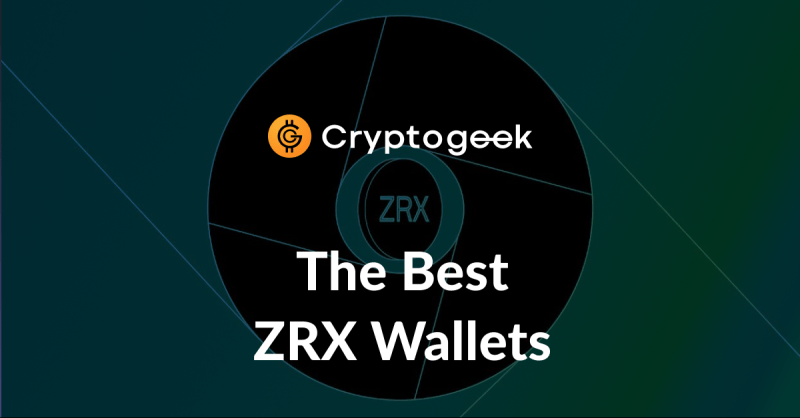 Since the release of Bitcoin back in 2009, the world of blockchain exploded. As the years went by, more and more platforms were getting developed, leading me to today's topic – 0x.
What is 0x?
0x is a platform developed by 0x Labs in 2017 to act as a base for developing other platforms.
It is built on top of the Ethereum network and allows other developers to build decentralized exchanges on top of it. While this is the main application that most people focus on, but there are a few others.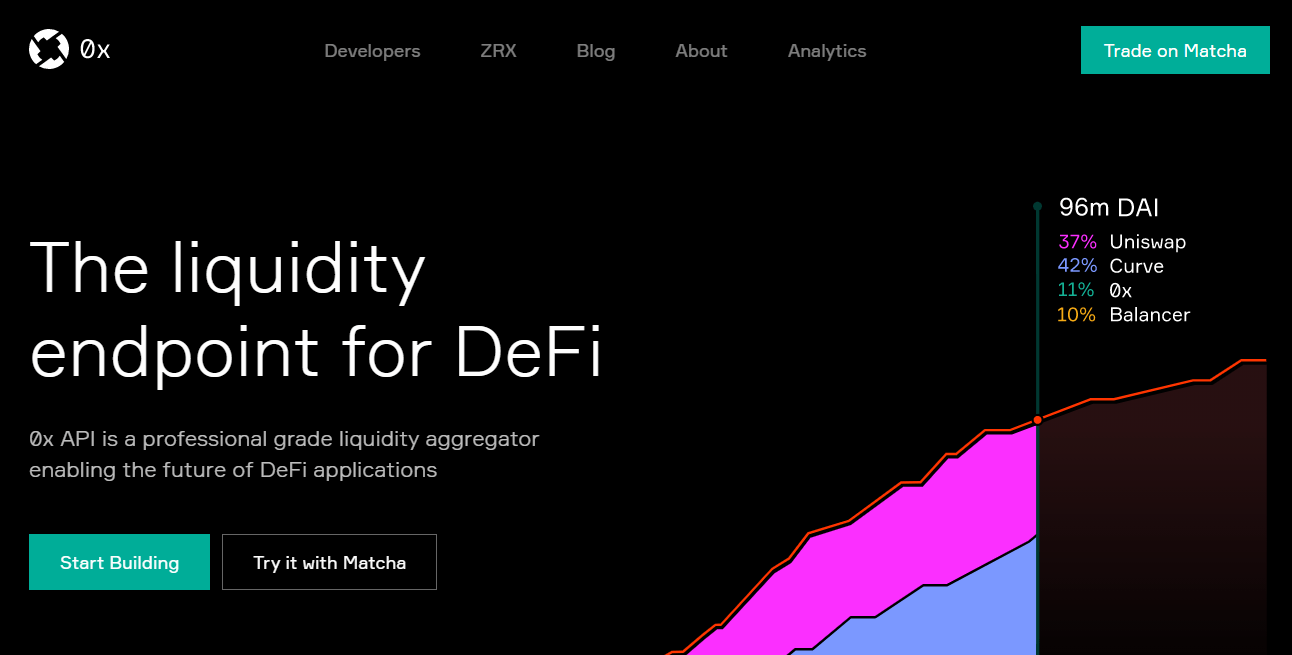 Essentially, it is the foundation for developing other decentralized platforms.
Like most blockchain networks, 0x has its own coin called ZRX. If you have it or plan to buy it, I'll be outlining the best wallets where you can store it.
Atomic Wallet
I begin today's list with Atomic Wallet. With over 500 assets, including ZRX, this is one of the most versatile crypto wallets on the market.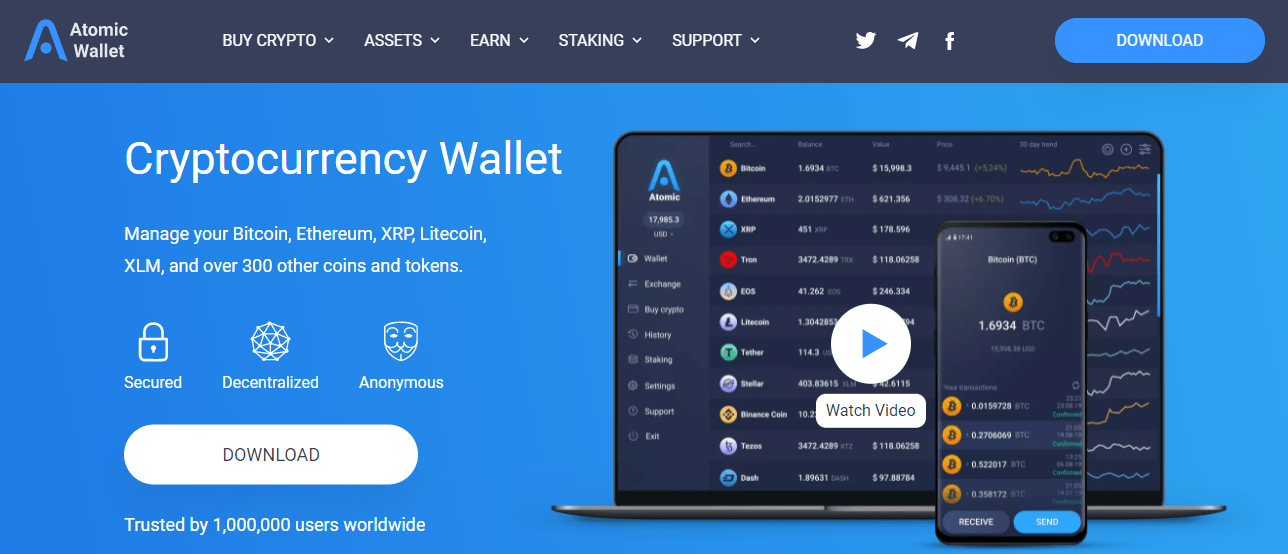 Not only does it have an option to hold plenty of tokens, Atomic also comes with an exchange covering over 60 pairs. The best part is that there is 1% cashback when exchanging. Users that don't own any cryptocurrencies can get some, using Atomic's option to purchase them with a credit card.
You can get Atomic Wallet for your mobile or desktop.
MyEtherWallet
Don't let the name fool you, MyEtherWallet is not an ETH-only crypto wallet. While it was developed to store ETH, it can also store any ERC20 tokens, and since 0x is an Ethereum-based network, ZRX can be stored in it. Unlike other wallets, MEW doesn't offer an option to make exchanges, instead you can only make swaps. On top of that, it features the same option to buy crypto using fiat money.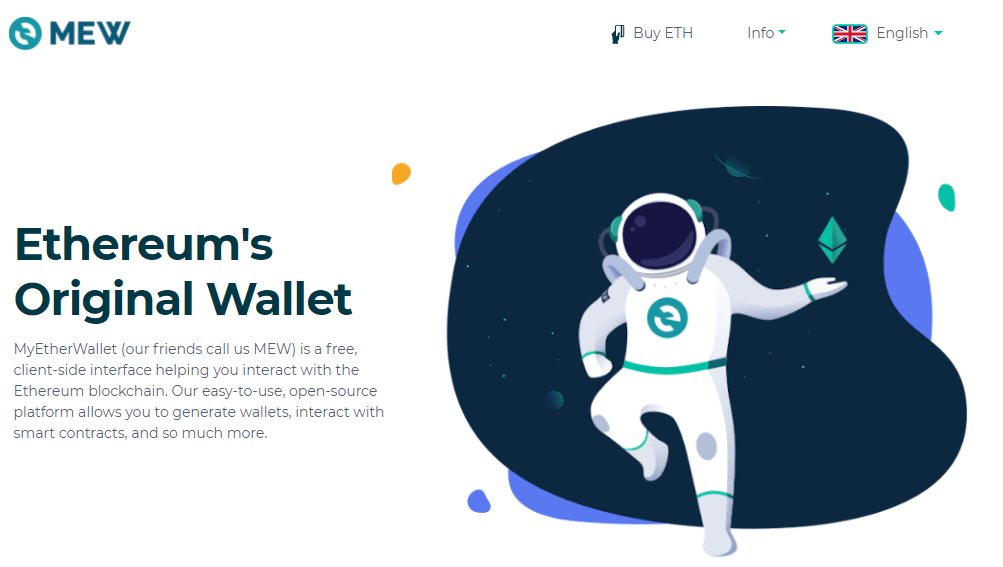 A slight advantage is that MEW is a web-based wallet, meaning that compatibility shouldn't be an issue.
Coinbase Wallet
If you ever did some trading, you definitely know about Coinbase. Well, this exchange also comes with a wallet, making it a universal platform for storing and trading cryptos. Apart from ZRX, it supports storing BTC, BCH, ELTC, ETH, ETC and tons of other ERC20 tokens.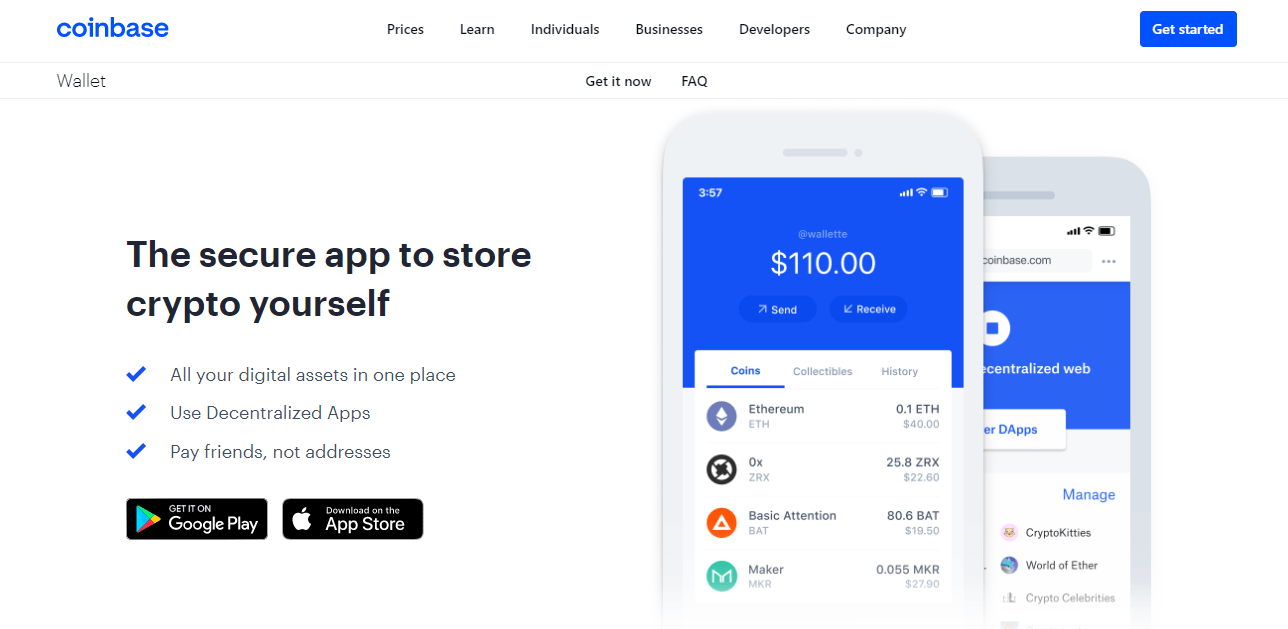 The wallet and the exchange work in conjunction resulting in a platform that can do everything – storing, trading, even buying cryptocurrencies with fiat funds from a credit card. When compared to some of the others, Coinbase has no limitations, making it an excellent combination. One thing to keep in mind is that it is only available as a mobile app for iOS and Android
MetaMask
Launched in 2016, MetaMask quickly became popular as an excellent wallet. While it won't hold BTC, it is designed to work with Ether and other ERC20 tokens, meaning that you can store ZRX without any issues.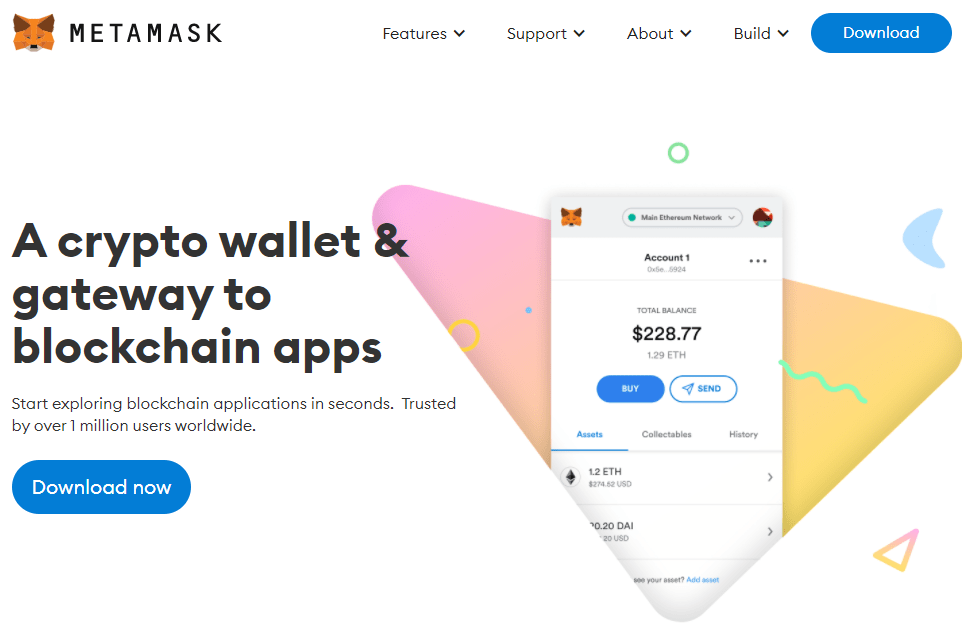 Many may criticize MetaMask for not having a built-in exchange. While that's true, the partnership with Totle, Uniswap, Airswap, and a few other decentralized exchanges, means that you can swap your tokens with ease.
You can install MetaMask on Android or iOS and as a browser extension.
Coinomi Wallet
In terms of flexibility for storing crypto assets, Coinomi Wallet is one of the best there is. With its support for over 1770 assets, there is hardly anything that you won't be able to store there, including ZRX.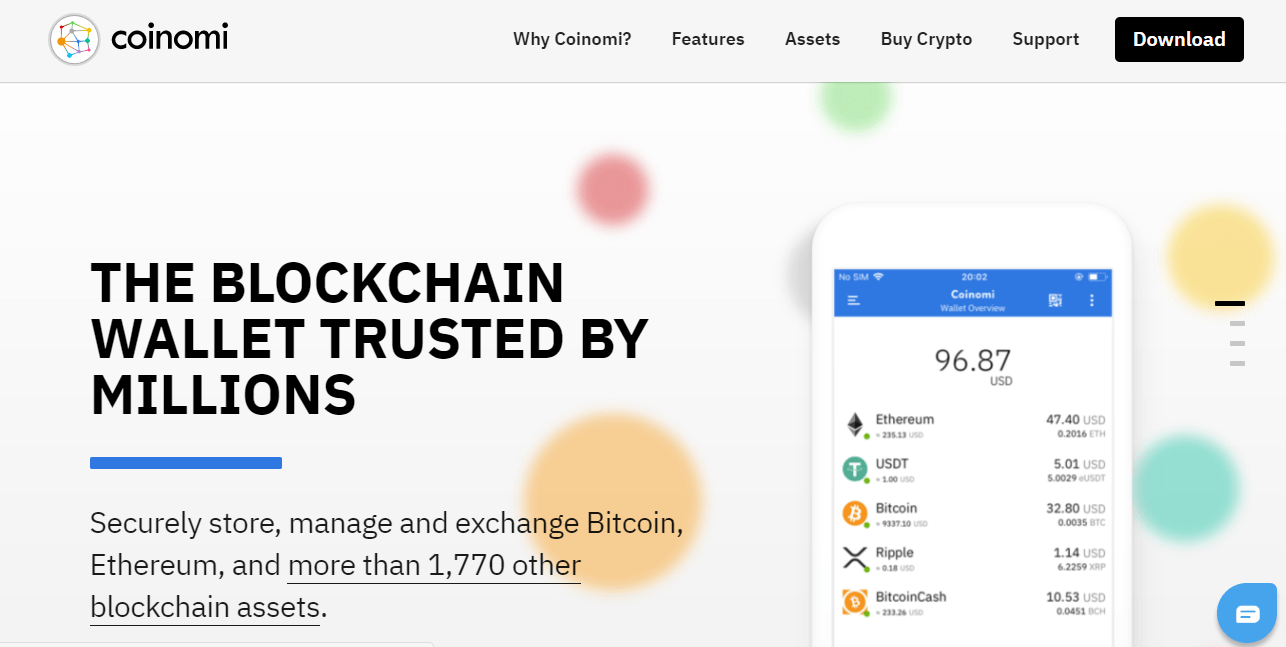 Coinomi isn't all about storing. The option to exchange, stake, have reduced fees, excellent support, and tons of other features is one of the many reasons it's so popular.
More than that, the wide range of supported platforms makes it one of the most versatile crypto wallets.
Trust Wallet
Mobile wallets have become very popular, as more and more people want their assets to be at their fingertips. Trust Wallet is one of those flexible mobile wallets that can act as a replacement for several apps.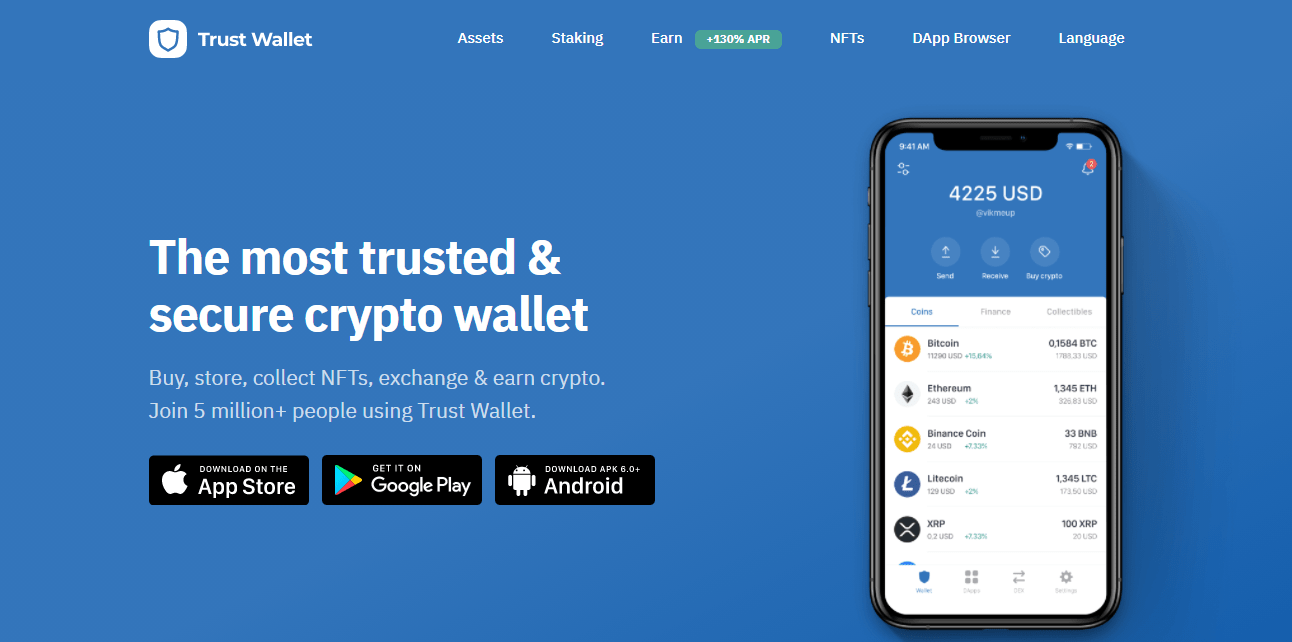 On one side, you have support for over 40 blockchains and well over 160 thousand assets. On the other, Trust Wallet offers a way to exchange the cryptos in your wallet or buy more with a credit or debit card. As a bonus, you also have a DApps browser.
Trust Wallet can be used on most mobile devices, iOS and Android based
imToken
In some ways, imToken is a ZRX wallet relatively similar to the previous one. It has support for 12 blockchains resulting in over 200 thousand supported tokens.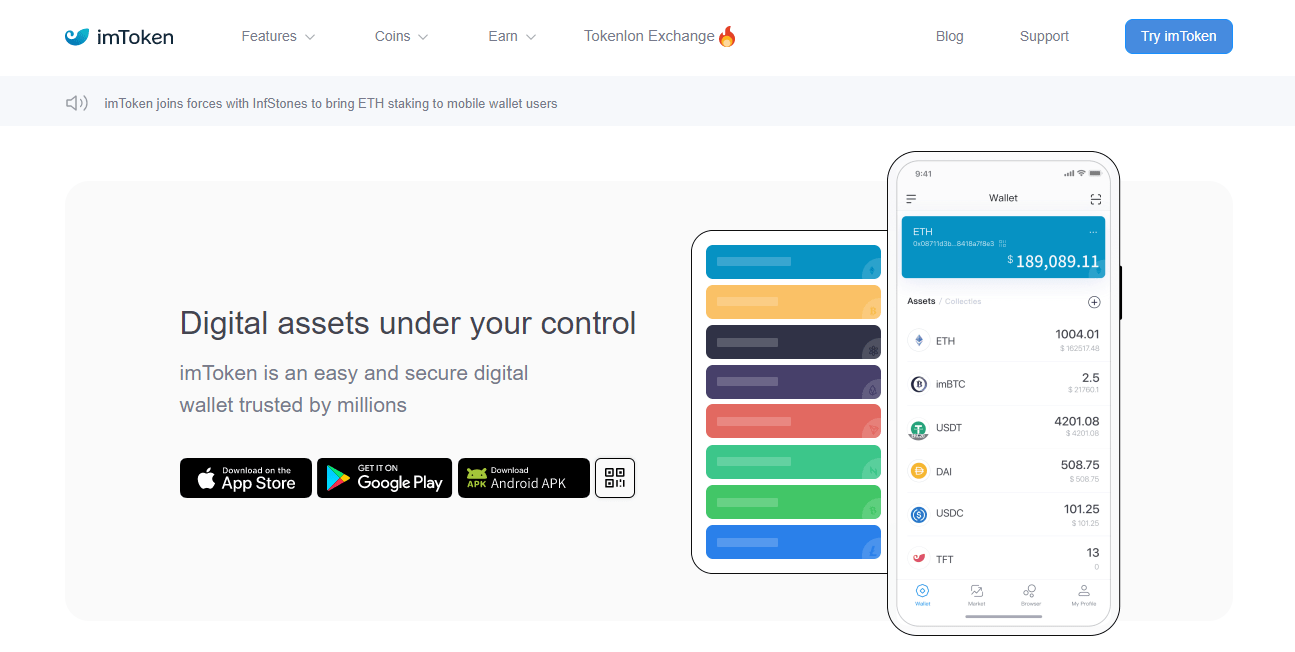 The built-in exchange enables a quick way to trade cryptos, just as the DApps browser allows access to your favorite decentralized applications. One key difference is imToken's support for a hardware wallet called imKey.
As a wallet, imToken can be installed on Android and iOS only, with no option for running it on a computer.
BRD Wallet
BRD Wallet is an open-source project that rarely gets any attention. The reason for that is that there is no financial backing for marketing and a slightly limited set of features.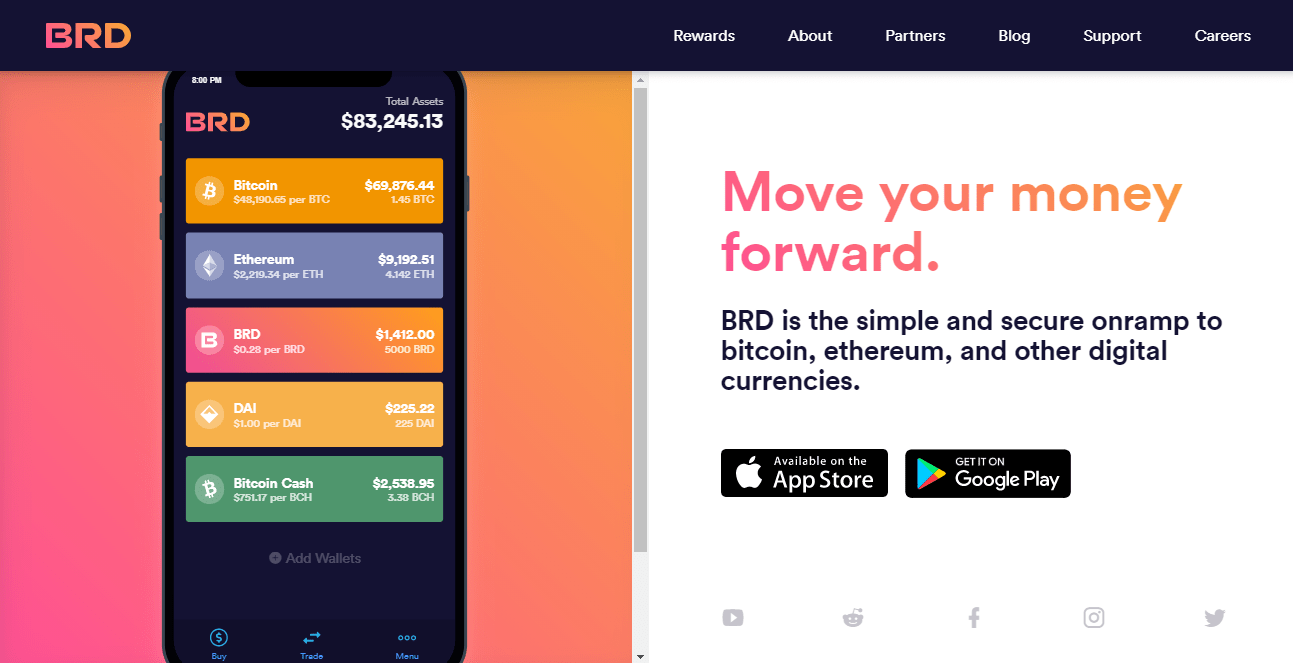 While it does support ZRX, it doesn't support nearly as many tokens as some of the other wallets outlined on this list. As for additional features, the only thing you are getting is an option to buy crypto with a credit card with no opportunity for exchange or swap.
As with most mobile crypto wallets, you can install BRD on a mobile device which has Android oriOS.
Freewallet
Next up is FreeWallet, another ZRX wallet with tons of additional tokens and plenty of features for most people. With support for over 100 tokens, it's not the most flexible but does a decent job.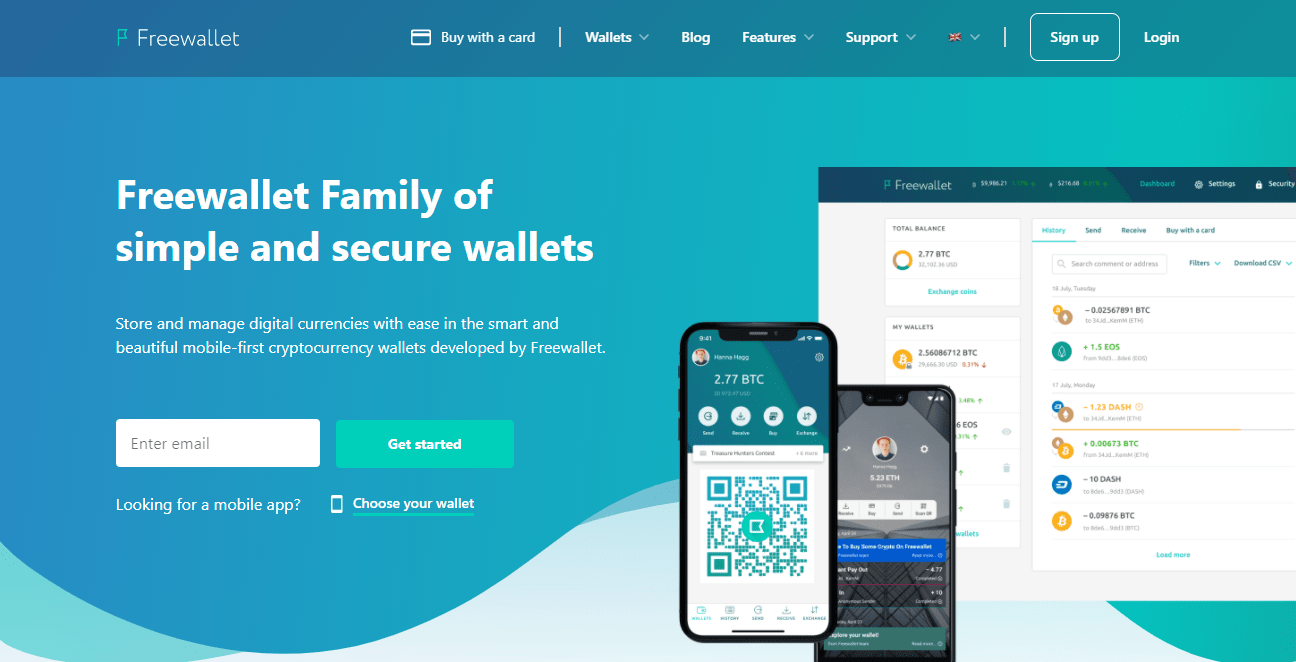 Freewallet has a built-in exchange where you can trade crypto instantly. The included transaction tracker is a nice touch, just as is the option to purchase crypto with a credit card. The main selling point of Freewallet is that all coins are stored in cold storage, making them more secure.
In terms of usage, Freewallet is relatively flexible, offering you an option to use it as a mobile app or on the web.
Garuda Wallet
Garuda Wallet is probably among the youngest ZRX wallets on this list, but despite that it has a lot of potential. In terms of tokens, Garuda supports thousands of assets, meaning that you can store your ZRX.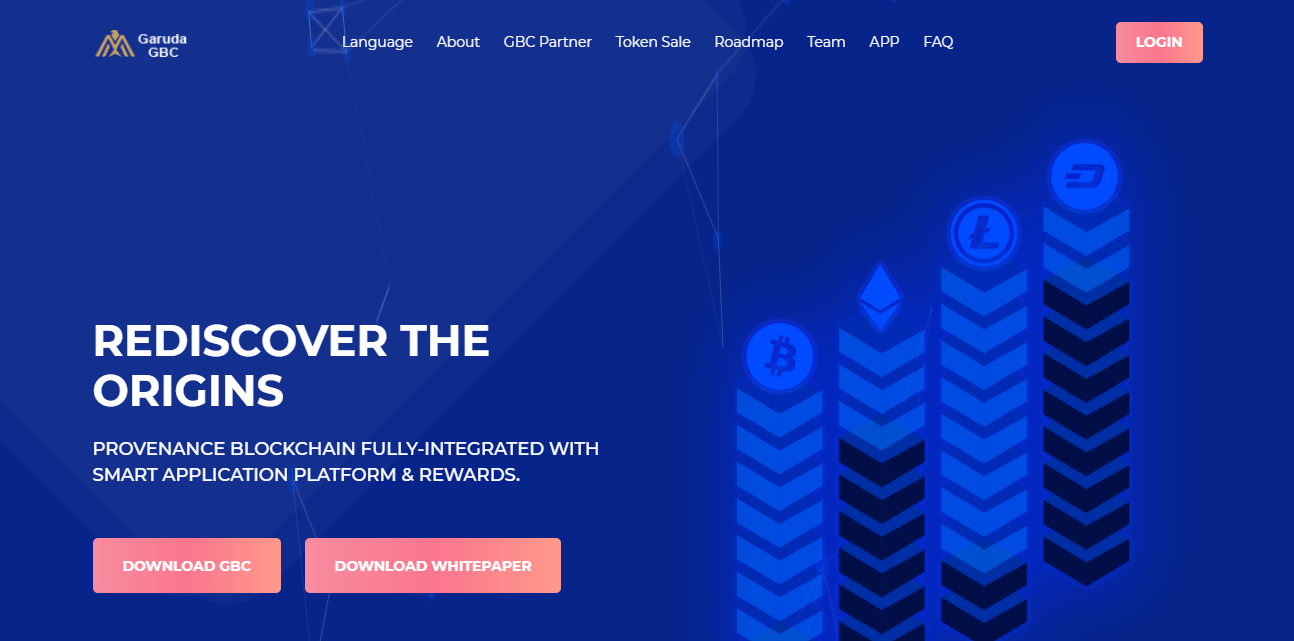 Like with most software wallets, Garuda offers an exchange within the app which is convenient. The biggest downside to Garuda Wallet are the fees. When compared to the competition, you are looking at one of the highest fees in the crypto wallet segment.
Platform-wise, there are desktop and mobile apps, meaning that you have plenty of flexibility.
Ledger Nano S or X
Moving away from the software wallets, we have Ledger's Nano S and X.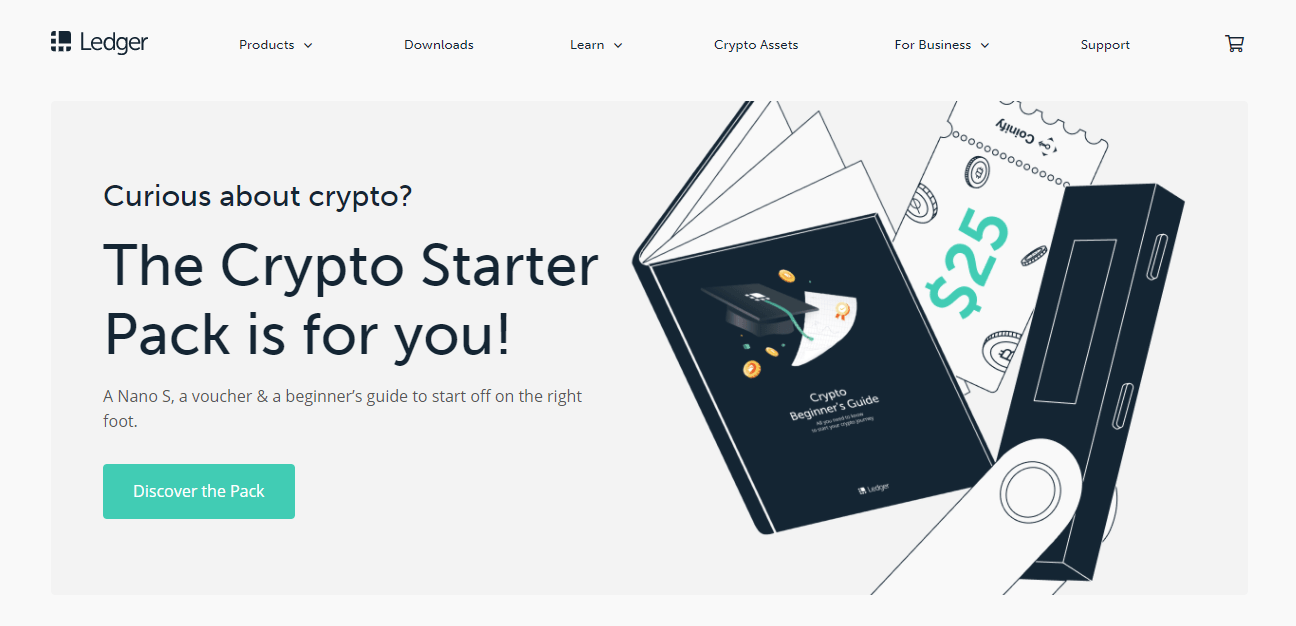 Both are excellent hardware wallets that enable you to store your ZRX with a handful of differences. The S and X can be connected via phone or a computer from where you can access Ledger Live and manage the crypto tokens that you own.
One thing they differ in is the connectivity. The X is the bigger and better hardware wallet capable of being connected via Bluetooth, while the S has a USB wired interface.
Trezor Wallet
As a direct competitor of Ledger we have Trezor, another company making hardware wallets. When it comes to the differences, the story is slightly similar to the previous ones.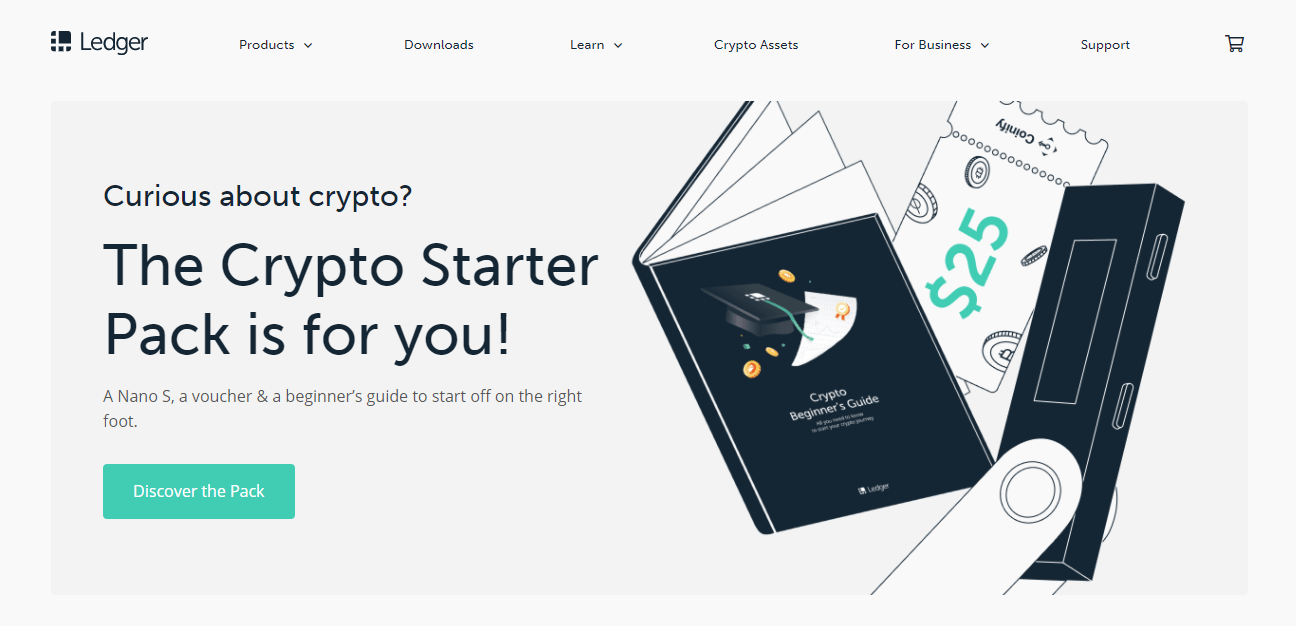 Trezor One is the first hardware wallet developed by SatoshiLabs, and the model T is the successor. In terms of development, the One has plenty of features and support for many coins, including ZRX.
With the second version, the Model T, there was an upgrade. It included an SD card slot, touchscreen, and a bit better support for more tokens.
---
---