Where and How to Buy Tether (USDT)? - Ultimate Guide 2022 | Cryptogeek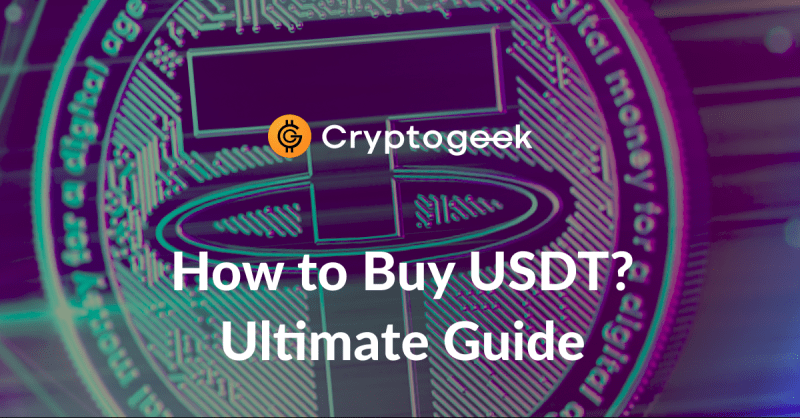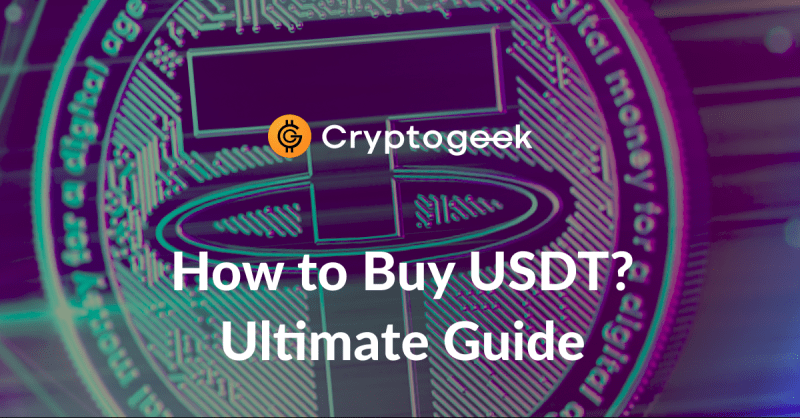 Tether or USDT is the world's first attempt to bring crypto and fiat currencies closer together. To achieve this, USDT's value is pegged to the worth of the US dollar, overcoming a common problem that cryptocurrencies often have, volatility. Tether is considered a "stablecoin" precisely because it overcomes that volatility.
In today's article we will walk you through how to buy USDT in 2021 and what the basics of such a purchase entail. You may purchase USDT from numerous exchanges on the world wide web, using PayPal, credit cards or even Bitcoin.
We recommend sticking with trusted and reliable platforms to avoid chances of losing your USDT to scams or hacking attacks. Read our guide below to walk you through the process of purchasing Tether today.
How to Buy USDT in 2021?
Purchasing Tether in 2021 is surprisingly easy. Many crypto exchanges not only support Tether but they are regulated by financial regulators, giving you some level of security that the exchange you are using will deliver your USDT promptly and let you hold custody over it.

Different platforms support different ways of purchasing Tether. For example, you can purchase USDT with bank transfer or credit card, PayPal or even trade in Bitcoin for Tether.
In each case, we recommend reading through what an exchange has to offer you and how it proceeds with finalizing USDT purchases. Below, you will find a list of the seven most trusted platforms to buy Tether from in 2021.
Get a USDT Wallet
Before we list all platforms and how to purchase USDT there, you should consider buying or installing a wallet. You can generally store your cryptocurrencies in two distinct ways with one physically disconnecting your assets from the grid:
      Hot wallets: These wallets are connected to the Internet and they are managed through mobile or desktop devices. They are highly secure solutions.
      Cold wallets: Cold storage means storing your coins off-the-grid in physical devices that make your USDT as safe as it can ever be. Cold wallets support fewer coins.
We can recommend using Freewallet for Tether storage. This wallet is safe and feature-rich. It combines the features of hot and cold wallets and allows exchange, buy, receive, and send coins. Within the Freewallet ecosystem, transactions are free.
What Platforms Sell USDT?
There are hundreds of places from where you can purchase Tether today. However, only a handful meet standards established by financial regulators and the banking system. While Tether still upholds a level of decentralization that appeals to consumers, it benefits from the additional oversight of competent authorities.
That is why we recommend always purchasing this particular cryptocurrency from one of the available platforms below.
Freewallet
You can easily purchase Tether in the crypto wallet by Freewallet. This app is very intuitive and user-friendly. It has a "Buy with card" feature that allows buying numerous crypto coins including USDT by card without much hassle.
Apart from this, you can convert Tether into other coins and vice versa right in your wallet. Other notable features include buying gift cards of over 800 brands with dozens of cryptocurrencies including Tether. Additionally, Freewallet offers a lot of security features. It makes this wallet convenient and trustworthy.
Binance
Binance's profile in the crypto community has earned it the trust of the broader community and today the exchange is the go-to platform for purchasing a number of stablecoins, USDT included. With over 150 currencies, you can finalize a purchase on Binance with bank transfer, credit card or even trade in another cryptocurrency.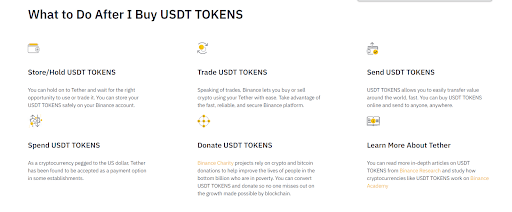 The exchange comes readily on dedicated apps for both Android and Apple devices and you can move large volumes of USDT in and out of the exchange as you see fit.
Coinbase
Coinbase offers quick and reliable purchases of USDT. The exchange provides you with a very detailed price movement of the currency, market cap and circulating supply along with a constant stream of news about USDT's development.
Coinbase is a way to not just purchase Tether but also make informed decisions about the coin's present and future potential. Finalizing a purchase is simple enough and all you need to do is log in with your Coinbase account to see the process through.
Kucoin
Kucoin is another viable choice when looking to make a USDT purchase. The platform allows you to set up an account in a safe and reliable online platform that trades hundreds of currencies in a quick and efficient manner.
Kucoin is different from other platforms in the sense that you purchase from your peers directly at a specific rate. There are no trade fees listed under the USD/USDT pair, which definitely works in the exchange's favor.
In addition, the platform provides you with a detailed breakdown of the available volume as well as the limit and payment method such as ACH or PayPal, for example.
Paxful
Choosing the right crypto exchange to buy USDT may save you some costs and provide you with slightly better opportunities. Paxful is one of the most trending options when it comes to buying Tether instantly.
Once again, the exchange has a wide variety of supported coins and more importantly Tether. You will be able to use a number of payment options, such as bank transfers, online wallets, trade in for other cryptocurrencies or use gift cards to finalize a purchase.
The platform will display whom you are buying from, what the listed payment options are and detail if any additional verification is necessary. Paxful is both safe and reliable and has a big volume of traders.
Kraken
Kraken offers a wide range of coins, including USDT. The exchange has a tiered-free structure that makes it more appealing to large and casual investors in equal measure. The currency is touted as one of the most reliable crypto options for consumers.

Kraken itself allows you to move Tether in and out its facilities quickly without fearing any price fluctuations. To start buying you need to set up a Kraken account and then verify it as mandated by regulation.
Once you do this, the next step is to fund your account and proceed with your purchase. Kraken offers 24/7 support.
Bitpanda
Bitpanda has a friendly name and an even friendlier user interface. The platform is designed to both assist consumers who are new to purchasing crypto and USDT but also help those who are knowledgeable about the cryptocurrency make swift transactions.
The exchange includes free, safe and quick wallet service for those looking to store their USDT in a new place or are only getting started in the space. Bitpanda has a good uptime track record and is available 24/7 without delays or any hiccups throughout transfers.
Bitpanda supports numerous FIAT currencies to facilitate the purchase of desired crypto or altcoins. Consumers are always welcome to lean in on customer support's expertise and place their purchases at convenient times.
Blockfi
Blockfi offers some interesting opportunities for USDT consumers and owners with the exchange adding support for Tether in late 2020 but having been consistent ever since. Presently, Blockfi supports USDT purchases for non-US customers exclusively as the exchange makes sure to comply with regulation in every jurisdiction it operates in.
Potential consumers can benefit from the 7.0% APY Blockfi Interest Account and allow anyone looking to buy Tether with valuable options that contribute to an investor's portfolio. We recommend exploring Blockfi as one of your go-to USDT shops if you are new or even more experienced with buying crypto.
FAQ
Is buying USDT safe?
Yes. If you pick a reliable exchange, you should have no trouble purchasing Tether USD safely and reliably.
Should I store my Tether USD online?
No. You should always store your USDT in a cold wallet. This is the only way to truly ensure that your funds will not leak.
Do some exchanges offer better USDT rates?
Yes. Some exchanges will always offer slightly better rates. You can compare rates at the top exchanges and pick the ones that you prefer.
---
---