Blockshow November 2019: Briefly About The Key Points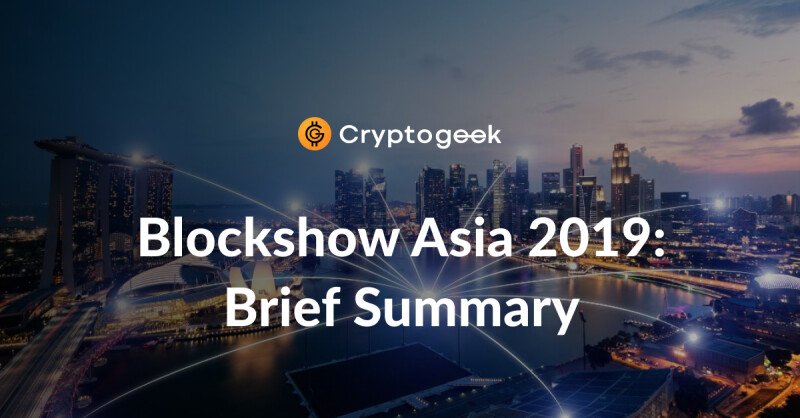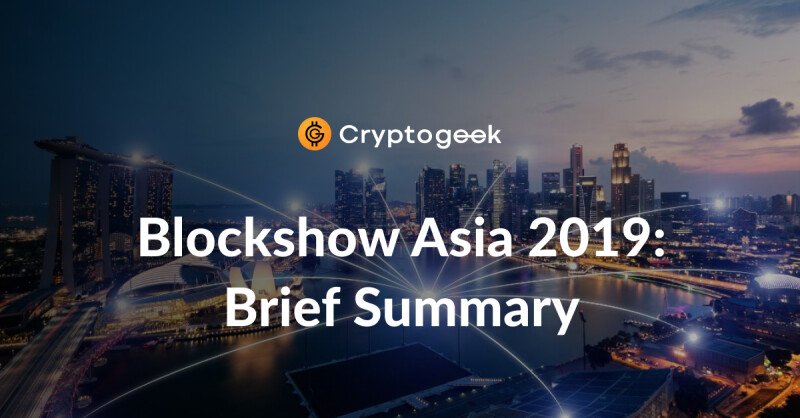 14 - 15 November, Singapore hosted one of the largest innovative events in the field of blockchain - Blockshow Asia 2019. An incredible number of interesting speakers were invited to make this event worthwhile. This year over 100 influential speakers from around the world were invited to the blockshow to make this event more vivid and memorable. Here we highlight some of the main points of this conference!
Bitcoin (BTC) and tokens price, exchange hacks and other question on agenda
The role of institutions in trading and investing in bitcoins continues to be a subject of controversy among market participants and experts. This year, new offers appeared, with Bitcoin futures and storage solutions trying to attract big players.
According to CoinTelegraph, Pavel Kravchenko, CEO, and co-founder of Distributed Lab and author of the book Blockchain and Decentralized Systems revealed a rare bearish position regarding the growing institutional interest in Bitcoin.
"Bitcoin is censorship resistant money, the first in the world. I don't believe in institutional adoption. If this happens, Bitcoin will become not censorship-resistant. Then it won't have this feature anymore and will crash to zero". 
However, there is also another topic that was touched and another side of the discussion. What about the security of your investments?  Unfortunately, exchange hacking is nothing new to the crypto ecosystem. Some of the biggest companies in the space have faced issues here this year. On this point, Clement IP, the co-founder of Genesis Block HK, shared negative personal experiences during a discussion on how Asian trading companies make profits. His company is a blockchain venture capital firm, a cryptographic hedge fund, and a mining company specializing in investing in blockchain projects. He said that he had lost "a lot of coins" due to a hacking exchange, and his takeaway lesson was clear:
"Do not leave your assets on exchanges. Do not be lazy. I was in this and learned a good lesson."
So, what about the market move? Are all the tokens speculative? VeChain founder Sunny Lou shared his opinion about this field and suggested that the value of the token is mostly arbitrary.
"99% of a token's value is linked to speculation, and not to the value that the solution can bring to society. This causes many startups to waste a lot of time producing and 'selling' the token, failing to develop solutions for where they were initially focused."
What is the blockchain technology perspectives?
According to the CoinTelegraph, experts at this event seem to agree that, "although Bitcoin is just a cryptocurrency, blockchain is a new connection structure. In addition to Bitcoin, blockchain allows you to connect to the ecosystem and receive information without trust and decentralized." 
"We are talking here about an intermediate technology that connects different ecosystems, providing a new form of governance." - Vinaya Mohan, Managing Director of ConsenSys Singapore noted.
During the discussion on blockchain scalability, all speakers agreed that people have to choose between scalability and decentralization.
"At Litecoin, we always prefer decentralization and security rather than scalability. Unfortunately, we cannot do both, but we are trying to find something in the middle. " - Co-founder of Litecoin Foundation Sinxi Wang.
Da Honfei, the founder of the NEO platform, highlighted problems arising from monopoly, abuse of centralization, and individual points of failure, suggesting decentralization as a solution, saying:
"These standards must be transparent and decentralized. Data ownership must be returned to users. "
All experts and participants agreed on the point, that even if the cryptocurrencies could be unstable and market sometimes speculative from some points, the blockchain industry is the most progressive and sought-after technology of the 21st century. Will see you all soon next year, at the next BlockShow 2020!
What do you think about it? Share in comments and follow us on Twitter!
Stay tuned with Cryptogeek and follow the cryptocurrency blog together and you won't miss the breaking next news!
---
---