5 Best Platforms Where You Can Buy NEM (XEM) in 2022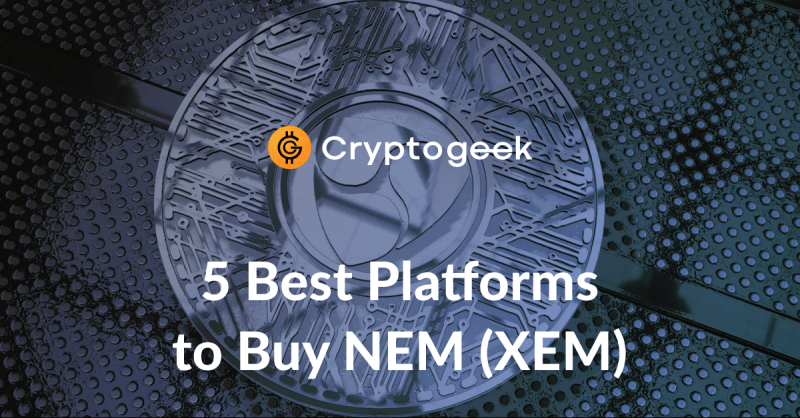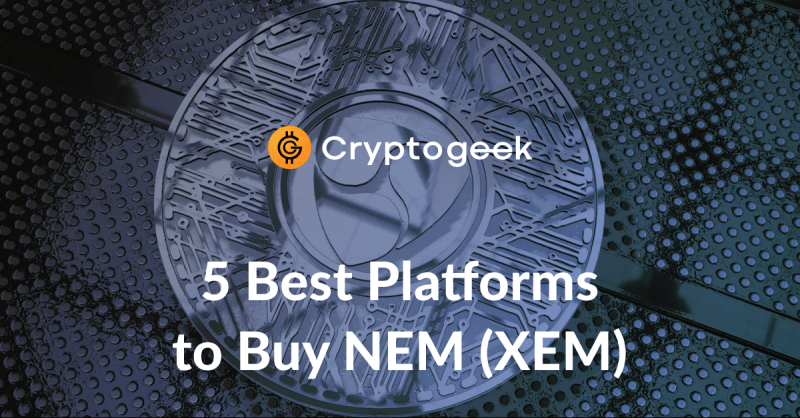 NEM or the New Economy Movement is an ambitious blockchain project, often referred to by supporters as the "Smart Asset blockchain." The project's goal is simple - create low-cost data management solutions in a scalable and practical fashion. Essentially, NEM forked out from NXT, retaining the root project's strengths and launching into a completely different direction. As it evolved, the project introduced its cryptocurrency – XEM. Today, we look at the best places to buy NEM (XEM) cryptocurrency. 
We will specifically look into five trusted crypto platforms that are established names on the market and allow you to buy NEM (XEM) with a credit card, and numerous other payment solutions, making the process both simple and convenient. You are free to choose any of the solutions featured on the list and, naturally, refer to any other exchange and platform. Here are the best places where to buy NEM (XEM) right now.
1. Changelly
You don't necessarily have to buy NEM (XEM) for fiat currency right away. Platforms such as Changelly make it very easy to purchase or use a more popular cryptocurrency such as Bitcoin or Ethereum to platform the amount of NEM you wish to own with a few simple actions. 

The platform has a long list of supported assets and low fees when it comes to cryptocurrencies, which should allow you to swap crypto fairly unhindered. The only drawback we see here is that you will have to account for price fluctuations and see if it's worth exchanging and buy NEM with a specific cryptocurrency at any given time.
Changelly aggregates the orders from several exchanges with the highest liquidity. The platform selects the best prices so buying here is a smart move. More than that, Changelly is a partner of another useful platform — Freewallet. These two companies have a joint project providing users with an opportunity of cheap instant swaps of ERC20 tokens and some popular currencies. XEM is one of them. You can easily create a XEM wallet on Freewallet and convert one of the crypto assets from your portfolio to XEM and vice-versa in a matter of two minutes.  
2. Poloniex
Poloniex has a massive selection of cryptocurrencies, and as a place to buy NEM (XEM), it's up there. It had gone a long way from 2014 when it was subject to a hacking attack that led to the loss of coins.
Today, the platform has advanced protection to safeguard against DDoS attacks, cryptographic DNS signature, and cold wallet storage, making for an even safer experience. It's been continuously ranking up among crypto platforms, and while not in the first five positions just yet, it's a handy place where you can buy NEM (XEM) with a credit card and feel safe about your choice.
This being said, there are still a few things to watch out for. For starters, we are not happy with customer support, which proved to be slow. We don't particularly like the fact that Poloniex is an unregulated exchange, something that may admittedly change, but hasn't. 
Overall, Poloniex has a good variety of pairs, and it runs a stable product and platform, enough to make it one of our top places to buy NEM (XEM) from, but please keep in mind that the drawbacks we have mentioned may crop up at any one point of your experience. One significant thing to note is that Poloniex has been hacked in the past, so they still have some way to go in restoring public confidence. 
3. HitBTC
HitBTC has received both endorsement and criticism, but we had to put this to the test ourselves. As a NEM (XEM) point of sale, it stands to benefit consumers. It has an affiliate program for some cryptocurrencies, and fees are very low, and somewhat ahead of the industry average with -0.01% if you place particularly large orders.
HitBTC has added NEM! Join us in XEM/BTC trading! #XEM #NEM #trading https://t.co/2zk7d8UTN8 pic.twitter.com/ONuYb5SBcr

— HitBTC (@hitbtc) August 25, 2016
If you are looking to stock up on NEM (XEM), this may be a good way to do it, saving yourself the pesky additional costs of purchase. HitBTC is also an old-timer, with over seven years of operational experience and few complaints to report.
Apart from making for a great place where to buy NEM (XEM), you can rest assured there are numerous other features to benefit from, including the dedicated trading platform, token listing, OTC trading, margin trading, and more.
Some consumers cite the overwhelming variety of available coins as a drawback, and it might be a little confusing, we agree.  
4. OKEx
OKEx is one of the biggest exchanges in terms of liquidity. The platform was launched in China in 2014. The exchange provides fiat-to-crypto pairs, however, you won't find an opportunity to buy XEM with a credit card there. First, you will have to buy BTC, ETH, USDT, XRP, LTC, or OKB there, and then exchange it for XEM. That's not that convenient as it takes an additional step. Nevertheless, there's also a good thing: buying crypto with fiat money on OKEx is feeless. 
#OKEx Launches #NEM( $XEM), #DigiByte( $DGB) https://t.co/H9iSTZGlKB @NEMofficial @DigiByteCoin

— OKEx (@OKEx) December 22, 2017
The exchange can be used on iOS and Android-based mobile devices. Speaking of safety, the company proved itself to be quite good at user data and funds protection. In general, OKEx is considered to be one of the industry leaders. If we speak of the drawbacks of this platform, we can name a little bit overwhelming user verification process that can turn off people who don't like to provide much personal information and waste time doing such things.
5. Bittrex
Bittrex is a robust platform that offers an excellent variety of assets and numerous features to make it easy for traders to get started. To buy NEM (XEM), the platform is just as good and reliable.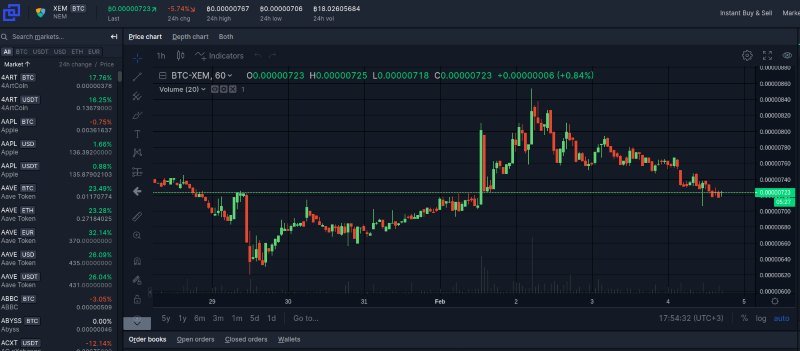 They have some of the smallest fees ranging at around 0.25% making for a quick purchase that saves you money and time. It's one of the first platforms to open, and it operates out of the United States, making it fully compliant with a current regulatory framework.
There is a two-factor authenticator to ensure that your transactions are safeguarded against foul play. Meanwhile, Bittrex offers a range of other services, such as automated trading and instant buy and sell.
We are happy with Bittrex and find it a decent spot where to buy NEM (XEM) cryptocurrency, with a credit card or otherwise.  
Final Word
If you choose to buy NEM (XEM), finding the best place to buy it will surely be your priority. There are at least several accredited and community-endorsed platforms that will allow you to do just that. 
Above all else, NEM is a functional coin with a proven track record and a good lineage. The company has had a few more turbulent years, but it has stabilized now. Even better, it seems in a position where growth is imminent, and this could be a good time to start up.
The market is not exactly bullish just yet, but it may be a good time to buy early and let NEM run its course while you stick with the best places to buy the cryptocurrency from.
---
---