Ledger Nano S Wallet Review 2021 - Is It Safe?
Mar 19, 2021
Ledger Nano S Wallet is a hardware wallet, a flagship product of the Ledger company, that has been in the fintech industry since 2014. More than 1.5 mln units were sold across the world.
When surfing the web on cryptocurrency-related issues you could've often come across the notion of "hardware wallet". While such a wallet may be familiar to you quite well, we'd like to remind some other readers about the main roles of this product.
Unlike online wallets being handled via the Internet connection and thus potentially hackable, a hardware wallet is an offline device that stores one's private keys. These keys are your access to crypto balance that you can recover as long as you own the keys. It is also related to some transactions that are eligible for recovery. As a rule, a hardware wallet is a high-quality and paid product, which price starts from $60 and goes up depending on the functions it provides. In the case of Ledger Nano S Wallet, a private key always remains with its holder being protected by a special chip. Storing larger amounts of digital coins with hardware wallets is a common recommendation of financial experts today. Having once paid for the opportunity to keep your funds safe in an offline mode, you potentially save much more money and worries than if you'd choose a regular online or software app.
What Is Ledger?
Ledger is a technology company that was started in 2014 by only 8 people, including IT experts and entrepreneurs. Their experience drove them to design a security product for the emerging cryptocurrency industry of that time. By 2020, the team has grown up to 130 members and three offices in Europe and the USA. The headquarters is based in Paris and the assembly lines are located in Vierzon, France. It is also registered in Paris. Ledger can boast of more than 1.5 mln units of its security devices being sold in 165 countries of the world.
Ledger Nano S Ledger Nano S Wallet was launched in 2015 and last released in 2016. The primary function of Ledger Nano S is to secure one's private key.  The wallet represents a device that would be connected to a computer via a USB cable. It supports 27 crypto coins and 1200 ERC-20 tokens.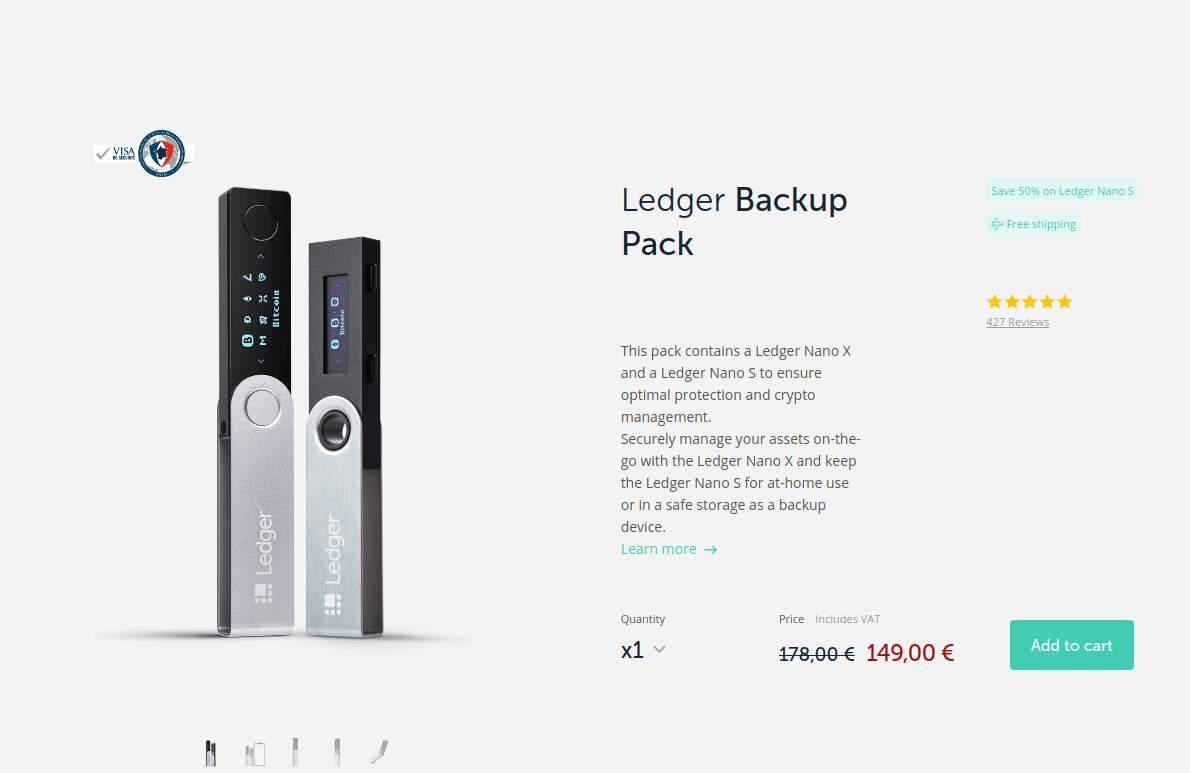 There are about one hundred resellers of Ledger devices across the globe. Hardware wallets aside, the company launches financial products for enterprises ensuring a high level of security through mitigation of infrastructure and physical assault issues. The Internet of Things is one more important area of the company's expertise.  Ledger sees its mission in ensuring top-class security for digital assets, digital identities, and the Internet of Things' devices. While there is a major belief about digital assets as insecure and vulnerable, the Ledger team strives to approach the world of cryptocurrencies as a secure and protected place.
The Ledger company has famously introduced a proprietary Operating System (BOLOS) integrated into both hardware wallets as security chips and Hardware Security Module (HSM) in Ledger's solutions for business. It never holds or accesses customers' funds, seed, private keys, or security phrases and is similarly not involved in transactions but only provides the technical facility for transactions with cryptocurrency. Upon that, no information from the user's end is ever sent to the company's servers.
Ledger has a bug bounty and affiliate programs in place. With Ledger's affiliate program, it's possible to earn a 10% commission for each sale made. This program seems to offer good opportunities, due to the high-conversion products and ready-made professional creatives prepared by the company.
The developers also take care of the security of the shipping process by not granting firmware any serial details so that it would not be possible to match a shipping address and the delivered product. The retailers' network of the company covers many regions across the world. 
Ledger's Products
These products are designed for both individual crypto enthusiasts and enterprises.
Ledger's B2B solutions help businesses such as Hedge funds and banks as well as wealthy individuals keep their funds secure. One of such products is Ledger Vault, an "extended" version of a hardware wallet offered to institutional investors. It is stated that security only is not enough to build the vault up whereas scalability, agility, and control must be among other factors for business in place. 
Ledger Origin is where blockchain meets the industry. Ledger Origin is an open-source operating system that can be applied in many industries such as electronics, energy, health, supply chain, aerospace, utility, etc. The secure element allows for maintenance safety for multiple occasions, whether it is a medical appliance or a car system.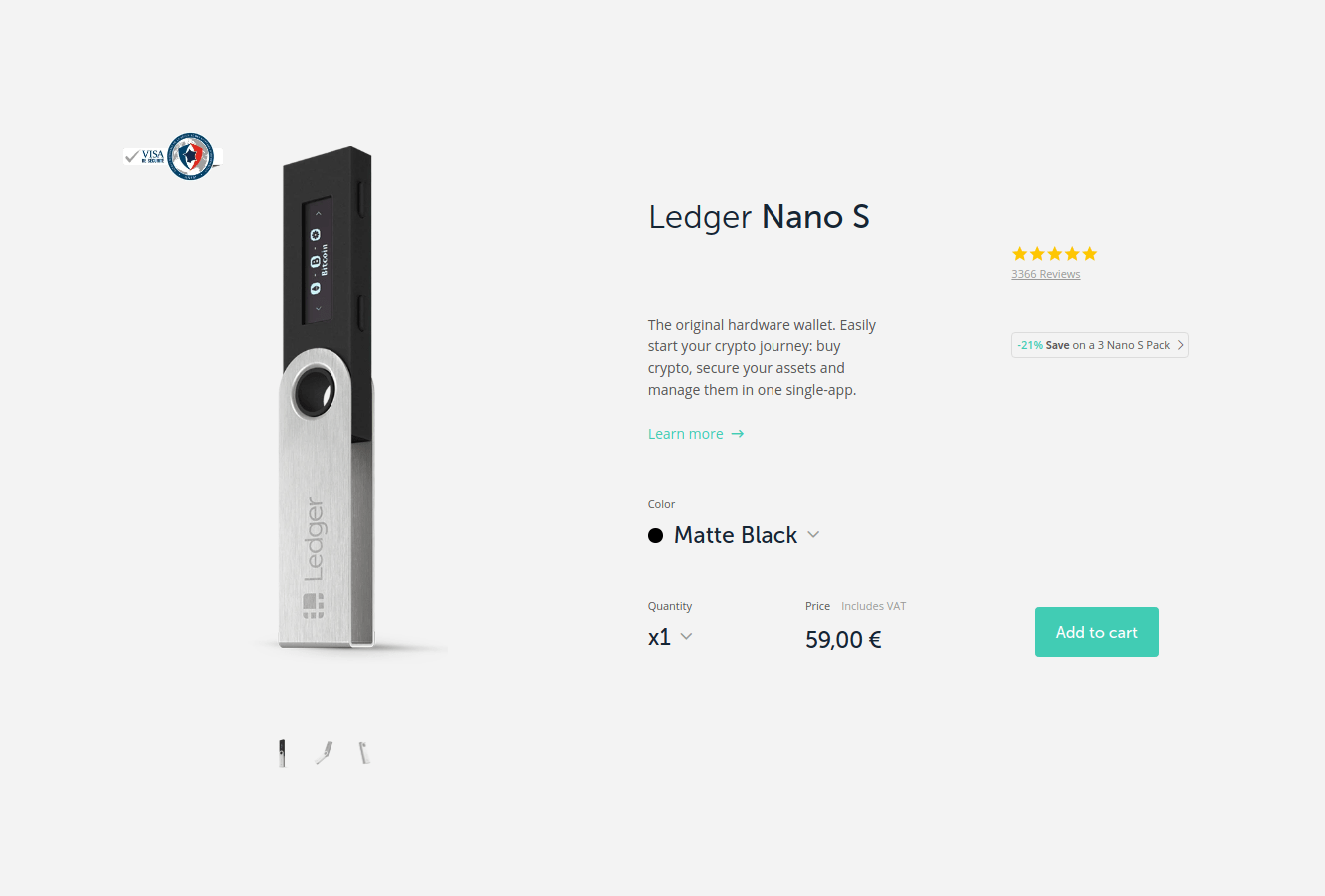 Ledger's individual solutions, such as hardware wallets are represented by lighter Ledger Nano S and Ledger Nano X wallets. Due to its compatibility, Ledger wallet is universally recommended by third-party services as a way to store and transact their coins. 
Ledger Live is the universal application where one can manage all their Ledger devices.  Ledger Live works for mobile (iOS and Android) as well as desktop (Windows, macOS, Linux). This is the place where it's possible to buy crypto coins with a bank card or bank transfer. The purchase option is operated by Coinify. 
Ledger Nano X or  Ledger Blue is larger than Ledger Nano S, has a touch screen, and bigger buttons. This wallet was released in 2019. Ledger Nano X works with iOS and costs $119.
Ledger Bundle consists of both hardware wallets (Ledger Nano S and Ledger Nano X) with each one of them being an extra layer of security.
How Does It Work?
Ledger Nano S works without a battery and is plugged into a power source. The device is compatible with desktop OS Windows, macOS, Linux, as well as Android OS.
What features are available with Ledger Nano S Wallet?
Connection to desktop and Android devices
Transact funds via verifying and signing payments
Private keys incorporated in a special chip
More than 1200 Ethereum tokens and 24 coins available
Screen 128 x 32 pixels
Confirming transactions with buttons on the device
Auto-lock
Export of one's accounts.
The possibility to use Ledger Nano S Wallet with a vast number of compatible cryptocurrency wallets. More than 50 wallets can be used with Ledger.
Support of the 2FA function with Google, GitHub, Dashlane, Dropbox
Easy restore with any compatible wallet (BIP39/BIP44) or Ledger device, via a 24-word recovery phrase (or mnemonic seed)
The possibility to generate rewards for holding crypto coins on the wallet's balance
The possibility to reset the wallet as a new device
What do people say about Ledger Nano S Wallet?
The application's rating on feedback platforms and websites is usually high and starts from 4. For example, it is 4.2 out of 5 on Amazon. However, there is a portion of feedback from unsatisfied users as well.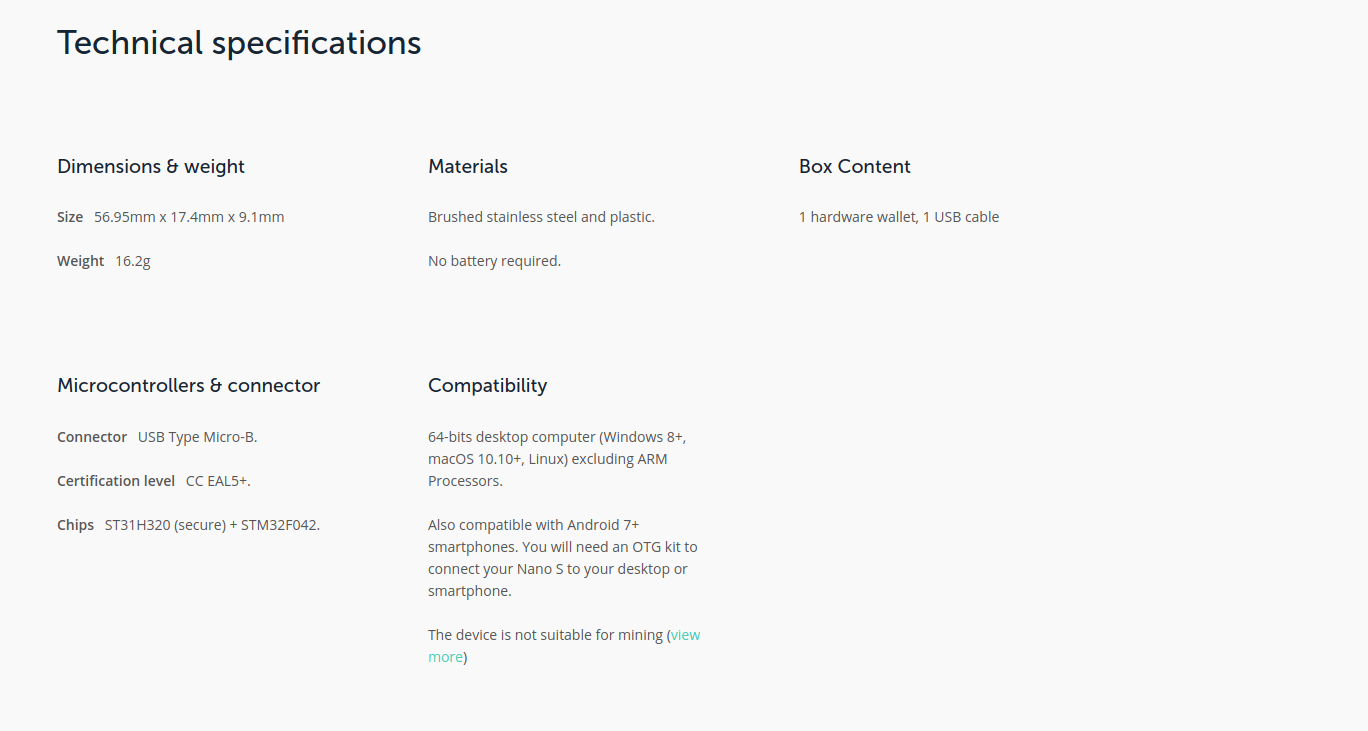 It is advisable to purchase this type of financial product from the official store. At the time of writing, its price is 59 euro. One can also purchase the wallet from the third-party seller with the attestation from Ledger. The family pack consisting of three Ledger Nano S sticks is also available in the official store.
Is Ledger Nano S Safe?
Ledger Nano S as well as hardware wallets in general is considered as a safe cryptocurrency wallet. It provides several layers of security so breaking its protection is definitely a tough task. What makes Ledger Nano S especially safe is that it stores the keys safely in a "place" that cannot be reached by strangers. While most wallets store keys on the devices that have Internet connection or/and can be subjected to virus attacks, Ledger Nano is a special device for storage itself and it doesn't have the Internet connection and is virus-proof.
Similar to another famous hardware wallet Trezor, Ledger Nano S has two physical buttons. The payments are confirmed via the pressing of two buttons simultaneously. It preserves wallet owners from sending money by mistake and makes it harder for thieves to steal money. 
While setting up a Ledger Nano wallet user is required to create a PIN code. It is a standard 4-digit code adding one more layer of security. Three incorrect attempts to guess the PIN leads to a constant lock of the wallet. For some time Ledger Nano was additionally protected with anti-tampering seals. However, the dev team dropped this feature as it became clear that it creates a false sense of security while being a weak protection layer. To prevent tampering problems the company uses the Roots of Trust software. Every time the device gets powered up Roots verify if it was subjected to tampering.
Ledger provides users with a 24-word backup phrase that can be written down in the special paper that can be found in the package along with the device. The code should be stored in the safeset possible place. If both a seed phrase and a device are lost/damaged you won't be able to recover your money. This phrase can be used in the cases when the device gets damaged or lost. The contents of the wallet will be recreated in another device if the 24-word phrase is used properly.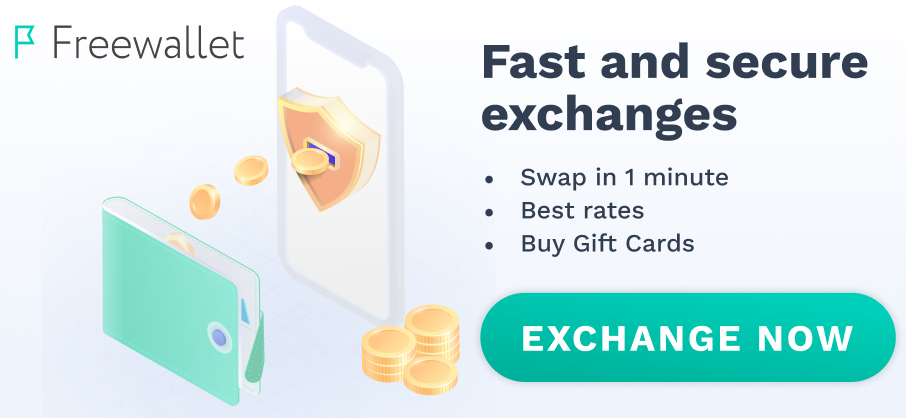 Manca la lingua italiano. Inutile spendere i soldi se c'è trust wallet che è la migliore e gratuito. Le 12 parole segreti è lo stesso anche trust wallet.
Liam Gallagher
14 October 2020
very decent wallet xLG