TradeSanta Trading Bot Review 2022 - Is It Legit?
May 28, 2021
TradeSanta is a crypto trading bot, that can be employed for trading with several exchange platforms.
The use of trading bots has become a new stepping stone in world markets. With the advent of blockchain technology and cryptocurrencies in recent years, many technical minds have applied the concept of trading bots to this ecosystem. Bots automate trading strategies and use technical analysis, therefore a user doesn't have to sit 24/7 in front of the computer to trade, bot does that instead. Bots also remove the emotional factor in trading in case of a sudden price drop or jump of an asset.
Cryptocurrency exchanges usually do not offer traders many tools. There is a growing wave of automated trading platforms, and all of them have various more advanced tools. Today we will review TradeSanta. Should you really use it? Is Tradesanta a legit platform?
What Is TradeSanta?
TradeSanta is a crypto trading bot, that can be employed for trading with several exchange platforms. TradeSanta is a software used to automate trading strategies. Its interface is based on the cloud. Using this tool, you'll be able to set up a trading bot within a few minutes. Ready templates are also available. 
The platform helps users establish viable encryption procedures and computerizes operations. It unloads traders, allowing you to make high-speed transactions around the clock every day. You just need to create a bot, which will then engage in trade.
TradeSanta bots work at a very high speed with the ability to place up to 100 times more orders compared to manual trading.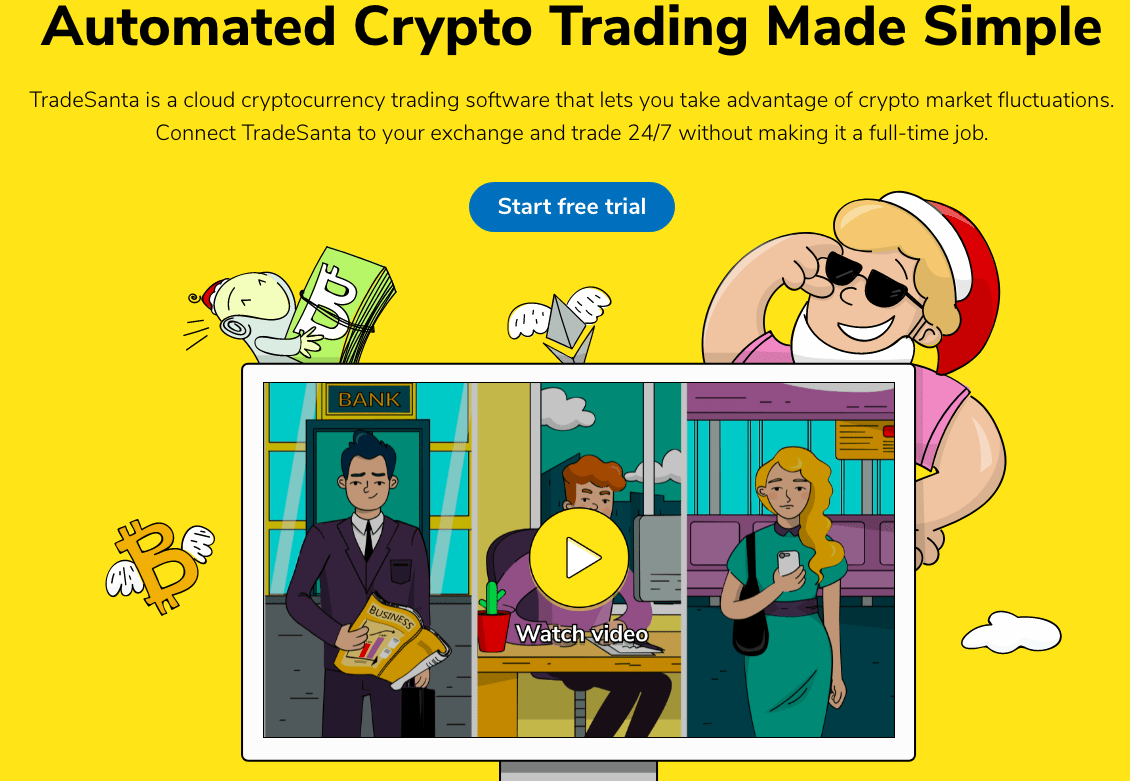 A simple and intuitive interface of the service makes TradeSanta stand out among many automated trading solutions out there. Currently, TradeSanta works for Binance, Bitfinex, Bittrex, Upbit, Huobi, and HitBTC. More exchange platforms are promised to be added in the future. TradeSanta offers 24/7 customer support, as well as the automated wizard's assistance.
TradeSanta Features Review
Technical Indicators and Tools
With the help of TradeSanta's indicators, you'll be able to set and use two different types of bots (Gird and DCA) and technical indicators simultaneously. It will help you enter the market at the best possible point.
Using advanced settings, you'll be able to enter the market at a certain price and buy coins for commission. 
One of the technical indicators - Bollinger Bands, measures the market volatility. You can open a trading deal based on the value shown by Bollinger Bands. The indicator MACD is used to confirm the trend. The RSI indicator is a momentum indicator signaling if the stock is oversold or overbought.
The approach based on Margintale can help recover after unfavorable market movements. However, you should keep in mind that Margintale implies a high risk. 
Gird and DCA bots are very easy to use. The main principle of the Grid bot is the same as with the DCA bot. The crypto bot places the first buy order, and extra orders if the price goes in the opposite direction. The main difference is that the take profit order is placed for every buy order separately unlike the DCA bot where the bot places one TP order for all buy orders executed.
When trading with a Grid bot a sell order is placed for each buy order. If you have 1 order and 3 extra orders, 4 sell orders in total will be placed. However, no more than 2 orders (1 buy order, 1 sell order) are on the exchange simultaneously. If the bot executes any order partially it will place take profit order for that part.
Extra Orders
Suppose the market goes against your expectations and your original strategy would not work out. The price moves opposite than you expected. This is the case for Extra orders. TradeSanta bots allow you to perform extra Buy or Sell order in case to mitigate the effect of unexpected market movements. 
Do you know that with TradeSanta you can use trailing stop-loss? It's not the same with the stop-loss where the execution price is set at a fixed level. Trailing stop-loss will follow the price to be executed once the trend starts moving against you providing a better exit point.

— TradeSanta (@trade_santa) August 4, 2020
Long and Short Strategies
With the help of this trading bot, short and long strategies can be applied together at the same time. No matter which direction the price takes, the automated trading bot will handle this.
Top Pair
The 'Top Pair' feature shows the data on the most successful performance of a trading pair recorded over the last hours.
TradeSanta referral program
If you bring other users to work with TradeSanta, you are supposed to get 20% of each plan purchase made by each one of them. To start participating in the referral program, go to the account's settings, and copy a referral link. After that, start sharing this link with your friends. It is promised that with their payment for any of the plans, you'll get 20% of their payment. This amount can be withdrawn to your BTC wallet.
Calculator
There is an in-app calculator helping you understand whether you have sufficient balance of a coin to succeed with your trading. 
Telegram notifications
Telegram messenger is your assistant when it comes to receiving trading notifications from TradeSanta's bot. You can activate bot in the app's Settings. These alerts will keep you aware of the following events:
New order or order has been placed
An order was partially executed
A new extra order has been placed
The order has been closed
Order price has been changed
Deal or order has been closed or completed
Errors occurred
Let's look at some of the key features of TradeSanta:
- Stability and safety
Two-factor authentication is provided to give a more secure and reliable account. It works through API keys that limit the use of funds by the bot itself.
- Easy to use interface
Often the interface on many exchanges or sites offering similar services is confusing. To get used to working on such a platform, you need to work hard, understanding the complex interface. In turn, the TradeSanta interface facilitates the task of the trader, guiding the user with the help of special guides.
- Smart Order
A smart order allows traders to sell large volumes of cryptocurrency with virtually no impact on the market. It is designed to sell a certain amount at a certain price level over a certain period of time or as a percentage of the total trading volume.
TradeSanta Filters
As it was previously mentioned, indicators are divided into three types:
Moving Average Convergence Divergence (MACD)
Relative Strength Index (RSI)
Bollinger bands (BB)
You also have the opportunity to activate them all at the same time or choose one of them at your discretion.
We want to draw your attention to the fact that you have the ability to completely turn off crypto indicators and there is a definite advantage in that this action can bring profit because there will be no interval between transactions, but keep in mind that you risk this incur losses or turn a trade into an "investment", which can also badly affect your financial portfolio.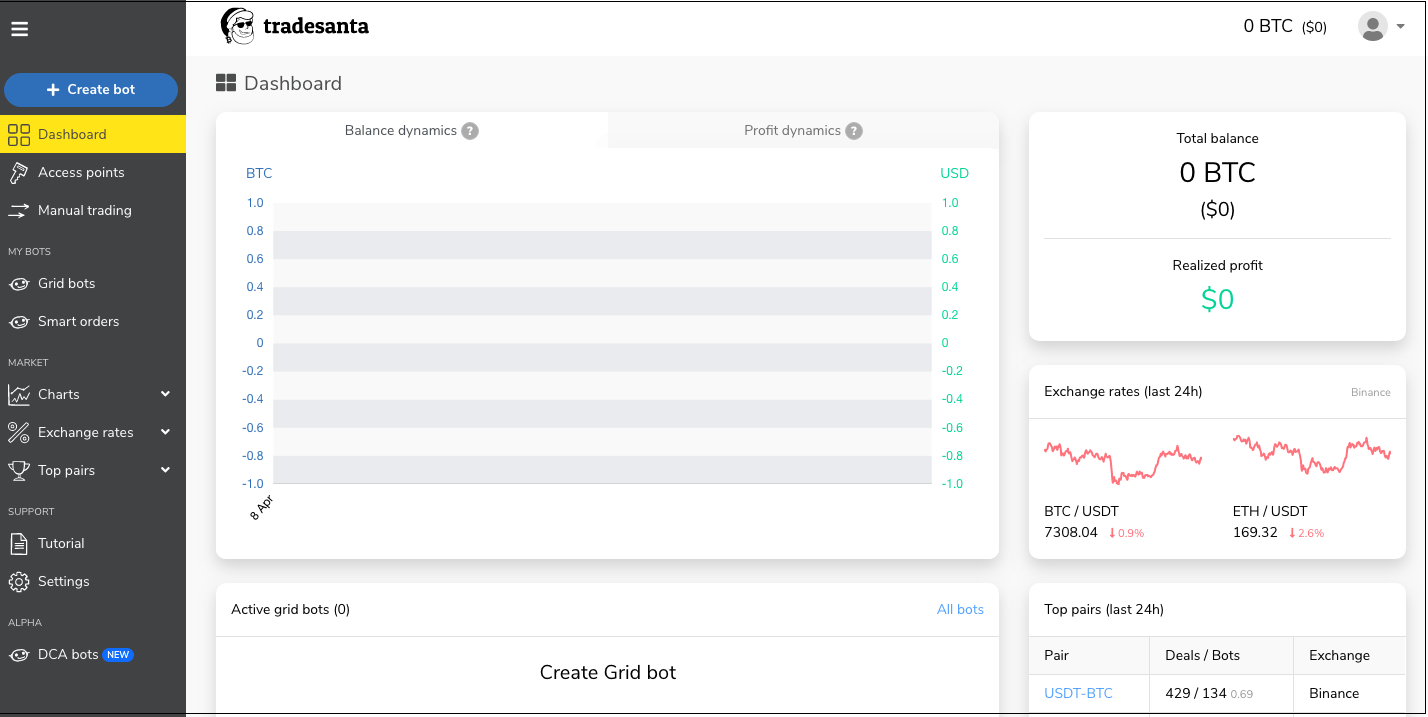 We advise experienced users to distinguish all three indicators:
 Moving Average Convergence Divergence (MACD)
MACD is an indicator used to confirm the trend. The bot will search for an optimal entry point based on MACD of a trading pair for the past 100 minutes. MACD provides info on where the volume is going and how the market is performing if it is in a sell-off point or people are buying in.
Relative Strength Index (RSI)
RSI is a momentum indicator signaling if the stock is oversold or overbought. TradeSanta's bot will find an entry point based on RSI of a trading pair for the past 100 minutes. With the RSI, the info users get from it is the momentum in the market, and whether it is oversold or overbought, and that's also when users are going to either buy-in or sell-off.
If you activate this function, your crypto bot will search for the optimal entry point, based on the technical analysis tool for financial markets, the so-called Bollinger Bands. This tool constantly reflects current price fluctuations and cryptocurrency rate volatility. The basic principle is that the trading signal is the moment when the price leaves the trading corridor - either rising above the upper line or breaking through the lower line.
Also, you can find on TradeSanta:
Extra orders

–  if you enter a trade, and it goes against you, TradeSanta has an extra orders feature that will add to the position, so that it may end up being a winning trade after all. 

Martingale

– the Martingale strategy is similar to extra orders, but in addition to buying more of security as the market goes against a position, it also increases the volume of the purchases.

Buying Coins for Commission

– TradeSanta offers its clients the service of buying additional coins to cover the cost of commission in the quote currency, in the event that a client account doesn't have enough to cover the transaction. The amount that will be purchased won't exceed the equivalent of $5 USD, and this feature can be turned off at any time.

Entering at Market Price

– If a trader wants TradeSanta to enter a buying or selling program right away, the enter at market price will get the trade started. If enter at market price is used, the order will be placed next to the first ask on the exchange.
If a long strategy is specified, the crypto bot will start a deal when the price touches the lower line, while bots with a short strategy will wait until the price touches the upper line to enter the market.
How to start with TradeSanta?
1. Click on the "Sign Up" button in the upper right corner of the menu.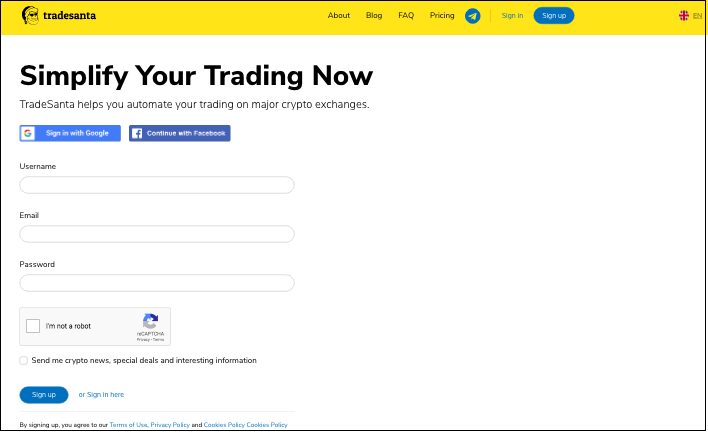 2. Enter your username, email, and password. Verify your email address or sign up with Google or Facebook.
3. Upon completion, you will be automatically redirected to the TradeSanta dashboard. In the dashboard for a quick start, you can choose the trading bot (Gird or DCA).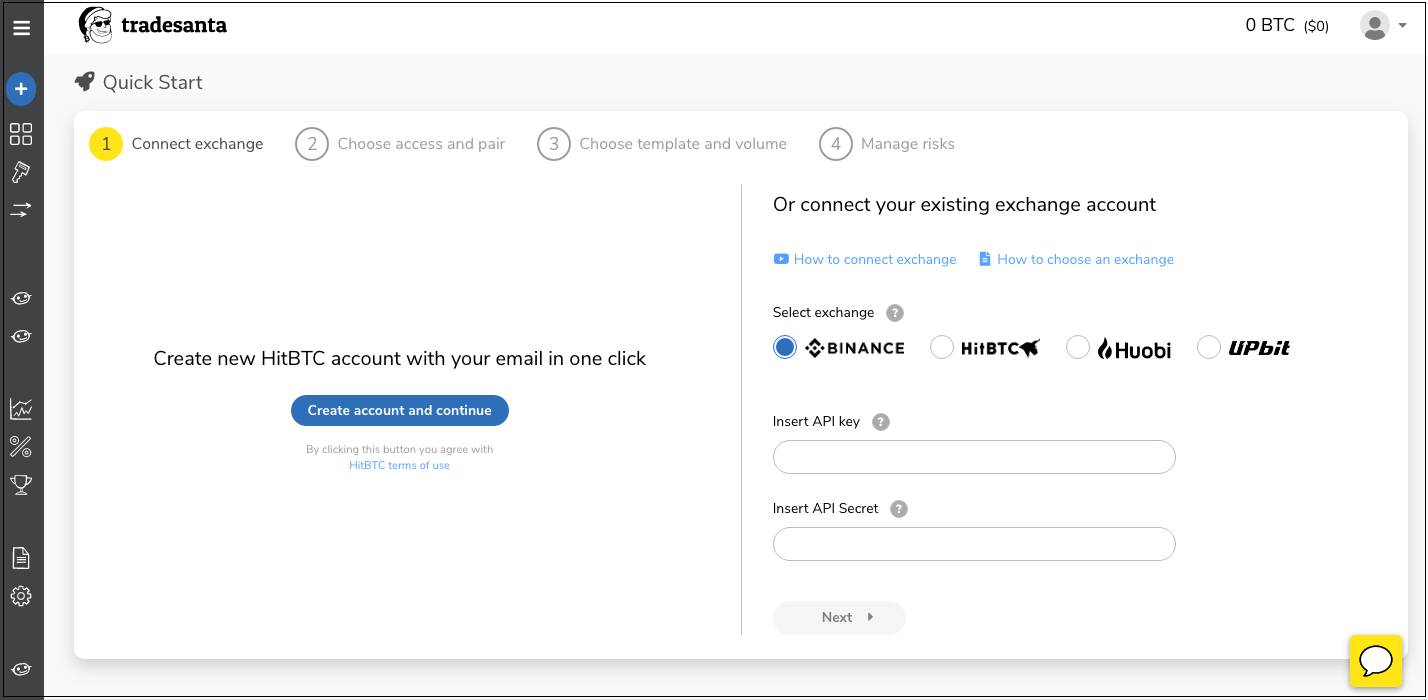 4. Select the exchange you want your bot to trade on (you can create a HitBTC account in one click). By adding an access point you'll be connected to a chosen exchange platform. Get the API key and secret key for your exchange and plug these details into a new access point. 
5. Choose access and pair. The choice of trading pairs depends on the exchange that you are using. Assign the necessary filters.
6. Choose template and volume. Pick up your crypto bot strategy (long or short), a trading pair, set the take profit level, first volume value as well as other parameters. When creating a new bot, choose one of the three options: a Long Bot Template, a Short Bot Template, and a Custom Template. 
7. Manage risks. Choose Step of Extra or Martingale orders.
Ready to start with a paid plan? Then please pick up relevant settings in the app.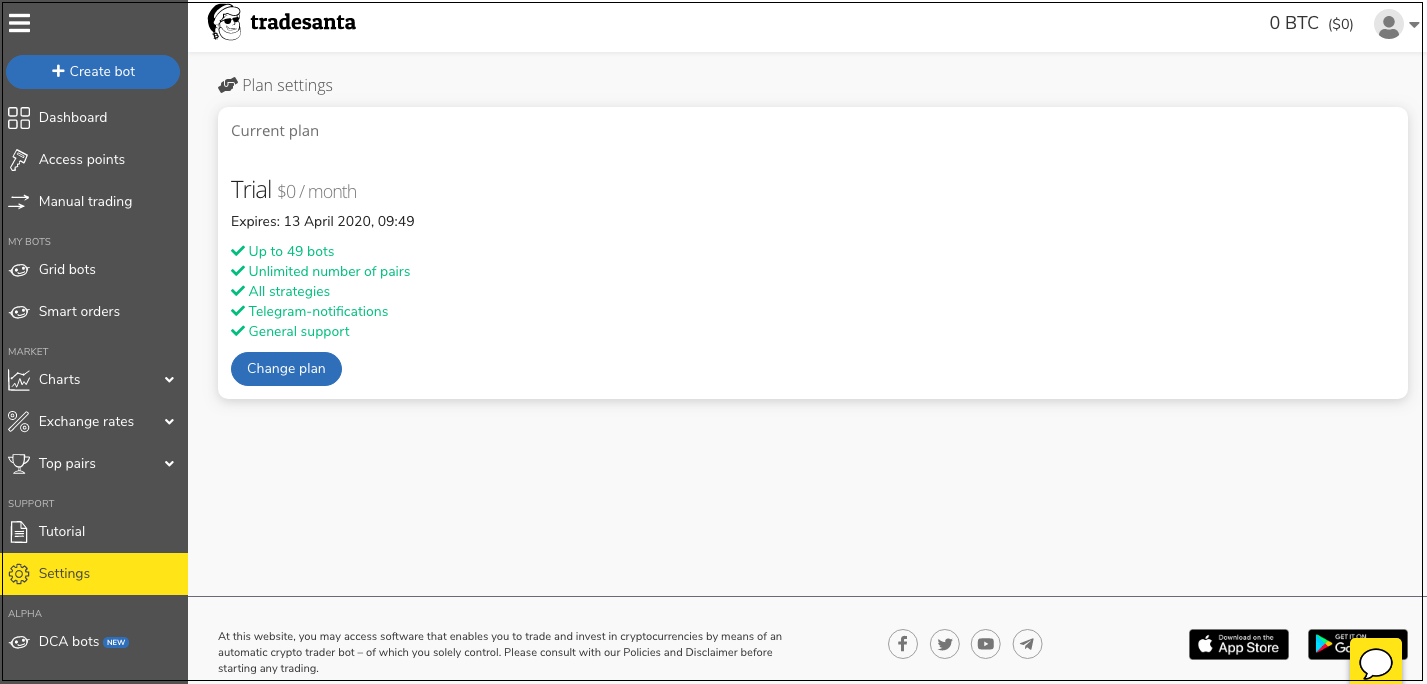 TradeSanta offers a trial period and also offers a free plan, therefore the user doesn't have to purchase the plan until the trial ends unless the user wants to trade with a bigger bot amount.
Pricing Plans
At this point, there are 4 plans (including a free plan) with different numbers of bots provided and fixed monthly payments. The free plan gives access to 5 bots. Under a free plan, you won't have access to a dedicated customer support representative. However, you'll be able to seek help from general support.
Basic Plan has 49 bots and a package of service including an unlimited number of pairs, all strategies and technical indicators,telegram-notifications, and the support of customer care. You can buy it for $15 per month.
Maximum Plan has a 0% trading fee on HitBTC, an unlimited number of bots and pairs, all strategies and technical indicators, telegram-notifications, and support of customer care. You can buy it for $100 per month.
HitBTC Promo Plan has a 0% trading fee on HitBTC, up to 49 bots, an unlimited number of pairs, all strategies and technical indicators, telegram-notifications, and the support of customer care. You can buy it for $20 per month.
TradeSanta Support
Users can contact customer support via official email [email protected] or via Telegram anytime. Also, on the website, you can find an online chat, where you can ask all your questions. 
TradeSanta Facts
TradeSanta obtains a regular audit conducted by a third party. TradeSanta blog is the place where you can improve your knowledge of crypto trading. It covers various aspects of trading, including coin analysis, reviews of services, explanation of trading commissions, etc. Subscribing to the company's social media channels (Twitter and Facebook), you'll also be able to receive regular updates on these topics.  
Security
First of all, 2FA protection is in place to ensure the security of your operations with a crypto bot. Some would raise security questions, due to the fact that TradeSanta has access rights to users' accounts with exchange platforms. Сonnecting you to exchanges via APIs, TradeSanta claims not to have access to your funds and is not able to move them without your permission. 
Is TradeSanta Legit?
In short, we believe that TradeSanta is a legit operation. You can see the reasoning below.
Using a bot that has access to your exchange accounts isn't an easy thing. You should make sure that this bot won't be used to steal your credentials and money. Let's analyze the facts we know about TradeSanta.
We don't know any info about the team behind the bot. It is anonymous. Is it a good sign? No, usually, it's a bad sign. When you don't know who is responsible for the safety of your personal data, accounts, and funds, you will have a hard time searching for an offender if the platform turns out to be a scam. Nevertheless, the crypto industry is in the early stage of regulation and that's one of the reasons why many companies prefer to stay anonymous. 
What matters more, is that you won't find coherent and clear user reports accusing TradeSanta of being a scam. Yes, there are some people here and there who say that they can't earn with TradeSanta and they blame it on the bot but the large amount of positive feedback makes us think that those people probably didn't use TradeSanta efficiently or probably some bug took place. TradeSanta reps respond to the online critics and offer their assistance. Such behavior contrasts with indifference that real scam platforms show to their users.
Users' feedback
Not so many reviews on the web regarding this service could be found. However, all of them speak highly of reliability and positive experience related to the use of TradeSanta.
Conclusion
We've described the functionality of TradeSanta tools and it's up to you to decide whether this solution is fine for your trading activity. We remember that no trading auto strategy is perfect. The key is the combination of methods, strategies, and practices. If you are considering having a passive income from your crypto trading, why not turn to TradeSanta? Given the availability of a free trial, you can decide on your own experience. 
However, we at Cryptogeek can conclude that Tradesanta is a legit trading bot platform that you should try to use.
We'll be happy to get your reviews about Tradesanta in the comment section below.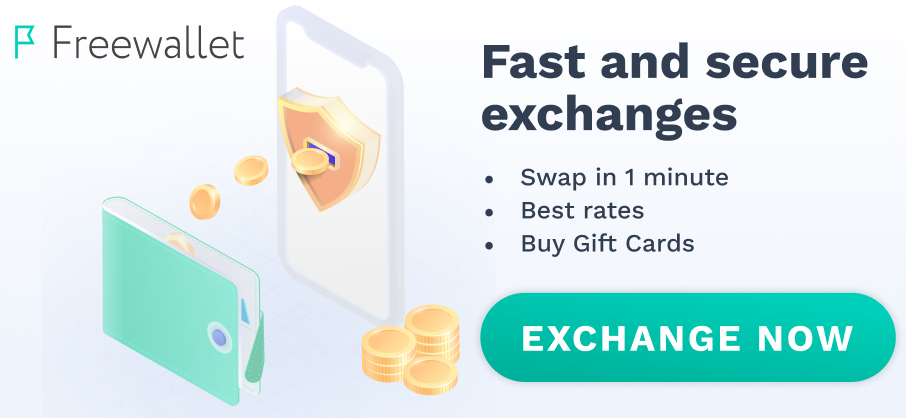 Успешно просрано -300 дол. + стоимость сервиса в месяц. Роботы несколько раз заходили в торг не в самые лучшие моменты. Стратегии с галереи повторять вообще не советую, если вы точно не знаете что делаете. Просто запустить и наслаждаться прибылью? Нет, это рассчитано только на уверенный "средний+" уровень. Если новичок вероятность слива гораздо больше чем прибыли. Поддержка не очень сговорчива, но есть и отвечает. Сами решайте торговать с помощью него или нет.
А, еще важный момент. Сервис отображает прибыль, но не учитывает что он наторговал в минус)))) В итоге показывает +34 дол. По факту минус 300, хитрожопые))
I've been using it for a long time and it perfectly meets my expectations. The support is great, always helpful and quick.
Doesn't work as expected.
Don't risk your money.
Thanks for advise. Trade Santa helps me a lot.
Smart is an amazing tool. It helps a lot, I'd advise to use it.