Expert Review
Jan 20, 2020
The use of artificial intelligence in trading bots has become a new stepping stone in world markets. With the advent of blockchain technology and cryptocurrencies in recent years, many technical minds have applied the concept of trading bots to this ecosystem.
Cryptocurrency exchanges usually do not offer traders many tools. They also support only the main types of orders, which can be a big problem for advanced traders. There is a growing wave of automated trading platforms, and all of them have various more advanced tools. Today we will talk about TradeSanta.
TradeSanta Overview
TradeSanta is a crypto trading bot, that can be employed for trading with several exchange platforms. TradeSanta is a software used to automate trading strategies. Its interface is based on the cloud. Using this tool, you'll be able to set up a trading bot within a few minutes. Ready templates are also available.
The platform helps users establish viable encryption procedures and computerizes operations. It unloads traders, allowing you to make high-speed transactions around the clock every day. You just need to create a bot, which will then engage in trade.
TradeSanta bots work at a very high speed with the ability to place up to 100 times more orders compared to ordinary traders.
A simple and intuitive interface of the service makes TradeSanta stand out among many automated trading solutions out there. Currently, TradeSanta works for Binance, Bitfinex, Bittrex and HitBTC. More exchange platforms are promised to be added in future. TradeSanta offers 24/7 customer support, as well as the automated wizard's assistance.
TradeSanta Features
Technical Indicators and Tools
With the help of TradeSanta's indicators, you'll be able to set and use volume filter, daily filter, and Bollinger signal simultaneously. It will help you enter the market at the best possible point.
Using advanced settings, you'll be able to enter the market at a certain price and buy coins for commission. Additionally, you can activate Daytime Filter which will not allow you to open a deal if the forecast for the coming day is not favourable.
One more extra preference is Volume Filter enabling you to open a deal only on condition there is sufficient volume on market.
Finally, common Bollinger Bands measure market volatility. You can open a trading deal based on the value shown by Bollinger Bands.
The approach based on Margintale can help recover after unfavorable market movements. However, you should keep in mind that Margintale implies a high risk.
Extra Orders
Suppose the market goes against your expectations and your original strategy would not work out. The price moves opposite than you expected. This is the case for Extra orders. TradeSanta bots allow you to perform extra Buy or Sell order in order to mitigate the effect of unexpected market movements.
Long and Short Strategies
With the help of this trading bot, short and long strategies can be applied together at the same time. No matter which direction the price takes, the automated trading bot will handle this.
Top Pair
The 'Top Pair' feature shows the data on the most successful performance of a trading pair recorded over the last hours.
TradeSanta referral program
If you bring other users to work with TradeSanta, you are supposed to get 20% of each plan purchase made by each one of them. To start participating in the referral program, go to the account's settings and copy a referral link. After that, start sharing this link with your friends. It is promised that with their payment for any of the plans, you'll get 20% of their payment. This amount can be withdrawn to your BTC wallet.
Calculator
There is an in-app calculator helping you understand whether you have sufficient balance of a coin to succeed with your trading.
Telegram notifications
Telegram messenger is your assistant when it comes to receiving trading notifications from TradeSanta's bot. You can activate bot in the app's Settings. These alerts will keep you aware of the following events:
A new order or order has been placed
An order was partially executed
A new extra order has been placed
Order has been closed
Order price has been changed
Deal or order has been closed or completed
Errors occurred
Let's look at some of the key features of TradeSanta:
- Stability and safety
Two-factor authentication is provided to give a more secure and reliable account. It works through API keys that limit the use of funds by the bot itself.

- Easy to use interface
Often the interface on many exchanges or sites offering similar services is confusing. To get used to working on such a platform, you need to work hard, understanding the complex interface. In turn, the TradeSanta interface facilitates the task of the trader, guiding the user with the help of special guides.

- Additional order
The bot places an additional order to buy (or sell) more coins at a lower (or higher) price than the price of the First Order, which makes it possible to get the desired take profit with less price recovery in the future.

- Technical indicator
The system is configured so that the bot is engaged in trading only at the optimal point. Users can set the optimal point for trading by adjusting the volume filter, the daily filter and the Bollinger signal at the same time.
- Smart Order
A smart order allows traders to sell large volumes of cryptocurrency with virtually no impact on the market. It is designed to sell a certain amount at a certain price level over a certain period of time or as a percentage of the total trading volume.

- Crypto indicators and filters
TradeSanta trading robot uses several indicators and filters. The daily filter determines whether the previous day was bullish or bearish. A volume filter and a Bollinger line are also used.
TradeSanta Filters
As it was previously mentioned, indicators are divided into three types:
Day filter
Volume Filter
Bollinger signal
You also have the opportunity to activate them all at the same time or choose one of them at your discretion.
We want to draw your attention to the fact that you have the ability to completely turn off crypto indicators and there is a definite advantage in that this action can bring profit because there will be no interval between transactions, but keep in mind that you risk this incur losses or turn trade into an "investment", which can also badly affect your financial portfolio.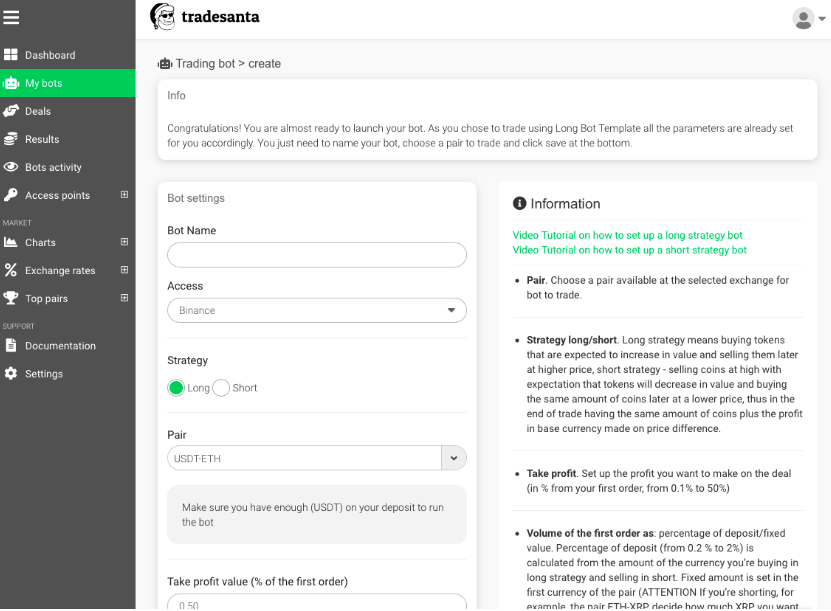 We advise experienced users to distinguish all three indicators:

Day filter
When this function is launched, your crypto bot will analyze the current day, whether it will be profitable for the selected trading pair or strategy. This analytics will be based on the pattern of the courses and trends of the previous day: if the trend was bullish, and the trading bot was set up for a long strategy, it will start a deal. Accordingly, if the trend of the previous day was bearish, and the setting was set to a short strategy, then your bot will also start a deal.
You can always watch the current situation for all cryptocurrency exchanges and trading pairs in the "Exchange rates" section.
Each pair has an indicator that tells what the last day was: a green circle indicates that the previous day was bullish, and white - bearish.

Volume filter
This function is the simplest. It consists in the fact that if over the past 24 hours a cryptocurrency pair has been trading in a significant enough volume, for example, 50 base coins (50 BTC for a pair of BTC-ETH), then a crypto bot will start a deal for this pair.

Bollinger Signal
If you activate this function, your crypto bot will search for the optimal entry point, based on the technical analysis tool for financial markets, the so-called Bollinger Bands. This tool constantly reflects current price fluctuations and cryptocurrency rate volatility. The basic principle is that the trading signal is the moment when the price leaves the trading corridor - either rising above the upper line or breaking through the lower line.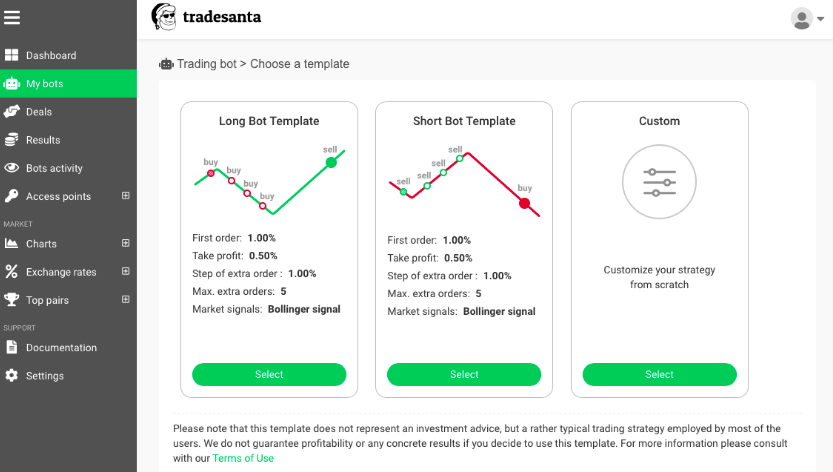 Also, you can find on TradeSanta:
Orders – if you enter a trade, and it goes against you, TradeSanta has an extra orders feature that will add to the position, so that it may end up being a winning trade after all.
Martingale – the Martingale strategy is similar to extra orders, but in addition to buying more of security as the market goes against a position, it also increases the volume of the purchases.
Buying Coins for Commission – TradeSanta offers its clients the service of buying additional coins to cover the cost of commission in the quote currency, in the event that a client account doesn't have enough to cover the transaction. The amount that will be purchased won't exceed the equivalent of $5 USD, and this feature can be turned off at any time.
Entering at Market Price – If a trader wants TradeSanta to enter a buying or selling program right away, the enter at market price will get the trade started. If enter at market price is used, the order will be placed next to the first ask on the exchange.
If a long strategy is specified, the crypto bot will start a deal when the price touches the lower line, while bots with a short strategy will wait until the price touches the upper line to enter the market.
How to start with TradeSanta?
1. Check out the signup link, enter your username, email and password.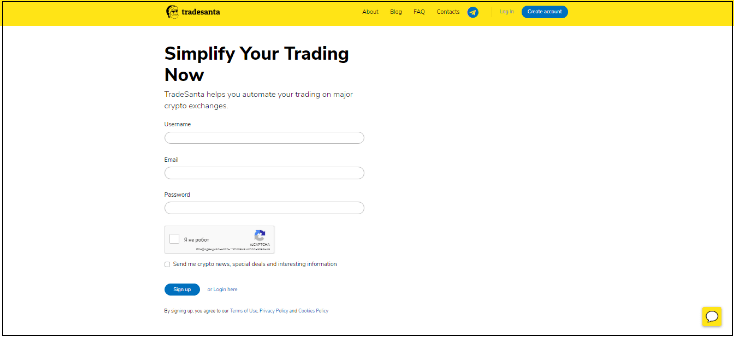 2. Verify your email address.
3. Set up your access point and configure bot parameters. By adding an access point you'll be connected to a chosen exchange platform.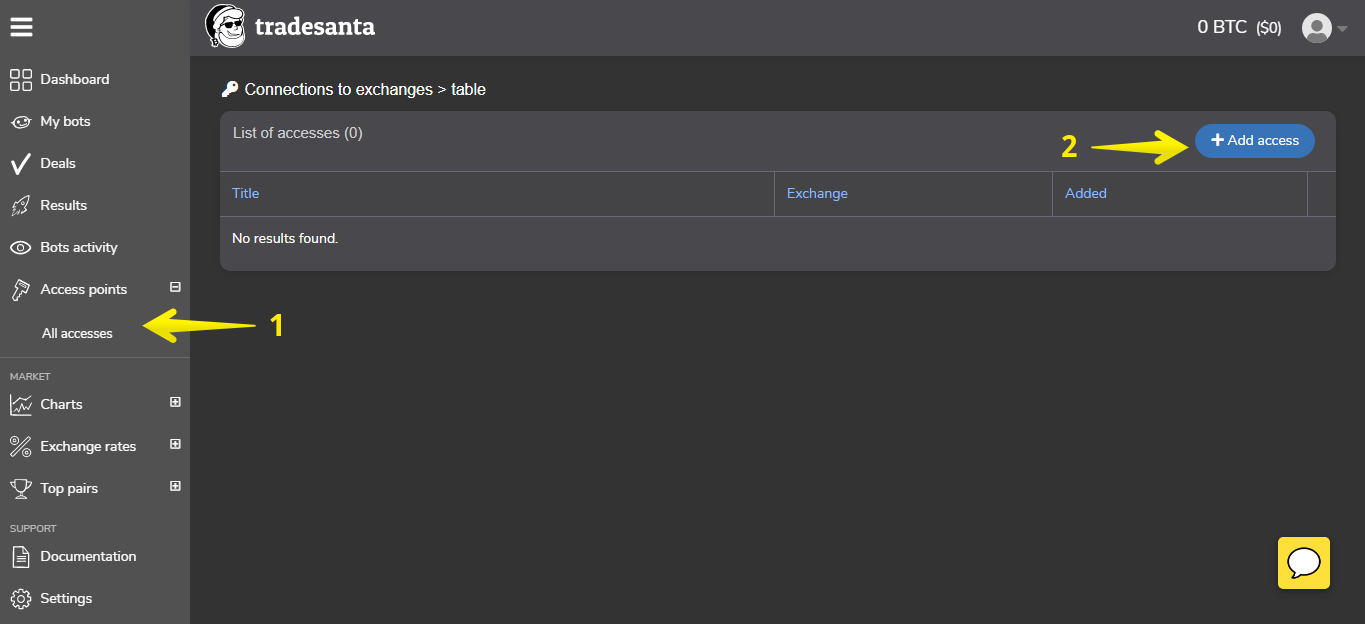 4. Pick up your crypto bot strategy (long or short), a trading pair, set the take profit level, as well as other parameters. When creating a new bot, choose one of the three options: a Long Bot Template, a Short Bot Template, and a Custom Template.
The choice of trading pairs depends on the exchange that you are using.
5. Set trading parameters
Take profit is set in percentage. Defining this level, you set the price, at which your position is going to be closed.
"First order" parameter is set percentage or fixed amount. Choose the amount of crypto coins that will be contained in your first order.
"Extra order", which you can set by steps or maximum number.
6. Ready to start with a paid plan? Then please pick up relevant settings in the app.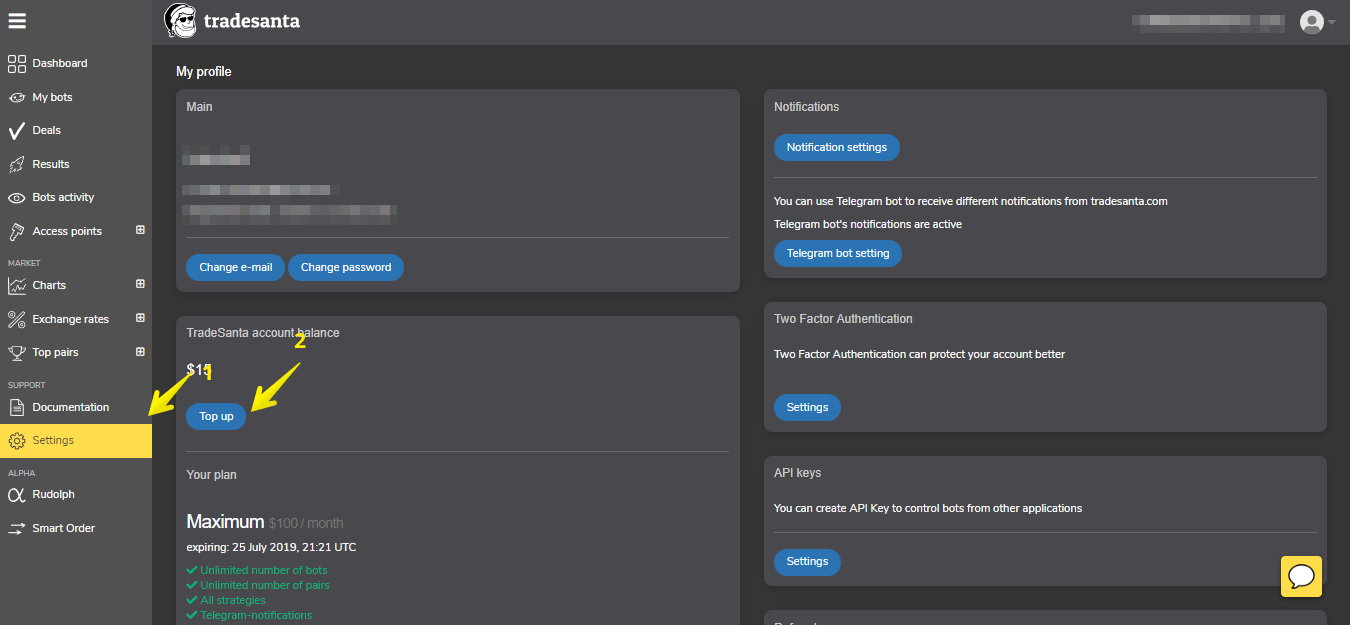 Finally, you'll need to send a bitcoin payment to the BTC address, that will be generated in the app for this purpose. Your account will be updated during the day.
After that, you need to choose an exchange platform that you are going to use. Get API key and secret key for your exchange and plug these details into a new access point.
A list of F.A.Qs details on how to create API key and secret key for each separate exchange platform, that can be connected to a TradeSanta crypto bot. It also guides you to the deposit process of every exchange on the list.
Pricing Plans
At the point, there are 4 plans with different numbers of bots provided and fixed monthly payment. Also, the five days' trial period is available. The free plan gives access to 5 bots. Under a free plan, you won't have access to a dedicated customer support representative. However, you'll be able to seek help from general support.
Basic Plan has 49 bots and a package of service including the support of customer care. You can buy it for $15 per month.
Finally, the Maximum Plan covers an unlimited number of trading bots and individual customer support. Its price is $100 per month.
TradeSanta Support
The F.A.Q guide on the website advises users to contact developers via email or via Telegram anytime.
TradeSanta Facts
TradeSanta obtains a regular audit conducted by a third party. TradeSanta blog is the place where you can improve your knowledge of crypto trading. It covers various aspects of trading, including coin analysis, reviews of services, explanation of trading commissions, etc. Subscribing to the company's social media channels, you'll also be able to receive regular updates on these topics.
Security
First of all, 2FA protection is in place to ensure the security of your operations with a crypto bot. Some would raise security questions, due to the fact that TradeSanta has access rights to users' accounts with exchange platforms. Сonnecting you to exchanges via APIs, TradeSanta claims not have access to your funds and being not able to move them without your permission.
Users' feedback
Not so many reviews on the web regarding this service could be found. However, all of them speak highly of reliability and positive experience related to the use of TradeSanta.
Conclusion
We've described the functionality of TradeSanta bots and it's up to you to decide whether this solution is fine for your trading activity. We remember that no trading auto strategy is perfect. The key is the combination of methods, strategies, and practices. If you are considering having a passive income from your crypto trading, why not turn to TradeSanta? Given the availability of a free trial, you can decide it on your own experience. Let us know what you think of TradeSanta!
Durno
8 February, 5:52 AM
Good bot, but I think the price for it could be less. There is some free function I gotta say sometime that's enough.
Seamen
5 February, 8:52 AM
I'd like to thank the developer of that bot, trading became easier with tradesanta. I'm able to maintain my trades and the it works automatically. Good to see.
Rodari
3 February, 9:56 PM
It seems convenient to use tradebot to do Smth on the market. It is able to maintain the trading activity and rule out any bad options. It could be used as an additional tool to trade.
Simple bot but with big variety of features. You may set up a full trade strategy using this bot. But I wouldn't entirely rely on the bot. It would work better if use own mind as well.
Feery
2 February, 1:23 PM
For those who doesn't have a big experience. it has a support telegram bot which is real useful too. I use it from time to time. It's good so far
Flober
2 February, 11:03 AM
I can choose a different way of trading, it assists to put all the thing together and not mindless waste all funds. I like using it
Starr
1 February, 2:22 PM
I can choose a different way of trading, it assists to put all the thing together and not to mindless waste all my funds. I like using it
Felix
1 February, 1:30 PM
the tool is a helpful one. I like the extra order feature. it adds a higher position while you're trading, it's like a safety from losing everything at once. good app.
Paddy
31 January, 5:50 AM
I don't have a lot of experience, and trading Santa is able to assist you. It's quite reliable service. It helps finding the best pairs and coins for trading. Helpful bot.
Valdis
27 January, 2:28 AM
The bot works smoothly although I didn't get how to gain the maximum profit with it. If you know how to do that then probably you should try TradeSanta.
Max Hanson
24 January, 4:28 AM
Convenient bot. One of the best that I've came across lately.