Cointracking Reviews 2022
May 31, 2020
What is Cointracking? Read our review and tutorial about this software tracker. Is it safe to use? Should you really use it? All that you should know in this ultimate Cointracking review.
What is Cointracking?
CoinTracking is a web platform for forecasting and tracking cryptocurrencies and cryptocurrency prices.
Cointracking CEO and location
Dariusz Michael Kachel is the CEO and Founder of CoinTracking. He established this website-based and mobile portfolio management platform in the year 2013. The headquarters of this platform are located in Munich, Other.
Main Partners
Bit Bookkeeper Company (US)
Crypto Tax Girl (US)
Herman & Company CPA (Israel)
Quermann Steuerberatung (Germany)
Krypto StbG mbH (Germany)
Crypto Impôt (Canada)
Crypto tax Pty Limited (Australia)
KTT Global Advisors, LLC (US)
The Happy Tax (US)
Elisa Lutz Steuerberatung (Germany)
Dipl.-Kfm. (FH) Marcus Kemper (Germany)
Supported countries
This portfolio platform supports Australia, the United States of America, Netherlands, Canada, the United Kingdom, and Germany by default. However, the design of this smart program allows it to suit the tax situation of any country. The primary reason behind this is that you can alter the tax rate to be used when it comes to calculations. Thus, it is crucial to understand the tax rates of where you come from for cryptocurrency gains. The reason for doing this is that the long-term and short-term rates can change at any time.
Supported Coins
CoinTracking supports over 70 crypto exchanges. Some of the supported crypto-related exchanges include:
CoinSpot
Cobinhood
Binance
LocalBitcoins
Bitfinex
BitMax
KuCoin
Bittrex
Kraken
Huobi
CEX
CoinTracking Features
Top-Rated CoinTracking API Supporting Feature
The top-notch API supporting feature is what makes CoinTracking the most preferred option and not the other software trackers. Some exchanges such as Coinbase, come with APIs that the public can access with less hassle. This feature makes it easy to link them into CoinTracking with less hassle. After this linking, use this software tracker to import any of your trading details and then update everything in real-time.
Tax Form Generator
Now, any cryptocurrency trader situated in the United States can utilize this tracker and automatically populate the IRS form 8949. Keep note that this is the primary tax-related form to give out whenever doing your CoinTracking taxes.
With this type of form generator, you'll have access to several options. These options are crucial when it comes to updating the tax-related form with all your transactions.
You can combine the transactions with the help of a short-form format. But, ensure that this format is the one accepted by the IRS. Also, you have the choice of noting down all your transactions without seeking any help.
Tax Software Integration
CoinTracking gives you an easy way of exporting your trading details to varying tax software trackers. However, you can do this only after using this monitoring platform to come up with a tax-related report.
CoinTracking Advantages
The capability of customizing the panels is one advantage associated with CoinTracking. Reports are the primary strengths of this platform. The reason for this is that the tax-related reports generated by the CoinTracking software tracker are useful, and they come with a lot of data.
CoinTracking transactions display general statistics. These include trading volumes and many more. A dashboard featuring trends and chats is another useful thing associated with CoinTracking. It gives you a chance to have a clear picture of the extent to which the coin's value will shift in the upcoming days.
Other than this, this software tracker comes with charts that compare prices from one day to another.

Available Deposit And Payment Methods
Bitcoin
Debit cards
Credit cards
Coinpayments (altcoins)
Tools And Possibilities
CoinTracking comes with only useful tax prepping properties. Fund managers use CoinTracking to track their customers' portfolios. Also, most traders prefer this platform since it provides them with excellent insights. It has a timeline tool that is crucial in populating with trading milestones. Also, it has charts that display your balance from one day to another. These CoinTracking charts show the average buying price and more. The new chart plugins give traders the use case: they can use CoinTracking as a launchpad for researching coins and working out new trading strategies.
For taxes, this software tracker works excellent with various techniques. These include the LIFO method, LOFO method, FIFO technique, and HIFO technique. However, most users use the FIFO technique from one day to another.
CoinTracking gives you a chance to keep track of any coin that has remained limited for over a year. Also, this software tracker enables you to subscribe to its site using the BTC method. Finally, there is the option of choosing a lifetime license.
CoinTracking Fees
The basic plan of this software tracker enables you to use the website as a software tracker for coins without paying anything. But, keep in mind that this software tracker has limited the tax reporting elements of this plan. For free programs, you have a restriction of importing up to two hundred transactions. Also, this option allows you to create a good picture of gains in capital and tax reports.
For a regular crypto trader, the 76 US dollars per-year-plan is a perfect choice. The good news for the Pro Users is that they can handle up to 3,500 CoinTracking transactions. Also, these users can import large CSV files of up to 20 MB and even download tax-related forms. This yearly plan allows those using the platform to sync with up to five crypto-wallets of different types. Buying a Lifetime License worth $246 is the right step to take if you want to save extensive amounts for an extended period.
Also, this software offers 120 US dollars per-year-plan. This plan is the perfect option for anyone doing crypto day trading. Also, it is the right choice for those who use bots in executing orders with several transactions. This plan allows you to enjoy priority customer support services and CSV file uploads of up to 200 MB. However, the 1823 US dollars, Lifetime Licence, can be too expensive for other traders.
How To Use CoinTracking
With the help of this CoinTracking tutorial, you'll get tips on how to use the CoinTracking software tracker and receive the cryptocurrency tax report with less hassle. Let's start!
Creating Your Account
Creating a personal account is the starting point of this CoinTracking tutorial. Here, you need to click and follow the link https://rebrand.ly/cointracking-CryptoManiaks. Once on the page, fill in the available signup form.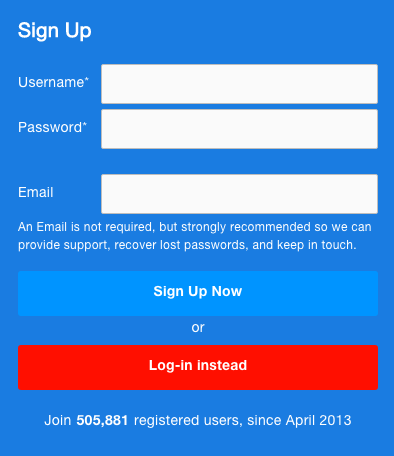 There is a free option offered by this software tracker that allows you to produce a tax report. However, this will work only if you want to process two hundred or fewer transactions. Thus, this software tracker is the right choice for all beginners.
Transferring Your Data
Here, you need now to move all your trading details into the account you created. Make this a reality by syncing CoinTracking to each and every wallet and exchange you own. Also, this option will work excellent if you use the CSV files.
A big percentage of the crypto-related exchanges or wallets work great by allowing you to export trading details to a CSV type of file. With this kind of spreadsheet form, you can read it by Google Document, and several other programs.
Syncing all the crypto-related exchanges or crypto-related wallets you own to this software tracker is the most straightforward way to use this platform. Start by logging in to all wallets or transactions that you plan to associate yourself with and then create a CoinTracking API key. The next step is all about copying your API data into CoinTracking. By doing this, the CoinTracking software tracker will be able to collect your trading details and then update the important stuff automatically. However, you need to subscribe to this software tracker so you can enjoy the outstanding benefits of this feature.
Let importing your crucial details through the "Enter Coins" options be your starting point. After this, press Exchange-Imports (API option) or Exchange-Imports (CSV option). Now, follow the available guides so you can complete the entire process.
Generating Your Tax Report
After importing all the trading information you plan to check, you can now make a CoinTracking tax report.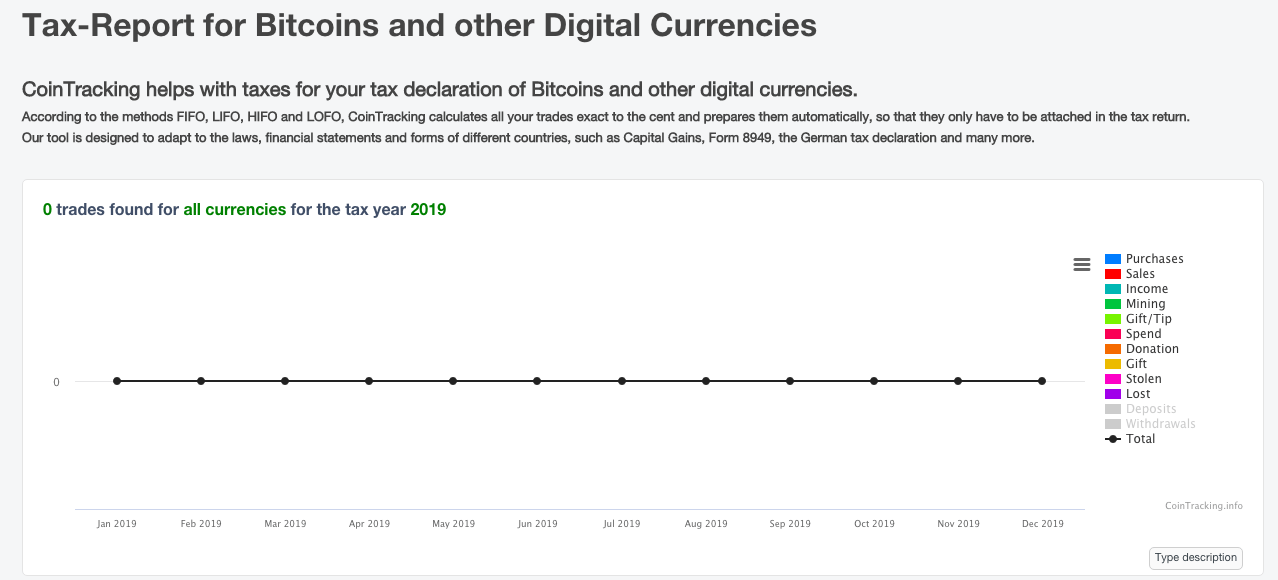 Go to the primary menu and then select the option named 'tax report.' Press the 'red-colored Open Settings' option and then proceed to come up with a Tax-related Report button.
Customer Service
Most people prefer the CoinTracking platform because of its vast support architecture. This support architecture features tutorials, advice, and posts. The layout of this material plays a crucial role in supplying clients with vital knowledge. Also, it provides clients with updated details relating to the crypto sector.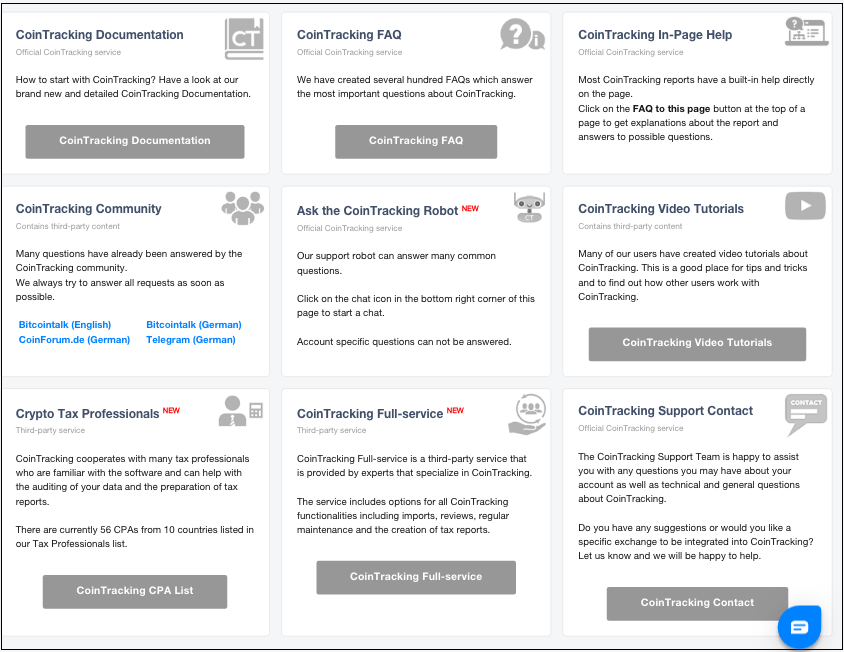 However, you need to note that this platform does not maintain chat or phone supports. Yes, it does, but it provides a customer support chatbot and a self-service ticket system. Also, CoinTracking grooms any active channel of communication with customers on various social media platforms like Twitter.
Support Team
The support team of CoinTracking consists of 20 members. Dariusz Kachel is the Founder and CEO of this software tracker. Dr. Christiane Williams is the Support Supervisor, and Natasza Stanicka is the Project Manager.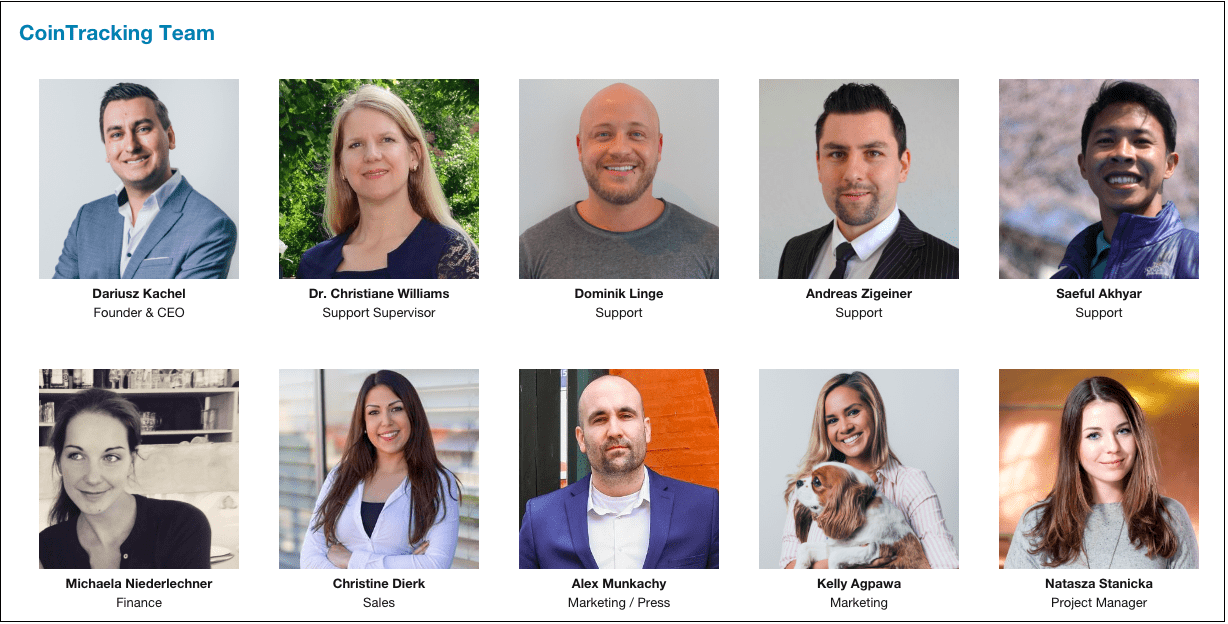 CoinTracking Reviews And Service Reputation
CoinTracking features a rating of four stars on its own Facebook Page. However, most users direct their complaints at the software glitches and customer support mechanisms.
Security and Issues
CoinTracking has never been hacked and did not experience any data theft. In addition, the service puts restrictions on exchanges that fail to provide a way for users to disable their API key's trading permissions. Also, CoinTracking needs to improve its listing update so that all the new coins can get into the list. With this update, it can be possible for the system to retain some of the non-existed coins. In accordance with CoinTracking, this is necessary, because people who traded defunct coins still need to account for trading them when they do their taxes.
CoinTracking App
The mobile app of this software tracker is another crucial thing to consider.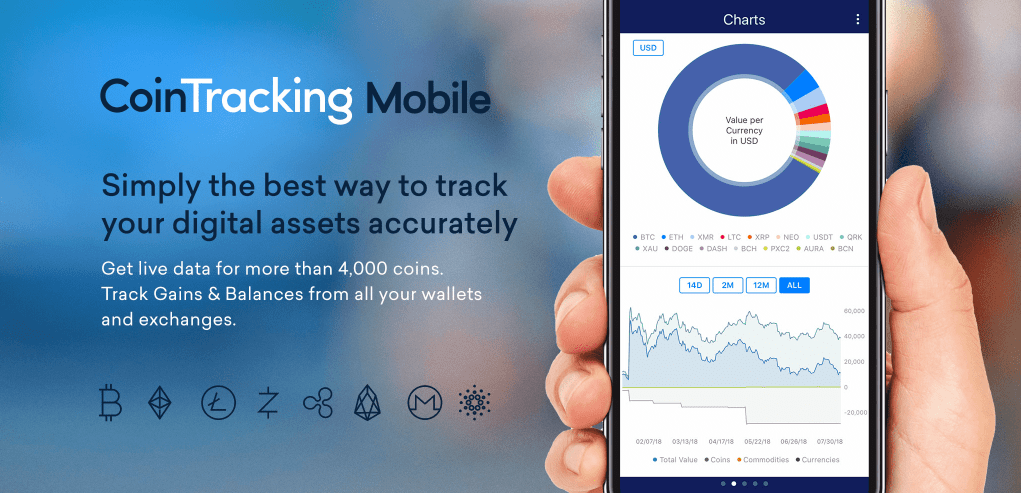 CoinTracking has a mobile app that works great for iOS and Android. This mobile application has a high rating on the two stores, that is,  the iTunes App and the Google Play store.
However, this mobile app comes with fewer features when we compare it with the desktop version. But all these features work great, and they are beneficial.
CoinTracking Alternatives
CoinTracking software tracker is amongst the most-rated software trackers that help in managing your portfolio. It evaluates your trades and comes up with crucial details in real-time. The information it creates includes unrealized gains and more.
Blockfolio is an excellent alternative application to this software tracker, and they share most of their features. It is a top-rated free Bitcoin worldwide and also the most popular. This platform supports over 3,000 various cryptocurrencies and provides regular updates with new data like marketing information.
With Blockfolio, you can add any of your crypto transactions and other primary details. By doing this, you will have access to the whole portfolio image and save much time on those kinds of trades that originate from fiat ETH.
Other alternatives include Crypto Viewer, BlockKeeper, CryptoCompare, and more.
CoinTracking Vs. Bitcoin Tax
For this portion of the CoinTracking review, we will look at two tax software. These include Bitcoin Tax and CoinTracking.
First, you will realize that these two sites come with a variety of features for their users. For example, these two sites calculate crypto capital gains. They calculate closing position, profit/loss, spending, mining/gift income, and trading.
Both sites support import to TaxACT and TurboTax, two-factor authentication, and wallet imports. Other great features they share include manual import capability and custom CSV importer. API is available on the two sites.
CoinTracking offers its customers the Full-Service. With CoinTracking Full-service, you'll be able to get the professional assistance you need to file your cryptocurrency taxes with confidence.
Also, you need to note that Bitcoin Tax supports up to 19 CSV/EXCEL exchange imports as CoinTracking allows up to 40 similar exchange imports. In the case of exchange API imports, Bitcoin Tax supports up 10 while CoinTracking supports up to 29.
Also, CoinTracking is the most preferred because of the several other features it supports. These include public portfolio, mobile APP, daily portfolio tracking, and trade back-ups. Other key features include analytic or charting tools and many more.
CoinTracker Vs. CoinTracking
Next, in this CoinTracking review, we will look at the other two crypto tax software. These include CoinTracker and CoinTracking. Let's start!
CoinTracker is the perfect platform for connecting any of your crypto-related wallets to your exchanges. Thus, this enables you to access a portfolio management section and several other features. Keep in mind that you will get all this in one dashboard. Also, CoinTracking also supports margin trading. Other than this, CoinTracker has formed a partnership with the TurboTax software tracker and Coinbase. The aim of this partnership is to improve the efficiency of the user's tax reporting process.
CoinTracking software tracker enables you to import information from the crypto-related wallets or crypto-related exchanges. It does this with the help of different file formats. These include JSON, XML format, Excel, PDF format, and CSV file format. Also, with CoinTracking, you're able to access more than 6000 crypto assets. Thus, it possible to get even a currency that launched a few months ago. Other than this, this platform gives you a chance to assess the real-time reports. These real-time CoinTracking reports relate to profits, losses, and more.
Blockfolio Vs. CoinTracking
Now let's look at Blockfolio Vs. CoinTracking. Blockfolio is another popular tracker that works excellently only with Android and iPhones. Thus, it is possible to take control of your portfolio from any place if you have a smartphone.
Blockfolio gives you a chance to set a price alert for a particular cryptocurrency. Also, this software tracker sends a notification whenever the buying or selling price matches the selected exchange. This app comes with built-in support for market details relating to each currency. Also, this built-in support works fantastic for order books and stock charts.
Another exciting feature associated with Blockfolio is that it provides news updates relating to the famous crypto sites.
For the CoinTracking software tracker, it features a wallet and exchange support. With this tracker, you can import APIs from over 70 top-rated exchanges.
Also, the tax-related report is another thing that makes the CoinTracking software tracker the most preferred compared to Blockfolio. With the tax-related report, you can come up with Closing position reports and more. 
Is CoinTracking Safe?
Yes, the CoinTracking software tracker is a reliable and trustworthy site for forecasting and tracking currencies. It has fantastic features, meaning that it is a great tool any professional can benefit from. It is the right solution for all pro or seasonal HODLers or traders. Also, the history of the CoinTracking software tracker makes it a safe platform for everyone. It will meet all its promises and can't run away with any of your money.
Conclusion
In general, CoinTracking works great for any casual trader who is after keeping track of several movements each month. Also, this portfolio tracker is the right choice for established traders who cannot afford to buy the non-free plans.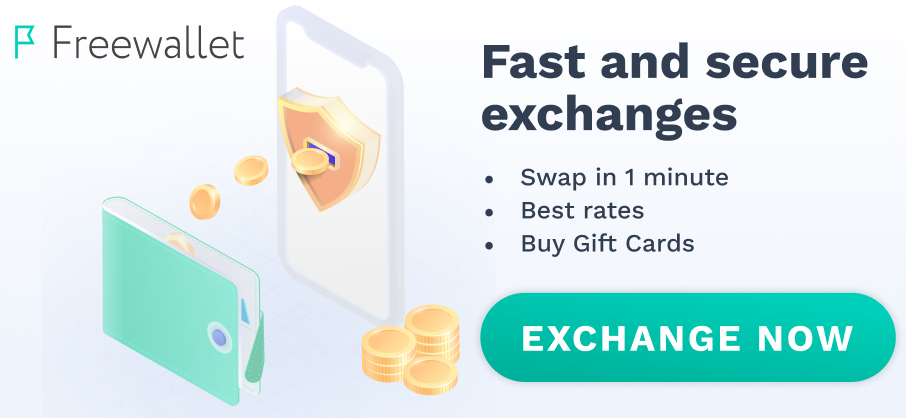 Parece ser poco serios, te prometen muchas cosas pero ayuda es currarte sus innumerables paginas, Lo peor no te dicen como darte de baja en el servicio, esto raya en el timo.
Gianni Solbera
4 May 2022
Assistenza super professionale , nel importare il wallet e vedere tutte le transazioni ,da Patrick Henry
Stefano de Chicchis
3 May 2022
Ho avuto supporto davvero professionale.
Voto 5 ***** Bollino.
Grazie
James Shoemaker
9 April 2022
I have found Saeful can rarely answer a support question. CHRISTIANE always has a complete answer.
Martin Alekseevich
19 January 2021
The app is really convenient and gives a lot of information