CryptoTrader.Tax Review
Jul 14, 2020
Contents
As cryptocurrencies become accepted as payment options or countries adopting them as legal tenders, taxes have become an increasing concern for many investors. Like with stocks, once you start making a profit, you are required by law to inform your government of the profits and pay your taxes.
Even though part of the crypto community didn't find this to their liking, it's clear that crypto taxes will be here to stay. It means that more and more countries will adopt that, leading to more and more people paying their crypto taxes.
The process of doing the taxes is not something that most people can do or would like to. Crunching the numbers isn't for everyone, which is why there are companies that can do that for you at a certain price. The same goes for cryptocurrency as well.
Join the World's Largest Crypto Exchange - Binance!
Crypto taxing is still in its infancy, so not many people are capable of doing it. Just like you have services that do capital gain tax calculations, you have similar ones that can do the same for cryptos. Among the many in this niche is CryptoTrader.Tax and today I'll be taking a look at it.
What is CryptoTrader.Tax
As the name suggests, CryptoTrader.Tax is a service that enables you to manage your crypto taxes. The service aims to reduce the time it takes you to do it manually and avoid errors or miscalculations.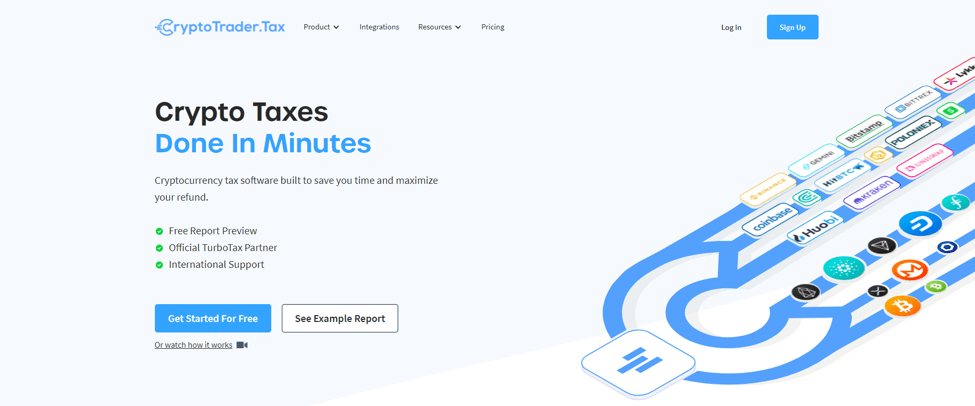 The service is primarily designed for veteran trades, whose portfolio involves lots of invested funds. With that said, CryptoTrader.Thanks to the multiple pricing plans, tax can also be used by amateurs, which I'll talk about in the following section.
CryptoTrader.Tax Company Information
The company isn't a veteran that has been around since the inception of cryptocurrencies. Coin Ledger is the company that's behind CryptoTrader.Tax which was founded in 2017.
Despite being founded in Kansas City, Montana, the company relies on remote working, so most of the people on the team are in different cities. They have teammates in Portland, Mexico City, Zagreb, Austin, and many more.
Since the service is founded in the US and at the moment, the crypto laws are among the strictest, it only works with IRS. There are no announcements for supporting other countries, but I believe that those options will be available in the future.
Features overview
CryptoTrader.Tax is a service that offers tax reporting, but it does that with many features that many people would benefit from.
Integrate with exchanges
If you're the type of person that doesn't record the date, time, and price of purchase, then CryptoTrader.Tax can help. To get a more accurate calculation, the service can be integrated with the exchange you use to pull the data.
To achieve this, CryptoTrader.Tax "digs" through the exchange's records and gets the price at the moment of purchase. By doing this, the service can calculate your taxes regardless of how many purchases you've made.
Tax platforms
If you've ever researched crypto taxes, then platforms like TurboTax or TaxAct have come up. The good news is that CryptoTrader.Tax is a trusted partner of both, meaning that you can use the tax preparation features the service offers.

The idea behind this is the utilize the services to get a digital version of the report. Both services will generate reports for capital gains and Form 8949 automatically. They do that by combining the information CryptoTrader.Tax provided with the algorithm for the actual calculations. Once the reports and form are generated, you can fill out the rest of the information and submit them using whichever service you'd like.
Integrations
Considering how diverse the crypto world is, there are plenty of services that investors use. To ensure a smoother user experience, CryptoTrader.Tax offers integrations with over 200 services. These include exchanges, DeFi, and wallets.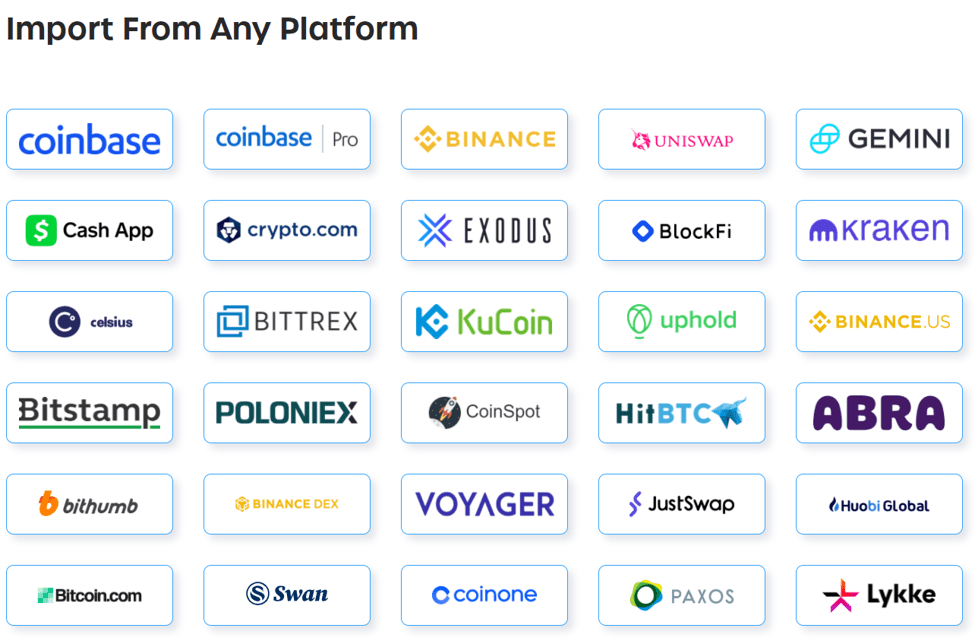 Tax-loss harvesting
The last feature that CryptoTrader.Tax offers is tax-loss harvesting. This is the process where the crypto is getting sold at a lower price, practically resulting in a loss. What this does is make an offset for tax liabilities in the future. The idea is to alleviate taxes that you pay for capital gains.
It's a good approach when talking about cryptos because the IRS doesn't regulate them like fiat currencies. As a result, harvesting is an excellent way for you to reduce the amount you need to pay in taxes.
Pricing
To be usable for a broader range of investors, CryptoTrader.Tax offers 4 pricing packages, depending on your needs. Each one of them is a one-time payment per season. In other words, you pay only when you need the tax reports generated, and you're good to go.
Unlike other services, CryptoTrader.Tax doesn't take the limiting route, cutting some features from the "smaller" packages. Instead, each package comes with the same set of features, regardless if it's the cheapest or most expensive. You will get access to all available reports, free previews, software integrations, and a lot more.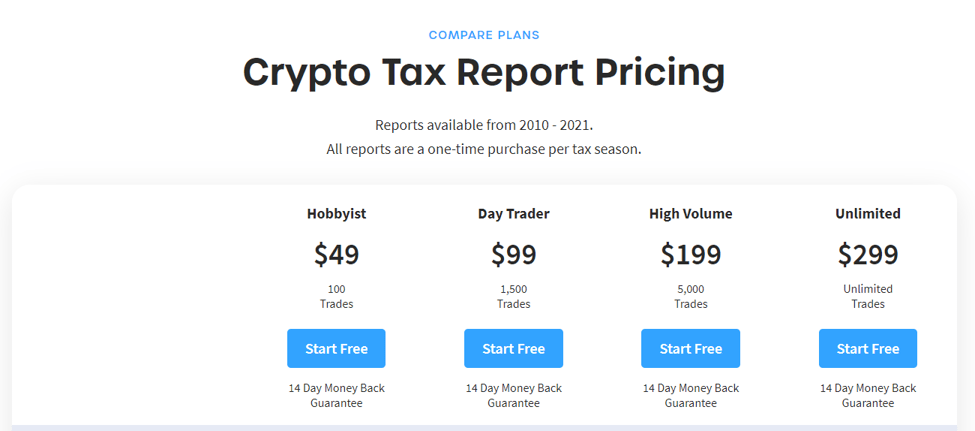 The price difference comes from the number of trades that the system can take into consideration. The smallest package is called Hobbyist and includes 100 trades for a price of $49. Next is the Day Trader, which includes 1,500 trades at a price of $99. The High Volume is the last limited package with 5,000 trades and will cost you $199. Finally, you have the unlimited package, which has no cap on the number of trades and will set you back $299.
Considering the prices, people would want to test the service before paying for it, and the good news is that CryptoTrader.Tax will enable you that. You can sign up for the service and use it for free to get an overview of the actual numbers. You will need to pay only when you'll want to export the reports.
On top of the trial option, CryptoTrader.Tax also offers you a 14-day money-back guarantee. This is in cases where the service doesn't work as you thought or have any problems with it.
Is CryptoTrader.Tax safe to use?
Absolutely, and there's no reason to doubt that. On the one hand, you have a team of very capable people doing the job for you, meaning that everything will be correct. In case something is off, the unlimited revisions are an excellent feature that enables you to make changes as you need.
On the payment side of things, CryptoTrader.Tax is as safe as it can get. Your payment will be processed through a secure payment tunnel, meaning that your personal and card information will remain safe.
Even though there are some claims floating around the internet about CryptoTrader.Tax being a scam, I can vouch for the service. It's as legit as it can be and you are almost certainly guaranteed a satisfactory result.
Conclusion
Overall, CryptoTrader.Tax is an excellent service for almost anyone that's investing in crypto. Most of us want to take the taxing load off ourselves, so this is a service that you shouldn't pass.
Thanks to the integrations, you have a wide range of options, meaning that you have almost no involvement on your end. Yes, you will need to file the reports manually, which I believe is a feature I would like to see.
In terms of usability, the 4 packages make it an excellent option for amateurs and veterans equally.
Even though some features are missing, it's still worth it and I would suggest checking it out next time you need to do your taxes.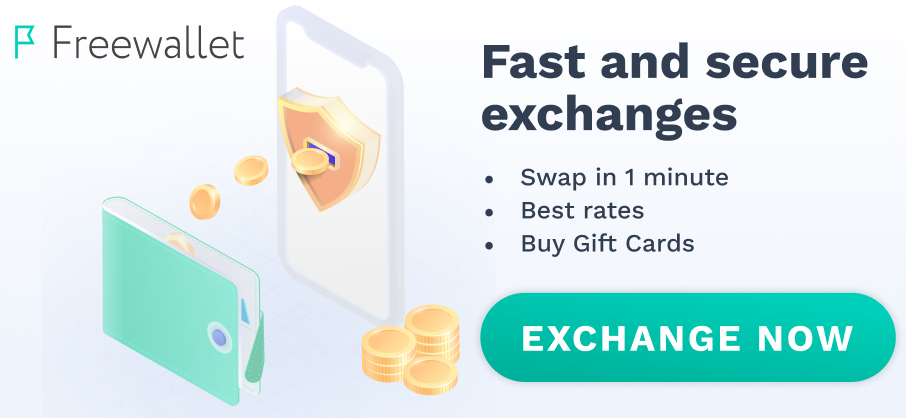 Here are no reviews yet. Be the first!