BlockFi Reviews 2021
Feb 04, 2021
BlockFI Review: What's BlockFI?
BlockFI is a legitimate and highly-trusted start-up financial institution that focuses on blockchain-powered products, and specifically cryptocurrencies. The company bridges the gap between crypto and traditional finances, and it does so in a unique way that benefits consumers. Thanks to the inherent benefit of blockchain technology, BlockFI offers a massive 8.6% APY on stablecoins and 6% APY on Bitcoin. 
The platform allows you to manage your crypto portfolio and benefit from it in real terms. You can borrow cash as well as buy and sell crypto, and always find the best market conditions to make this happen.
Ultimately, BlockFI offers flexible access to investment opportunities, it requires no minimum balances (something that was recently changed) or any commitment beyond what you think is best for your crypto portfolio. In today's BlockFI review, we will talk about what to expect from one of the leading crypto financial institutions. 
Join the World's Largest Crypto Exchange - Binance!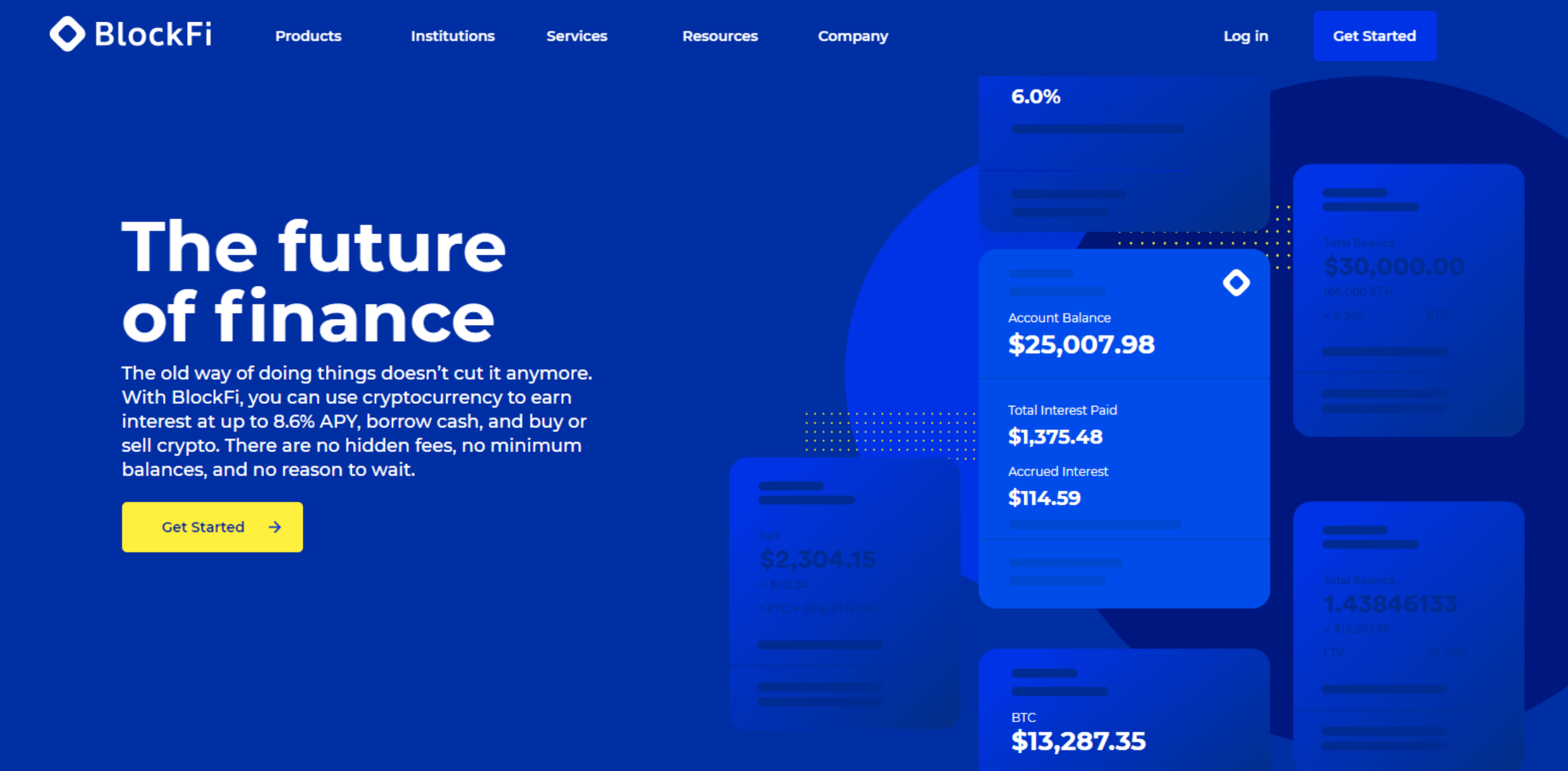 Where is BlockFI Located?
BlockFI headquarters are located in New York City. The company set up its shop in 2017 and has operated an advanced crypto lending and Bitcoin interest-bearing deposit accounts ever since. Operating out of one of the biggest financial centres in the world attests to BlockFI's commitment to upholding the highest standards of financial transparency and fairness.
BlockFI Features & Products
BlockFI specializes in three main areas of expertise that are designed for different types of crypto owners and investors. Specifically, the platform offers consumers the option to benefit from a fixed interest, borrow money, or trade. 
Each of these is specialized to give you a greater value than the average market competitor. For interests, you may earn up to 8.6% APY with the added benefit that, instead of waiting for the year to be out, your interest will be accrued daily and paid out monthly. 
This allows consumers to be in full control of their funds and commit any amount they are comfortable with. You can pick from a variety of currencies, including BTC, ETH, and LTC. Other currency options include GUSD, PAXG, USDT, USDC, and PAX.
Borrowing at BlockFI is easy and it complements the main experience. You can claim additional funds on the spot with a fixed 4.5% APR while continuing to earn interest on your existing deposits. There are no prepayment penalties or fees. 
A third financial mechanism we find handy at BlockFI is the trade feature that allows consumers to buy and sell currencies quickly and without any technical hurdles. Besides, you get to earn interest on your purchases right away. As the platform puts it, you can benefit from instant trades and immediate interest. 
BlockFI App Benefits
The BlockFI app is available for both iOS and Android devices and operating systems, making for quick and easy navigation across the board. Just as with the regular desktop version, you can use the app to gain access to the full functionality of features available at BlockFI, and not least earn APY, borrow cash, move money, and have a better understanding of the overall market.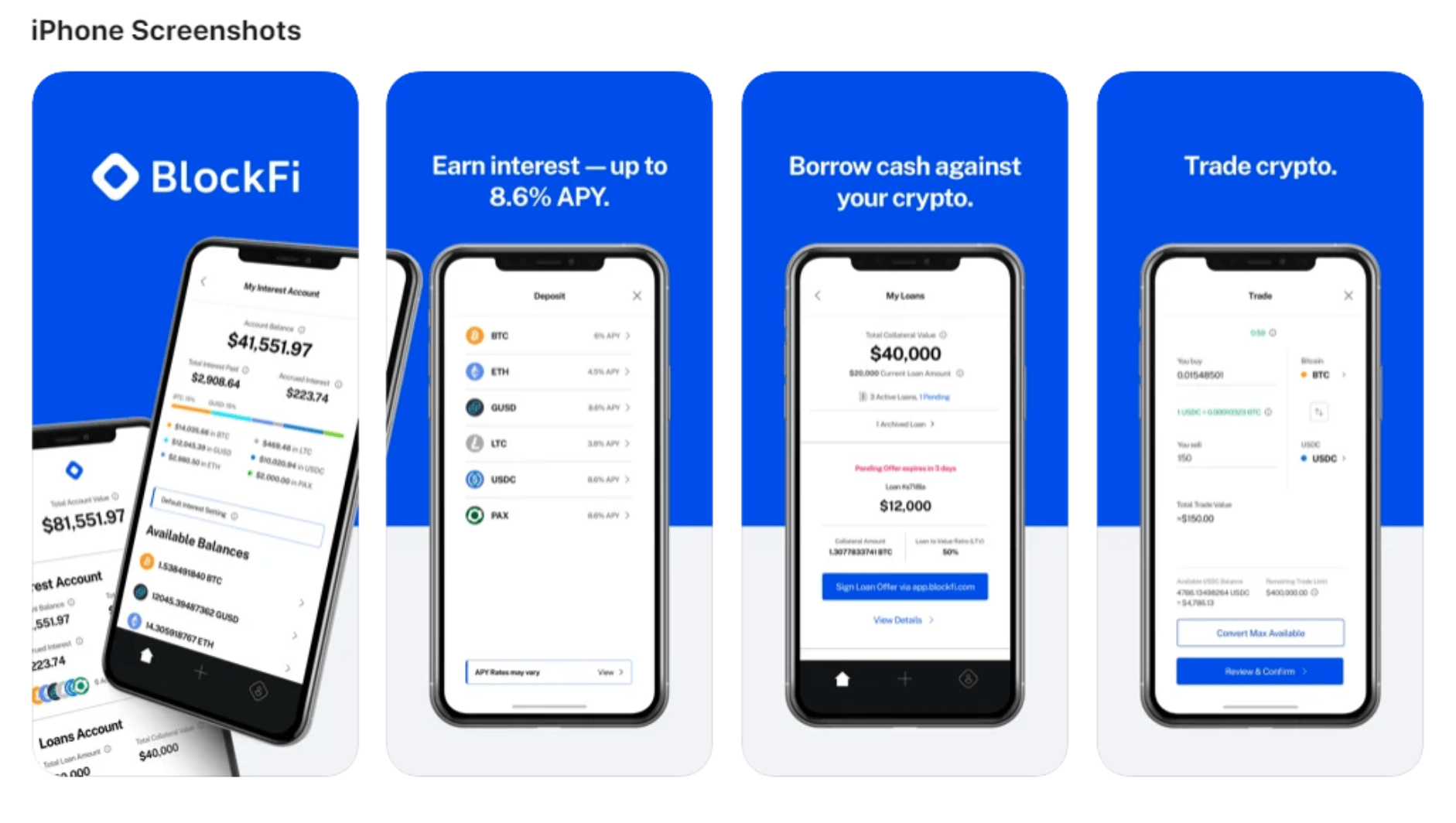 The app makes it easy to link your bank account or wallet and get in the shoes of a successful trader without having to struggle with any unnecessary technicalities. We were quite pleased with both mobile versions of the app and the intuitiveness baked into the software. 
BlockFI Credit Card: Bitcoin Cashback
The BlockFI Bitcoin Rewards Credit Card is a special innovative feature, part of the overall experience, for anyone who has funded their account via the app. Essentially, you are allowed to start earning back Bitcoin with every purchase you make.
Upon approval, the platform will assign a credit limit in USD. If you spend the limit and cover it, there will be no interest charged on your balance, making the card a great first option.
In the meantime, every transaction you make will accrue 1.5% cash back which will be distributed back to you in Bitcoin. Credit cards do come with some inherent and scalable benefits that make many consumers opt for those over their debit cards. 
Is BlockFI Safe?
Speculation about the safety of BlockFI is unnecessary. The company has over three years of operation as proof of its reliability. Since it arrived in 2017, BlockFI has not lost a single account. If the platform suspects that an account has been compromised, it puts it on immediate lockdown and launches a sweeping investigation. 
Often, BlockFI will repeat a video conference with any affected party, even if the person has been locked out of their account and restore their account by changing the user name, password and email if the need is. 
So, What if BlockFI Gets Hacked? 
BlockFI has hedged against many risks, and getting hacked is certainly one of the contingencies the company has in place. So, what happens if BlockFI gets hacked? Since the platform uses Gemini as its primary custodian, BlockFI doesn't have access to consumers' private keys directly.
Rather, all or at least the majority of the assets are placed offline in a cold storage solution secured by Aon in order to avoid compromising. There was a small breach in 2020, but BlockFI ensured that the attack was warded off successfully, despite nominal data leak. Gemini is the right call here as the company is both licensed by New York Department of Financial Services (NYDFS) and it recently received a SOC2 Type 1 accreditation by Deloitte. 
BlockFI Fees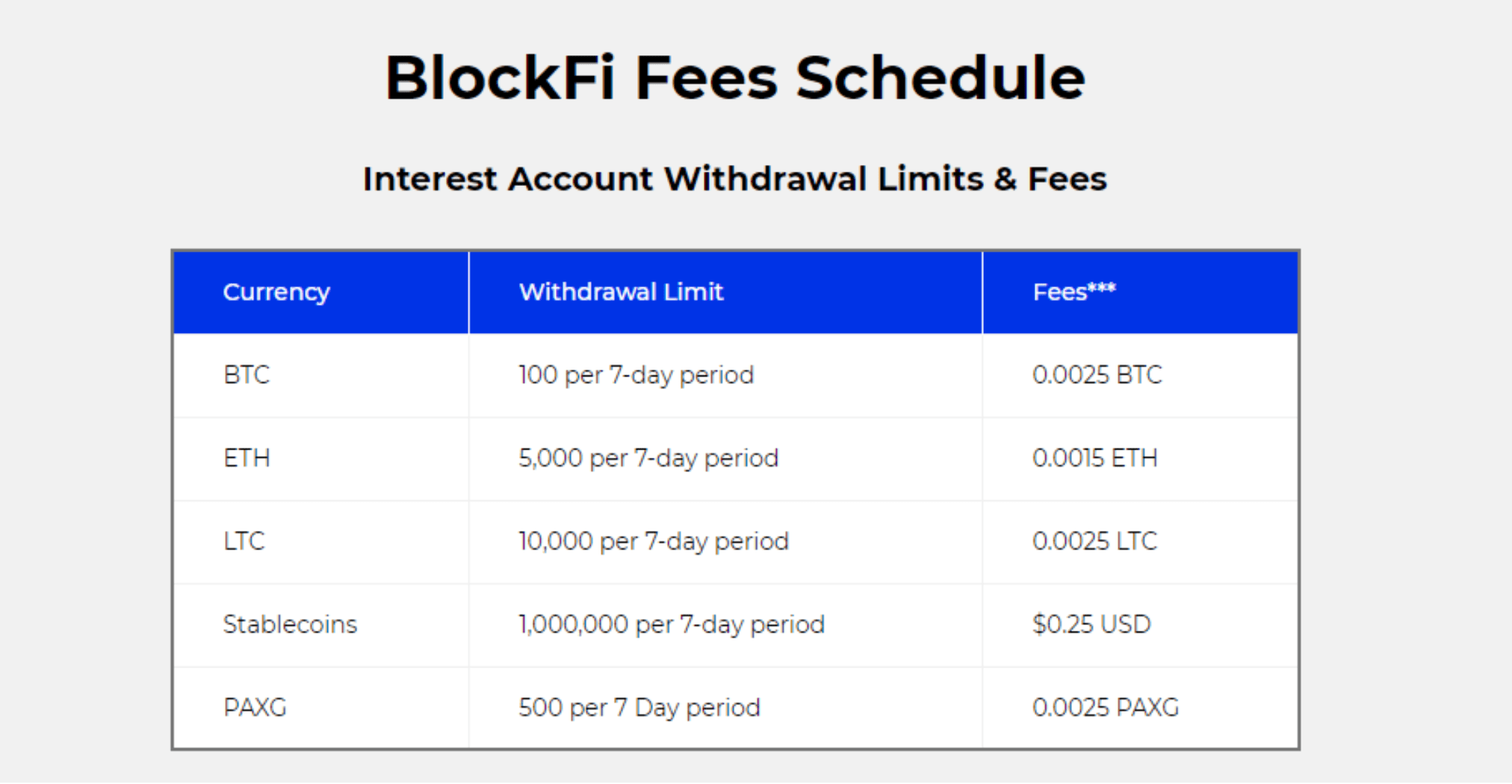 To keep things simple, BlockFI has decided to go for a very simple breakdown of the available fees it applies. The company lists all currency options along with their withdrawal limits and fees, as follows:
BTC – 100 every  7 days – 0.0025 BTC 
ETH – 5,000 every  7 days – 0.0015 ETH
LTC – 10,000 every  7 days – 0.0025 LTC
Stablecoins – 1,000,000 every  7 days - $0.25 USD 
PAXG – 500 every 7 days – 0.0025 PAXG
BlockFI used to have a minimum balance limit to qualify for interest, but this is no longer the case. Please keep in mind that there are withdrawal minimums in place that must be met for a transaction to clear through in the first place. BIA clients have the right to one free withdrawal per calendar month. 
BlockFI Stock
BlockFI is operated privately and has been so since its inception. As such, making correct surmises about its valuation is difficult without information volunteered directly by the company. 
In January 2021, the company revealed that it was holding onto $8 billion in client balances, a 30-fold increase since Q4 2019, and making for a reassuring outlook. However, since BlockFI is not publicly-traded, its stock is off-limits for general investors, at least for now. 
BlockFI Overview 
BlockFI is the draw bridge between traditional and crypto funding. Offering numerous incentives to crypto investors, BlockFI is in a good position to provide you with numerous financial mechanisms, good annual ROI, and an accessible platform working on both desktop and mobile platforms. 
BlockFI is specifically designed to allow new cryptocurrency enthusiasts to generate a bigger return on even a modest portfolio. However, the platform does require a certain high-risk tolerance for most of its available assets, which is something to be mindful of.
Price swings are scary, but BlockFI has been growing its consumer base and balances quickly enough to justify the company's commitment to providing you with the perfect conditions in which crypto-financial operations can be executed.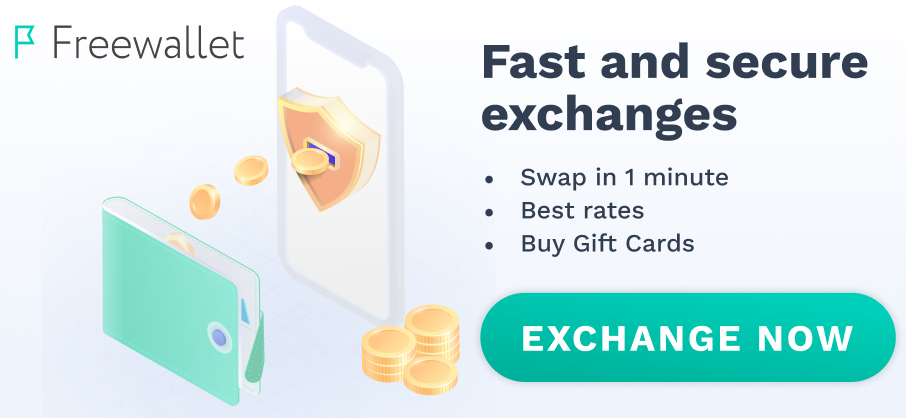 Blockfi is a great way to keep up with inflation(maybe) as opposed to the old banking system that has many hoops to jump through to get even 2% interest on your money. Most of the time, big banks like BofA give you a few cents per quarter. One problem for first time users may be getting the crypto coins and sending them to Blockfi. Otherwise, they do offer a stablecoin for direct purchase using ACH from your bank. However, once you have a balance you can choose how it is paid out, either in the crypto you deposited or choose all of it to go to one of their supported cryptos. For example, I have ETH, BTC and USDC and chose to have my monthly interest paid in BTC.
A couple reasons I don't give it 5 stars are 1) It is not FDIC insured but that may not mean much if you look up how much banks actually support it or possible negative interest rates in the future and 2) You do not own the keys to your deposited crypto so much like a traditional bank(again if you research how they really work) once you deposit currency, you are not the true owner of it.

Currently, at the time of this review, Blockfi offers anywhere from 3% to 9.3% interest depending on why type of crypto you deposit and how much. Find a bank that offers this but it remains to be seen how long they can offer such returns and there is a future possibility that Blockfi wants to get authorized as a proper bank, which to me means more regulations, i.e. more costs to run the business meaning less payout to its customers.

Overall, I am enjoying my returns but still a little hesitant to completely leave traditional banks behind as Blockfi was only formed back in 2017.
In a BlockFi user. Not the best interest rates, Celsius pays better, no fees. To get your coins or of BlockFi is a torture.