Enjin Coin Price Prediction 2022-2030 - Should You Really Buy It?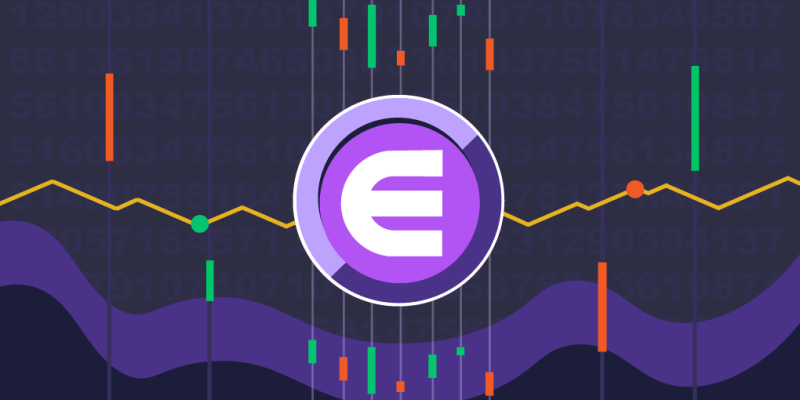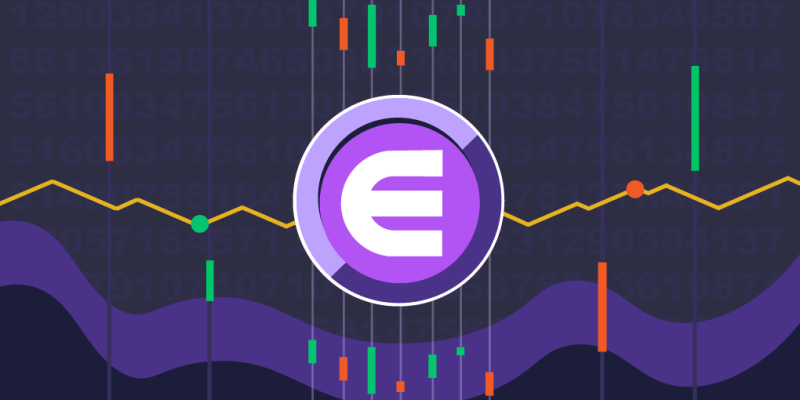 Crypto trading has taken a massive leap in popularity over the past several years. Unlike the early days of cryptocurrencies, where people traded them as an exchange of goods or money, things are much different today.
Even though people still use cryptocurrencies to pay for services or products, investment has become increasingly popular. Some look at this as investing in a company's stocks; you purchase a certain number of cryptocurrencies and expect the value to rise in the future.
Driven by the knowledge that cryptocurrencies' prices are rising, more and more people are getting on board with investing. The main problem they face is which coin to invest in. Even though looking at things over time, prices of cryptos are on the rise, it's still not as simple.
Get profits with HODLing on Binance Earn
Unlike the olden days where the market had only a handful of cryptocurrencies, today's option is over 4 thousand. Digging through all of them and finding a good one to invest in can be a struggle.
To help you with that, today, I'll be talking about my Enjin coin price prediction. Before that, here's a quick intro into the coin and the blockchain behind it.
What is Enjin Coin?
Enjin is a blockchain platform built on top of Ethereum, mainly aimed at gamers. Through it, anyone on the network can manage and create virtual goods used in the games, even those that Enjin does not develop.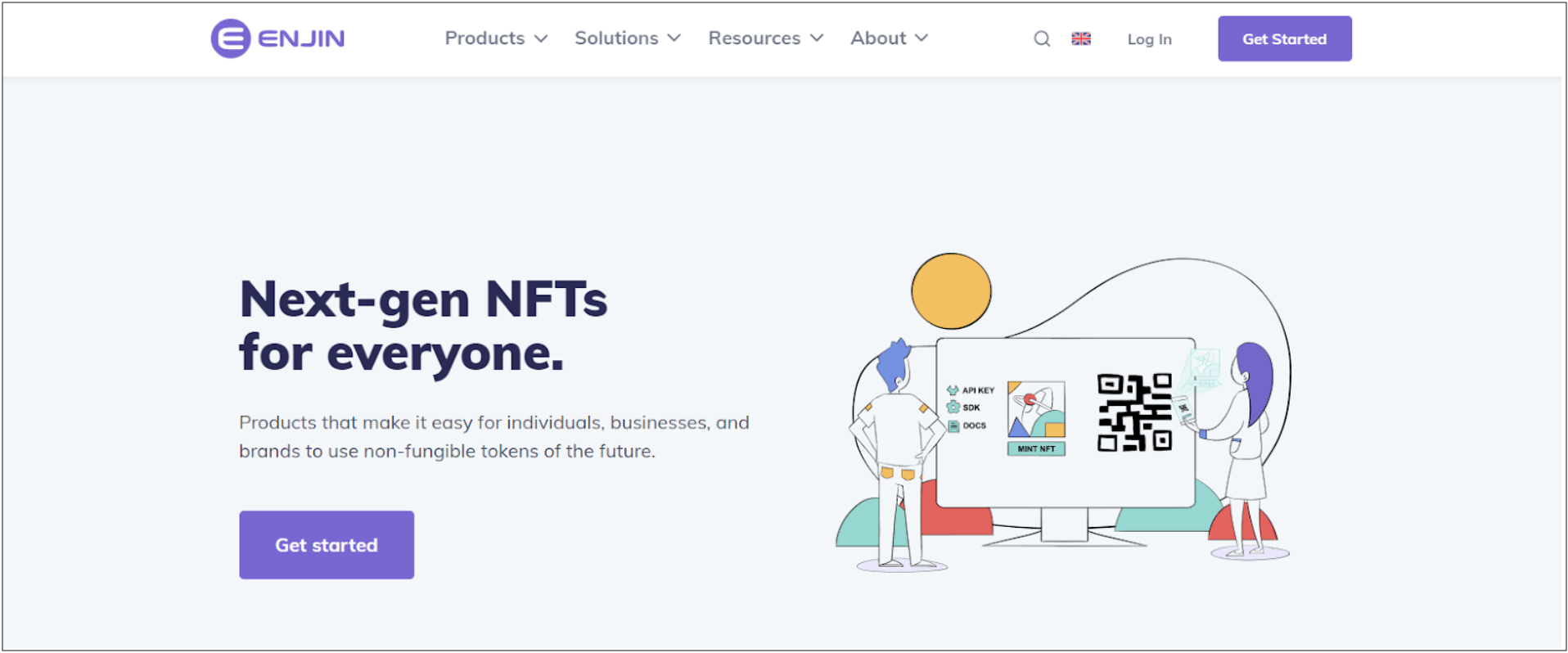 Enjin as a company was founded in 2009 as a community gaming platform, but the blockchain network didn't come until almost 10 years after that. The company's ICO took place in 2017, where they sold Enj coins to potential investors. During that, they managed to raise almost $19 million and launched the platform in 2018.
The general idea behind it was to reduce the fees and eliminate fraud during in-game trading of goods and collectibles. TO ensure that, Enjin's SDKs offer users a safer way to mint new assets that can later be used in games. Due to the network's flexibility, each minted item can be used in multiple games and can be integrated easily.
Since it's based on the Ethereum blockchain, each asset is tied with a smart contract, ensuring everything remains secure. During the process of minting, Enj coins are tied into the contract, meaning that they have some kind of value. Once items get sold, the coins get released from the contract and sent to the item's owner. Like all cryptocurrencies on the market, Enjin can be bought (HitBTC, Binance, Cryptopia, Mercatox, IDEX, etc.). 
| | |
| --- | --- |
| The price as of February 2022 | $1.87 |
| Market cap as of February 2022 | $1,750,495,681 |
| Rank as of February 2022 | #66 |
| All-time high | $4.82 (November 25, 2021) |
| Decline (compared to all-time high) | 61.2% |
| All-time low | $0.01865964 (November 12, 2017) |
| Growth (compared to all-time low) | 9923.3% |
| Popular markets | Gate.io, HitBTC, Binance, TokyoCrypto, Crypto.com, Coinbase Pro |
Enjin Coin Price History
When you look at the price of Enjin coin from 2017 till today, you will see a relatively flat graph that shoots up in the past several months. If we eliminate the price changes in 2021, the graph starts to look like a regular cryptocurrency.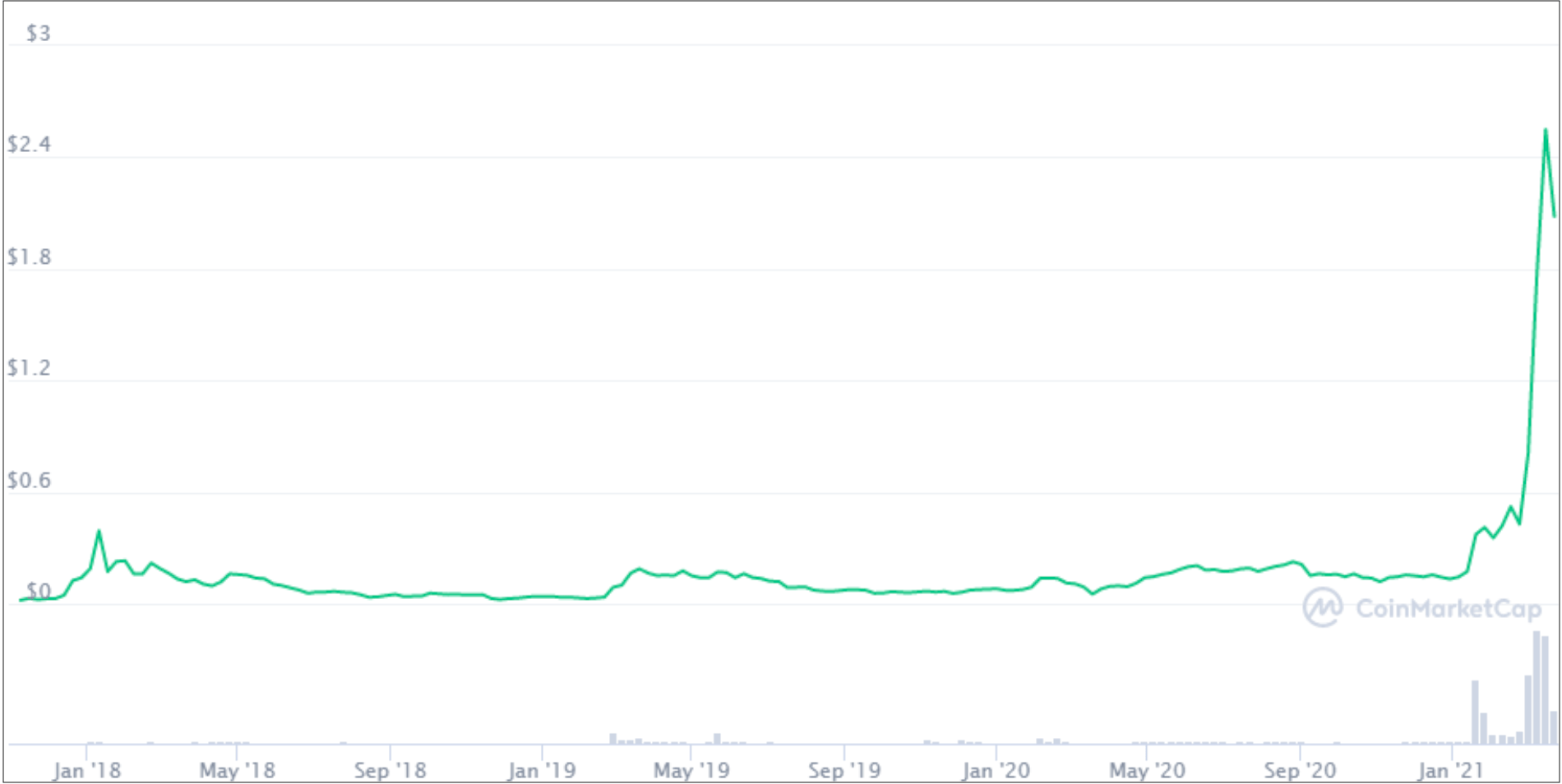 Even though the Enjin price history is riddled with ups and downs, it doesn't seem as volatile as some of the other coins I recently looked at.
The price starts at $0.02 in November 2017 and gradually rises to around $0.45 in the first week of 2018. From there, it goes down to $0.1 in about a month, followed by a spike over $0.2. The price continues to drop and goes back to $0.1 at the beginning of April 2018. During the next month, it manages to get up to $0.16 and starts to decline, reaching $ 0.02 by the end of the year gradually.
At the beginning of 2019, things were pretty uneventful until the end of February, when Enj jumped to a little over $0.2. Over the course of the next few months, the price went back and forth between $0.2 and $0.15 and started to decline gradually. By the end of 2019 and the begging of 2020, the price was below the $0.1 mark.
In the first few months of 2020, the price was moving similarly to the previous year, but this time the price drop was caused by the global pandemic. From that point on, the price goes on a slow incline. It reaches $0.2 followed by a gradual decline by the end of the year.
2021 started off with the same pattern as the previous two, but instead of dropping after the first two months, Enj skyrocketed to $2.67.
Which Key Factors Can Influence the Enjin Coin Price?
At the moment, two main factors can dictate the Enjin coin price: popularity and usage. Both are somewhat similar, but I'll explain them differently.
Regarding usage, the rule is fairly simple – as long as people use the Enjin coin for in-game items, the price will go up. The increase in usage means that the value of the coin will increase, leading to an increase in price. In general, the increase in usage can be achieved either by developing new games or introducing new players to existing ones. Both scenarios are equally positive, but going for new games may be a better option. It may result in network improvements, as well as more players.
On the popularity side of things is trading, which has quite a lot to do with supply and demand. Despite the price being dictated by how much of the tokens are getting bought and sold, the trading volume increase will drive the price up.
Another aspect that can determine the price is the regulations. At the moment, cryptocurrencies are unregulated, meaning that there is no governing body controlling them. If by any chance, they get regulated in the future, the price will change. The biggest problem at this point is that no one knows which way the price will go. Some speculate that it will go up, while others say that it will drop.
Enjin Coin Price Prediction for 2022, 2023, 2025, 2030
Following the Enjin coin price history for the past several years, excluding the spike in the last few months, we see a gradual price rise. Based on what we see here, you shouldn't expect a huge price increase.
Throughout 2022, the price won't see a huge increase and will remain between $1.7 and $2.2 with the expected spikes and drops. As Enjin coin enters 2023, we may start to see it break the $2.5 mark and staying there for a few weeks or a month. In 2024, we should see the price well over $3, with the expected drops below that.
2025 will bring another increase in the price, and Enjin should be hovering at around $3.6. Fast forward 5 years to 2030, and unfortunately, we won't see the price at $10. Somewhere between 2025 and 2030, there will be a downward trend where the price will drop. As it starts getting back on track, by 2030, it probably won't go over $8.
| | | |
| --- | --- | --- |
| Year | Min Price | Max Price |
| 2022 | $1.7 | $2.2 |
| 2023 | $2.2 | $2.73 |
| 2024 | $2.7 | $3.46 |
| 2025 | $3.43 | $3.8 |
| 2030 | $6.9 | $8.21 |
How to buy Enjin Coin Using Freewallet
Among the many ways to store and buy Enjin coin available on the market, one of the more popular ones is Freewallet.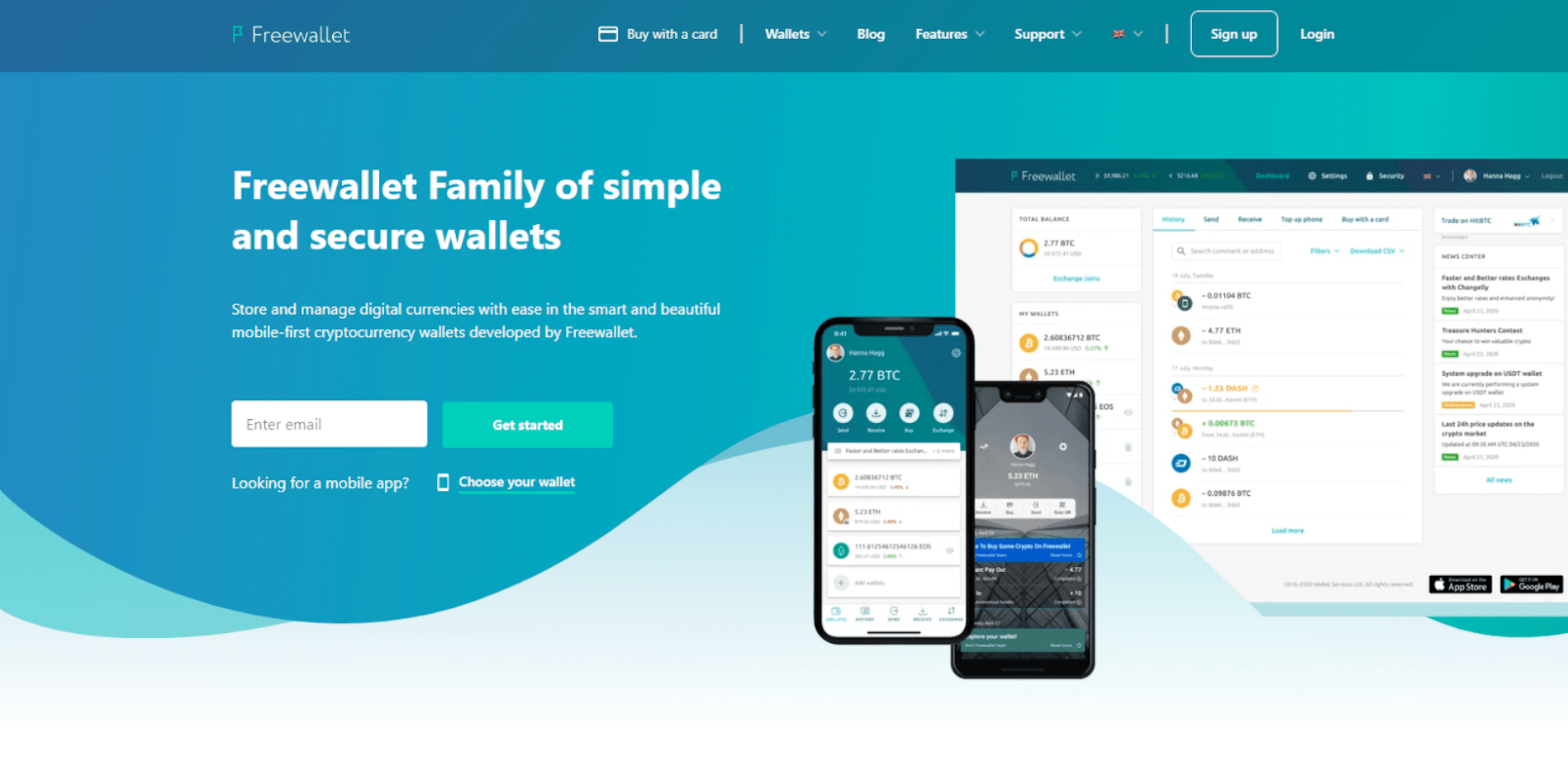 The process is simple, sign up and buy Enjin coin. Choose between android and iOS or web and start the sign-up process. Enter the required information, but keep in mind that you'll need an email and phone number for verification purposes. Finally, you should activate the Enjin wallet located in the list of the available assets.
As soon as you have it up and running, you need to go to "Buy with Card." Locate Enjin coin, select it and fill in the amount you want to pay. Keep in mind that you can only pay with EUR or USD, and the accepted payment services are MasterCard and Visa. Once the payment info is entered, you can complete the transaction, and you'll have the funds in your wallet.
Conclusion
As things stand, Enjin coin's price will be on the rise in the next decade. One thing worth pointing out is that there are tokens estimated to have a more significant growth than this one.
As for the actual prediction, no one can guarantee that it will happen. All projections are based on the current market conditions and previous price changes.
---
---