Miningpoolhub Review 2021 - All That You Should Know
May 26, 2020
The uniqueness of Miningpoolhub is that it is a multipool consisting of 36 pools. Given the decline in profits from mining leading digital assets, it is worth paying attention to altcoin mining, and Miningpoolhub is one of the best platforms that combine pools for mining both popular cryptocurrencies and little-known coins.
Overview
Miningpoolhub has been operating in the market since 2014. The pool is registered in the USA, in the state of Arizona. It is impossible to call his scam a project since he has been working since 2014 and survived more than one crypto winter. The pool supports 33 cryptocurrencies: Adzcoin, Auroracoin, Bitcoin, Bitcoin-Cash, Bitcoin Gold, Bitcoin Private, Dash, Digibyte (Qubit, Skein, Groestl), Electroneum, Ethereum, Ethereum Classic, Ethersocial, Expanse, Feathercoin, Gamecredits, Globalboosty, Groestlcoin, Litecoin, Maxcoin, Monacoin, Monero, Musicoin, Myriadcoin (Groestl, Yescrypt), Ravencoin, Sexcoin, Siacoin, Startcoin, Verge, Vertcoin, Zcash, Zclassic, Zcoin, and Zencash.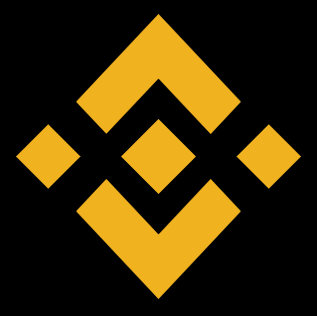 Get Profits with HODLing on Binance Earn
Myriadcoin cryptocurrency can be mined in one of three pools with Yescrypt, Skein or Groestl algorithms. 3 different pools with Groestl, Qubit and Skein algorithms created for Digibyte mining
Cryptocurrency on Miningpoolhub can be mined on ASIC miners, video cards and central processors. The pool offers a choice of 2 ports:
20XXX - for mining cryptocurrencies with a specific algorithm.
17XXX and 12XXX - for mining coins with different algorithms.
Miningpoolhub has 3 mining automation features:
Automatically switch to cryptocurrency mining with the highest profitability.
Automatically switch between mining algorithms for maximum profit.
Automatic conversion of mined coins to any of the supported cryptocurrencies.
How to Use Mining Pool Hub
To start mining cryptocurrency you need to register an account. Choose your username, password, PIN code and enter your email address.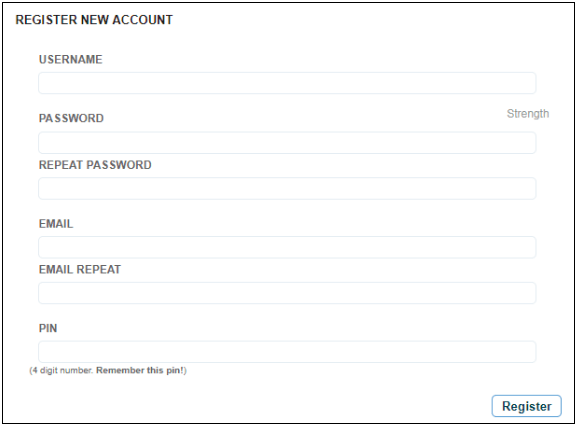 Then go to the "Hub workers" tab to add a worker (your mining farm). Fill in the fields "Worker Name" and "Worker Password".

After registering an account and adding a worker, you need to download the miner for your equipment and operating system, you can read more about this in the FAQ section of the site.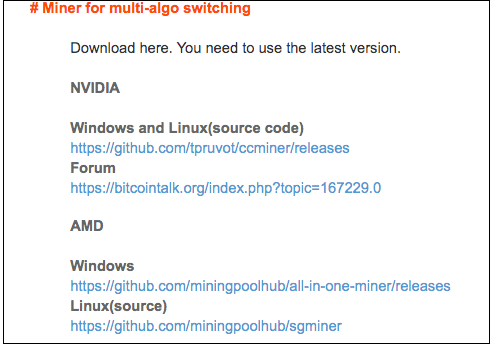 In the miner settings, specify the server name and port number. Information about servers and ports is in the FAQ tab.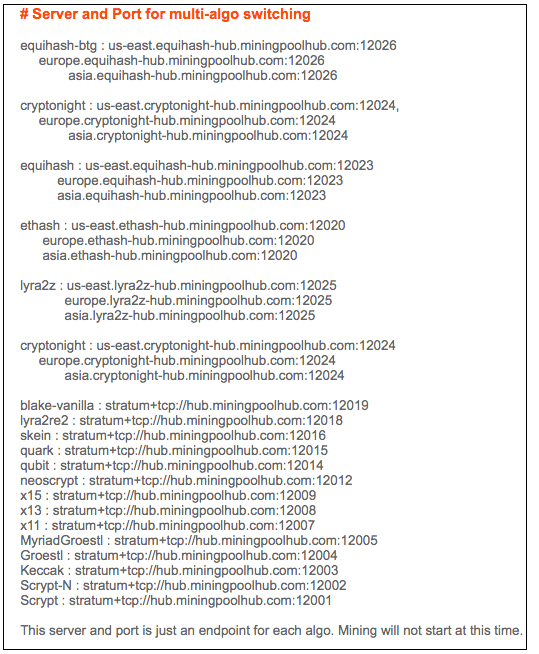 Fees and Payments
The pool charges a commission of 0.9% of the number of earnings. Miningpoolhub pays remuneration using the PPLNS (Pay Per Last N Shares) method. The reward for finding a block is distributed depending on the number of shares (shares) and the complexity of mining for the last 30 minutes. The minimum payment amount depends on the cryptocurrency mined.
Earnings can be received either automatically (upon reaching the minimum threshold), or in manual mode. Pay attention to the ability to automatically convert digital currency, for example, you can exchange Groestlcoin for Bitcoin and withdraw your earnings to a BTC wallet.
How to Set Up Auto Payments
In order for the pool to automatically send you coins, you can set up an automatic payment.
To do this, go to the "wallet" tab. And in the window that opens, fill in the following data:
- PAYMENT ADDRESS - enter your digital wallet to which coins will come.
- AUTOMATIC PAYOUT THRESHOLD - specify the amount for automatic payments
Enter the Pincode you came up with when registering and click "Update Account".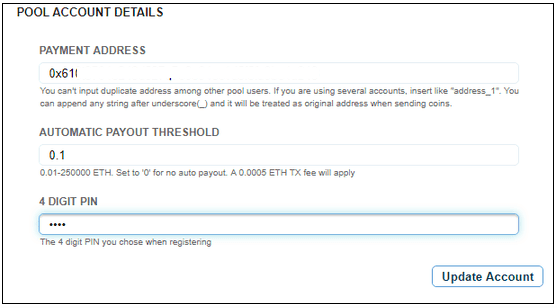 Auto Exchange
You can exchange your mined coins for other coins in the pool.
For example, you have mined Ethereum and want to exchange it for Dash, with this auto exchange function, you can do this without leaving the pool, without using a cryptocurrency exchange.
To prevent inadvertent exchanges, there are two types of wallets for each pool. One wallet is not exchanged automatically, and the other makes an automatic exchange. On the wallet page of each pool, you can transfer coins between these wallets.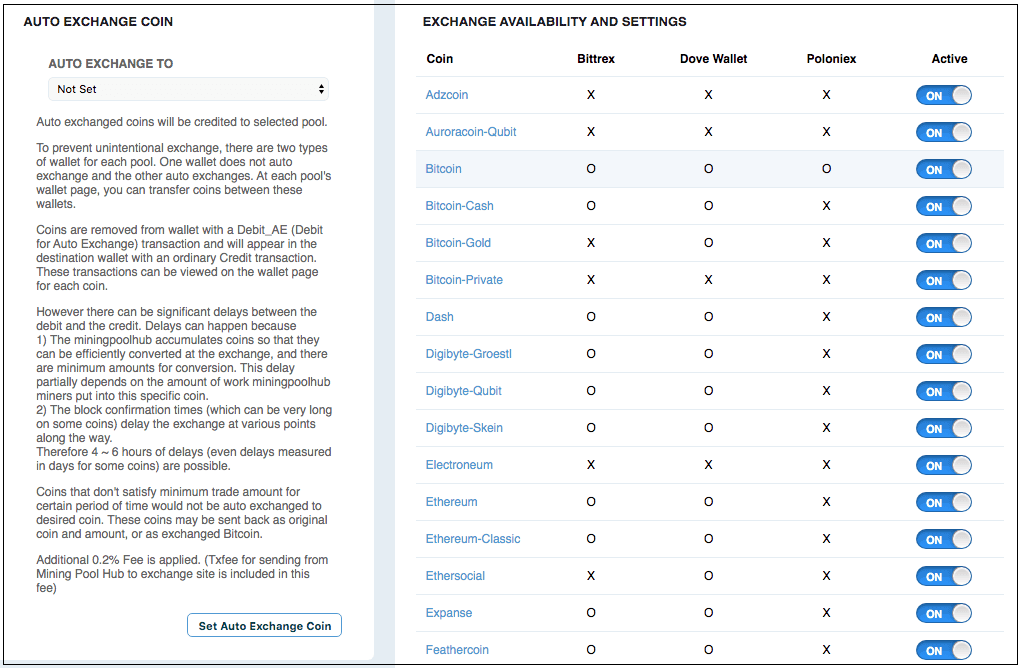 Coins are withdrawn from the wallet using transaction Debit_AE (Debit for Auto Exchange) and appear in the destination wallet with the usual Credit transaction. These transactions can be viewed on the wallet page for each coin.
However, there may be significant delays between exchanging different coins (this is normal). Delays can occur due to the fact that:
- The mining pool accumulates coins so that they can be effectively converted on the exchange, and there are minimal amounts for conversion. This delay depends in part on the amount of mining work that miners put into this particular coin.
- The block confirmation time (which can be very long for some coins) delays the exchange at various points on the way.
Therefore, delays of 4 ~ 6 hours are possible.
We tend to list coins that are listed on coinmarketcap or major exchange sites.

— Mining Pool Hub (@MiningPoolHub) April 25, 2019
Coins that do not satisfy the minimum transaction amount for a certain period of time will not be automatically exchanged for the desired coin. These coins can be sent back.
Please note that the auto exchange commission is 0.2%. (Txfee is included in this fee for sending from the Mining Pool Hub to the exchange site).
Mobile app
You can monitor the work of your workers on the MiningPoolHub pool using a mobile application. It is developed in versions for Android and iOS, and is available for download on the Play Market and iTunes.
The mobile application allows you to view: hashrate; worker performance balance and payments; exchange rates; latest payouts and more.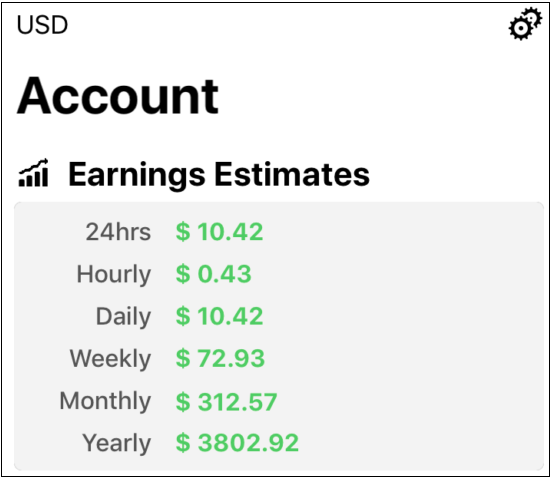 It is indicated on the developer's website that there may be a slight delay in updating the information in the application, so you should not pay attention if the information on the official website and on the mobile is different.
Mining Pool Hub vs Nicehash
Nicehash is not a classic mining pool. This platform is the world's largest cryptocurrency mining market. This is a platform for sellers and buyers of computing power that was registered, as the Mining Pool Hub, in 2014, but in Slovenia.
good thing i didnt ever use nicehash :P this software is for lazy. you can use #claymore and use @MiningPoolHub if you want BTC. keep out! this guys are coin-nappers. :P

— JayBud (@meandmich) January 5, 2018
At the end of 2017, the service was hacked, a large number of bitcoins were stolen. The mining pool hub has never been hacked.
User reviews of the Nicehash miner indicate that it is an excellent solution for beginners in this field. It allows you to engage in cryptocurrency mining without understanding the huge number of settings. The Miner Pool Hub will be a little more complicated, but beginners can also use it.
However, Nicehash has its drawbacks. The main one is considered to be the lack of payments in any currencies other than Bitcoin. Everyone knows that this currency, although it is the main one, has a number of disadvantages. For example, transactions are too expensive, and it takes a long time to wait for their full confirmation on the blockchain. In addition, some users would like to receive a reward in the currency they mine, but at the same time, they cannot or do not want to use other software.
Mining Pool Hub with Awesome Miner
Follow these three easy steps to setup Mining Pool Hub with the Awesome Miner. You will be mining in a minute even if you never used Awesome Miner before.
Download and install Awesome Miner
If you already have Awesome Miner installed, please continue to the next step.
After Awesome Miner is download, you must activate Mining Pool Hub in Awesome Miner
Enter your Mining Pool Hub username in Awesome Miner
You get your username when you sign up on the Mining Pool Hub website.
If you don't have any profit switching miners configured already, Awesome Miner will create one for you.
Mining Pool Hub also supports the mining of specific coins. Follow these instructions if you want to add them to Awesome Miner.
Conclusion
To summarize, the Mining Pool Hub has a convenient pool, simple settings. Everyone who wants to start cryptocurrency mining or has been mining for a long time should try to register on the Mining Pool Hub service. The only drawback of this service is that sometimes there are discrepancies in the number of coins mined.
Brett McConnell
4 May, 8:13 AM
Iv been mining with miningpoolhub for many years and cant see why we are stung 0.00060000btc that's a $43 aud fee WTF i can understand 15$ fee but this is highway robbery
angry dad
26 October 2020, 12:12 PM
reCaptcha keeps reloading for so long, it wasn't possible to create an account
Teddy
21 February 2020, 1:05 PM
The hub's hash rate helps to get the reward quite often, I don't have the sophisticated devices, but the pool allows to work things out.
Marin
20 February 2020, 6:11 AM
I'm astonished how the things develop nowadays, the hub has the mobile app, today we can monitor the minning activities in the app, incredible. I like it.
Larry
19 February 2020, 2:25 PM
To Harry
I agree with you man it's not a scam. I use this pool for a while and everything works good. But could be better
Harry
19 February 2020, 1:41 PM
Well I wouldn't call them scam. It's a very decent mining pool.
Nikckel
19 February 2020, 9:21 AM
They don't charge the fee for minning, what you get all is yours. It's great to see that you don't lose the rewards on the fee
Asser
18 February 2020, 10:14 AM
I think, I wouldn't find better pool nowadays then this. It's totally trustworthy and well-operated pool. The support is here and they provide a great assistance.
Marty
18 February 2020, 5:56 AM
The truly oldschool and it's truly reliable. It's still working on and I like that they maintain their level. Cool mates
Duglas
16 February 2020, 7:03 PM
I got more rewards just a half year ago. Today, I can notice that rewards are getting hard to pick up. More minners then less rewards. But hub is still on, I gotta say. The pool is carrying on its work.
Esposito
15 February 2020, 4:23 PM
The activities of pool have decreased recently,I think it's not the problem of the pool. There are a lot of different pools nowadays and it's obviously that the minning doesn't generate revenue like it did before. To the hub credit, they are still struggling for the minners and it can help getting some rewards.
Liman
15 February 2020, 1:27 PM
I can't say for the all coins at the pool. I minned BTC, and I get some rewards, my old AMD redeon does it faithfully, I'm glad that I can still do that here.