Hashing24 Review 2021 - Is It Safe or Scam?
May 26, 2020
Nowadays, it's not easy to find a really working cloud mining service that does not deceive the investors and pays them. Frequently, most of these projects are unscrupulous and not legit. Today we will focus on the service providing cloud mining services -Hashing24. Is Hashing24 a scam and not legit? Is it secure enough to use? Is it trusted by miners? In this article, we will check the reliability of the service and also the convenience of its use. 
Hashing24 Review
Hashing24 - it is convenient and easy to use service that provides cloud mining services to mine BTC. Cloud mining is provided by companies that lease their own computing power. This equipment is used for mining cryptocurrencies, and the landlord receives a portion of the remuneration.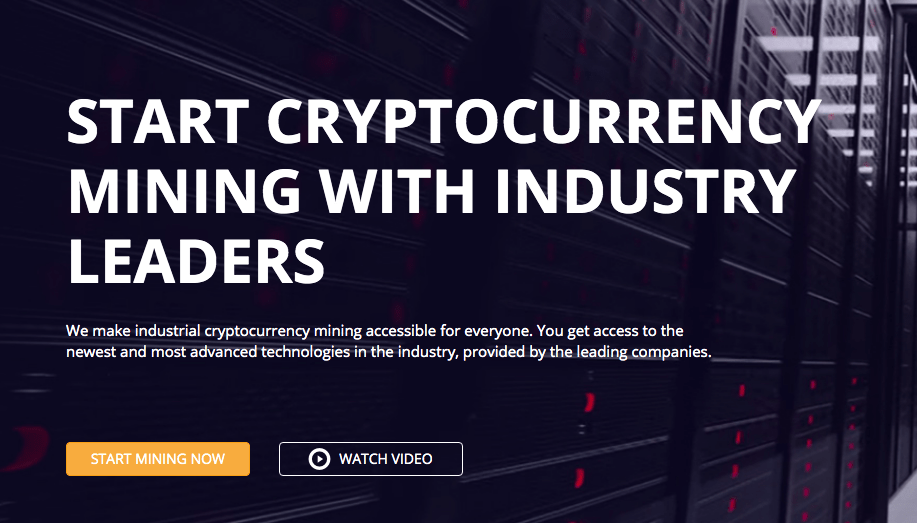 In 2012, Hashing24 began work in the field of cryptocurrency mining, and in 2015, it began to provide Bitcoin cloud mining services. Cloud mining data centers are located in Canada, Norway, Georgia, and Iceland, and representative offices operate in Scotland, Thailand, and Ukraine. 
Get profits with HODLing on Binance Earn
This project was created so that both newbies and experienced miners can get access to the advanced, high-quality, reliable resources available to industrial miners to ensure effective mining. The resource is available in 9 languages, including English, Chinese, Spanish, Russian.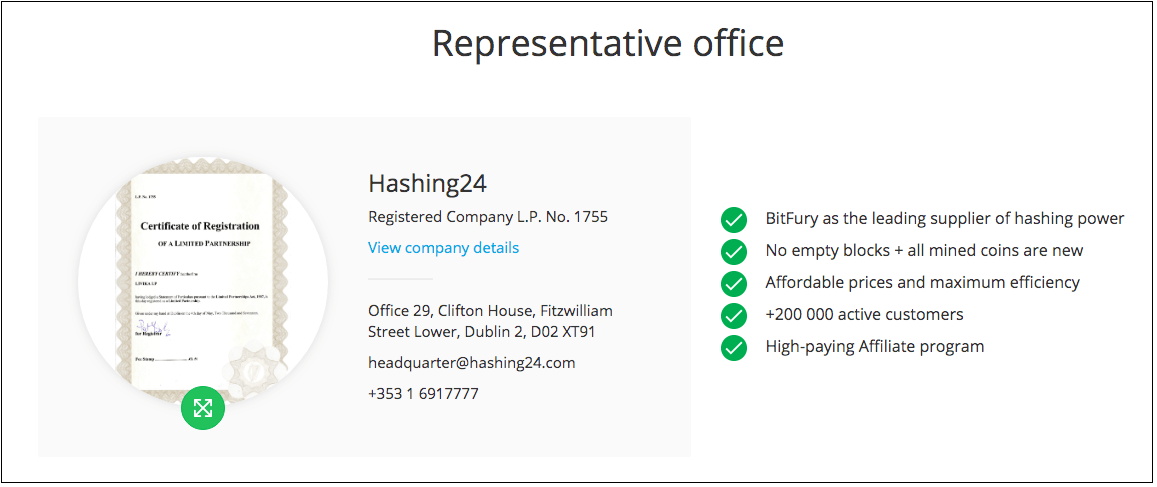 During Hashing24 operating time, the company did not focus on the marketing of its brand, but on creating reliable partnerships with market leaders. The most important agreement for Hashing 24 is a partnership with BitFury, the leader in mining equipment manufacturing (ASIC). The service uses the capabilities of the Bitfury Group to develop cryptocurrency systems. The company became known due to the quickly gaining leadership in the Blockchain technology market. The total network capacity of this cloud mining is more than 200 PH / s, which allows you to achieve maximum performance. Hashing24 data centers have air and liquid cooling systems, which help to protect equipment from overheating and interruptions in operation.
The service has many advantages, among them: 
Attractive prices for electricity and maintenance;
Favorable hash price;
Access to the most modern and powerful equipment;
Leasing part of the world's largest mining data processing centers;
The client can make a contract with insurance payment;
The company takes care of the maintenance, nutrition of equipment;
The mining process begins immediately after registration and payment.
Features
Hashing24 has a lot of features and advantages compared with other services. We highlight the main features of the service below.

You can mine Bitcoin after 5 minutes of setting up the necessary technological base;
The service uses only the most modern and proven equipment partners;
Technical support 24/7;
Affiliate program;
Favorable prices for contracts for 36 months;
Stable daily payments;
The tool "Reinvest";
The demo mining mode allows you to try yourself in mining without investing funds;
Access to a calculator that calculates Hashing24 profitability;
The most favorable and affordable prices for electricity, as well as rental equipment;
Several data centers in Canada, Norway, Iceland, and Georgia.
As for the disadvantages, it should be noted that despite the fact that Hashing24 has wide functionality and a convenient interface, the only cryptocurrency you can mine on this site is Bitcoin. 
Hashing24 publishes information on all new features and latest updates on its social media Facebook and Twitter. 
How to Get Started with Hashing24
To start working on this platform, you must register. To do this, in the upper right corner, click on the "Register" button.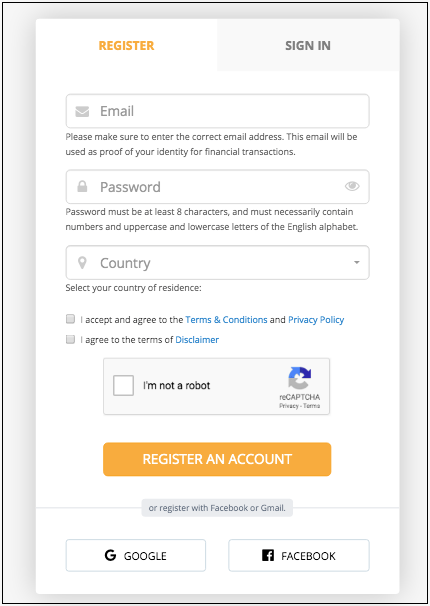 To register, fill in the following fields: valid email address; password consisting of at least eight characters, including numbers, upper and lower case letters of the Latin alphabet; country of residence. After filling you must confirm agreement with the terms and conditions of service and disclaimer and confirm, that you are not a robot. Also, you can register with your Google or Facebook account.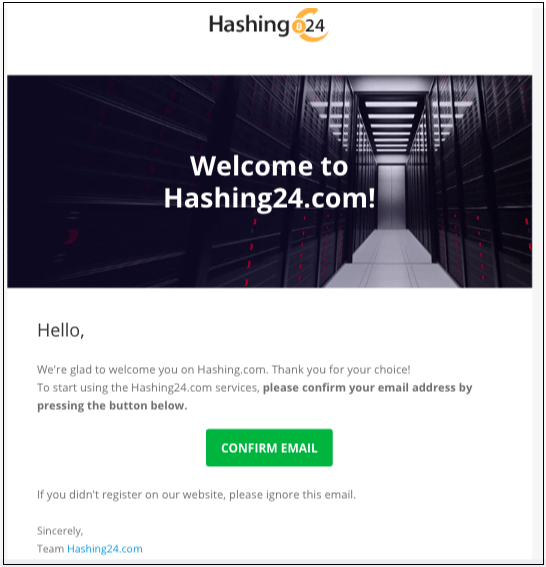 Upon completion, the system will send a letter to the indicated email with a link to confirm the registration data.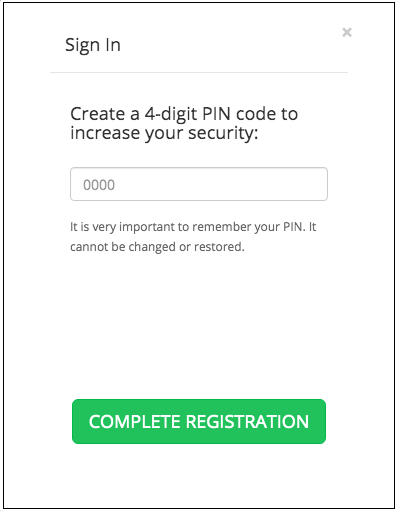 After clicking on the link, you need to come up with a 4-digit PIN code. Remember your PIN code, it is impossible to restore or change it.
That's it! Now we are ready to get started with Hashing24.
How to Start Mining
After signing in on the main page, the system offers you to rent a contract for Bitcoin mining. For this, you must click on the "Start mining now" button.
Contracts and Fees
Hashing24 allows its customers to independently adjust the volume and duration of the contract. Unlike many other similar services, these capacities are not combined into separate packages but are acquired by users in the required volume. When we go to the "Contract" tab we see that everything is currently sold out. However, Hashing 24 offers us to buy/sell mining contracts on the Trade Desk, in Trading Room.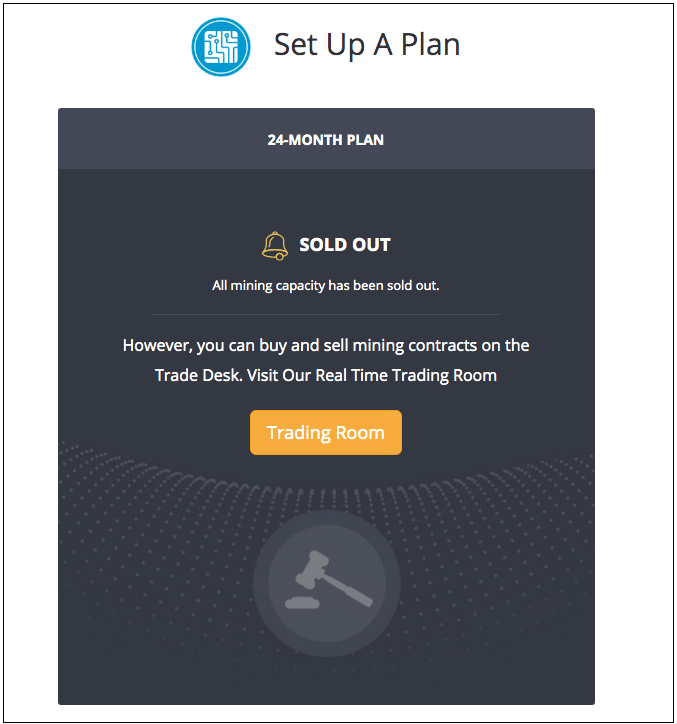 As we can see in accordance with previous prices, the minimum computing power is 100 GH / s, at a price of 20.55 USD for 36 months and 9.90 USD for 12 months. The daily service charge is 0.033 USD or 0.00014 USD.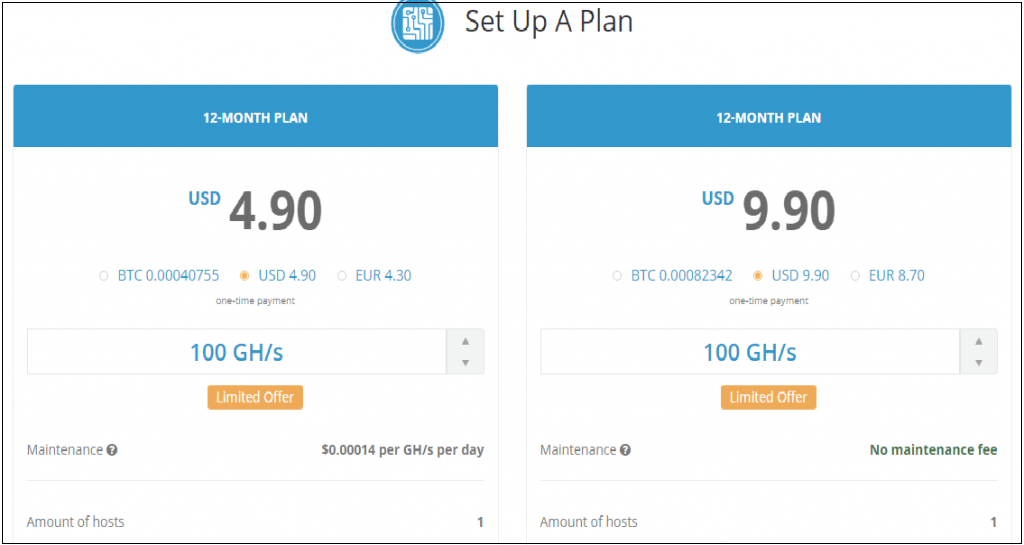 How to Buy/Sell 
In the trading room, contracts are being traded between users. Prices may be lower than on a new contract. Also, it can be perpetual. To get a contract, choose the Tariff Plans (Limited or Lifetime) and the price, and on the Trade Desk you will see the available offers to buy (Sell List).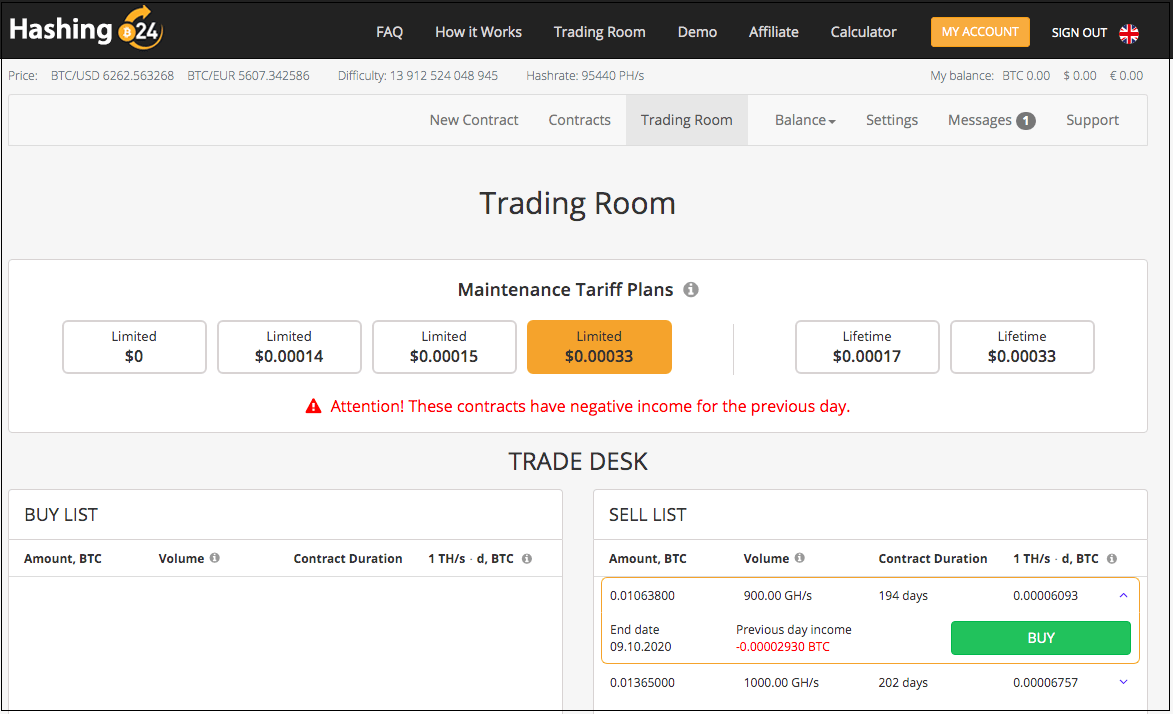 If you want to sell the contract, scroll the page down and you will see the options to "Add to buy/sell list". Indicate the Amount (BTC) and speed and press the "Add "button. Beneath you can see your Orders and Deals History.

How to deposit
To replenish the account you must go to the "Balance" section. You can deposit your account in BTC, altcoins or fiat. For this the system will generate a wallet address for you. Once the address is generated, you must transfer the funds to the wallet address provided. Funds will be credited after 6 confirmations. The minimum transaction amount should not be less than 0.0001 BTC.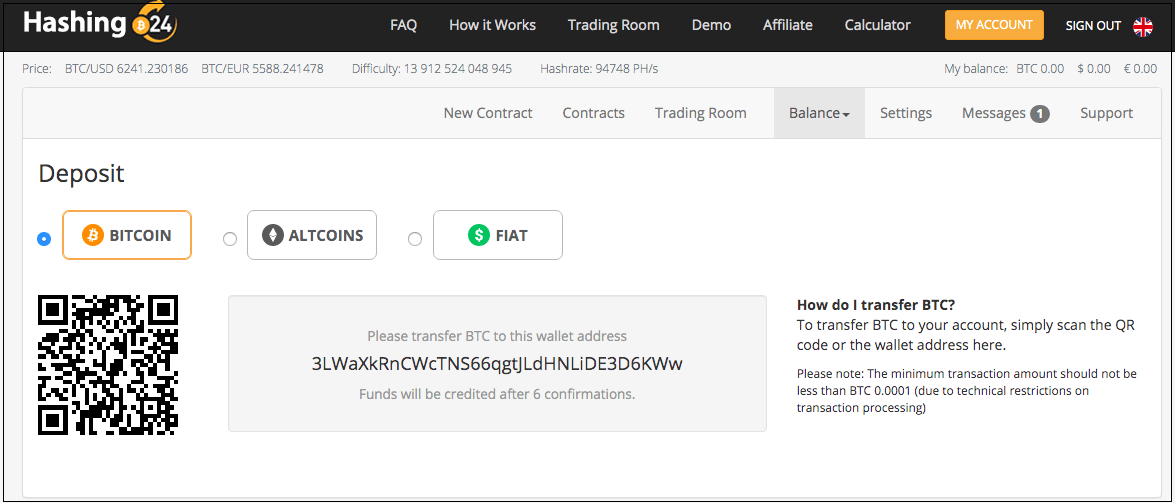 To deposit in altcoins Hashing24 offers you to use their partner Changelly. To use fiat money you will be provided the Switchere service.
How to withdraw
To withdraw money from the account you must go to the "Balance" section and choose "Withdraw".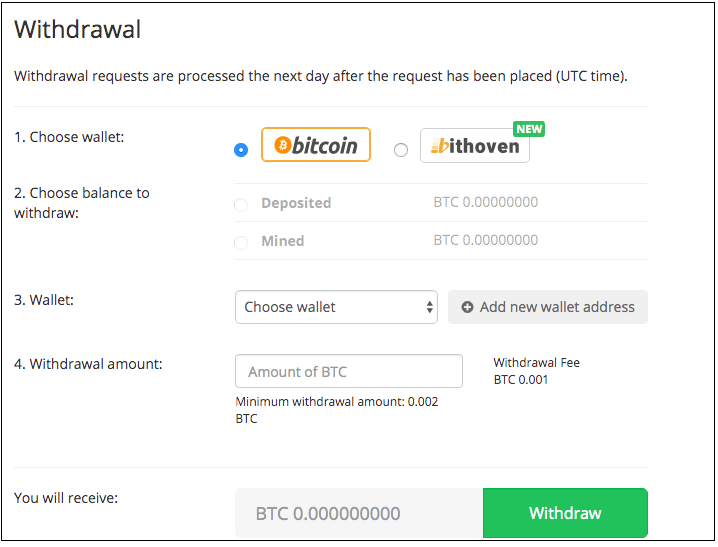 Withdrawal requests are processed the next day after the request has been placed (UTC time). Mining income is accrued daily. To withdraw earned funds, you must specify your BTC address and confirm it via mail. The minimum withdrawal limit is 0.02 BTC, and the commission is 0.001 BTC. It is recommended to withdraw as large amounts as possible to save on network fees.
First of all, you must choose the wallet type (Bitcoin or Bithoven), balance to withdraw, indicate the recipient address and withdrawal amount. You will see how much you will receive at the end of the form. Check everything twice and press "Withdraw".
Hashing24 Reviews
Due to the stability of payments and the reliability of the Hashing24 service, reviews of real users are positive. They pay special attention to the user-friendly interface, attentive support service, and regular payments.
Among the shortcomings, people note the support of the only currency for mining - bitcoin and the presence of a daily maintenance fee. You can read more reviews about Hashing24 on Trustpilot.
Is Hashing24 Safe?
Before acquiring cloud mining capabilities, the service recommends protecting your account and setting the security level. This can be done in the "Settings" tab. In the security settings, Hashing24 offers us to activate two-factor authorization using the program for the mobile device Google Authenticator. In addition, you can set the time spent on the Hashing24 website, after which the user will be automatically logged out. The interval is from 5 to 60 minutes or never. 
Also, Hashing24 has been operating since 2012 and it is considered one of the oldest mining services. During the work, no one complained about the dishonest work of the service and there was not a single hack on the account of the service. Also, Hashing24 has a Certificate of Registration and all the official information on the website. All of this could confirm that Hashing24 is not a scam and it is fully legit.
Hashing24 vs Genesis Mining
Genesis Mining is the largest cloud mining service founded in Iceland in 2013. The service will be useful for those users who want to mine new cryptocurrencies, while not investing in the purchase of expensive equipment. At the service, anyone can draw up a contract for the rental of capacities up to 25,000 GH / s, intended for mining Bitcoin, Dash, Monero and other well-known cryptocurrencies. Genesis Mining has data centers in over 15 countries and more than a million GPUs for cryptocurrency mining. Platform translation available in 21 languages. If you want to mine altcoins, then Genesis Mining is definitely a good choice for this.
Conclusion
Having studied a lot of reviews about Hashing24, we can conclude that this is a reliable, working company, investments in which will bring a certain income. Many professional investors have been renting computing equipment for cloud mining for several years. Almost six years of excellent work is the best recommendation on the reliability of the Hashing24 project, and their goal is to provide equipment to everyone who wants to use the services of cloud mining, as well as attract even novice users.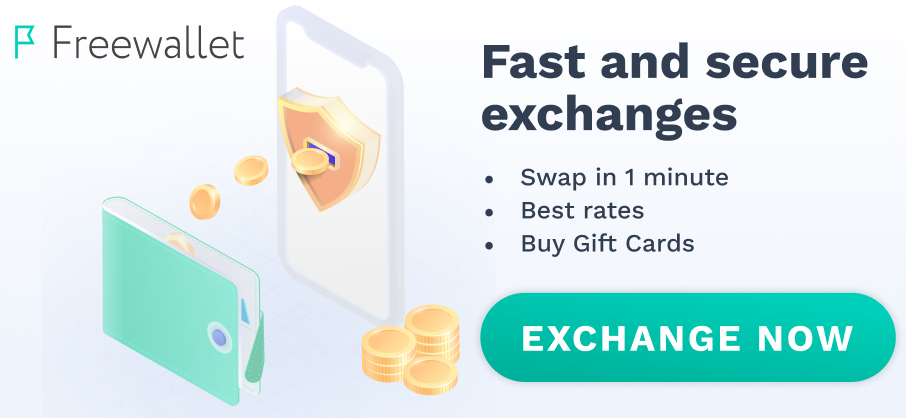 I find the data in this so-called "review" very interesting because:
1. On your review you claim that "Hashing24 has been operating since 2012 and it is considered one of the oldest mining services", but the website domain has been registered in April 2016, and but the company operating it (Livika LP, registered in Dublin, Ireland) was started in 2017, almost a year later. The previous company that was running the website in 2016 according to Archive.org NEWSTAR L.P. was registered in the UK but checking with Companies House Beta had no names of founders, representatives, or persons with significant control, which is odd. If it is so well-known, then why don't you mention at least a name, so we can che3ck if any of those people even exist? Interestingly, there is also another website, hashing24.io, claimed to be ran by C-Binary LTD company registered in the UK which according to Companie House UK was DISSOLVED as of 23rd of March 2021.
2. On their privacy policy they state they never ask for a credit card number, but on the https://hashing24.com/aml_kyc_policy page at "verification procedures" they say they require the user to take a photo of both sides (!!!) of the card together with a selfie to prove that they are legitimate. This comes from a company that posts a phone number to which no human being answers. All you get is a robot answering and then it hangs up. I asked a representative from the customer office and this topic was completely ignored.
3. There is no maintenance fee whatsoever claimed on the website (why would there be a maintenance fee if they aren't operating any rigs?). But checking to see if they disclose that, I asked "What happens if a rig from which I bought hashing power for mining gets damaged? Is it replaced immediately while being fixed or is the mining paused and contract period prologued with the time necessary for repair?" to which someone claiming to be "Anna Mason" replied "We do not have such issues yet." Really? Have been running a mining farm for 5 years and that never happened? So they don't want to state they are outsourcing the hashing power (or to who) and can't provide any evidence that any mining is getting done. If the hashing power is outsourced, then why isn't that plainly answered when asked? When I asked "Anna Mason" (which of course you wouldn't find on LinkedIn) what devices are being used for the mining contracts, she answered "the mining process takes place in cutting-edge sophisticated data centers of our partners and hashpower suppliers", but refused to give me any visual proof that there even exists any mining farm providing the hashing power they claim to offer.
4. On the website, there seems to be a calculator claiming to estimate "profit", but if you do your own calculation, you clearly see that is obviously overstated and it is not possible for that to even be the income, nevertheless the PROFIT. Using that term is an insult to the reader's intelligence because it is abused by misleading the reader to think that is the amount of money they will be making on top of recovering what they paid, at the current rate. Not only that but if you try to use the demo calculator with their own numbers, not even those numbers don't add up!
5. If the people running the business are so well-known, why are they going through all the trouble of hiding their identities?
6. You claim in your review that the company has offices in UK, Thailand, and Ukraine. Really? If the address claimed on the hashing24.com website for IRELAND is real, then why is there no street number mentioned? What kind of address doesn't have a street number?
7. According to the disclaimer on the hashing24.com website it says ("You act at your own risk in reliance on the services of the Website. [...] In no way the owners of the Website shall be held responsible for the actions, decisions, or other behavior taken or not taken by you in reliance upon the Website"., I shouldn't trust anything that is represented on their website even though it becoming a client means counting that they will deliver what you claim to offer. Knowing all this, would you?
8. It's very interesting that I found a very similar review, word for word, in very different places.
Site enganador, depois que faz a compra ele fica sem minerar, quando você entra em contato com eles, vão e bloqueia na hora o seu acesso.
this platform is safe and legit but it's not very profitable to use it...
Sharon Merk
26 August 2020
I think the crypto currency Authority should look into the fraudulent activities taking place in the crypto currency word by Brokers and Account Managers. 80% of Forex , Binary and Bitcoin Brokers and Account are operating illegally all they do is to steal fund from traders , I was a victim , they convinced me into investing with them after depositing my fund they refused me access to withdraw my fund rather requesting for more deposit.
It was a painful experience, but God so kind I came across a broadcast talking about how Mr Horst Danstul helped victims who lost their fund to Brokers and Account Managers , I took the opportunity and contacted Mr Horst through the email displayed for consultation, after receiving my mails he ask for information about my trading and the Broker name ,Account manager name , the Total amount I lost and the year. I forwarded all the details to him . With their help I was able to get back the total amount I lost , the crypto security agencies mission is to make the crypto market a safe place for all traders and investors.
If you're having difficulties in withdrawing your funds or you have lost your fund in years or months back but you still have details of the broker or account manager who stole your money kindly contact Mr Horst Danstul he will hear you out and give you the right step to take and get back your money successfully, contact him with his email below
[email protected] com
The mining fee depends on BTC exchange rate, but the service itself works