Genesis Mining Reviews
May 26, 2020
Everyone wants to invest their finances in order to get the maximum benefit from their investments. Most crypto traders are already familiar with the mining system, and possibly have powerful equipment or a mini-farm for cryptocurrency mining. What if you want to start mining cryptocurrency, but you do not have your own equipment? Today we will review the Genesis Mining service, which provides users with the possibility of cloud mining. Is Genesis Mining worth funds investing? Is it a legit service or a scam? These and other questions we will review in this article.
Genesis Mining Overview
Genesis Mining is a cloud mining site offering to acquire hash power without having to buy and maintain equipment or spend time setting up software. At the service, anyone can draw up a contract for the rental of capacities up to 25,000 GH / s, intended for mining Bitcoin, Dash, Monero, and other well-known cryptocurrencies.
Genesis Mining offers users contracts for the rental of cryptocurrency mining equipment, which is installed in the company's data centers. Thanks to this, you can start earning on mining without investing large sums and without knowledge of cryptocurrency mining technology. 
Trade With Up To 125X Leverage on Binance
The service offers its services to both single users and companies. The project combines three components: cloud mining, algorithmic trading, and proprietary software.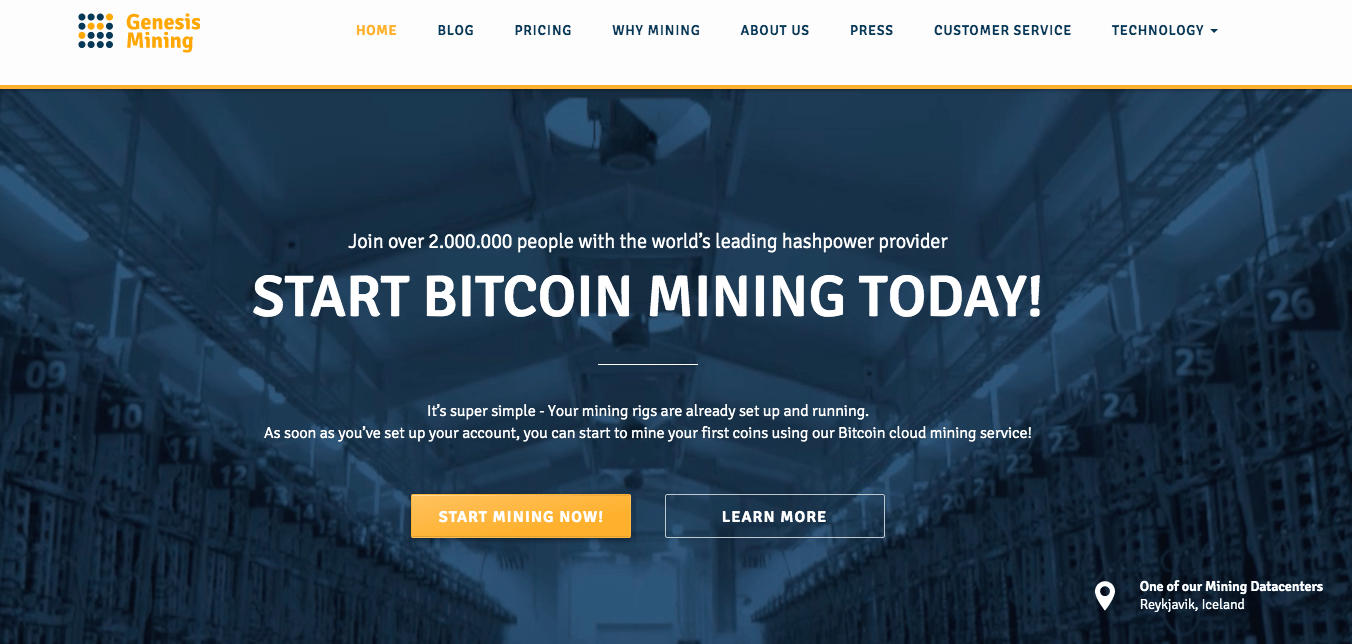 The creator of the company, Marco Streng, began mining Litecoin in 2011 from home. By 2013, he was convinced of the profitability of mining and founded the Genesis Mining company together with CTO Stefan Schindler, CFO Mark Kron, and head of sales Jacob Dolok. After a while, the new company required huge resources, so the first farms were created in Iceland. There Genesis Mining opened a large Enigma mining center in 2015. It consists of four hangars, in which there are tens of thousands of pieces of equipment for mining crypts. High-performance cards and ASICs are used there. Now data centers operate in Iceland, Bosnia, and Canada.
The official cloud mining service provider is called Genesis Mining Ltd. It was registered in Hong Kong. The Icelandic branch is located in Reykjavik. Genesis Mining is partnering with cryptocurrency mining equipment manufacturer Spondoolies Tech.
Genesis Mining itself is not a miner manufacturer. The company has signed contracts with the largest manufacturers of mining equipment: MinerEU, Spondoolies-Tech, Zeus, Innosilicon.
The website is translated into 21 languages including English, Chinese, Russian, etc. This proves that the project is loyal to its users and is open to use for miners from anywhere in the world. In the overseas market, Genesis Mining is one of the undisputed leaders among cloud mining companies. 
Features
The platform interface is user-friendly and easy to use for both professional miners and beginners. The project has wide functionality, which gives it an advantage and sets it apart from its competitors.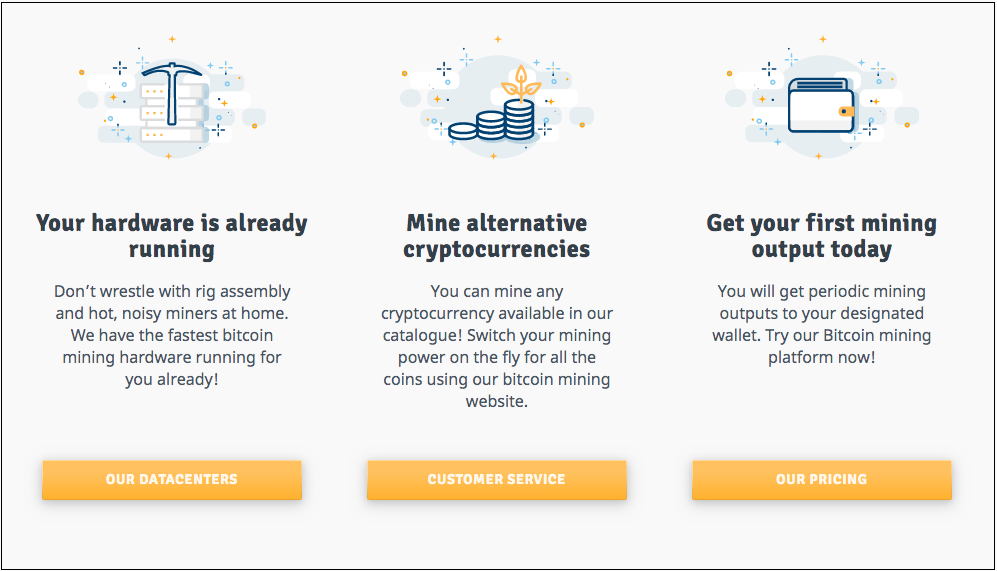 Service has provided cloud mining to over 2.000.000 customers from 100+ countries. The service offers 6+ mineable cryptocurrencies through 6 major mining algorithms. Over 100 million transactions have been conducted since the Genesis Mining foundation in 2013.
Among other advantages of Genesis Mining are the following:
Favorable contract terms and tariffs;
Regular and timely payment of fees;
Interesting promotions, in which customers receive increases in capacity and discounts on contracts;
There is a referral program that allows you to earn money through invitations to new customers;
Genesis Mining allows you to mine the most popular cryptocurrencies;
The power distribution function allows you to always mine the most profitable coins;
Easy payment, many ways to deposit;
Automatic daily withdrawal of funds;
Environmental friendliness - the data center operates on geothermal energy;
Quick payback and high return on investment.
Genesis Mining has the easiest way to make money on cloud mining. The resource interface is simple and intuitive to use. The Genesis Mining cloud mining service offers three payment methods:
Using a bank card;
Bank transfer;
Cryptocurrencies (transfer from a cryptocurrency exchange or wallet).
Genesis Mining Fees and Tariffs
Genesis Mining offers 4 types of packages for each crypto that vary in cost and hashrate. The cost of all tariffs is described on the official website and varies from 200 to 75 000 US dollars per contract. Tariff price depends on the hashrate. As the package price rises, the cost of a unit of capacity decreases. In addition, you can use the "Custom plan" option. Using the slider, you can determine the desired hashrate, select the cost, and thus form an individual contract. The option is available for any cryptocurrency.
Today, the company offers mining contracts for 6 popular coins: Bitcoin, Ethereum, Dash, Litecoin, Monero, and ZCash. But due to high demand, it is often impossible to buy new contracts.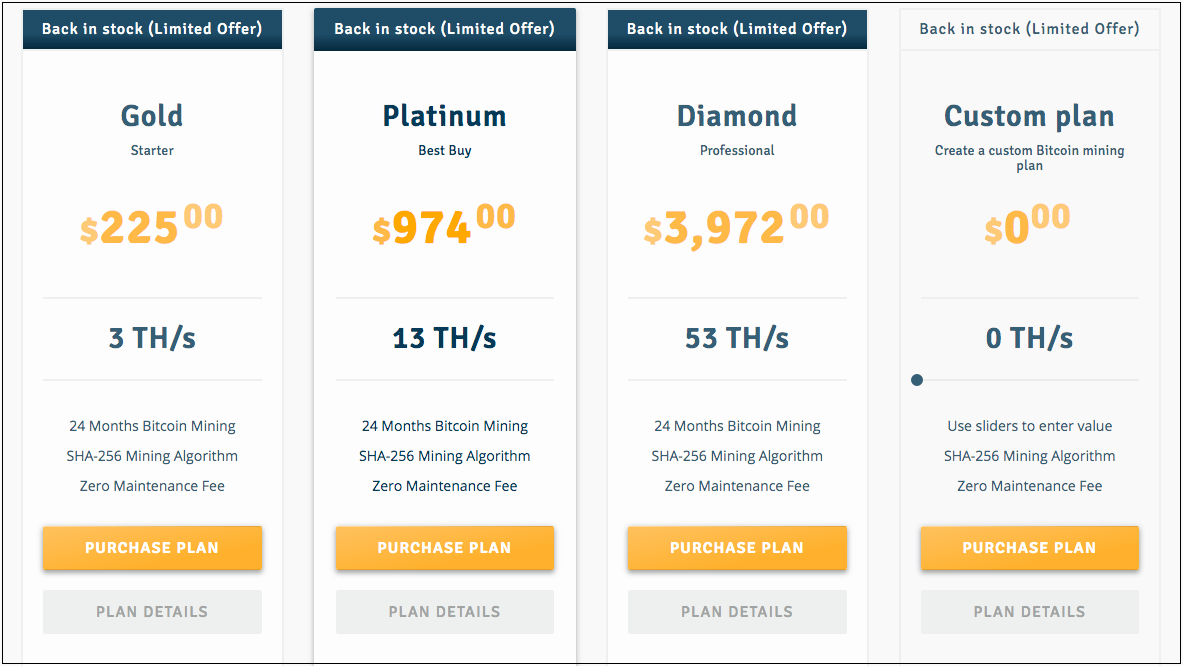 For all contracts (except Bitcoin contracts) the validity period is from 12 to 24 months¸ and no service fee is charged. With Bitcoin, the contracts do not have a validity period, but there is a maintenance fee of $ 0.003 per GH / s per day. Capacities begin to mine crypto to your account immediately after the payment is credited.
Referral Program
Each registered customer of Genesis Mining can invite other users to the service and receive from 2.5% of each of their purchases. In your account, you can find a promotional code that you can share with everyone. Every new client will receive a discount, and the user who invited him/her will receive a reward. The more referrals attracted by the user and the more purchases they make, the higher his/her rank and percentage of the reward.
How to Get Started with Genesis Mining
To get started with the Genesis Mining service is very simple and does not require a lot of your time. You need to click the "Sign Up" button in the upper right corner on the main page to start a registration process.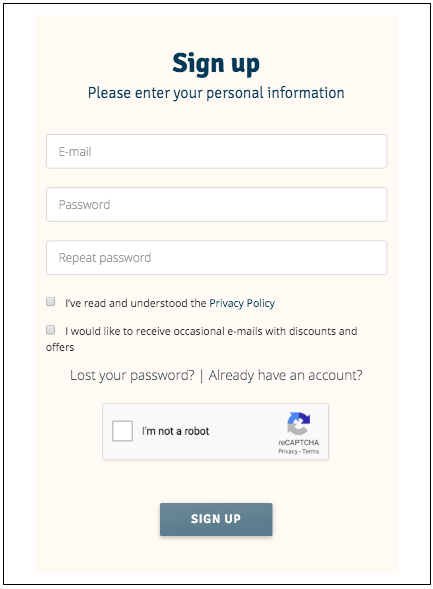 In the form opened you need to enter your personal Email and password (twice). Read the Privacy Policy and choose whether you want to receive occasional emails with discounts and offers. Pass captcha and press "Sign Up".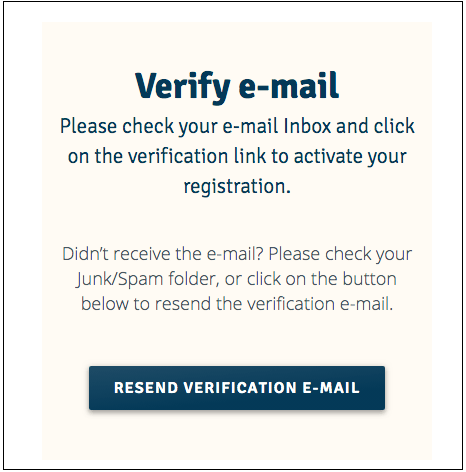 Genesis Mining will send to the email address provided a verification message with the activation link. In case the email did not arrive, check your Spam/Junk folder or press "Resend verification email".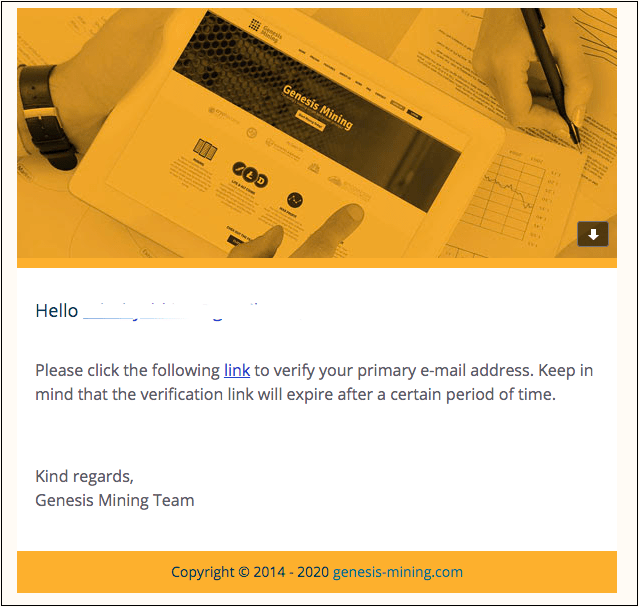 Once the message is opened, follow the link to verify your primary email address. Keep in mind that the verification link will expire after a certain period of time.
That's it! Now you are ready to use all the tools of the Genesis Mining platform.
How to Use Genesis Mining 
All service functionality is available after registration. In the personal account, the user will find the following tabs:
The main panel, where power is displayed for all supported mining algorithms;
Mining Allocation for switching capacities between different digital assets;
Activity with information about account activity; 
Affiliate referral rewards;
My account, where settings are available, affiliate bonus reward system and communication with customer service;
My orders - balance of payments, active and completed orders and orders pending;
Buy hashpower, which displays the currently available capacity for sale.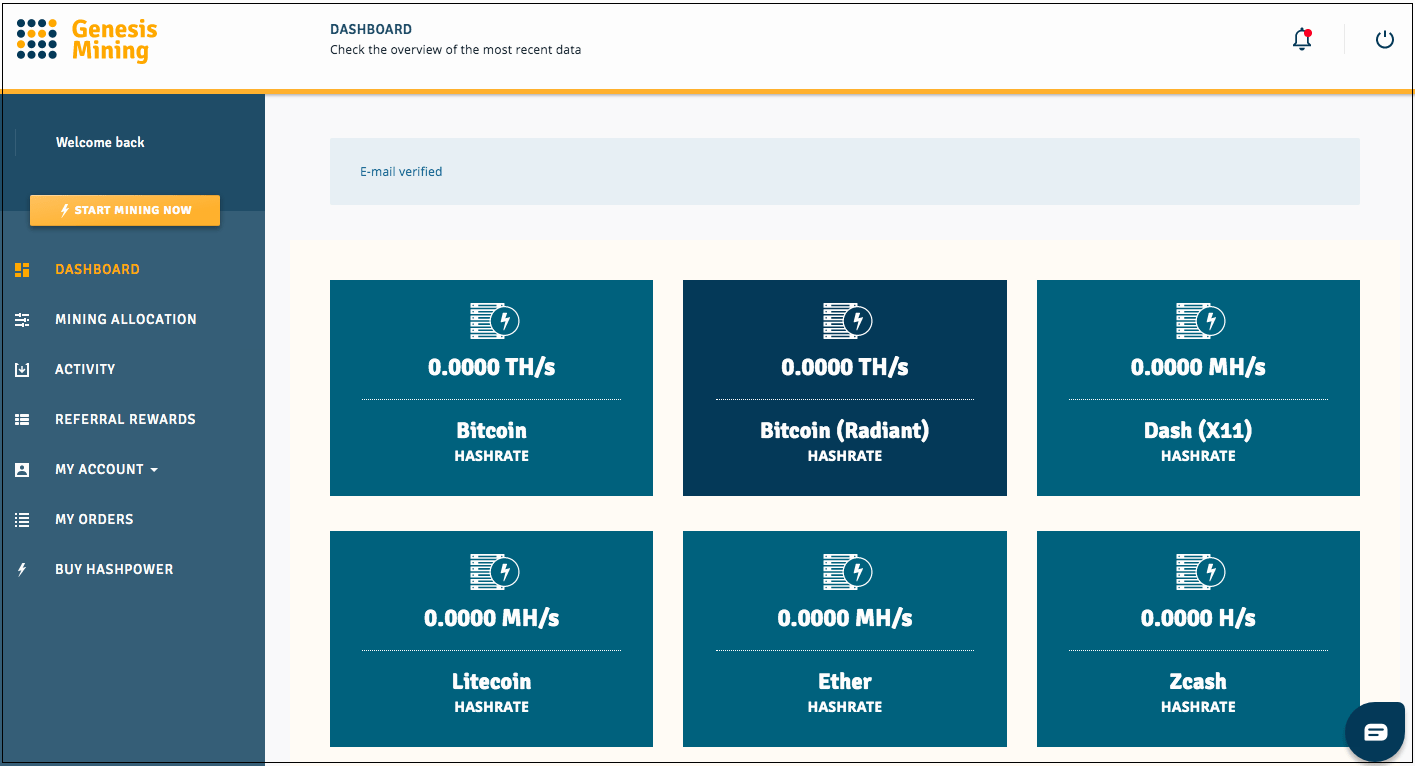 How to Deposit to Genesis Mining
Before you start mining, you need to purchase the hashpower. To do this, go to the "Buy hashpower" section and select the desired volume. The built-in calculator will immediately give out the amount to be paid, in accordance with the selected tariff plan. 
The service allows you to pay for the purchase of a hashrate in the following ways:
Credit card or bank transfer - in this case, a fee is charged, and funds are credited after the card is verified;
Via Bitcoin, Dash, Litecoin, Ethereum, Zcash, and Monero cryptocurrency wallets.
After payment is confirmed, the user will be redirected to the payment page. If the contract is paid with a credit card, you must specify the name of its owner and details. To pay from the wallet you need to send money to the specified address within 30 minutes.
Within a day after paying for the power, cryptocurrencies will be mined, and in a day you will be able to withdraw the first payments. To increase the return on Genesis Mining, you can distribute the power for mining the most profitable currency at the moment, this will help significantly affect the profitability of investments.
How to Withdraw from Genesis Mining
To withdraw the currency earned using Genesis Mining, you need to specify the corresponding crypto wallet in the account settings. To do it, go to the menu "My Account - Settings - Wallets". The service also allows you to convert funds into one of the 18 available cryptocurrencies. At Genesis Mining, funds are withdrawn directly to the specified wallet automatically.
You can withdraw funds to your cryptocurrency wallet every day when a certain amount is reached. The minimum withdrawal amount for each cryptocurrency is different and can periodically change due to network congestion.
Return on Investment (ROI) in Genesis Mining
At Genesis Mining, profitability averages 80-150% per year. It depends on the complexity of mining, the Bitcoin exchange rate, and the chosen tariff. With this level of profitability, the investment invested will pay off, depending on the algorithm used for mining, in the following periods:
SHA-256 - 4-5 months;
Scrypt - 8-10 months;
Ethash - 11-13 months.
The profitability of investments allows you to track profitability charts, which can be found on the main panel in your account.
Customer Service and Reviews
On the Genesis Mining platform, they take care of customers and provide them with not only round-the-clock technical support but also a detailed Help Center, where you can find information on any question. If you have not found the answer to your question, then you can contact customer support by filling out the form on the bottom of the page. 
Genesis mining has mainly positive reviews. Reviews on forums and social networks, publications in reputable online publications are devoted to the numerous advantages of the service. According to customer reviews, investing in Genesis Mining is profitable because it makes it possible to distribute the power for mining the most profitable cryptocurrency while offering favorable terms of the contract and tariffs. Nevertheless, despite the wide range of features of this service, users note relatively low rates of return. For more reviews, you can read Genesis Mining Trustpilot. 
Is Genesis Mining Safe?
Genesis mining has a good reputation, the fact that any client can visit the company's office in Reykjavik leaves no doubt about its reality and transparent working mechanisms.
Genesis Mining supports cryptocurrencies that promote privacy, so the service strives to keep collected user data to a minimum and only ask for information that is mandatory from a regulatory perspective. In addition, the platform supports the two-factor authentication option for every user to ensure extra account protection. All of the above factors prove that Genesis Mining is not a scam.
Conclusion
Genesis Mining is a reliable and profitable cloud mining service. It offers favorable rates, a comfortable personal account, a choice of 6 popular cryptocurrencies for mining, a convenient withdrawal of funds, etc. The project has good functionality and the service takes care of the security of customers, reliably protecting their accounts from outside interference (two-factor authentication). Cloud mining Genesis Mining is an ideal solution for miners who prefer to work with reliable companies that offer favorable conditions for cooperation.
Bouviere
18 August 2020, 8:44 AM
Most crypto exchanges such as upbit take advantage with customers funds because they feel these customers don't know how to get their funds back, But trust me there are hidden ways you can get your lost funds back from the broker. I was able to withdraw my 7BTC from kraken, If you want to recover your money back then mail [email protected],com.

Genesis Mining Reviews