ZBG Reviews 2021 - Is It Safe?
Full address:
UNIT 17, 9/F TOWER A NEW MANDMARIN PLAZA NO 14 SCIENCE MUSEUM RD TST EAST KL
Fees:
All transactions fees are 0.1%.
Fees:
All transactions fees are 0.1%.
Dec 08, 2021
Although the Chinese government is far from being cryptocurrency-friendly, crypto enthusiasts from this country are actively developing new products. One of them is the ZBG exchange. In this article, we will provide the basic facts about the exchange, review its main features, tell if ZBG is a scam or a trustworthy platform, and how safe it is to use ZBG. 
What Is ZBG?
ZBG is a cryptocurrency exchange launched in 2018 as a sub-platform of ZB.com exchange, a Samoa-registered Chinese trading platform created a year before. The latter is one of the biggest crypto spot exchanges in terms of the trading volume. ZBG, however, cannot boast such an achievement. The exchange is yet to make it into the top 100 crypto exchanges by liquidity. Nevertheless, ZBG is one of the most successful derivatives crypto exchanges as of 2021. In terms of liquidity, ZBG Futures is one of the top 20 crypto exchanges in the world. The credentials for the ZB accounts are valid for the ZBG accounts. 

The exchange supports 65 cryptocurrencies. According to the ZBG website, there are over 3 million users on the platform. The list of countries where ZBG can be used is not available. Apart from spot trading, ZBG provides derivatives trading, as well. Perpetual contracts' index prices on ZBG are connected to around 80 crypto exchanges. Like the best crypto platforms, ZBG focuses on maintaining a high level of security of users' accounts via a set of protection measures which we will name in the respective chapter. ZBG can be used via a web browser. iOS and Android apps are in the beta testing stage as of December 2021.
The platform's website can't be called convenient. The English version contains mistakes in words, navigation is not that intuitive. The FAQ section is all made up of guide videos with hardly readable headlines so in general it can be regarded as not comfortable. 
Registration & KYC
Registration on ZBG takes a couple of minutes. You can choose if you want to register via the email address or a phone number. You should set a password, agree to terms and conditions, and complete an anti-spam quiz. To have access to full functionality, you will have to complete a KYC check. This procedure can be done only via the mobile app. However, the mobile app is in its beta version and we were unavailable to test it and go through KYC.
However, the website provides info about the data needed to complete KYC. This data includes the full name, current location and registration address, date of birth, nationality, etc. This info should be confirmed by the official documents. You are required to upload the photos on which you hold these documents so the ZBG team will be able to verify who you are. A telephone number and email address are needed as contact info, too.
Main Features
The main features can be accessed via the main menu (on the top part of the desktop version). The sections are Exchange, Futures, Fiat (a platform for fiat-to-crypto transactions and vice versa), Savings, Cloud Mining, Super Launchpad, Seed (the platform for trading locked assets), and More (Rebate, Strategy Plaza, and other services). 
In the Exchange tab, you'll see a regular TradingView-based candlestick graph, order book, charts, and other elements of a typical crypto exchange interface. What you won't probably find is any tools for work with the graph, market depth graph, or indicators for the market analysis. The lack of these standard and important features makes ZBG not convenient for professional traders. The lack of diversity of order types is another drawback of the spot exchange section.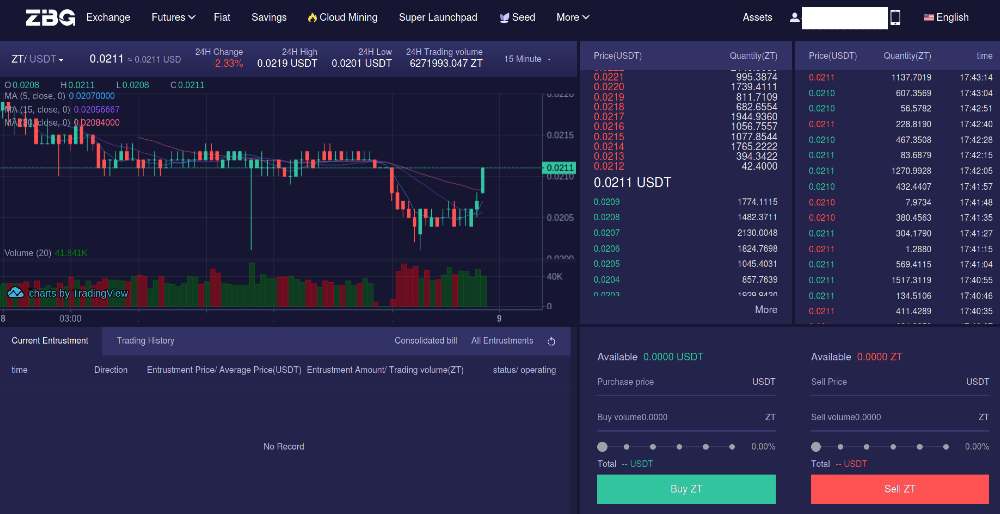 The Futures trading platform is much more elaborate. It provides traders with everything spot exchange lacks from multiple types of orders to market analysis tools. That's why we conclude that ZBG is better suited for derivatives trading. The leverage level varies from 5x to 100x.
In the Fiat section, you can buy or sell crypto (USDT and Qcash) with a card via a p2p trade platform. The accepted fiat currencies are CNY, HKD, RUB, and VND. You can choose the offerings from ZBG brokers and make trades with them. More than that, you can place your order there, too.
In the Savings section, you can earn via holding cryptocurrencies. The program is relevant for 4 cryptocurrencies: BTC, ETH, USDT, and QC. The QC deposits are expected to provide over a 4.15% annual yield. The yield for USDT can reach up to 3.5% in a year. The BTC annual yield can reach over 0.4%, and the ETH annual reward can reach up to 0.6%. These rewards are available in the Flexible mode. Another mode is Locked. There, you can see better offerings with more specific requirements. You are expected to lock a certain amount of money for a specified amount of time, etc. There, you can expect to earn 20% per year and even more.
Cloud mining is renting computational power for crypto coins mining. You pay once to get paid in portions for a long period, kind of an investment. Many cloud mining platforms turned out to be frauds and Ponzi schemes or simply unprofitable. However, to this day, such platforms exist and continue to attract new investors. ZBG offers rewards in USDT and QC. Not much info is available on the website.
Fees
On spot exchange, you are charged only 0.1% per trade. The trading fees for futures contracts on ZBG are bigger than on most futures crypto exchanges. Takers pay a 0.075% fee while makers pay 0.025%. There is no clear info on the withdrawal fees on ZBG, however, some sources claim that the exchange doesn't charge anything above the network fee. 
Is ZBG Safe?
Safety is a crucial factor when you decide whether or not you are going to use a trading platform that seems profitable and convenient for you. If the platform fails to safeguard your data and funds from swarming cybercriminals you can end up losing everything you have earned. More than that, some exchanges cannot even compensate for the stolen funds. What's worse, some exchanges are run by fraudsters and steal money from their clients. That's why it is important to check the protection measures provided by the exchange before you invest your money and see what users write about their experience with the platform. 
As for reputation, the ZBG spot exchange has a very small trust score on CoinMarketCap and is not listed on CoinGecko at all. However, the futures platform has a good reputation on these resources. There are people on the Internet claiming that ZBG doesn't allow them to log in again after they have deposited money there. It is not clear, however, what is the reason, is it justified, and if they talk about the futures platform or the spot exchange by ZBG. The Twitter account of the exchange is taken down. Unfortunately, it doesn't allow us to see how the company reacts to online criticism and see if the volume of this criticism is high. We cannot claim that we see extraordinarily many critical posts about ZBG. We recommend approaching this platform with caution and searching for more information online. Unfortunately, now we cannot recommend using ZBG for security reasons. 
As for the available protection measures, the ZBG exchange provides many reputable security features that are used on the best crypto exchanges. First off, on ZBG exchange you can use 2-factor authentication. This feature makes it nearly impossible for anyone to enter your account or withdraw money without having direct access to your mobile device. You will need to provide a one-time password from the Google Authentication app installed on your phone to manage your account. We strongly recommend not to neglect this measure and activate 2fa as soon as possible as the crypto space is full of crypto thieves. 
Other security features include anti-phishing code and fund passwords. The latter is similar to PIN codes that safeguard the use of your banking card. This 6-digit password is requested when you try to withdraw money. Anti-phishing code is a code attached to every mail from ZBG representatives. It is unique for every user so if you receive a message with a wrong code or without this code, you can be sure that the message is sent by fraudsters aiming to access your funds. According to ZBG, 95% of users' funds are stored offline which makes it a trustworthy platform as hackers won't be able to steal much of users' money if the exchange's servers are cracked. All in all, we can say that the platform provides a solid set of protection measures. Unfortunately, the scam accusations associated with ZBG are not addressed properly and the reputation of the exchange is questionable.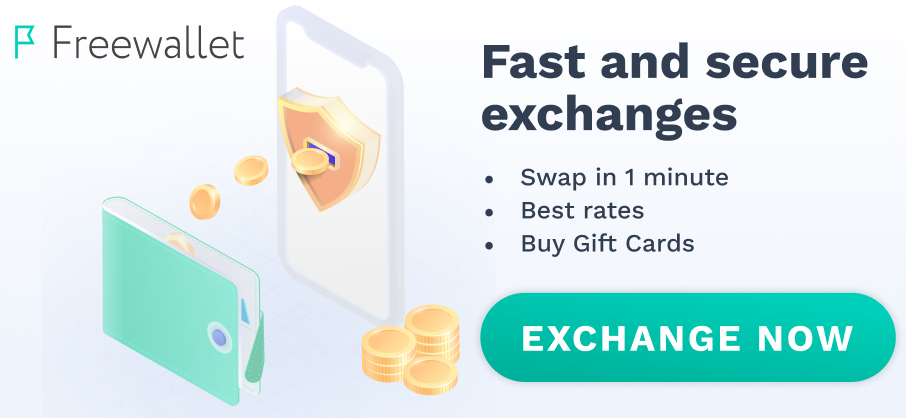 The dubious exchange, I don't really trust it.
It doesn't work in Europe, only VPN, but it slows down all the operations.
Frankly, they have a quite good app and it's fully operated, I didn't trade a lot, but my LTC operations were made fast and smoth