ProBit Exchange Reviews 2022 - Is It Safe?
Full address:
30, Teheran-ro 8-gil Seoul, 06240, South Korea
Fees:
BTC 0.0005 Withdrawal Fee • 0.20% Taker Fee • 0.20% Maker Fee

Full fee schedule:
https://support.probit.com/hc/en-us/articles/360017844972-Trading-Fee-Structure-at-ProBit
Fees:
BTC 0.0005 Withdrawal Fee • 0.20% Taker Fee • 0.20% Maker Fee

Full fee schedule:
https://support.probit.com/hc/en-us/articles/360017844972-Trading-Fee-Structure-at-ProBit
Mar 29, 2022
The 2010s were the times of the centralized crypto exchanges bloom. All the big projects that managed to gain a solid reputation continue to work actively now. Several exchanges gained a reputation as safe trading platforms supporting hundreds of cryptocurrencies. One of such exchanges is ProBit, a relatively young platform with significant liquidity and a rich set of supported coins. From this article, you will learn the main features of ProBit, what payment methods this exchange supports, is it safe to use this exchange, is ProBit a scam, and other essential facts.
What is Probit?
ProBit is the centralized crypto exchange registered in Seychelles. It was founded in South Korea in 2018. The exchange can be accessed via a web browser or via an Android-based app. The iOS version doesn't exist as of March 2022. ProBit is a relatively successful platform. It is one of the 100 crypto exchanges with the highest liquidity; however, only several trading pairs have somewhat good liquidity. If you decide to trade on ProBit, you should be prepared for spreads.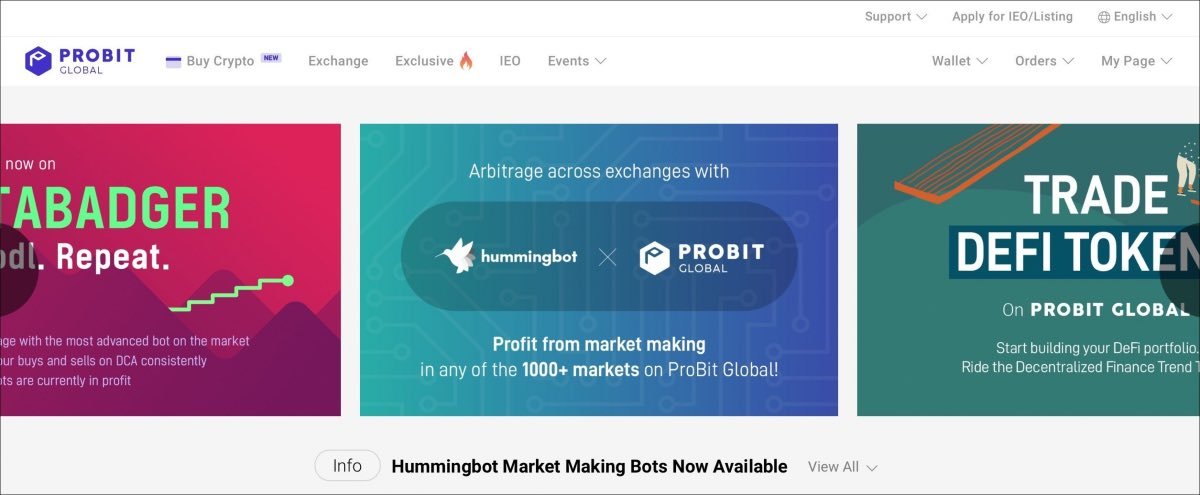 One of the reasons for ProBit's early popularity is that it was one of the first exchanges supporting initial exchange offerings (IEOs). For several years, ProBit has hosted over 100 IEOs. ProBit supports 500 crypto coins, including new exchanges' tokens, DeFi tokens, top cryptocurrencies, FTX leverage tokens, etc. Apart from regular spot trading and IEOs investing, users can use ProBit for staking, holding, buying crypto for fiat money, participating in trading competitions, and receiving airdrops. Like many other exchanges, ProBit has a native token. Its name is PROB. You can stake PROB in order to enjoy fee discounts and other benefits. The referral program is also in place. 
Probit Exchange Main Features
Now, let's speak about ProBit's main features in detail. First off, if you don't have any cryptocurrencies yet, you can easily buy them using the Buy Crypto button at the top of the website. This feature was introduced only in 2022. Before that, you couldn't use ProBit without crypto coins. Now you don't have to buy crypto on the third side platforms. Cryptocurrencies can be bought with a bank card. ProBit supports around 40 fiat currencies. You can change any of them to Bitcoin (BTC), Tether (USDT), and Ether (ETH). The service is provided via MoonPay. It accepts Visa, Mastercard, Apple Pay, Google Pay, and Samsung Pay.
When you have some crypto in your wallet, you can make a deposit and start trading. The Exchange button can be found next to Buy Crypto. There, you will be able to deposit some crypto. To do so, you should click on the Wallet button. On the Wallet page, you can check your balance and move money in and out. Please note that on ProBit, you cannot deposit any currency except for Bitcoin. By default, you cannot withdraw sums more than $5k worth. The minimum withdrawal is 0.001 BTC. 

As for the trading interface, ProBit presents quite a regular exchange product. Candlestick chart, order book, trade feed, indicators, and other usual elements of a standard trading view are in place. ProBit supports the market and limit orders. On the one hand, limit orders are one of the ways to trade at a price that fits you better. On the other hand, ProBit forbids to post market orders for most trading pairs. It creates obstacles to buying at the market price. In general, low liquidity for most trading pairs creates risks of big spreads and trading in a loss.
One of the rare features of ProBit is that you can invest in IEO tokens there. You can trade IEO tokens in the IEO section or look for the upcoming tokens that you'd like to buy later. It seems that as of 2022, this feature will become less in demand, however. A more interesting feature is buying crypto at discounted prices. On ProBit, you can do so via the Exclusive section. When you proceed to Exclusive, you can see what tokens were traded at a lower price in the past and the current offers. These allocations occur about twice a month or rarer and last several days.
In the Events section, you will find several more features. One of them is trading competitions, a feature identical to one presented on HitBTC, another huge exchange supporting hundreds of altcoins. In trading competitions you should gain the largest volume trading the specified token in 30 days. The best five traders receive the reward. Two other ways to make a profit on ProBit are staking and auto hold. Finally, you can collect airdrops that take place on ProBit once a month or even more often.
Probit Exchange Supported Cryptocurrencies and Countries
ProBit welcomes traders from all countries; however, users from several regions won't be able to complete KYC. It means that they will face limitations of maximum withdrawal amounts, etc. Jurisdictions in which users cannot complete KYC are as follows: Albania, Algeria, Bangladesh, Barbados, Bolivia, Botswana, Cambodia, Cuba, Ecuador, Ghana, Iran, Iraq, Jamaica, Mauritius, Morocco, Myanmar, Nepal, Nicaragua, North Korea, North Macedonia, Pakistan, Panama, Seychelles, Singapore, Sri Lanka, Syria, The United States of America, Uganda, United States, Venezuela, Yemen, and Zimbabwe. The exchange supports most of the top coins and many little-known coins. It is understood considering how many coins are available for trading on ProBit.
Is Probit Exchange Available in the USA?
ProBit doesn't prohibit US residents from using its services; however, traders from the USA cannot complete KYC and face certain limitations. If you live in the USA, it's better to contact support and figure out if the state you live in is not a restricted zone on ProBit.
Probit Exchange Deposit and Withdrawal Methods
To deposit crypto, you should click on Exchange on the main page, then proceed to Wallet. There you will see the Deposit button. On ProBit, you cannot deposit other cryptos than Bitcoin. You can buy BTC via the Buy Crypto feature if you don't have crypto coins. You will be able to pay using your bank card, thanks to ProBit's partnership with MoonPay.
Probit Exchange Fees
Exchanges normally collect two fees: trading fees (commission you pay per trade) and withdrawal fees (the money you lose in commissions when you withdraw your coins to an external wallet). 
        Trading Fees
Trading fees on ProBit are 0.2% both for makers and takers. The more PROB tokens you hold, the lower trading fee you pay. For instance, if you stake 100,000 PROB, you will pay only a 0.1% fee. The fees paid in PROB tokens are lower by 0.02%. Many exchanges collect lower trading fees; however, we can't say that ProBit trading fees are that high.
        Withdrawal Fees
Withdrawal fees on ProBit are average. For instance, you will have to pay 0.0005 BTC per BTC withdrawal.
Is ProBit Safe?
ProBit provides enough measures to keep user funds safe. First off, you will be urged to activate 2-factor authentication as soon as you launch an account on the exchange. If you skip this step, the exchange will remind you to set up 2fa. This measure is crucial as 2fa blocks your account from breaking into it remotely without having your mobile device.
The exchange states that 95% of user funds and data are stored offline, which is great as many hackers target hot wallets and servers of massive crypto exchanges. Data is protected by FIDO U2F encryption. As of March 2022, ProBit has been operating safely without known issues. There are no reasons to suspect ProBit of being a scam.
Conclusion
All in all, ProBit is a decent platform providing all the essential features typical for huge crypto exchanges and a couple of rare features. Lack of margin trading and relatively high trading fees can be considered drawbacks. However, in general, ProBit is a quality, reputable exchange.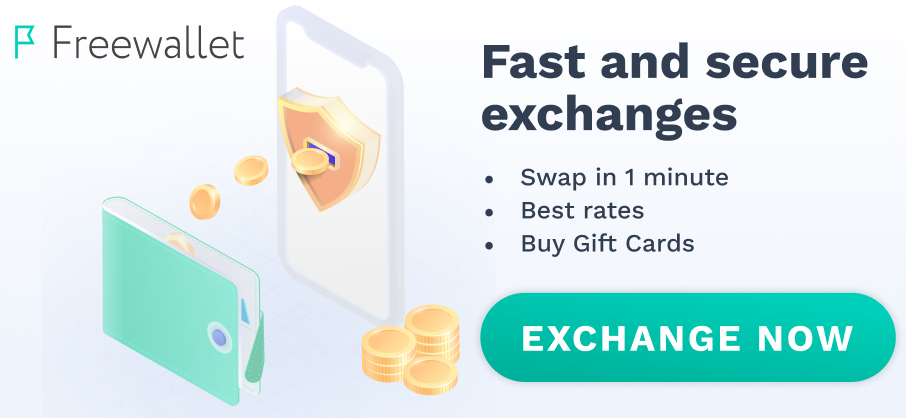 Best platform which has the copy trading feature, this enables you to copy your desired expert trader.
Salinder kumar
5 November 2022
There is no solution of reset password, even i have already submitted my all kyc document, and screen shot of transition, but no reply of my email.
Probit Global is one of the safest exchange. I've been using it for about 2 years now and all my transactions go through smoothly always!

People claiming that it's a scam and that they lost money are victims of actual scammers! Because Probit is growing so fast, there are a lot of fake groups and random scammers acting as their official employees and are taking people's money. If you are wise enough NOT TO SEND CRYPTO / MONEY / PASSWORDS to strangers, you can't be scammed!
ABSOLUTE SCAM!!!!!!! NEVER GO INTO BUSINESS WITH THESE CRIMINALS! In the first conversation on the phone with these guys I felt something was off so I told them I want to read all the information before I sign up. They did everything to talk me out of this, so when they didnt seem to listen I disconnected the call. Then the stalking started they kept calling every 2 seconds, so eventually I picked up the phone and they were telling me they would keep calling if I didnt answer 2 questions. I answered the questions but they didnt like the answers, so the 'manager' and the guy calling started to make fun of me. Up to this moment they are still stalking me. Im so glad I trusted my gut feelings and got out before I gave my money to this criminals.
Paulo Jhonatan
19 February 2022
Uma das piores que já usei. O sistema de envio de códigos de verificação é intenso. Para tudo precisa de uma confirmação por e-mail. Um envio de um código que nunca chega. E quando chega e inserimos, está inválido.

Já perdi uma conta por causa do sistema de recuperação ser muito burocrático e exigir informações que não podemos ter.

Realmente, só estou usando porque uma cripto que preciso receber só está listada na ProBIT.

E por causa disso refiz minha conta. Mas já estou me arrependendo.