IDAX Exchange Reviews
May 23, 2020
IDAX is a Mongolian cryptocurrency exchange launched in 2017. By both reported and adjusted trading volume this platform keeps positions in the Top 15 of cryptocurrency exchanges. IDAX exchange has a wide range of trading pairs including ones that are not available on other exchanges.
Is the IDAX exchange safe? Some users claim it to be a scam project. Let's find out if it's true.
General Information
IDAX is an abbreviation for International Digital Asset Exchange. Despite the fact that the headquarters of the company are located in Mongolia, the main traffic on this exchange is coming from China. Nevertheless, the company states that its mission is to provide service around the world and there are no formal limitations for users from other countries. One of the constraining factors is the lack of some languages in the interface of the exchange. The company has rep offices in South Korea and Singapore.
Among available special functions, there are futures trading and OTC (over the counter) trading. IDAX allows making fiat money transactions as like as cryptocurrency transactions. Currently, the exchange provides a choice of over 200 cryptocurrencies. The most popular trading pairs are BTC/USDT, ETH/USDT, and BTC/ETH.
Due to the fast development of the exchange, many reviews on IDAX exchange contain outdated information about the platform's functionality including such irrelevant statements as the lack of support of fiat currencies, unspecified deposit fees, etc.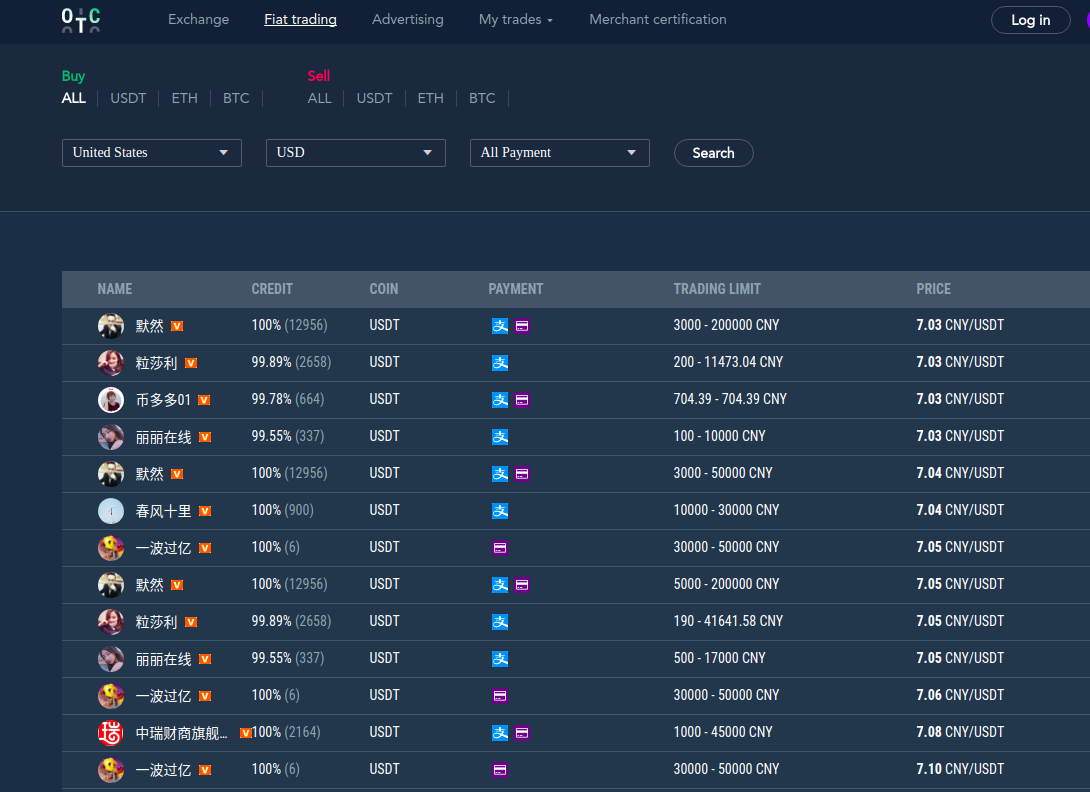 Registration
The registration process is quite simple. It starts with the Sign-up button in the upper right corner of the website. As IDAX is a KYC-compliant exchange it requires some personal data from users including name, surname, nationality, ID number, photo, etc.
How to Add Funds on IDAX?
IDAX interface is user-friendly. Depositing money on the exchange is not a hard task. To send money on IDAX one needs to open the Balance tab and proceed to Deposit option. The next step is choosing the needed currency and its amount and typing in the wallet address (another way of adding wallet address is scanning the QR code). As soon as one receives confirmation, the deposit is successfully finished. Usually, it doesn't take much time.
How to Trade on IDAX?
The trading process on the IDAX exchange is as intuitive as registration or deposit. As soon as one has a funded account, the next step is trading. We have already mentioned the Balance tab in the upper panel of the website before. There one finds Trade option, clicks on it, and chooses a certain currency.
The matching engine of this platform is considered to be quite fast. Moreover, the website contains charts, graphs, and tools allowing to explore the market depth. IDAX has an API letting its users automate the process of trading. The means for avoiding trading in loss such as limit orders are also available on IDAX.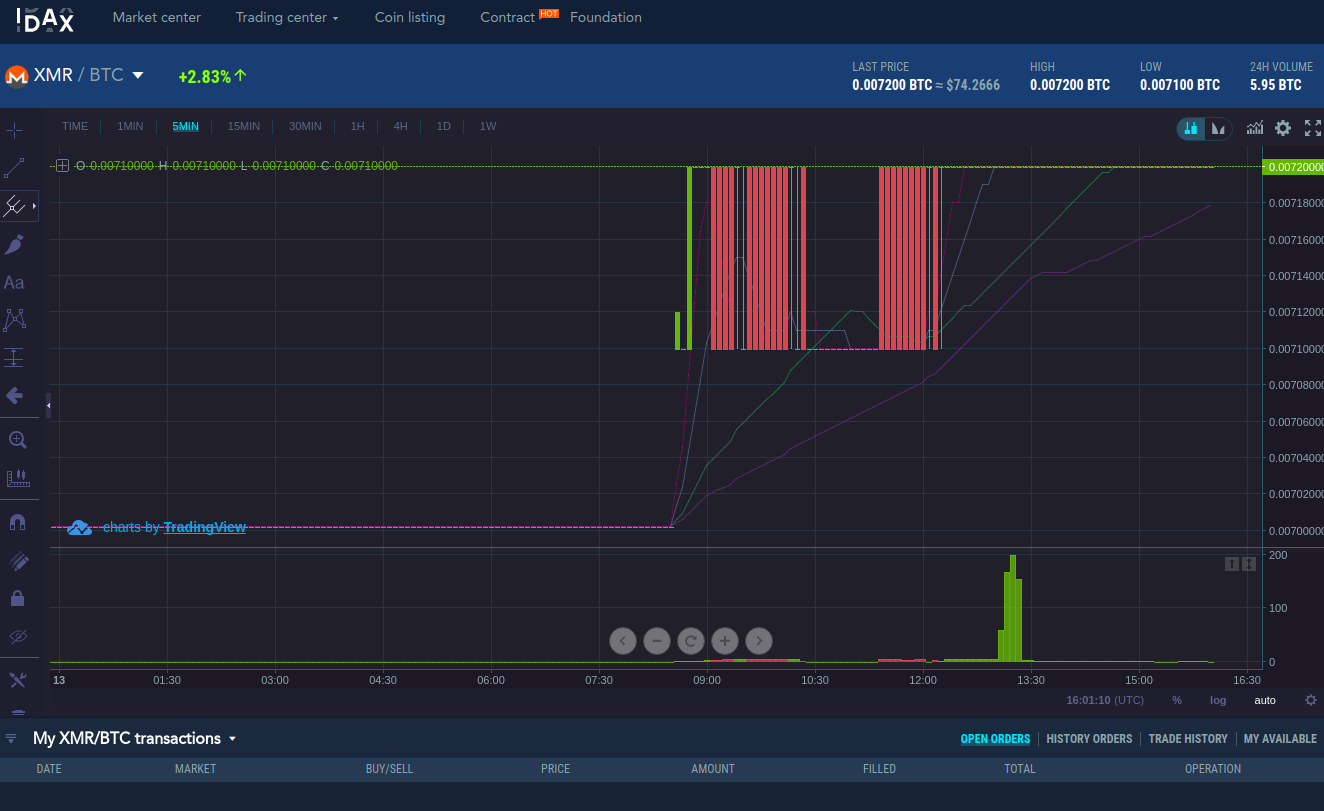 How to Withdraw From IDAX?
Withdrawal is as simple as all the rest actions on this exchange: one needs to click on the Balance tab in the upper panel of the website and choose the Withdraw option. Then some users have to perform identity verification. The last steps of the withdrawal process are specifying the needed currency and its quantity and inserting the wallet address. If all the security tests are passed successfully and no mistakes in wallet address or choice of currency/quantity were made, then money goes to the user.
Does IDAX Require KYC?
As it was mentioned before, IDAX follows the KYC/AML rules. The information required for completing KYC includes the real name and surname of the user, the photo fitting the special properties, nationality, phone number, email address, residential address, and many other details. This information can be provided prior to withdrawals or right in the moment of the withdrawal (then the withdrawal process will take longer).
IDAX Fees
Like many other crypto exchanges, IDAX takes no fees for deposit. Trading fees on this exchange are considered to be competitive. The platform encourages traders to increase the liquidity on the exchange charging diversified fees. Traders who create new orders (liquidity makers) pay less than those who only take orders (decreasing liquidity on the market). IDAX market makers are charged with 0.1% fees while takers pay 0.15%.
Withdrawal fees are flat and different for each currency. For example, the withdrawal of bitcoin costs 0.0003 BTC, Ethereum fee is 0.005 ETH. It's important to realize that the developers had set the minimum withdrawal amount for each currency (for instance, one can't withdraw less than 0.001 BTC or less than 0.01 ETH). The full list of withdrawal fees and limits is presented on the website.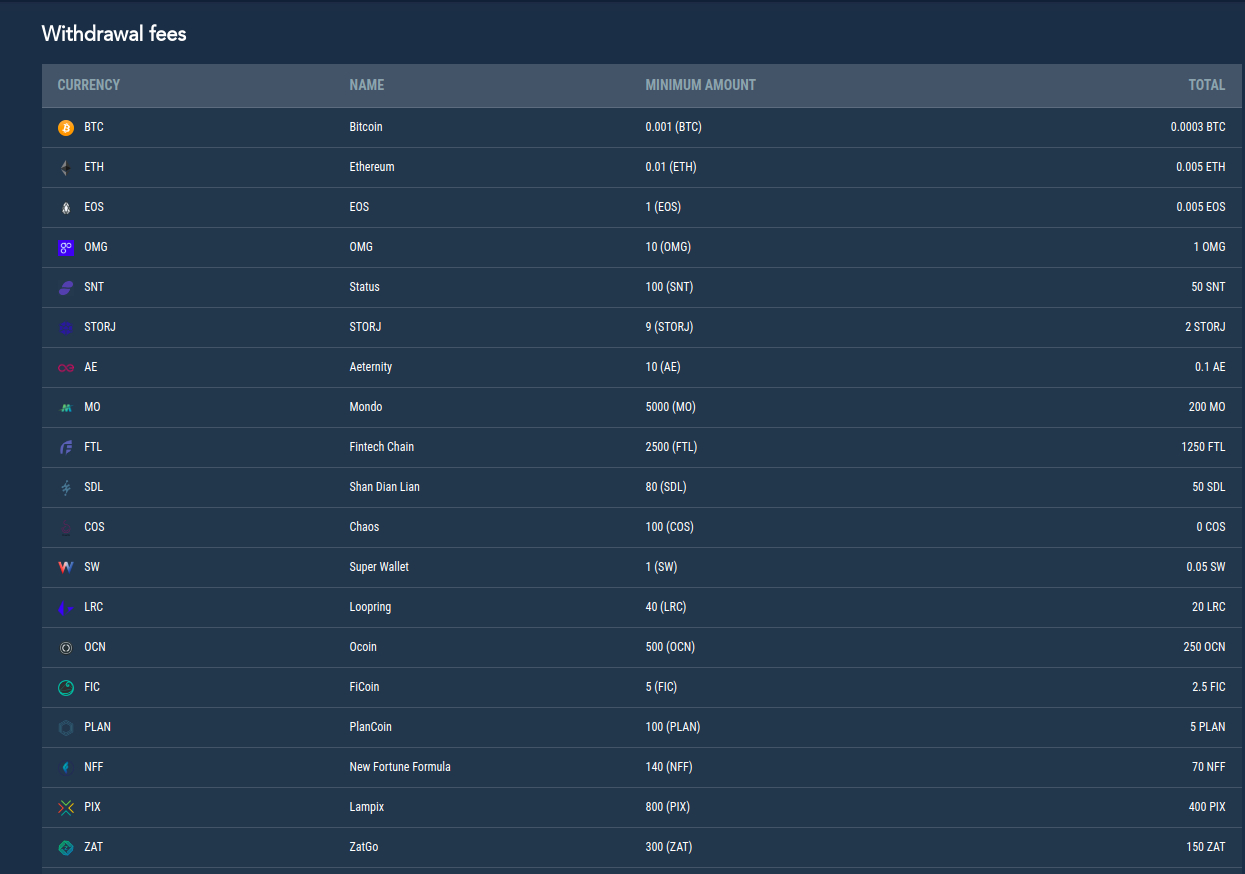 IDAX Token
Usually, cryptocurrency exchanges have native tokens. IDAX is not an exclusion. IDAX token (or IT) has a total (and limited) supply of 200 million. IT is a decentralized ERC20 token developed by the GBC group and Genghis Khan bank of Mongolia. The purpose of this token is improving the value circulation of the IDAX network and distributing trust between the users of the platform.
IT appeared on the market in February 2019 having a price of over $3. The price has been fluctuating around this mark all this time. IT is a part of several trading pairs on IDAX.
Is IDAX Safe?
IDAX exchange provides multiple security measures, although we can't say that these measures can guarantee 100% safety. Some of the protection measures are the responsibility of the user: for example, it's up to the user to create a strong password, enable 2-step authentication, and stay away from phishing websites. Scammers have a lot of strategies that allow them getting users' credentials and steal money from their accounts. In such cases, the company does not have many tools to save the assets of users.
On IDAX there are four main security instruments besides strong password:
1. Users can enable authentication through SMS so a hacker won't be able to do actions without having the user's mobile phone.
2. 2-step verification becomes one of the 'must-have' features on many Internet platforms and this security measure is available on IDAX, too. The user can set 2-step verification via Google Authenticator or any other authy applications. It is another instrument that provides control over the account to the user because it is supposed that no one else has his mobile device.
3. Fund Password is an additional password requested (if enabled) every time when someone tries to withdraw funds. Simply put, Fund Password is a PIN.
4. Prevent Phishing Code is a more sophisticated protection measure requesting the code when someone tries to withdraw funds, change the account settings or log in. This measure makes the use of the platform much more secure.
As IDAX is a centralized exchange, the users' security depends on the ability of the developers to protect the servers from hacker attacks. In the case of a successful attack, users may lose both money and personal data. There are not many users can do about it.
Customer Service
IDAX has a 24/7 support service that is supposed to solve any troubles associated with the use of the exchange and answer the user queries. Nevertheless, it seems that currently, the customer service is far from perfect as in the comment section of the website and on the social media pages of the company people are complaining about diverse problems. Sometimes withdrawals take too long because the IDAX exchange network may be busy due to the big number of users. Others say that their accounts were blocked for an unknown reason, etc. Some reports are raising concerns over how legit IDAX is.
There is not much data that allows understanding if this criticism is overblown and it's hard to figure out if all these problems get solved, or not. That's the reason why your reviews about IDAX are welcomed. If you have an experience of trading on this exchange you can leave your review about IDAX exchange here.
They locked me out of my account , I have reached out to them countless times without any response. I thought my life was over. I was finally able to recover all my money with the help of a recovery agent I came across through a friend. Happy to share my experience and guide anyone going through same. He helps people who have been ripped off by gaining access into the trader's account, withdrawing your funds and crediting you. Robin Hood if you may, only in this case they take back whats been stolen and hand it back to the rightful owner.
Cybercrimcombat5

(WhatsApp) +1.3.0.4.2.4.4.5.3.2.3
They frozen my mindexcoins and they do not transfer my bitcoins, when I try to transfer my bitcoins the system says that is busy and to try later, it's been like that for 2 months, now they do not send me the email with the security code when I try to transfer and they do not respond my emails, please, do not use this exchange for your investments, save your self a Headache
Heler
20 January, 9:31 PM
I wonder why don't they have fiat currency? But besides that everything is ok. The trading is going on and fee is not so high. That's the most important thing for me.
John
23 September 2019, 9:53 AM
One of my close friends is using IDAX for a year now and he's gaining profit as far as I know. I've read a few reviews here and there and looks like the trading view is good here (even tho I have no idea yet how to use it). The people say the fees for both trading and withdrawals are quite fair and mostly lower than the average fees at the time.
Andrew
20 September 2019, 7:13 PM
They've been refusing my KYC info for 2 months. Looks like they stole all of my coins. No warning whatsoever and horrible support.

SCAM
Larry
19 September 2019, 2:01 PM
As I've heard IDAX has or had some issues with the security in the past. This brings some concerns on the matter of being trustworthy or not. But as long as the service has a bunch of users trading on their platform, the new ones will be coming and bringing more money. Maybe that will be a good stimuli for further development.
Harry
18 September 2019, 8:35 PM
It feels like a decent exchange so far. I have moved a little bit of my portfolio just to try and see how this exchange works. The only thing that it is lacking I think the possibility of fiat deposits and withdrawals even tho the liquidity is quite high. Will keep on trading here for a couple of months and see how it goes from to that point. Anyway, it is always good to keep coins on different exchanges due to price difference.
Michelle
18 September 2019, 6:54 PM
There are two major things I like about this exchange: the trading view and dark theme. Why trading view? I've used a couple exchanges at this point and was looking for exchange with both high liquidity and flexible/advanced trading tools. You can also modify the trading view according to the current needs which is good.
Ava
18 September 2019, 5:21 PM
I like the exchange flexibility in sense of the dashboard and the trading possibilities of a hundred plus trading markets. Also, the fun thing is that the exchange one of the few that's based in Mongolia, not like it's the matter of choosing the exchange in a first place, but fun to consider. But the thing is that fee structure is a little bit confusing, I prefet seeing either flat fee or some range or applied percentage.
Roman
17 September 2019, 10:45 PM
I wouldn't say that the exchange is an amazing. The long verification and slow support won't give IDAX the points. But the trading is ok
David
17 September 2019, 6:43 PM
The interesting thing about the platform is it's a Mongolian exchange. Maybe, that's why they have such slow support. Mongolia is too far away in my world.
House
17 September 2019, 5:45 PM
I've been trading here since april and I'm quite satisfied with that. I like the look of the web site, everything is clear and understandable. They say, the traders often have the funds blocked but probably I'm lucky enough and my finds are fine.
BRADLEY
17 September 2019, 3:58 PM
THIS IS SCAM STAY AWAY I'M WARNING YOU
Michael
17 September 2019, 3:50 PM
Why my id is refusing all the time? I don't have another one. All this verification process is a diabolical quest. I'm lost on in the verification.
Alan
17 September 2019, 3:42 PM
I gotta say that is one the best exchange. There are a good variety of the pairs and small fee. It will be awesome if the support starts working faster. Nevertheless, the platform is doing a great job.

IDAX Exchange Reviews