Coinmetro Review 2022 - Is It Safe?
Aug 24, 2021
A cryptocurrency exchange works like a traditional exchange — clients compete in buying low and  selling high. CoinMetro is one such exchange, with the tagline "moving crypto forward".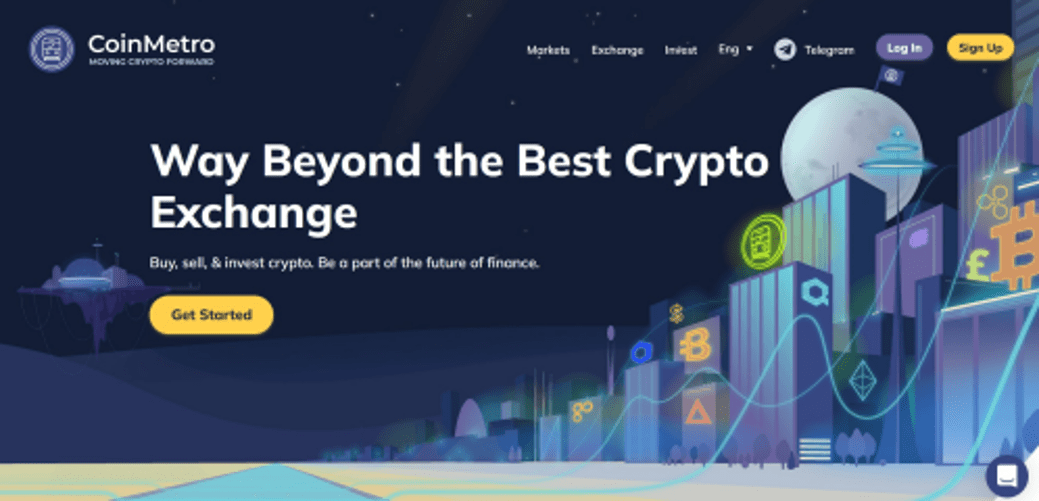 This CoinMetro review will go through all the CoinMetro features and answer the most common  questions, such as:
● Is CoinMetro safe?
● Is CoinMetro legit?
● What are CoinMetro fees?
● Is CoinMetro available in the US?
What is CoinMetro?
CoinMetro is an online market where users can buy, sell, trade, and invest in crypto. The exchange is funded by transaction fees converted into XCM – CoinMetro Token.
After completing the profile verification, you can check the markets for prices of 36 listed cryptocurrencies, including XCM. 
There is a referral option as well.
CoinMetro main features
The Twitter Sentiment gauge processes millions of tweets in real time to decide if the market is  bearish or bullish on any given crypto. The gauge is shown in the CoinMetro dashboard.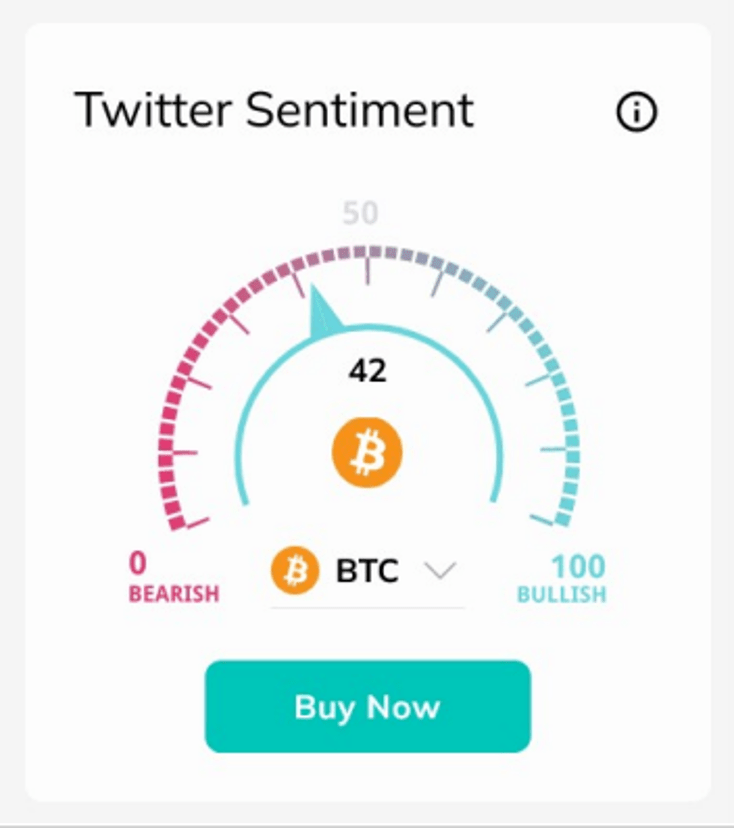 CoinMetro Swap lets you swap €5 to €500 or €2,500 of fiat held in your CoinMetro wallet for any  listed crypto plus WKDA (Wrapped Kadena Price), a gas currency used on the Kadena network. The  upper swap limit depends on the liquidity available. 
The Copy Trading feature mimics another person's trades. The trader you follow is paid only when you profit. This system discourages volatile and "bet the farm" trading. 
CoinMetro has a trading API, allowing users to tap into the cryptocurrency exchange data stream directly. More information is available at the CoinMetro GitHub repository.
CoinMetro deposit methods
Deposits are possible in fiat and crypto. There is a €500,000 monthly deposit limit for Tier 1 verification.
Supported fiat currencies are:
● AUD 
● EUR 
● GBP 
● USD
Accepted deposit methods are:
● SEPA bank transfer 
● ACH 
● SWIFT 
● credit/debit cards 
● cryptocurrencies
For credit cards, the deposit limit is €10–5,000 per transaction.
CoinMetro supported cryptocurrencies and countries
CoinMetro supports 36 cryptocurrencies and 182 countries, including Vatican City and Palau.  CoinMetro is available in the US.
The CoinMetro web page is available in English, Turkish, Chinese, and Swedish.
Supported cryptocurrencies are:
● BTC 
● ETH 
● XCM 
● INCH 
● AAVE 
● ALBT 
● BAND 
● BAT
● BCH 
● DNA
● ENJ 
● FLUX
● HTR
● KDA 
● LINK 
● LTC
● LUNA
● MIR
● OCEAN
● OMG
● PRQ
● PRQB
● QNT
● QRDO
● SNX
● SUSHI
● THT
● UNI
● USDC
● UST
● VSP
● VXV
● WHL
● WKDA
● XLM
● XRP
● XTZ
Cryptocurrencies have different pairings on the exchange. BTC can be bought with fiat and:
ETH
LTC
QNT
XRP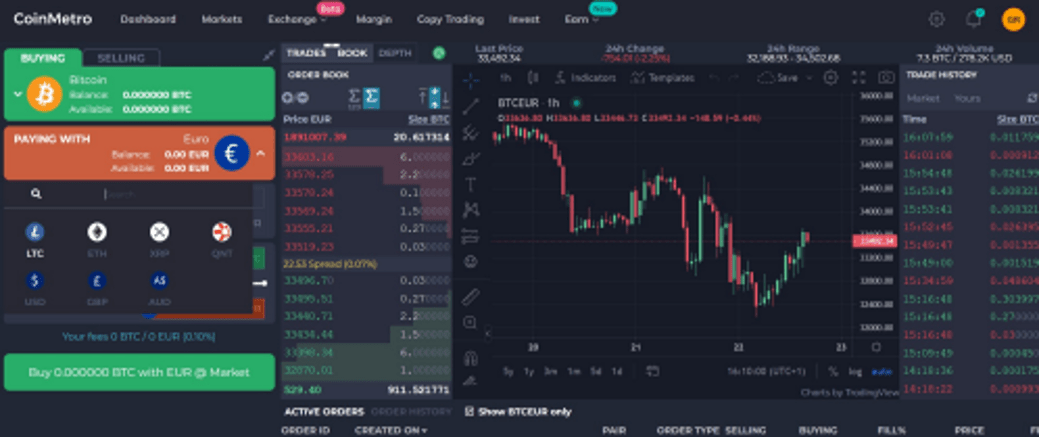 On the other hand, BCH can only be bought with EUR and USD.
CoinMetro fees
All CoinMetro trading fees are used to buy XCM, the exchange's token utility. Up to 50% of the token's purchase is placed in a vault, a cold wallet with a 4-year lock. The percentage of tokens vaulted depends on the exchange's performance.
CoinMetro trading fees 
CoinMetro trading fees are 0–25% depending on the feature used.
CoinMetro withdrawal fees 
Withdrawal fees are flat €1–50 when done in fiat. Crypto withdrawals have a 0.15% fee, with ETH and ERC-20 crypto also paying for the network fees out of the transaction.
CoinMetro leveraged trading 
CoinMetro allows up to 1:50 leverage when the trade is in non-deliverable OTC digital assets. At first, the leverage is capped to 1:3 or 1:5 when using the exchange's borrowed margin. The limit is raised on an individual basis and as the user builds a track record. 
In general, a diversified leverage portfolio is healthier than a non-diversified one.
CoinMetro Copy Trading 
You can mirror trades on the exchange, which is called "TraM" (Trade Mirror). This option is available  by clicking "Copy Trading" in the CoinMetro dashboard. There are public and private TraMs, with only  those vetted by CoinMetro going public. 
Anyone can start a TraM, with the 0–25% fee chosen by the TraM's manager. €50 is the minimal  amount to follow a TraM. 
CoinMetro KYC and AML process
KYC (Know Your Customer)
There is quite a bit of KYC, as explained in the related CoinMetro help article. CoinMetro requires personal and identity verification, with optional phone and address verifications. Personal identification requires you to:
• verify your e-mail address 
• give your first and last name 
• give a date of birth 
• state the passport country 
• choose a country of residence
After giving this info, you will be shown a QR code and told to scan it with your smartphone. This  starts identity verification:
• upload a photo of your ID (driver's license or passport) 
• make a selfie
Phone verification is through an SMS.
Address verification requires one of the following:
• insurance bill 
• utility bill
• bank statement 
• tax income letter 
• credit card statement 
• government-issued document 
To deposit with a card or withdraw fiat, you must verify your address. 
All edges of documents must be visible. Photos must be in natural light and in high resolution. US citizens will be asked to submit their SSN (Social Security Number).
All of the above is Tier 1 verification. For Tier 2, you must also supply a "source of wealth" document, which removes limits on deposits and withdrawals.
AML (Anti-money Laundering)
AML at CoinMetro is done through flagging an account for due diligence investigations. This means  the automated system checks accounts for:
• unusual withdrawal/deposit activity 
• connections to sanctioned or risky persons or entities, such as casinos 
• wallet exposure to dangerous websites, exchanges, and activities
If an account is flagged, CoinMetro's Compliance department reviews the account/transactions and assesses the risks. If the user is deemed to be too risky, the exchange suspends or terminates the account. 
CoinMetro security features
Two major CoinMetro security features stem from its partnership with BitGo, a digital asset custody company. As of April 2021, BitGo can secure more than $700mm in digital assets.
BitGo offers cold storage, where an air-gapped device holds the majority of the wallet's funds. When a transaction is needed, a temporary wallet is made and the needed funds transferred. In the event the platform is attacked, only the temporary wallet is exposed; the cold wallet assets remain intact.
The other feature is multi-signature transactions. BitGo holds one copy of the signature and  CoinMetro holds the other. To compromise any given transaction, an attacker would have to  compromise both backends.
CoinMetro has no phone support but there is e-mail and 24/7 chat support.
CoinMetro referrals
After completing the profile verification, you can earn a commission by referring other users to CoinMetro. The commission from your referrals is 40% of their trading fees; you get an additional 10% from second-level referrals' trading fees.
Is CoinMetro safe and legit?
Yes and yes. CoinMetro is licensed in the EU as an exchange. As of February 2022, CoinMetro holds active registrations with the US and Australian regulators.
Trust p ilot CoinMetro reviews give the exchange an average grade of 4.8 across 450 reviews. The few negative reviews have to do with older iPhones not being able to complete KYC and sketchy activity causing the account to be suspended.
The CoinMetro representative answered all the negative reviews in detail and with courtesy.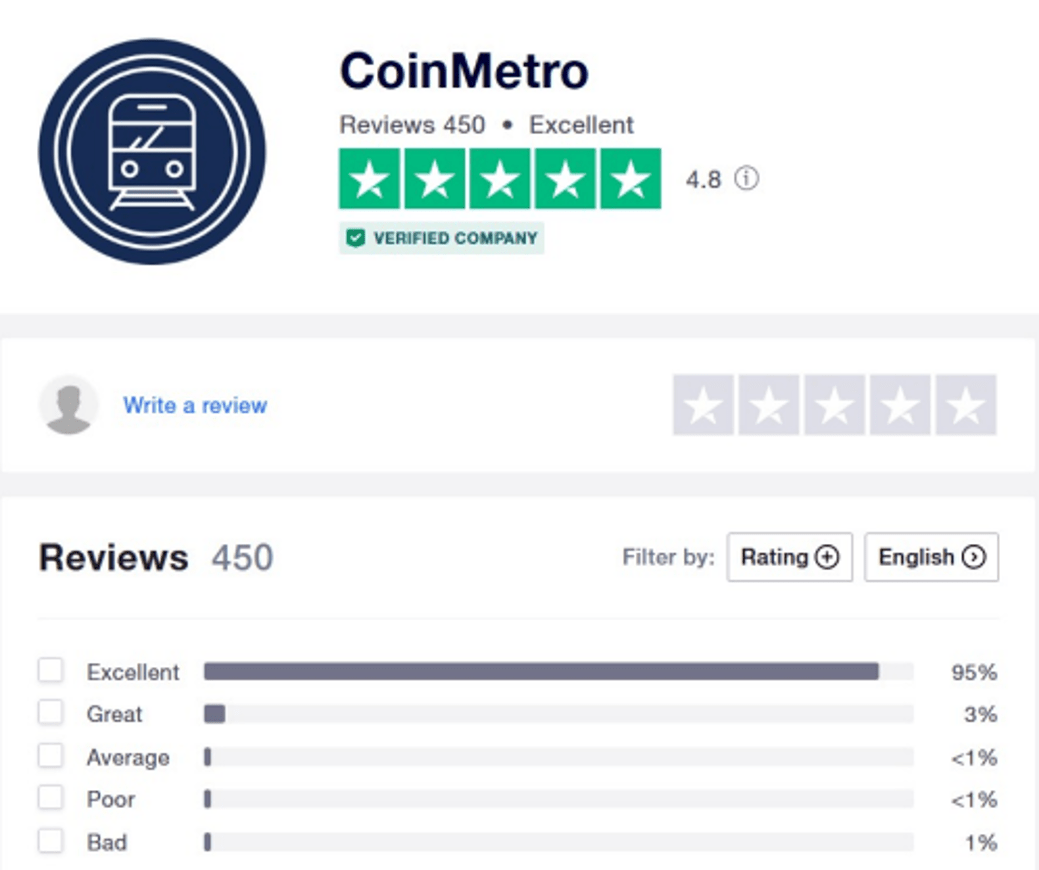 Conclusion
The CoinMetro platform is intuitive and has a clean interface. Trustpilot reviews show CoinMetro performs as expected by the users. There are some accessibility issues, with the interface being  mouse-driven and without any keyboard shortcuts. There is a dark mode toggle hidden behind the cog in the top right corner of the dashboard.
CoinMarket promotes not just trading but investment opportunities, too. CoinMetro allows staking as  a source of passive income. Users are encouraged to learn about upcoming projects and invest in  them with as little as €10.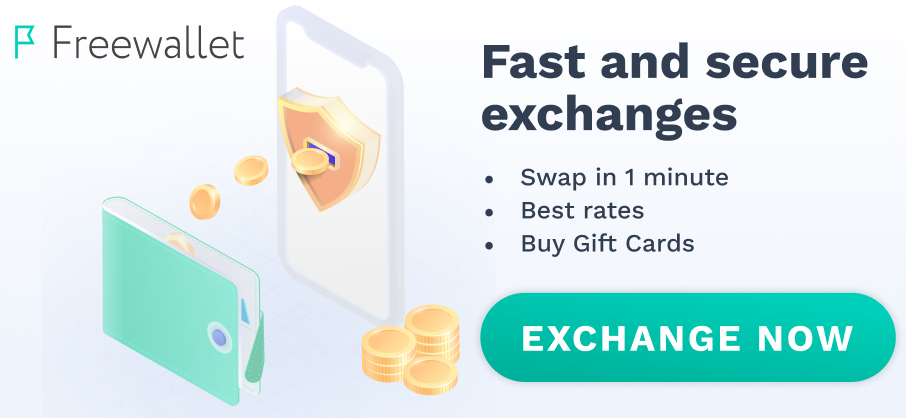 Jayda Mcknight
15 November 2021
I had several deals that got stuck in the process, and each time I had to resolve this issue through technical support. Perhaps the rest of the service is great, but I don't want to find out anymore