CoinGate Review 2021 - Is It Safe To Use?
Nov 23, 2020
CoinGate is a gateway cryptocurrency payment service founded in 2014 in Vilnius, Lithuania. The service can be used by merchants in order to make payments in cryptocurrency. CoinGate provides an opportunity to accept payments in around 50 cryptocurrencies with a flat 1% fee. Apart from cryptocurrencies CoinGate accepts EUR and USD so the customers that feel uncomfortable paying in crypto (or those who simply have no crypto) can pay with fiat money. Bank transfers, phone credits, and paying with debit or credit cards are also possible via CoinGate. More than that, the platform can be used to sell cryptocurrency. In this review, we will observe the main features of this platform and will try to figure out if CoinGate is a scam and is it safe to use it.
History
CoinGate opened its service in March of 2015. It took almost two years for the company to attract much public attention. The turning point was February 2017 when the platform started to accept bank cards to buy bitcoins. After partnering with ShapeShift later that year, CoinGate added around 50 cryptocurrencies to its list. This move has taken the platform to the next new level. By December of 2017, CoinGate started to work with SegWit addresses. It was reported of over 100,000 transactions by the end of the year.
Hooray! We are happy to announce that CoinGate has just reached another milestone - the 1,000,000th paid #crypto order!

It would have been impossible to achieve it without all merchants, shoppers and other #cryptocurrency enthusiasts that use our services. Thank you! 🎉🙏 pic.twitter.com/u7HEl2RQ7M

— CoinGate (@CoinGatecom) September 24, 2020
In 2018, CoinGate started its cooperation with Prestashop. As a result, merchants were able to start accepting cryptocurrencies using a CoinGate plugin. In September of that year, CoinGate became one of the earliest payment processors to implement Bitcoin Lightning Network transactions. It presented a new technology for thousands of online merchants globally. In 2019, the number of performed transactions on the platform has tripled. As of November 2020, the platform has done over 1 million transactions. The user base is around 184 thousand.
Main Features
The website is available in English and Spanish. There are over 100 supported countries and 50 national currencies on CoinGate. CoinGate aims to make the use of cryptocurrencies as simple as possible. For that purpose, the platform strives to be multi-functional so having a single account on CoinGate, one can perform all kinds of transactions associated with crypto, whether it accepting payments, exchange of currencies, storage, and so on.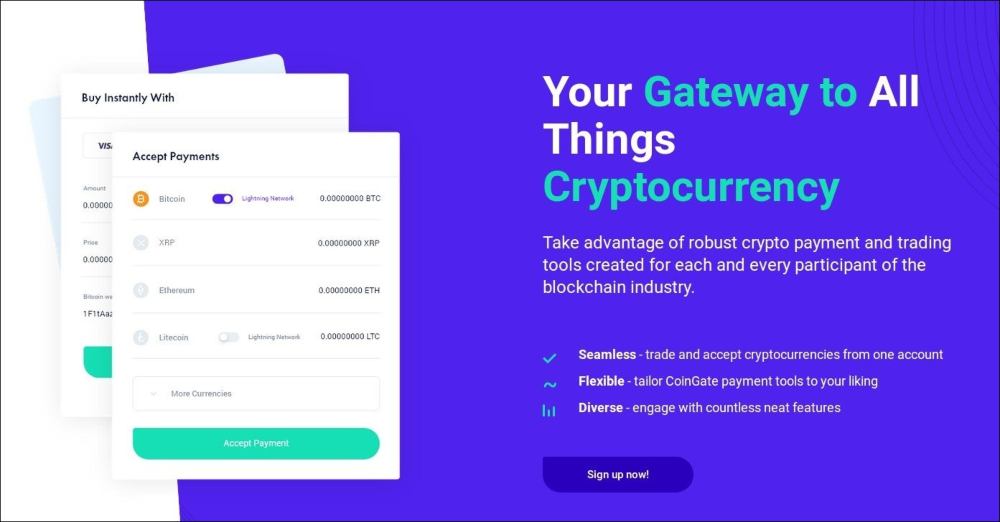 As for payment methods, CoinGate provides many options. The verified users can purchase cryptocurrencies via SEPA bank transfer. Moreover, the users that don't have a registered account are free to use instant payment services Skrill and Neteller. In several countries, verified users can use a direct bank transfer. In any country and without registration users are free to make payments via credit and debit cards. The registered residents of Asian countries can make purchases of cryptocurrencies via QQ Pay.  
Looking for an easy way to buy $BTC in this bullish period?
The easiest way is with a credit card at CoinGate!
With a simple & fast verification process, you can buy $BTC, $ETH, $LTC, $XRP, $NANO and other #altcoins quickly!https://t.co/euNsxU5VkN pic.twitter.com/mIjedwFtff

— CoinGate (@CoinGatecom) December 2, 2020
Among the crypto coins that can be bought with a credit card, there are BTC, LTC, ETH, USDT, XRP, BCH, DASH, BNB, XLM, TRX, ATOM, NANO, BUSD, PAX,  DAI, EOS,  and QTUM. If you look for more options, proceed here. Buying cryptocurrency is executed in a couple of steps. No account is required to buy cryptocurrency. The user only needs to specify the currency she/he is going to buy and insert the number of coins and provide a wallet address. It's important to remember about the limits: one can't spend less than $50 and more than $20,000 at once on CoinGate. When the coin and its amount are selected, one needs to proceed to checkout and fill out the billing details. The transaction is performed via Simplex. Then a short verification follows and the transaction gets finalized. Usually, it doesn't take longer than an hour.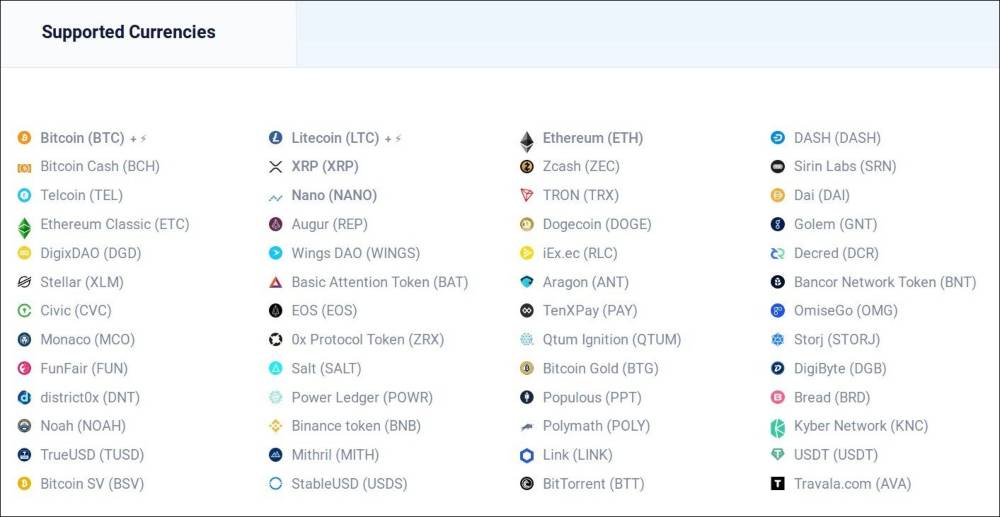 To accept payments in cryptocurrency, the users must be registered first. CoinGate merchant tools can be used both for online and brick and mortar stores. The customers will see the list of the currencies accepted by the shop and will need to choose the best option. Then, CoinGate converts the prices of selected goods/services to the chosen cryptocurrency and provides the final amount to the buyer. The merchant can opt to receive the payment in crypto, fiat money, or get the mixed payment.
Another feature available for CoinGate users around the globe is accepting crypto transactions through the billing service. The Business to Business crypto transactions or crypto payments between the merchant and a shopper can be requested and billed via email. In order to do any of these actions, one needs to create a new contract or pick one of the bill receivers from the list of past transactions. The product lists can be saved and the same payment info used repeatedly for numerous contracts. Invoices are created quickly and transactions are cheap. The bills can be sent via email or linked via QR code. The function is available on the dashboard and requires no coding skills. All the transactions can be tracked and monitored on the CoinGate dashboard. Billing service can be used for business-to-business interactions, for interactions with customers, and for accepting donations.
To send an email bill, one needs to sign up. Apart from signing up, the user is required to verify on the platform as a business. After the verification, the user should proceed to the menu and tap on the New Instant Bill button. Then the bill parameters can be configured in the popup window. The next step is adding a new payer. It can be done via the Add New button. Every payer info is saved so it is possible to reuse this info for sending the further bills. The only payer info that is obligatory is the payer's email address. It is possible to specify if the payer is an individual or an organization and add such data as first and last names (for individuals), location info, subscriber ID, etc. For more convenience, the bills can be named so the users will be able to distinguish one from another easily. Then, the user should choose if she/he is going to send a bill via email or as a QR code. The next thing that should be specified is the currency and the number of coins. The users are free to add more details. Then the bill can be created via the Create a Bill button. The Subscriptions section (it can be found in the Billing tab) is used to manage the recurring payments. There one can schedule future payments. 
Fees
The platform is aimed to live up to the "what you see is what you get" principle. CoinGate claims to have no hidden fees and be fully transparent in charging users. Merchants pay a 1% fee per transaction. Setup is free. Recurring fees are not charged. SEPA transfers and BTC payouts are free, too. Traders are charged a 3% fee. Moreover, traders pay 5% on top of the trader fee when using credit or debit cards. Trading on CoinGate requires no deposits as the assets are sold and bought via the user's own wallet. It's important to realize that phone payments are charged with fees by the service provider and carrier. The fees differ from provider to provider. The fees on CoinGate are quite high in comparison to most big exchanges which usually charge less than 2%. However, it is possible to earn some money via the referral program. 1% of fees paid by referrals go to the user who invited them.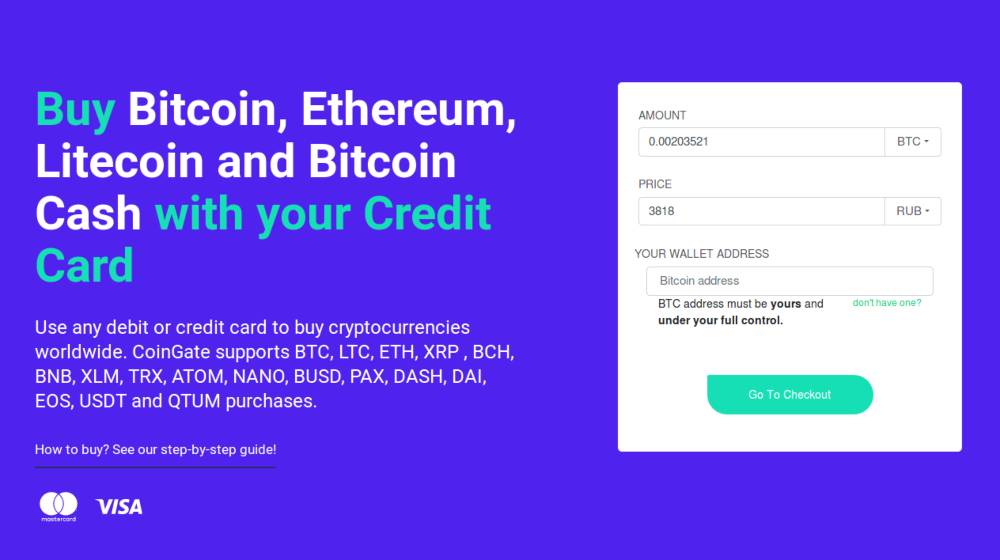 When withdrawing Euro via SEPA transfer users don't pay any fees. Withdrawals in cryptocurrency are free, too. When using the other payment methods, the fee can reach up to 1%.
Is It Safe to Use CoinGate?
The platform takes care of the users' assets keeping most of them in cold storage. On the user side, there is such a security option as 2-factor authentication. This protection measure is quite popular in the cryptocurrency sphere. More than that, 2fa provides a strong security layer that makes it impossible for anyone who doesn't have the user's mobile device to access the account, change the password or other critical settings, or withdraw the funds. Unfortunately, there are not many other safety measures offered by CoinGate. The requirement to verify the account can be regarded as an additional security layer as most fraudsters won't be eager to identify themselves for fear of prosecution. However, some of them are familiar with the ways to act without the need of revealing their true identities.
It is important to figure out is CoinGate a scam or a legit operation? There are quite many complaints around the web. While some people express satisfaction with their experience on CoinGate, others accuse the company of being a scam. People complain of the lack of transparency and quality customer support, some alleged users claim to lose their money while doing transactions. The authenticity of these reports cannot be checked without a firm proof-base however it is fair to say that different services have different volumes of scam accusations. Considering the correlation between negative and positive reports, it seems that CoinGate has some work to do. We cannot resume that CoinGate is a 100% safe cryptocurrency gateway.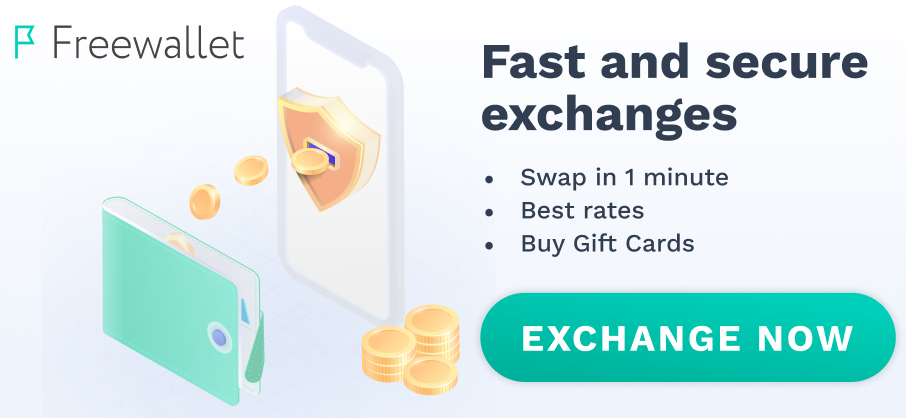 no. "helpers" are assigned that are either untrained or incompetent your bank account is raided via PayPal and if you manage to get that back you will not be able to withdraw your funds.
This service is really cool, I use it all the time.