Coinfalcon Exchange Review 2022 - Is It Safe?
May 29, 2020
Coinfalcon is a cryptocurrency exchange that is located in the United Kingdom, which offers its users a convenient way for trading virtual currencies with some of the lowest fees the industry has to offer.
In this Coinfalcon review, we are going to look at the various coins and payment modes supported, how to get started and whether it's safe to use the exchange.
Coinfalcon Overview
The exchange was launched in August 2017, and it's run by Jordan Steeves, who is the CEO. Information about the platform is hard to come by, and we couldn't find any other members involved with the exchange. 
As of the time of writing this review, the platform has a volume of $41,680, according to coinmarketcap.com, which is quite low but acceptable. In the past, the platform has spoken against the issue of false volume reporting by some other cryptocurrency exchanges.
If you are wondering if you can use Coinfalcon in the US, the answer is no!
The exchange is accessible by users from every nation around the globe, except for US residents. 
So far there are 15 cryptocurrencies supported on the platform including Bitcoin (BTC), Bitcoin Cash (BCH), Ethereum (ETH), Litecoin (LTC), Eos, TetherUs (USDT), Ripple (XRP), Iota (IOT), Cardano (ADA), Tron (TRX), GreenPower (GRN), Dogecoin (Doge), Data TX Token (XD), and Electra (ECA).
Being a global platform, the exchange also supports several fiat currencies. The full list can be seen on the bottom part of the home page. 
On the exchange, deposits can be made through cryptocurrencies, bank transfers, and credit/debit cards.
Advantages
A very user-friendly user interface

There is a $10 referral fee if you invite a friend

The FAQ section is well detailed with articles that answer all type of questions users may have
Disadvantages 
Few crypto coins are supported on the platform

US citizens are not allowed access to the platform

Low liquidity

Only one stable coin is supported
Coinfalcon Fees
When it comes to fees, the exchange states that the buy and sell fees are calculated internally and vary depending on the method one is using. 
For credit/debit card, the fee varies depending on the card type and the country one is based. 
As for cryptocurrencies, there is no Coinfalcon deposit fee charged; however, the full list of Coinfalcon withdrawal fees can be seen below.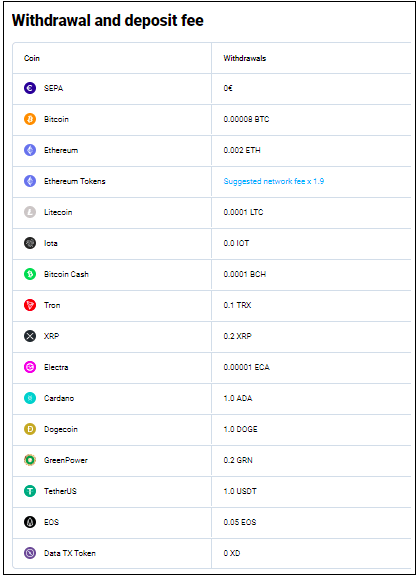 When it comes to the advanced view and the API fees, Coinfalcon says that they depend on your current volume. 
There is also a discount on fees depending on the number of trades a user has made. The discount is calculated for every trade a user makes and applies instantly the next time a user makes a trade.
There are also taker and maker fees involved on the platform. Here the fees charged depends on the user 30-day BTC volume.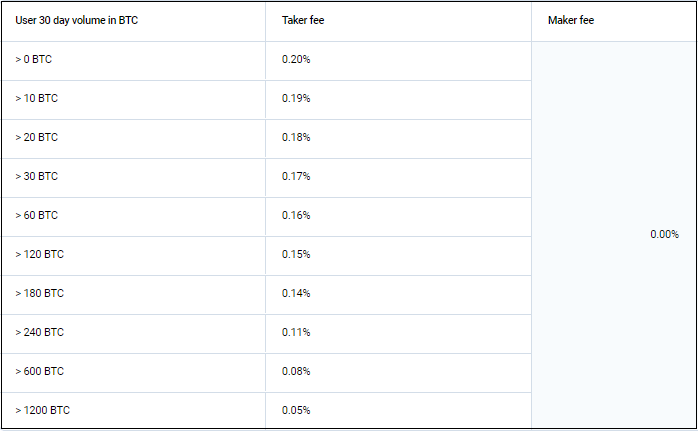 API
The platform's API can be accessed through the API Access section, where one is required to add a new key to gain the ability to build applications using the API.
How to Use Coinfalcon Exchange
To sign up visit the official website of the platform at coinfalcon.com and click on the get started icon.

Proceed to enter personal details, including your name and setting a strong password and click on create an account.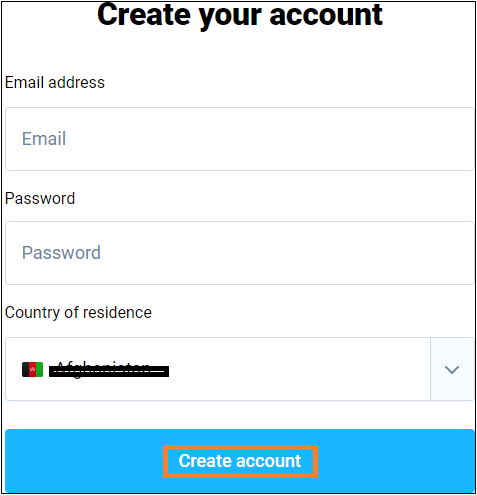 Visit your inbox and verify your address through a link that was sent there: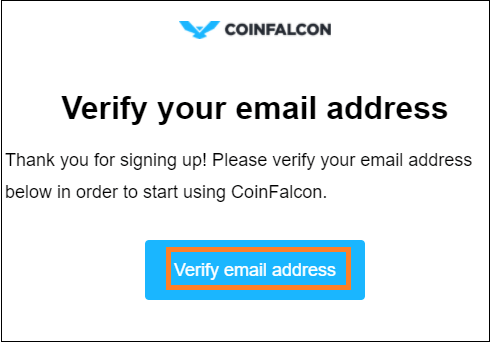 On the top right corner, click on "My Account" and proceed to select "Verify Account." This will allow you to be able to deposit and withdraw on the platform by linking a bank account or linking a credit/debit card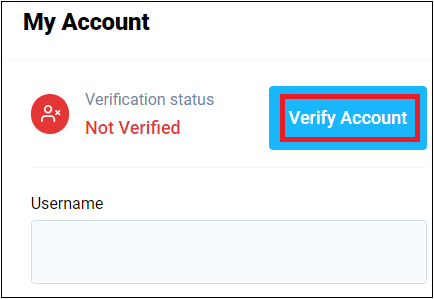 In order to prove your identity, select between an ID card, passport, and a driving license, and upload the front and back of the document with the picture clearly visible.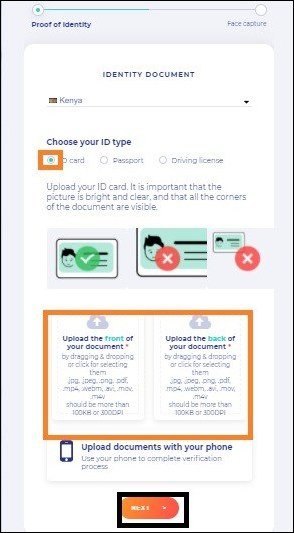 Then complete the process by submitting a picture of your face.
With your account verified, now its time to make your first trade. Click on the "Trade" tab where you will see the various crypto coins that are on offer.
To make a purchase, you have to deposit funds to your account through a credit/debit card, which allows for instant deposits. There is also the option of bank transfer, which can take between 2-3 business days or the option of cryptocurrency, which takes 0-4 hours. Crypto deposits can be made through any of the fifteen coins supported on the exchange.
After depositing funds into your account, you can now make your first purchase.
Once you have your cryptocurrency, you can proceed to the "advanced" section of the exchange where you can trade your coins against BTC, ETH, EUR, and USDT. This section offers a detailed interface complete with charts, order books, trade history, etc.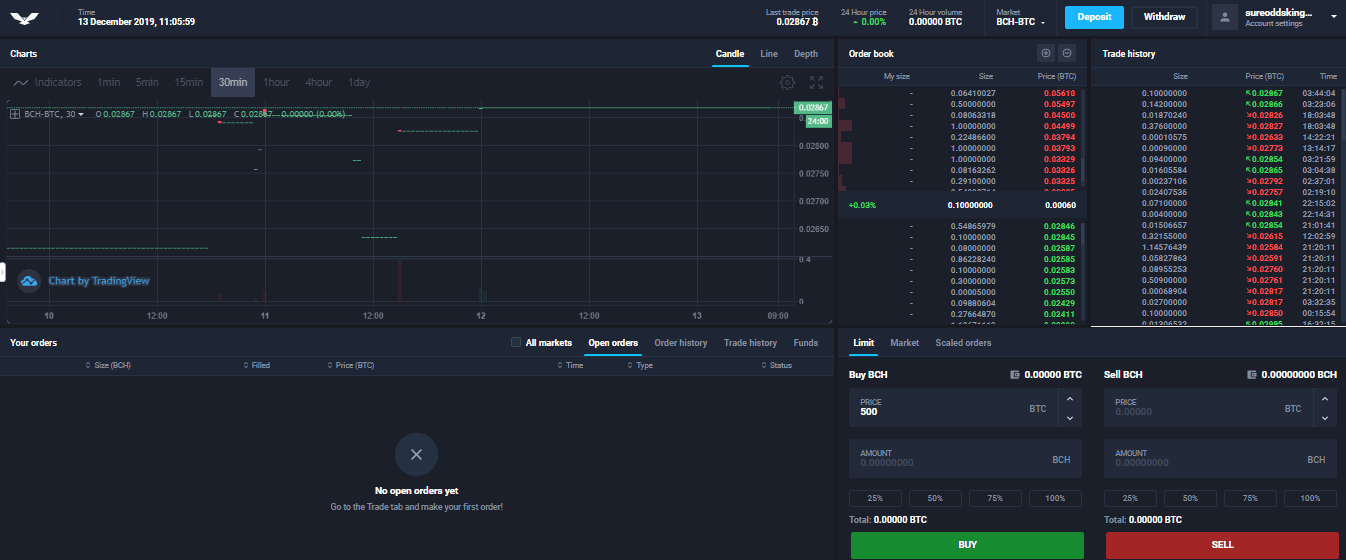 Customer Service
Coinfalcon exchange has a support section where various articles have been published that answer some of the most frequently asked questions from withdrawals, deposits, issues related to the user account, buy and sell queries, and other general questions. 
If you can't find help in that section, you can contact the exchange through email or live chat.
Frequently Asked Questions (How to Deal With Everyday Problems When Using the Exchange)
The platform has split the FAQ section into five categories with articles that answer withdrawal, deposit, account, general, and buy & sell questions.
To give you an idea of the kind of questions that are frequently asked, on the withdrawal section, users mostly ask about withdrawal limits to which the exchange says that it doesn't have any limits.
In the general section, there are questions like how can one get a coin listed on the platform to which the exchange responds by directing the user to a section where they can fill a coin listing form.
Is Coinfalcon Safe? 
This Coinfalcon review wouldn't be complete if we didn't access if the exchange is safe or not. 
When we did our research, we found that there were mixed feelings about the exchange online. 
Some people seem very pleased with the platform, while others believe that it still has some room for some improvement if its to compete with the top exchanges. 
On one review platform, the exchange scored a 2/5 based on 32 user reviews. One particular user who goes by the name bacem seems to have lost 0.6 BTC on the platform, and even after reaching out to the exchange to understand what was going on, he wasn't given the assistance he sought. 
Also, there is another user who claims to have lost IOTA worth over 7,500 euros after a series of transactions were carried out without his knowledge. 
And since the exchange charges fees every time a transaction takes place, so many transactions were done until his balance was reduced to zero, with the overall winner being Coinfalcon. 
After reaching out to the platform's support, they were not very helpful.
Based on our assessment, whoever wants to try Coinfalcon should be very careful, given that several past users claim to have lost funds on the platform.
Conclusion
Coinfalcon exchange offers several perks, including an easy to use UI and the ability for all people around the world, except for the United States, to be able to trade cryptocurrencies. 
However, the limited number of cryptocurrencies is of concern. Also, the unexplained loss of user funds raises scam issues, and any user that considers trying this platform should be cautious.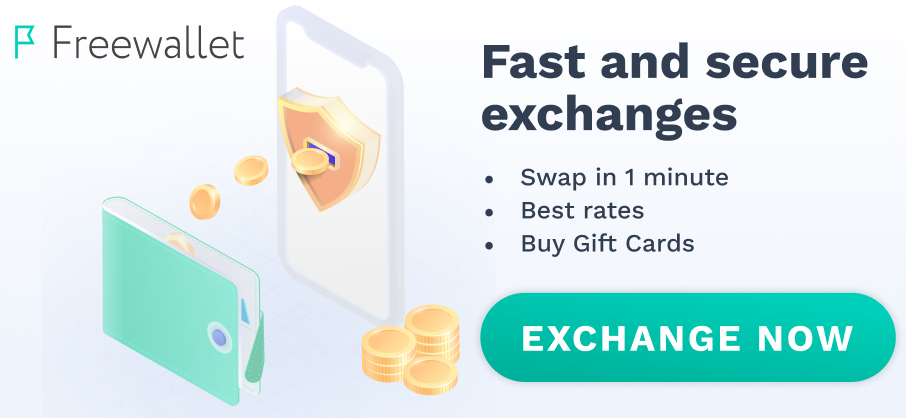 Ladrones en potencia. Se quedaron mi transferencia Fíat y responden que no les ha llegado. Nunca vi un negocio tan turbio y tanto sinvergüenza junto. briranicos con ansia de robar con sede en Lituania, fuera de la UE y su espacio económico, olvidate de denunciar, lo tienen todo muy bien atado.
Unos auténticos sinvergüenzas. Os robarán si compráis en este exchange. Os dirán que tienen problemas con la cripto que queráis retirar. Os tendrán un mes con las criptos retenidas y os harán cambiarlas con otras y ahí perderéis una gran parte de vuestras criptos. Sin lugar a dudas unos ladrones
Un auténtico fraude. Me han tenido retenido cerca de un mes un retiro de unos 1700 Ada y nada. La única opción q me daban era cambiarlos a otras criptos. Después de esperar, como digo cerca de un mes he tenido que cambiarlas. En el proceso me han robado, porque no se puede llamar de otra manera, unas 300 adas.
No entréis en este exchange os timaran
medman braz
28 April 2021
I was not informed about the IOTA migration(that they do not support), support said they send a email regarding this... that is a lie , they just steal your money 💰. Very bad
The exchange has one problem, it's a pretty big spread between buy and sell price. At a first glance, its not so bad, but if you're an active user, it could be a tangible issue. In general, I have no complaints, just that.