CoinEgg Exchange Review 2021 - Is It Safe?
Full address:
Hunstanton Avenue, Birmingham, B17 8TA, United Kingdom
Fees:
Trading:
-Maker: 0.10%;
-Taker: 0.10%.

To access the full detailed fee schedule, please visit https://support.coinegg.vip/hc/en-us/articles/360005345013
May 29, 2020
CoinEgg is a UK-based cryptocurrency exchange founded in 2013. It has a few markets including BTC, ETH, EUSD, and USDT. The exchange doesn't support fiat currencies and provides not much information in charts/graphs. The interface is quite simple. It supports English and Chinese languages. The users are provided with such standard graphs as a candlestick chart and a market depth chart, prices (including 24 hours high and low) and 24 hours trading volume. Margin trading is not supported on the CoinEgg exchange. The exchange has Android and iOS mobile versions, but most people use a web-version. This platform has one of the biggest reported trading volumes (although different algorithms provide different valuations). The residents of the United States and some other regions can't trade on CoinEgg.
Key Features
The first thing that one notices when seeing CoinEgg is an intuitive interface. It is one of the reasons why this exchange manages to keep its place in the industry for that long. Another possible reason is the good choice of supported currencies and ICOs. The total number of these currencies is not so big (around 40), but the selection has always been on point. Some of the supported coins are quite rare. It's understood that some of the rare instruments have relatively low trading volumes.
Get profits with HODLing on Binance Earn
This exchange doesn't provide too much chart information. One won't find here anything besides a candlestick chart, market depth chart, and some peaking numbers. That can be seen as a drawback. Experienced traders might wish to have more market information and tools for a deeper analysis, but CoinEgg has nothing special to offer them. Nevertheless, the info that can be obtained from the website is the most necessary data, and for some this info could be enough.
Moreover, such important tools as limit orders and stop losses are not featured on this platform, too. It means that traders risk more when they trade on this exchange. However, all the existing functionality is working smoothly.
All the supported cryptocurrencies can be traded against BTC, a fewer number of coins can be traded against USDT, less than 20 coins can be traded against ETH, and only ETH and BTC can be traded against a stablecoin EUSD.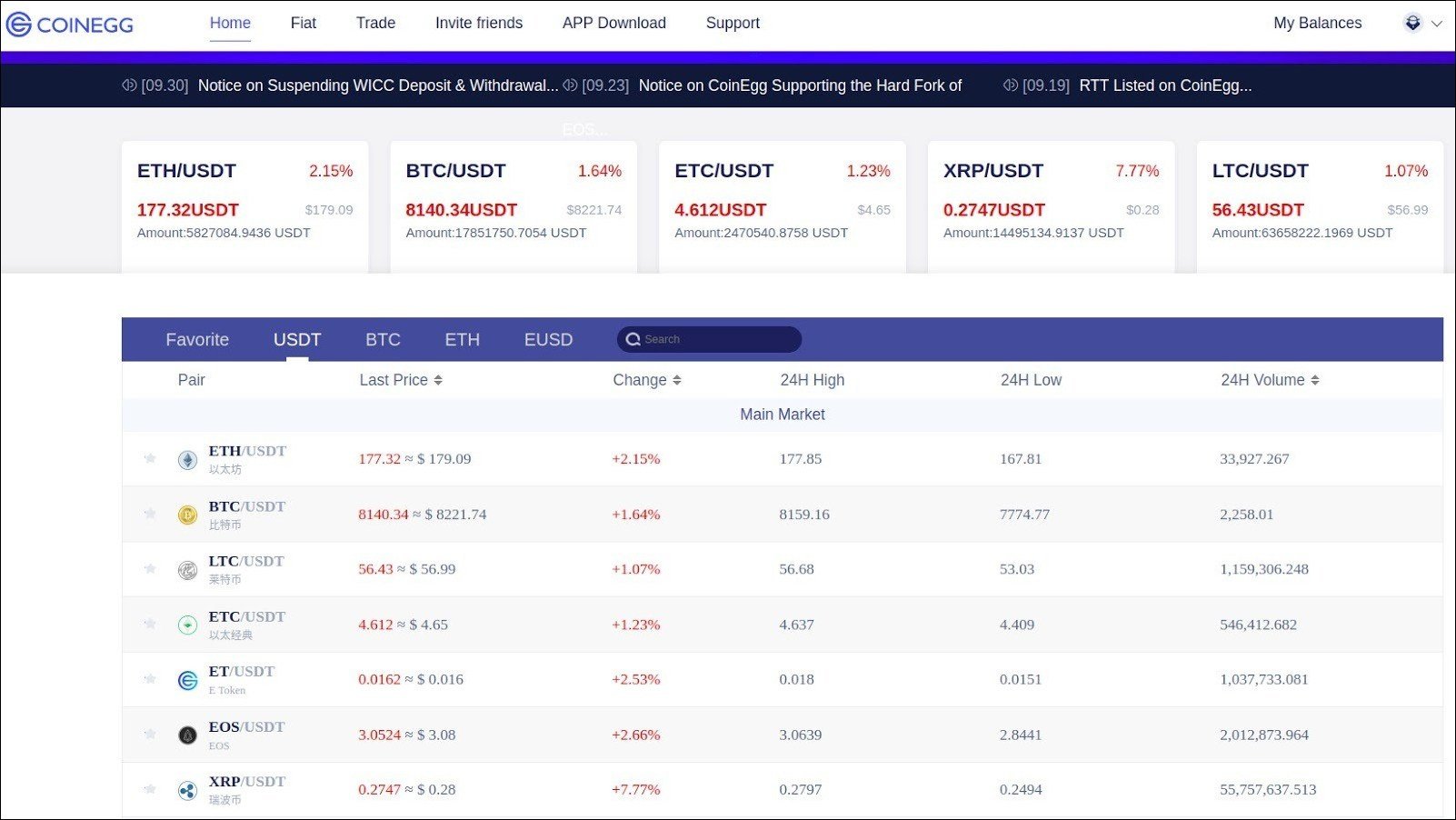 CoinEgg Fees Review
The fee policy of CoinEgg exchange makes this platform competitive. The exchange charges only 0.1% trading fees both from makers and takers. Some regard the low trading fees to be the best trait of this platform.
The withdrawal fees are quite different for different assets. It is stated that the withdrawal fees are set to be as low as the network fees. Some of the fees are flat (for example, bitcoin transactions are charged with 0.001 BTC, LTC transactions cost 0.001 LTC, ETH transactions are charged with 0.01 ETH fee, and 0.002 BCH are collected for BCH transactions) while for withdrawal of some of the other currencies the platform charges a certain percentage (for example Ripple transactions cost 0.3% while Doge is 0.5%).
Like many other cryptocurrency exchanges, CoinEgg doesn't charge anything for depositing money. It's important to remind that this platform doesn't support fiat currencies.
Registration
The registration process starts with the list of the countries prohibited from participating in trading on EggCoin exchange. The list includes Bangladesh, Bolivia, Ecuador, Kyrgyzstan, Hong Kong, Iran, North Korea, Syria, Sudan, and the United States of America [including Puerto Rico, American Samoa (not Samoa), Guam, Northern Mariana Islands, and the US Virgin Islands (Saint Croix, Saint John, and Saint Thomas)].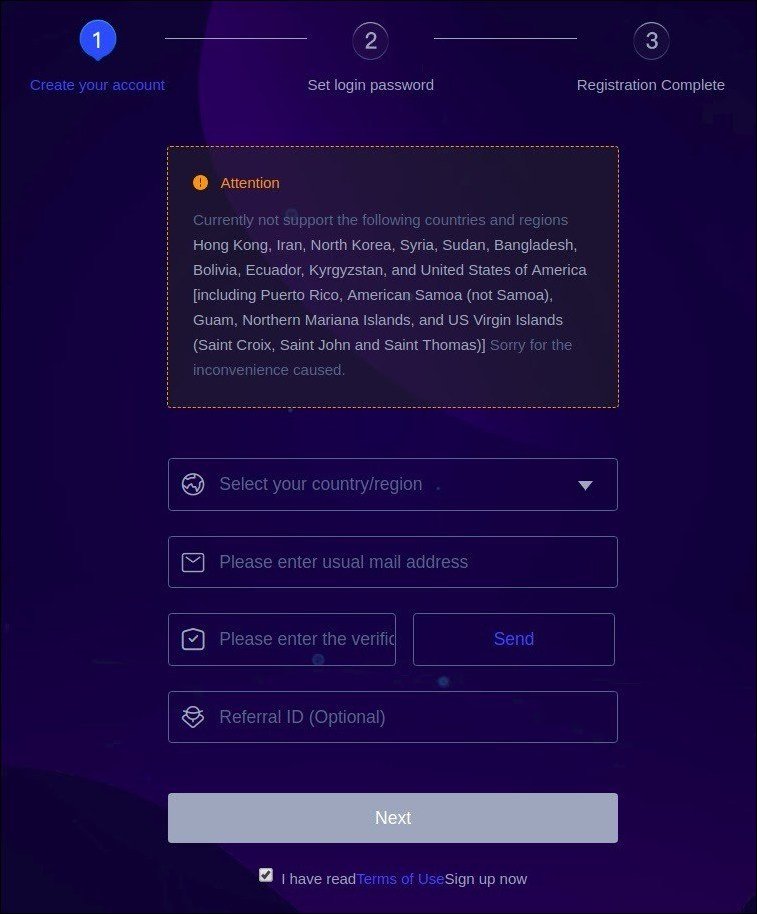 The first info that potential user is required to enter is the country of residence, the next thing is the active email address, and finally Referral ID (optional).
After receiving the verification email and entering the code from this email one needs to create and confirm the password. When the password is set the website recommends turning on the protection measures. It is hard to underestimate this recommendation because it is vitally important on any platform dealing with money to set all possible security measures. What is especially good is that the user is not allowed performing any actions on the exchange before taking care of the protection of the account.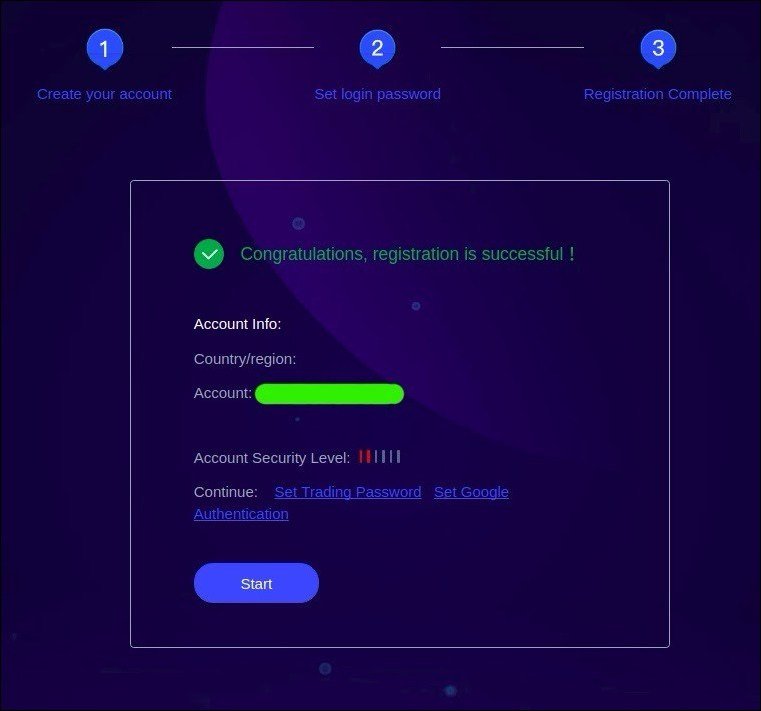 Security Features
We can't say that this exchange offers a lot of security tools although it seems that these features if enabled provide enough protection. Of course, it's better to stay conscious about possible risks and keep out of possible phishing websites, do own research before starting to interact with any unfamiliar project, and so on.
To not let strangers in one's account the CoinEgg users might enable the following features:
1. Trading password. When set this password is requested to perform actions associated with trading. It can be the letters in upper and lower register and numbers (8 to 20 characters).
2. Identity auth. This step is a kind of a KYC procedure. In some older CoinEggs reviews, it is stated that this exchange is not regulated however it seems that these things have changed. In order to perform an identity auth, one is required to share such info as the residence, real full name, ID card/passport or driver's license, and the document number. Besides that, it is required to upload a number of photos. There should be three photos (front and back sides + handheld) of the Card Document and at least three photos (front cover, contents, and handheld) of the Folder Document. The photos should fit the following requirements: the letters must be clearly readable and the size of each file should not be more than 2 MB. The review of this information takes about a couple of business days. A verified account is a harder target for bad actors because it's almost impossible for them to provide any of this data.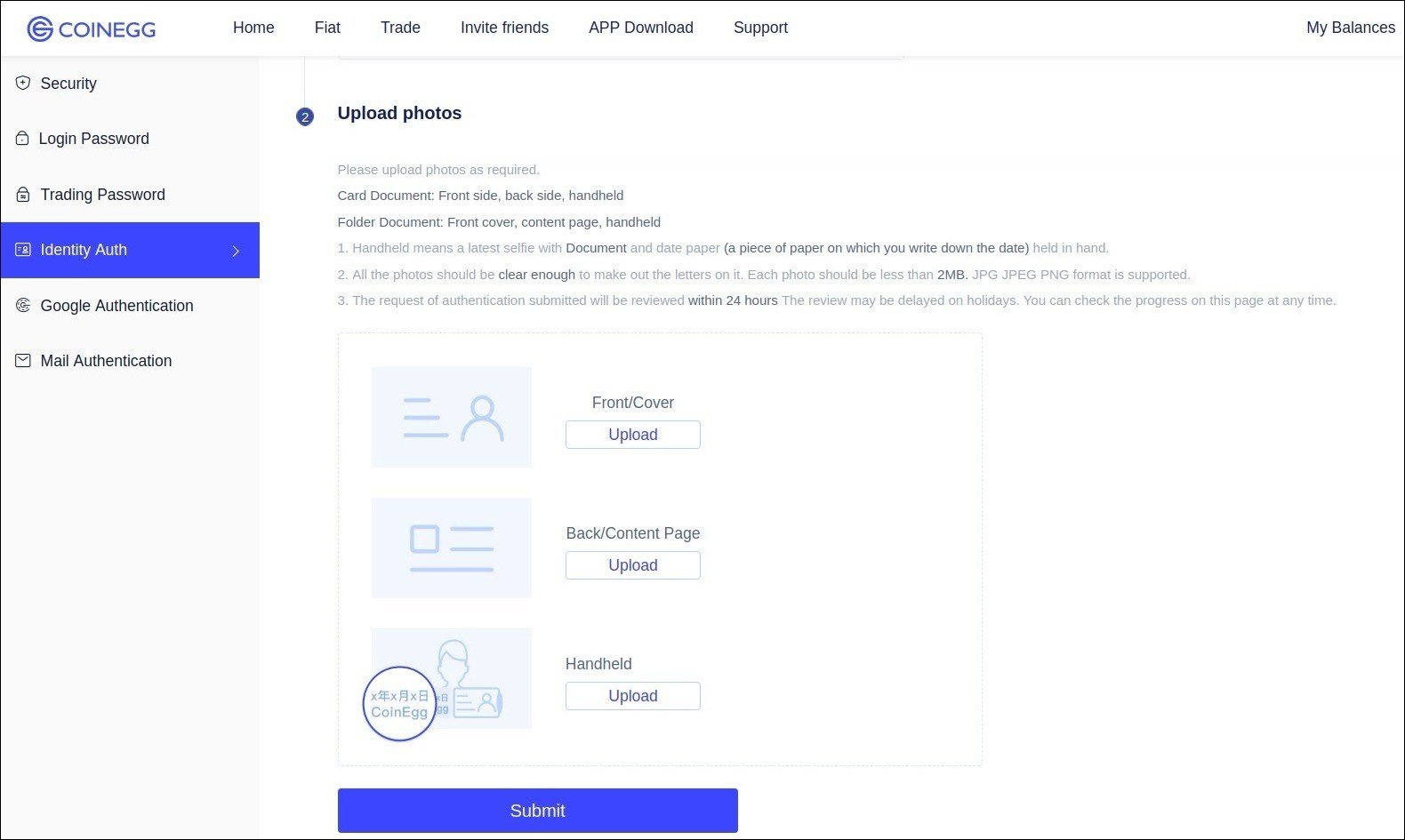 3. Google Authentication. On some platforms, this protection measure is called 2-factor authentication. This tool is aimed at making it impossible to enter an account and withdraw funds without having the account owner's mobile device. The user should install a special app (Google Authenticator) on the mobile device. This app is generating the unique temporary (30 seconds) codes which are requested by the exchange for the performance of withdrawals or to enter an account.
4. Mail Authentication. This security measure is activated automatically. To confirm actions users perform on the exchange, he/she should obtain a code from the email sent by the platform each time. The number of allowed associated mail addresses is limited to only one address.
In general, this (quite standard nowadays) set of protection features is quite a solid basis for the security of the account and the assets. If the user visits websites with caution and doesn't share any data that can be used to break into the account to a third party, the assets are rather will be kept safe. The rest of the job is the duty of the exchange.
Is CoinEgg Safe?
To date, there is no information confirming any successful attempts to hack this exchange. It means that the team behind CoinEgg is effective in maintaining security. We can assume that the team that managed to keep the platform safe for 6 years, will be able to continue successfully protecting the user data and assets for the future as well.
Nevertheless, some users face troubles while trading on CoinEgg. It's important to understand if these troubles are systematic and if the support team is doing enough to solve these problems in time and help users.
There are negative posts in some Reddit threads dedicated to trading experience on CoinEgg. The headlines may sound terrible ("do not trade there", "can't withdraw from CoinEgg", etc), but a closer look will make it clear that some of the accusations are based on rumors or some misunderstanding, while others are associated with the problems originating from the lack of attention to the terms of use. For example, one US citizen was struck by the inability to withdraw his assets without identity verification. The US citizens cannot use CoinEgg, but this person didn't pay attention to it. Nevertheless, admins of the exchange were trying to help this user. Some other users were calling CoinEgg a scam only because they couldn't withdraw their coins for several days because the wallet was temporarily blocked due to tech maintenance. Other accusations were caused by the annoyance of the user who didn't feel like verifying his/her account. That was the reason why this user recommended not to use this exchange.
Some better-reasoned claims are related to the extended time periods needed for verification, withdrawal of funds, and other actions. It seems that the company is not going to fraud anyone, but rather experiences some tech issues at times. It would be a terrible mistake to regard this flaw as a unique problem of CoinEgg. In general, we can say that using CoinEgg is rather safe, than not.
Conclusion
This platform won't necessarily fit the long-time traders who got used to rely on the sophisticated graphs provided by the exchanges and wisely protect themselves from losses via limit orders, but for novices, it may be simple and welcoming enough. What really matters is that CoinEgg provides all the needed tools to secure the account and takes care of the safety of its servers.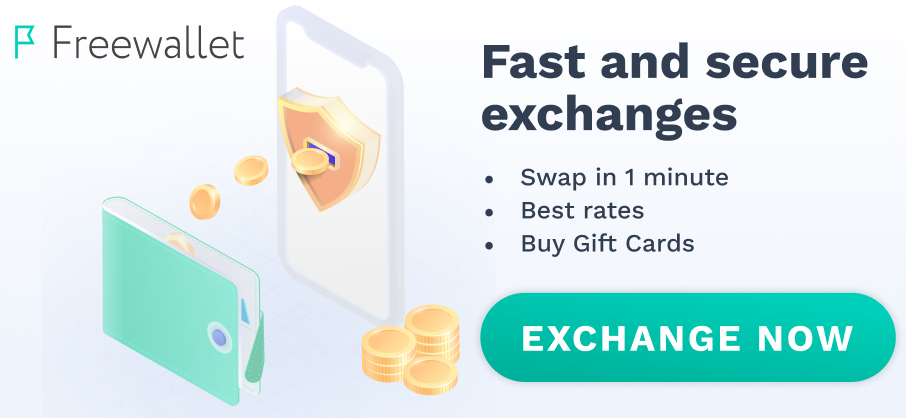 SCAMMERS - Just a bunch of low life crooks. Scam Exchange, Run Away, Fake Profits, Fake platform & you won't be able to withdrawal any funds. They are holding my funds Ransom.
Terrible Can not see my balance.
They keep asking me show original. Ok thanks
Warning on God DO NOT PUT ANY FUNDS INTO COINEGG. I COULDN'T ACCESS MY ACCOUNT FOR 3 YEARS. ASKED CUSTOMER SERVICE FOR HELP AND THEY CONTINUED TO LIE TO ME ABOUT RECEIVING PASSWORD RESET. I WAS ABLE TO FIND MY PASSWORD. I LOGGED INTO MY ACCOUNT AND SAW I HAD A BALANCE OF 8K IN CRYPTO. I LOGGED IN THE NEXT DAY AMD IT WAS 0$. THESE FUCKBOYS STOLE MY MONEY. NOW CUSTOMER SERVICE IS INACTIVE.
scamsters ..unable with withdraw in 2021
Patrick Ormiston
1 December 2020
Have been fighting 2 years with. Proved my case they offered me 500.00 for the .24 btc their system put in the wrong account. Read reviews from other sites https://forexbrokerz.com/brokers/coinegg-review
They are not based in UK ...maybe registered. Twitter rep I contacted as per website asked me for money to fix problem. Online rep lied to me on two occasions and gave me a fake txid. have it all documented. Read up I would never use them. Lost a lot of money , time, and faith in people being honest. They definitely have people on staff out for their own interests.