Coindirect Review - Is It Safe To Use?
Aug 18, 2021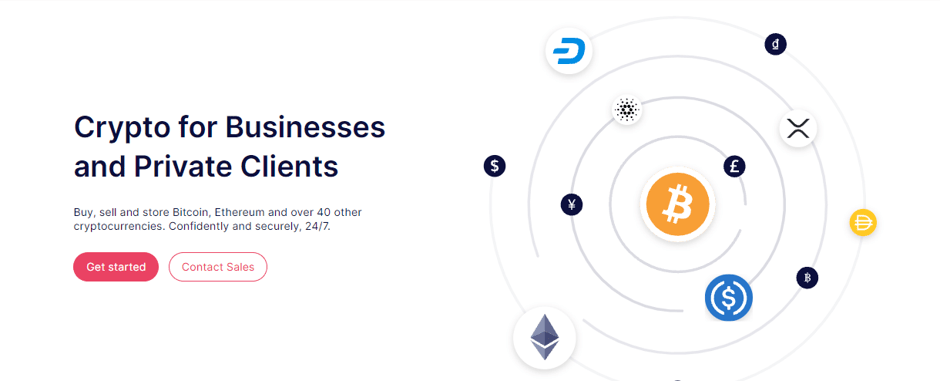 Contents
With this review of Coindirect, we want to provide you with comprehensive info about this English exchange that focuses both on individual users and merchants. 
But there is especially one question we want to answer: is Coindirect safe to use?
Before answering, we will provide you with useful information about this cryptocurrency exchange. First off, you will discover what Coindirect is, where it is based and the team behind the project. 
Then, we will proceed giving you information about the features of Coindirect. We will also focus on fees, to let you make an informed decision. For this reason, we will also highlight pros and cons of this crypto platform. 
But to answer the main questions - Is Coindirect safe to use? Is it a scam? - we will tell you how its verification procedure works, what are Coindirect's licenses and security solutions. 
Keep reading to discover everything you know about this platform!
What is Coindirect?
Coindirect is an exchange that allows both individuals and businesses to profit from cryptocurrencies, both exchanging them or by using cryptos as a payment gateway. 
The company is focused on providing crypto exchange services: traders can operate on the platform choosing among 40 cryptos, while businesses can even join the group by getting white label services to integrate crypto exchanges with their own platforms. 
Where is Coindirect Based?
Launched in 2017, Coindirect is based in London, but it has offices also in South Africa. 
Coindirect operates all over the world: Africa, America, Europe and Asia are covered, the only difference you may experience according to the country is the fact that limits are different. 
In fact, limits are divided into Tier 1 and Tier 2, as you can see in the image below:

We will discuss limits in detail in the Fee section of this article. 
Who Is Coindirect CEO?
The British and South African identity of Coindirect is maybe the result of the experience of its CEO, Jesse Hemson-Struthers.
This investor and entrepreneur is also the co-founder of Balfour VC, the technology group launched in 2017 that worked on the creation of Coindirect, Infinity Group, Next and many other companies. 
As they state on their website, all the companies of the group are self-started and self-financed. 
The group is made up of smart entrepreneurs who clearly show who they are and what they do. Also on the website of Coindirect you can find the whole group of leaders who created the platform, along with their social profile - and this is usually a sign of reliability. 
Coindirect Features: Overview
Coindirect allows users to buy cryptos both by funding their fiat wallets or by buying them directly with a credit card. If you already own the cryptos offered by Coindirect you can easily transfer them to the platform. 
Coindirect also offers a service that allows users to automate Bitcoin arbitrage, mainly based on transfers made between Europe and South Africa. 
For what concerns businesses, Coindirect also allows them to use its services as a crypto payment gateway, by converting crypto payments into a chosen fiat and avoiding market volatility. 
Both private users and businesses can require Coindirect's virtual IBAN, to make international transactions even more easily. 
Coindirect Fees and Limits
The fee structure of Coindirect is pretty easy to understand. 
No fees are applied to wallet transactions, but for what concerns the marketplace Coindirect makes a difference between customers and vendors: while customers will have no fees, vendors will pay a fee of 0.5%. 
Credit card fees are the same for everyone, and correspond to 2.99%. 
A con of Coindirect is that it has inactivity fees: €5 will be charged on the first day of the month if you made no transactions in the past 3 months. 
For what concerns limits, we showed you that there is a difference between Tier 1 and Tier 2 countries. An additional difference is made for users in South Africa. All users are differentiated also according to their verification levels. 
Limits are listed in ZAR (South African rand), the national currency of South Africa, and Euros.
South Africa
The 90-day limit on wallet purchase is 15,000 ZAR for level one users, while the daily limit is 500,000 ZAR for level 2 and level 3 users. 
For card purchases, the 90-day limit for level 1 users is 1,500 ZAR, while the daily limit for level 2 and 3 is 50,000 ZAR.
Tier 1
The 90-day limit is 1,000 EUR on wallet purchases and 500 EUR for card purchases. Level 2 users have a daily limit of 15,000 EUR on wallet purchases and 3,000 on card purchases. Level 3 users can spend up to 200,000 EUR on daily wallet purchases and 3,000 EUR on card purchases. 
Tier 2
Level 1 users have a 90-day limit of 500 EUR on wallet purchases and 250 EUR on card purchases. Level 2 users can spend up to 10,000 EUR daily on wallet purchases and 500 EUR on card purchases. Level 3 users have a daily limit of 100,000 EUR on wallet purchases and 500 EUR on card purchases. 
Coindirect Verification Process
The first step when you sign up to Coindirect is to select your country. 
After this, the platform will ask you a couple of questions, to test what your activity on Coindirect could be:
How much will you invest over the next 30 days?
How much will you invest over the next 12 months?
Once answered, you will be able to create your account.
Add your email
Create a password
Accept Terms and Conditions
Confirm your email 
Add your personal details: name, phone, date of birth
Add info about your residential address
At this point, you will find three different levels of verification that will allow you to increase your transaction limits.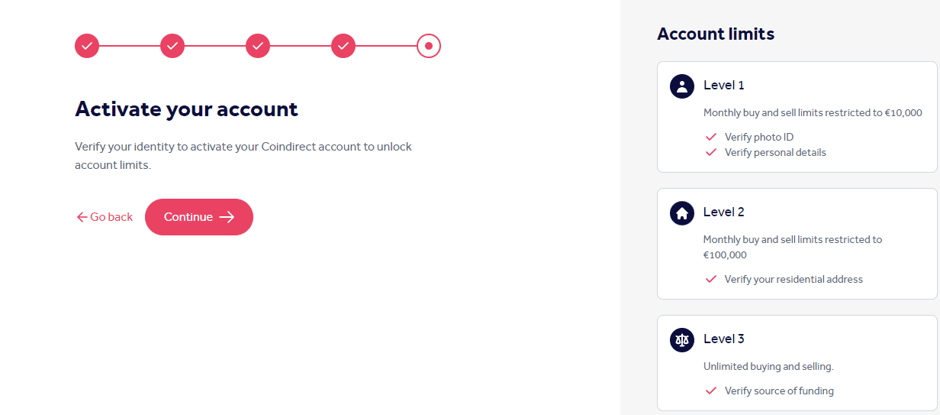 Level 1: to pass this level you'll need to verify your personal details and your ID with a picture. This first level allows you to get a buy and sell limit of €10,000/month;
Level 2: this level consists of a proof of address that will increase your limits to €100,000 per month;
Level 3: here you have to verify your source of funding, that will give you access to unlimited transactions.
You can decide to pass these levels right after you add your personal detail or in a different moment. In any case, you'll get access to the platform and you'll be able to discover all its functionalities. 
Coindirect Pros and Cons
Pros
Coindirect operates all over the world, it offers a crypto gateway and it has an easy-to-understand fee scheme.
Cons
Coindirect has a higher first deposit if compared to other platforms (€500). Moreover, it has dormancy fees.
Is Coindirect Safe and Legit?
Coindirect apply security measures like verification levels - to be compliant with national and international regulations, two-factor authentication, cold storage, insurance and an additional custody service for businesses. 
Moreover, Coindirect SA Ltd is a company regularly registered under the South African Companies Act of 2008 (registration number 2017 / 654512 / 07). 
So, we assess that Coindirect is both safe and legit. 
Is Coindirect a Scam?
Coindirect is not a scam.
The company tries to be as transparent as possible by communicating possible risks associated with crypto trading, showing the whole leadership board on the website, and providing a fast and polite support team. 
These are only some of the characteristics that identify an honest business, along with all the other aspects we talked about in this article. 
Coindirect vs. Coinbase
Both Coindirect and Coinbase have an intuitive layout that can allow beginners to operate on these platforms. 
But if we compare the two, we can say that Coindirect offers a higher number of services and always keeps an eye on business owners' needs. 
On the other hand, the best pro of Coinbase in comparison with Coindirect is that it has no inactivity fees.
Conclusion
Coindirect is a legit and safe crypto exchange that offers a good number of useful services to both individuals and businesses. 
Its crypto payment gateway and the whote labeling are not features that we can easily find on other platforms, and the opportunities offered by the automation of Bitcoin arbitrage activities makes this platform even more interesting. 
Moreover, Coindirect support has a positive rating according to users. 
We can assess that Coindirect is safe to use, and it allows further integration with the crypto space.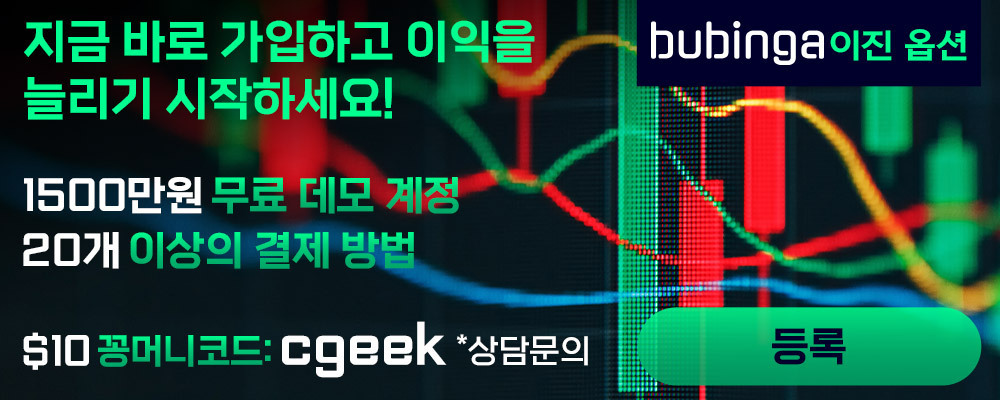 Veer Lugo
4 November 2021
To my surprise, a good exchange. The transactions are fast and the rates are good. This is not the first time I buy BTC here.