CEX.IO Broker Review 2021 - Is It Safe?
Country:
Saint Vincent and the Grenadines
Apr 05, 2021
Contents
CEX.IO Broker Overview
CEX.IO Broker is a platform for margin trading via contracts for difference (CFD). It's a part of the CEX.IO ecosystem of products and services related to digital assets. By having a single CEX.IO account, you can access the whole range of their functionality.
Some of the most prominent services of the CEX.IO ecosystem include:
CEX.IO Exchange - a platform for cryptocurrency spot trading
CEX.IO Broker -  the platform for cryptocurrency and other assets margin trading via CFD
CEX.IO Earn, which includes:
CEX.IO Staking - allows earning staking rewards by holding stake-able coins on your account
CEX.IO Savings - gives you a possibility to earn interest on storing funds on their savings accounts on CEX.IO
Wallet for holding the funds on segregated accounts with multiple levels of encryption
CEX.IO Loan service provides crypto-backed loans
CEX.IO Prime - a cohort of services designed for institutional and enterprise clients
CEX.IO Broker (broker.cex.io) is currently available in nearly 200 countries around the world (the detailed list is displayed here).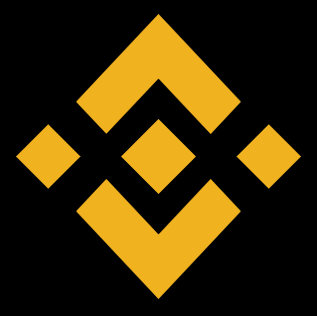 Get Profits with HODLing on Binance Earn
CEX.IO Broker started by offering cryptocurrency markets in their trading assets arsenal. Gradually, they expanded the list and now offer users to trade CFDs on the traditional currencies, stocks, and metals. This way CEX.IO Broker merged traditional financial and cryptocurrency markets on a single platform. 
For cryptocurrency enthusiasts - it's a possibility to trade on stocks, forex pairs, and so on while staying in crypto. And for the adherents of traditional finance - it's an open gate to the dynamic and potential cryptocurrency trading.
CEX.IO Broker Features
CEX.IO Broker features the functionality of the trading platform that can serve the needs of both professional and entry-level traders. Let's have a closer look at that.
Aggregated liquidity
Liquidity is an essential part of the trading platform. Liquid market means that your orders fill fast and at the market price you expect. CEX.IO Broker aggregates the liquidity from the world's largest exchanges, which ensures that your orders big and small will be executed at the best market price available given this aggregated liquidity. Also, this allows maintaining narrow spreads and liquid order book. 
Cryptocurrency and traditional finance markets
CEX.IO Broker provides traders access to CFD trading on over 30 most popular cryptocurrency pairs, 7 forex pairs, stocks  like APPL, AMZN, GOOG, NFLX, TSLA), and metals (gold and silver). 
The platform is continuously expanding the list of trading assets. 
Multiple accounts
CEX.IO Broker users can create up to 10 accounts. Each separate account can have a different base currency. Currently, it's BTC, ETH, and USDT. Yet, regardless of the account base currency, you can trade any assets listed on the platform. This suggests that you don't have to store many different currencies on your balance and endure the cost of transferring and storing them (those fees may vary based on the currency).
Leverage
You can choose from a wide range of leverage sizes - from x2 to x100. 
Leverage allows you to increase your trading capital. With $10 of your own funds and leverage of x50, you can operate with $500 trading capital. The potential profit multiplies accordingly. So does the potential loss in case the market goes in an unfavorable direction.
Risk-management tools
In the dynamic market like cryptocurrency, trends may change fast. To control your risks, CEX.IO Broker offers Stop Loss and Take Profit orders. They stretch your trading capabilities without compromising your personal or professional life. The whole concept is that the order closes as soon as it reaches some particular risk point that you've set up. Knowing that crypto markets work 24/7 you can make orders that work for you even when you sleep. By the way, it's possible to add protection orders anytime, and not just at the moment of opening the position.
Cross margin and isolated margin
Cross margin is when you can use the balance and profit from one position to satisfy margin requirements for another one. Cross margin applies only to the positions within one of your CEX.IO Broker accounts. Yet, the isolated margin applies to different accounts of yours meaning that the balances and funds of different accounts don't interfere with each other. Hence, you can estimate the efficiency of different strategies you deploy on different accounts. 
At CEX.IO Broker, you can use both types of these margins simultaneously.  
Technical analysis tools and customizable chart
The CEX.IO Broker trading terminal features dozens of the most popular technical analysis instruments MACD, Bollinger Bands, EMA, etc. You can add them to the trading chart to spot the market trends and deploy various strategies. 
Also, you can customize your chart to look the way that suits you most: change padding, chart view (candlesticks, bars, or line), change appearance colors, and so on. 
Free Demo account
Another important thing that fits both professional and novice traders is the Free Demo account. If you are new to margin trading or to the platform, or you created another promising strategy — you can practice on the Demo account until you feel confident to move to the Live one and trade with your funds. 
CEX.IO Broker Fees 
CEX.IO Broker fees are competitive on the market. Trading fees include open, close, and rollover fees. They vary depending on the trading asset. What's more, there are no fees for deposits and withdrawals to the CEX.IO wallet which also allows you to save on transferring funds. The full list of applicable fees is available on this page.
Getting started with CEX.IO Broker
First of all, you need to register. If you are already registered on the CEX.IO website, you can use that account on CEX.IO Broker as well. Just click on the Sign In button, type your CEX.IO email and password and you will log into the Broker platform. 
If you create an account on CEX.IO Broker from scratch, you need to go to the main page and click the Register or Open Account button. 
Next, you need to enter your email and choose a password.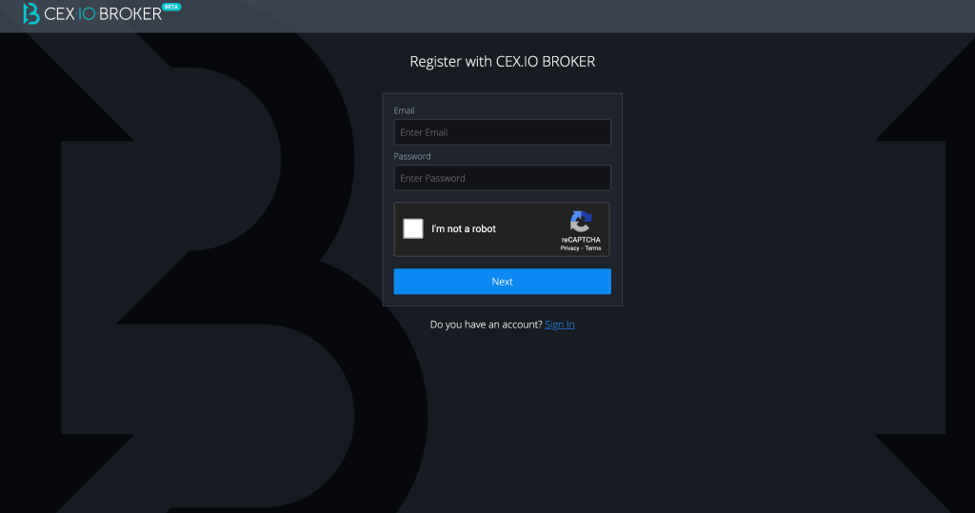 You will get a confirmation email with a code that you will need to copy-paste at the next step of the registration process.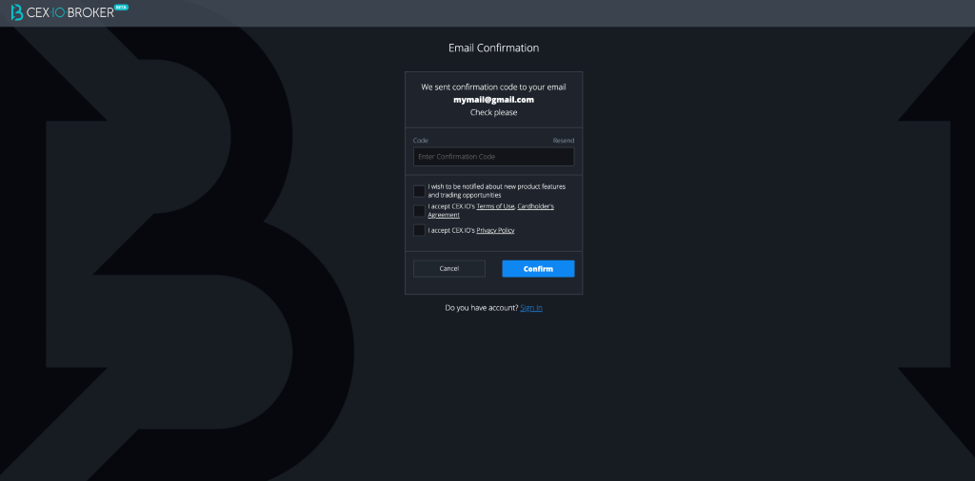 At the next stage, you will need to select your country and accept the Terms of Use. Make sure your country of residence is one of those where CEX.IO Broker provides their services.
Next, you will see a window offering you to fund your account. If you are ready for live trading, you can proceed to creating a live account. You'll need to choose the account base currency (BTC, ETH, or USDT) and leverage level for your account. The account base currency means that you will be funding your account with the selected currency only. And the leverage you choose at this stage will apply to all your trades on the given account. If you want to change the account base currency or leverage, you will need to create another account.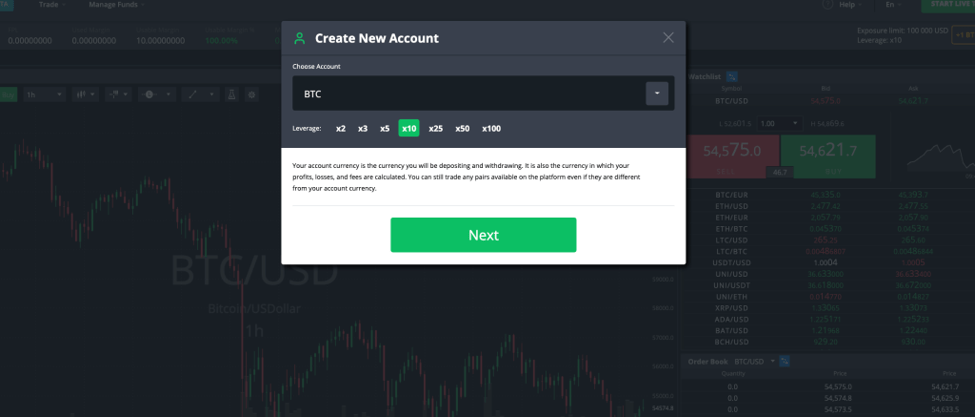 Once you've chosen your base crypto and leverage, you will see a nice animation with a CEX.IO Broker's Unicorn powering up your account with the hottest crypto and leverage superpower. After that, you can make a deposit and start trading. 
How to make a deposit on CEX.IO Broker
At the time of publishing there were two methods available for depositing to CEX.IO Broker - that's the transfer from CEX.IO wallet and direct BTC deposit. If you want to deposit from the CEX.IO account, you will need to make sure that you have either BTC, ETH, or USDT on the CEX.IO platform's balance.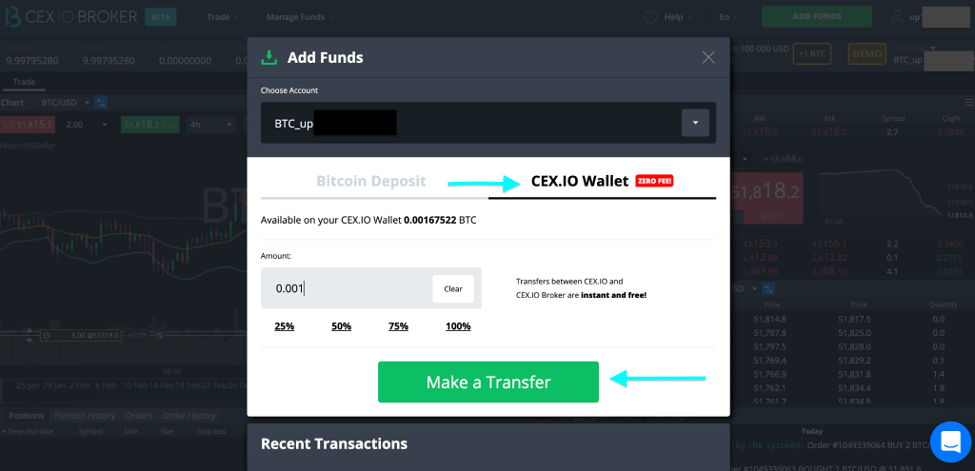 To make a BTC deposit, you'll need to scan the QR code or copy the wallet address and send your BTC there. Note that this transaction becomes visible on your account after three confirmations from the Bitcoin network.
How to navigate the CEX.IO Broker terminal
Once you created and funded your CEX.IO Broker account, you are ready to start trading. CEX.IO Broker has lots of tools to play whether you're a seasoned trader or just a beginner. Let's take a look at the trading terminal.
At the very top, right above the price chart, you'll see the information about your balance and margin. Note that equity balance includes all the money involved in your trading volume while the value Balance is your actual amount of money that you can withdraw. 

The biggest part here is the chart for the selected pair. At the top left corner, you will see the dropdown menu with all the pairs available for trading. You can choose to trade cryptocurrencies forex pairs, stocks of major technology companies, and metals like gold and silver. All of them are listed in this dropdown menu.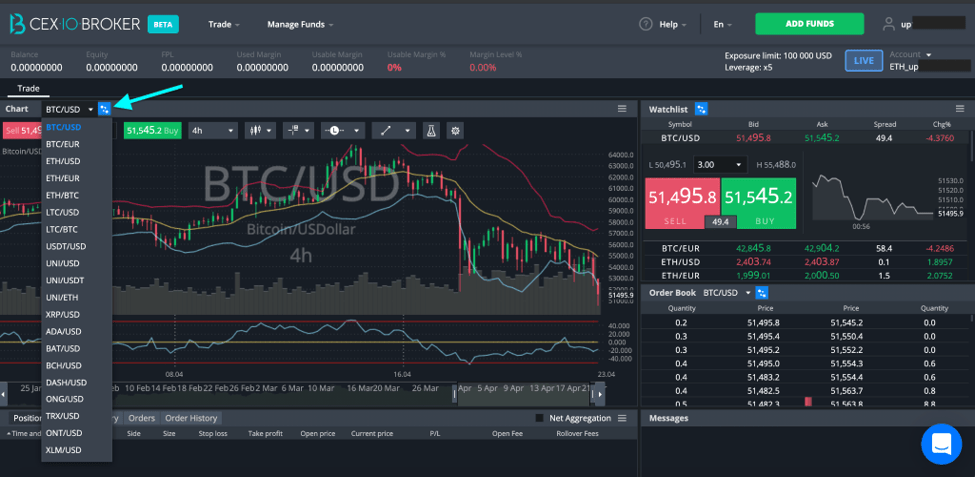 If you click on the menu at the top right corner of the chart, you will see the customization settings. You can change appearance, add technical indicators, and draw your own lines. Also, there is a list of timeframes you can choose and two other types of chart representation (bar chart and line chart). Here you can watch how to make chart appearance customization - set up certain colors for certain indicators, add or delete candlestick borders, and more.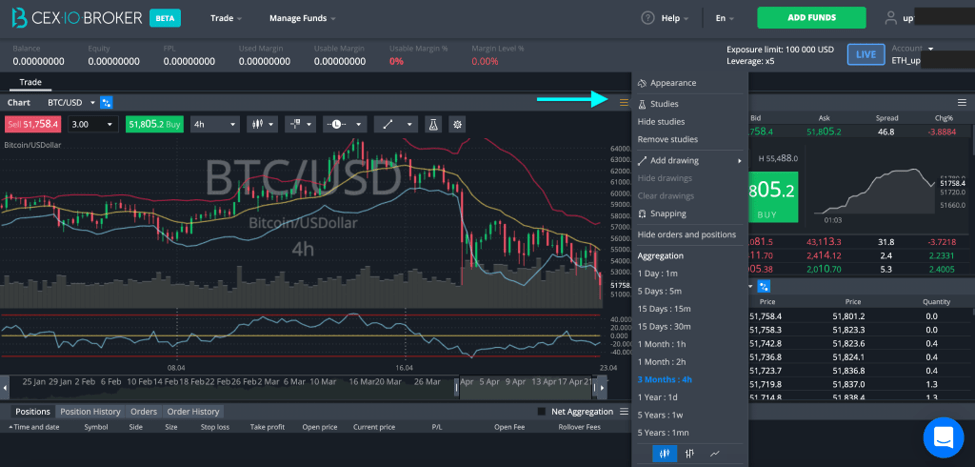 For more advanced users, they have a selection of technical indicators, listed A to Z (click on the chemical retort picture to add them). Select the indicators from the list in alphabetical order, then click twice on each of them to add it to the chart. Click Done and they will appear on the chart.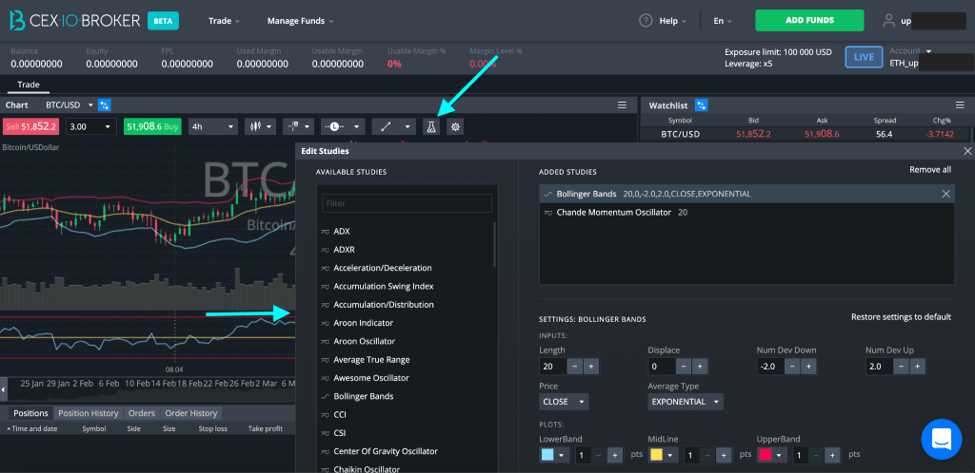 Right below the price chart, you will see the Positions History widget which allows you to track your open positions as well as order history. By clicking on each of the positions, you'll see more detailed info on it. Also, you'll be able to edit some of the info (lot size, limit price, protection, order duration) and cancel the order.

To the right from the price chart, you'll see the Watchlist widget that helps track the current situation on the market like the order book, open and close price, spread size, change of price percentage, lot size, and more. You can customize this menu by clicking on the menu at the top right corner of it.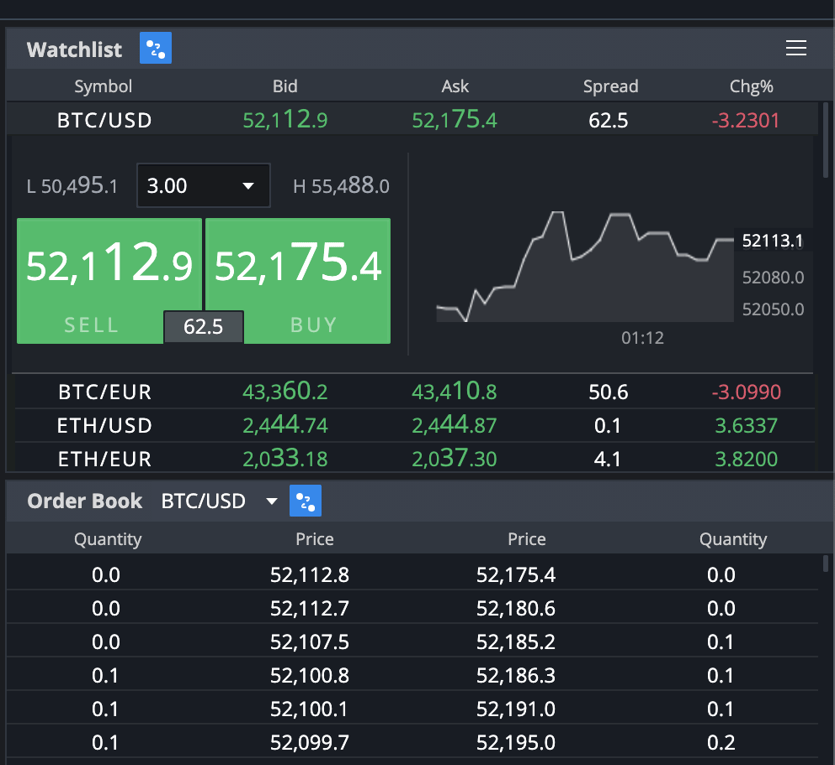 Trading on CEX.IO Broker
If you're new to trading, you can start by trading in a free Demo account. You can test strategies and get used to the terminal interface there without risking your money. Once you've got used to it, you can start trading in a Live account. 
The first thing that every trader should know is how to place an order. With CEX.IO Broker, you can right-click anywhere on the chart.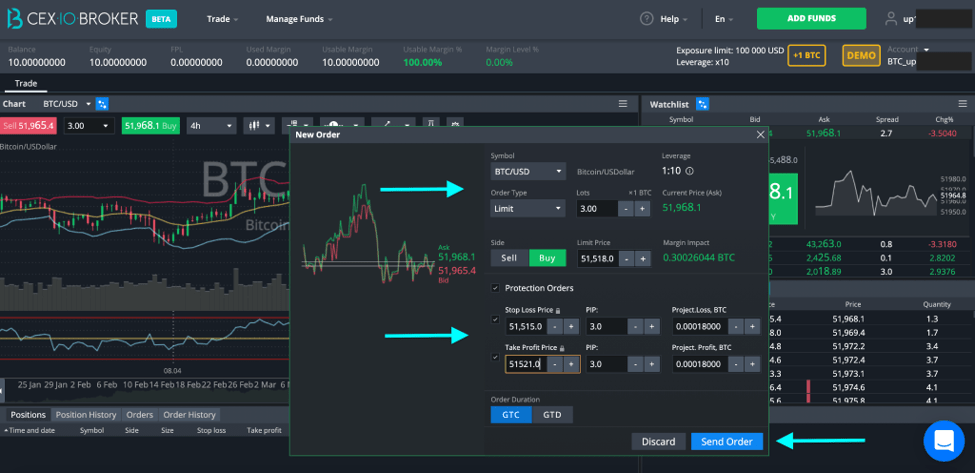 You'll see a pop-up window where you can place a new order. Choose the pair you want to trade, the lot size, the sell or buy option. Tick the box with Protection Orders if you want to set Stop Loss and Take Profit limits. Click Send Order. You will see your positions displayed in the Position History and orders — in the Order History tabs below the chart.

If you click on any of them, you will see a line of this order so you can track it visually on the chart and close anytime if you see that it's the right moment to do so. Double-click on the line to modify the position or click on the stop sign to cancel the order.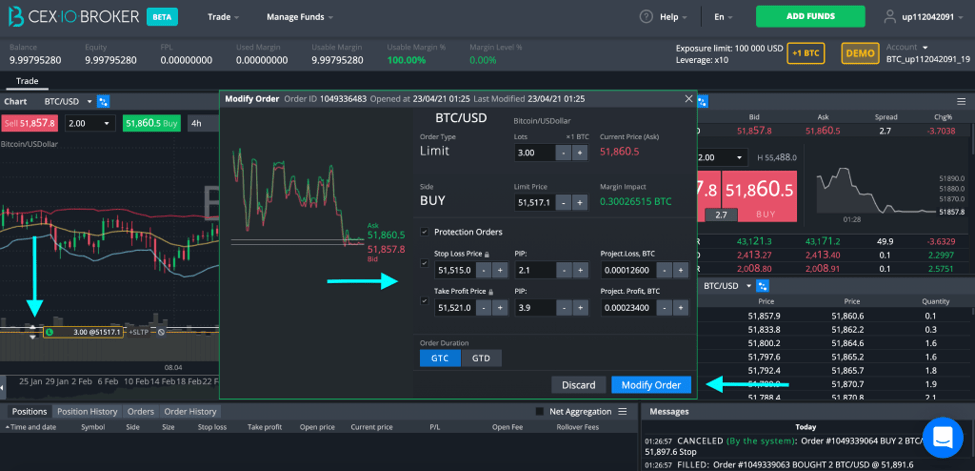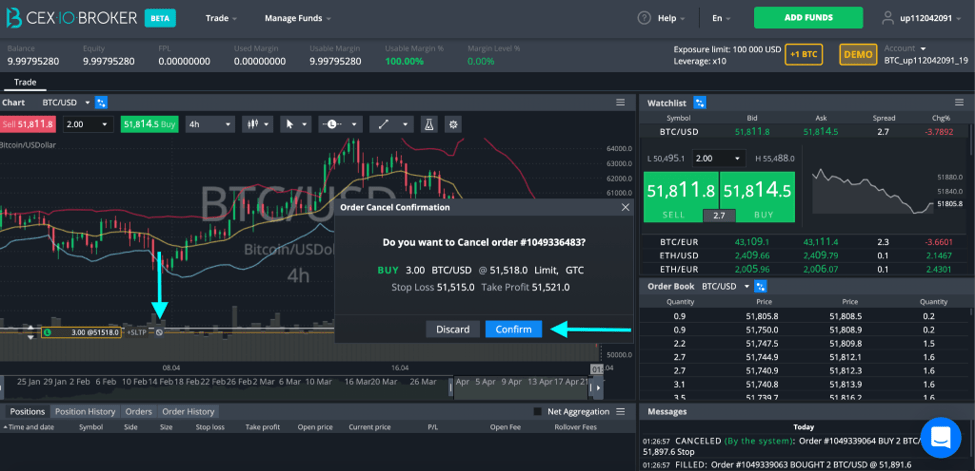 How to withdraw funds from CEX.IO Broker
You can withdraw funds from your CEX.IO Broker account to your CEX.IO account. Currently, this is one option only. However, withdrawals are instant and free. And from your CEX.IO account, you can send your funds either to your payment card, use bank transfers, e-wallets, or simply withdraw your funds to your external crypto wallet. CEX.IO offers a wide range of payment options - so you can choose the ones that suit you best.
By the way, you can transfer the exact amount of the percentage of your CEX.IO balance which is convenient for easy management of your investments. The sum available for withdrawal is calculated automatically in your base currency (Bitcoin, ETH, or USDT).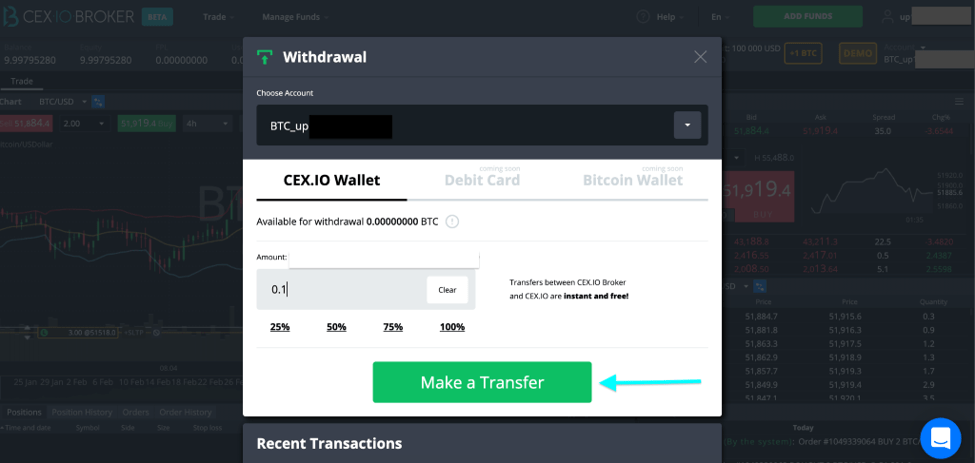 To control your financial results and keep the records, you can generate an account statement for a period of up to three months. It's useful if you're testing different strategies on different accounts and would like to assess their ROI separately. To get the statement, click on your account settings at the top right corner of the screen and choose Statements. Then, select the account in question, set the date range, and click Generate.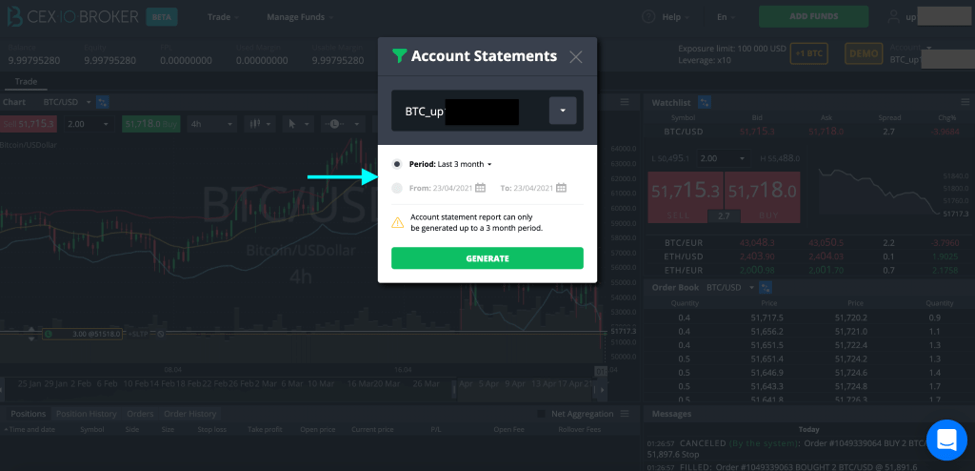 Customer Service
As for the Customer Support service, they answer pretty fast and to the point. It is clear that their support team consists of real people who understand your situation and can suggest effective solutions to your issues.
First, they will offer to chat with a bot that appears in the bottom right corner of the screen as soon as you log into your account. In this chat, you can also choose to talk to a real Customer Support agent online. 
Is CEX.IO Broker Safe?
CEX.IO Broker is a part of the CEX.IO ecosystem. In turn, CEX.IO is a regulated exchange with licenses and registrations in multiple jurisdictions. They have obtained a trademark and registered a legal entity in the UK, London. All their documents and current certificates are published on this page. They are also PCI DSS compliant meaning that they take all the necessary security measures for credit and debit cardholders. They also use cold wallets for storing customers' money. Thus, we can conclude that transferring funds and holding them in your CEX.IO wallet or on a CEX.IO Broker account is safe.
Conclusion
Now let's talk about pros and cons of the CEX.IO Broker platform.
Pros
High liquidity
Ability to have up to 10 accounts for one person
Lots of technical analysis tools
Leverage up to х100
Free demo account 
Cons
Interface for tech analysis is not as intuitive as in Tradingview (the Tradingview chart is unavailable)
When you use up all the 10 accounts, you can't delete them. To do this, you need to contact the Support Team.
A limited choice of CFD on stocks and commodities.
Here are no reviews yet. Be the first!