BitTorrent (BTT) Price and Reviews 2021
Market cap:
$ 376,162,380.0
Supply:
100,000,000,000.0
Volume 24h:
$ 3,817,996.87081
Max supply:
100,000,000,000.0
May 21, 2021
BitTorrent is probably the best known peer-to-peer protocol in the world. Many use BitTorrent software to share files. By some estimations it is used by roughly 1 billion people. The protocol got famous long before the emergence of cryptocurrencies. Now, it has its own cryptocurrency. In this review we will name the main features of BitTorrent coins and tell if it's a scam, if it is safe to use, and if it is a worthy investment.
What Is BitTorrent?
BitTorrent token is a cryptocurrency used as a means of payment on the BitTorrent platform. BTT is a TRC-10 token meaning that it is based on the TRON blockchain. The coin was launched in 2019 after the acquisition of BitTorrent by Tron Foundation. BTT has quickly become one of the most popular cryptocurrencies.
As of May 2021, BitTorrent is one of the top 50 cryptocurrencies by market cap which exceeds $2.7 billion. The price of BTT (on May 19, 2021) is $0.004. BTT is available for trading on the biggest crypto exchanges including Binance, Huobi Global, HitBTC, Bithumb, Gate.io, Kucoin, Bittrex, Poloniex, OKEx, etc.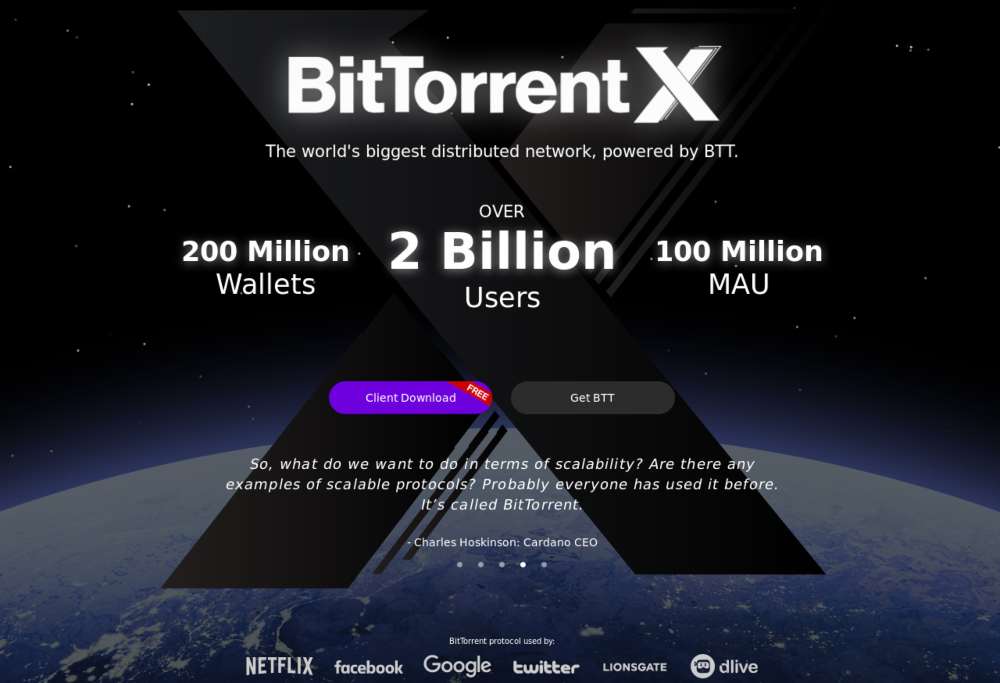 The total supply of BTT is limited to 990 billion tokens. 19% of all tokens belong to the BitTorrent team while 20% are in the Tron Foundation's property. 4% of the BTT supply are held by the project's partners, and 19.9% of the BTT supply goes to the BitTorrent ecosystem.
BitTorrent History
A peer-to-peer file-sharing network BitTorrent was created back in 2001. The protocol creator is Bram Cohen. The BitTorrent Foundation was created later. As a company BitTorrent is responsible for the launch of such BitTorrent clients as  μTorrent and Xunlei Thunder — two of the world's most popular torrent clients. Success of the protocol can be explained by its ability to transport large files (e.g. movies) quickly. The distributed files are downloaded from multiple sources simultaneously without the need of a wide bandwidth. There is no need to download pieces of files in a specified sequence, they can be downloaded randomly. Another nice feature is that the download can be paused any time and continued later without any issues. Thanks to BitTorrent, home computers became as efficient for file sharing communities as large servers full of content.
In 2018, the company was acquired by the Tron Foundation — an organization of Justin Sun, a TRON CEO. The BTT token was launched the next year. The BitTorrent team managed to gather $7.2 million via the ICO. Under the TRON influence, BitTorrent headed towards ways of monetizing its services. For instance, BTT token became a means to pay for some extra functions in the company's torrent trackers. For instance, BTT tokens can be used to request the missing torrent files or to pay for the better download speed.
BitTorrent Token Use Cases
Apart from trading and store of value, BitTorrent tokens can be used for several other purposes. First and foremost, the token can be used as an inner BitTorrent currency to buy paid services.
There are several decentralized apps (dApps) that can be used on BitTorrent. One of them is BitTorrent Speed that provides users a better bandwidth by request. Users updating their torrent clients to the latest version, get a free BitTorrent wallet automatically. Besides requesting a better speed, you can earn on BitTorrent Speed via usual seeding.
Another notable dApp is BitTorrent File System. This protocol is used for storage of data. BitTorrent File System is aimed at addressing the issues of other popular decentralized cloud storages such as Siacoin, Filecoin, and others. Another example is BitTorrent Web — the torrent client that helps to secure your computer while downloading files. BitTorrent Web provides numerous additional functions. It has a free version and several paid editions, two of which can be purchased for BTT (BitTorrent Web Pro and BitTorrent Web Pro + VPN). All the BitTorrent dApps are fueled with BTT tokens.
Another important use case is earning via BTT. BitTorrent users can not only spend their tokens via requesting certain services but also, they can earn BTT through responding to such requests and providing these services to others. In this sense, BitTorrent can be qualified as a services market.
Where Can I Store BTT Tokens?
There are several decent options for storing BitTorrent tokens. For starters, there is an integrated BTT wallet in the BitTorrent applications. You get this wallet by default if you use any torrent client by BitTorrent. Nevertheless, there are more options to take into consideration, as some wallets provide more features.
A multi-currency crypto wallet called Freewallet supports BTT tokens alongside many other coins. Additionally, there is a dedicated BTT wallet by Freewallet. All the products by this brand are easy to use and are available in the web version and mobile versions for Android and iOS devices. Freewallet allows instant coin swaps and provides other features, as well.
If you prefer hardware wallets, there is good news for you, too. BitTorrent tokens can be safely stored on the Trezor devices. Trezor is considered to be one of the most secure wallets. There is no surprise in it as this wallet is offline and has several layers of protection.
Another nice option is Atomic Wallet. This wallet supports less coins than Trezor or Freewallet, however it has something to offer, too. One of the best features of Atomic Wallet is that it has an integrated decentralized exchange so users can swap coins via the peer-to-peer protocol. BitTorrent token is one of the supported coins.
Actually there are many more wallets supporting BitTorrent tokens and that's a good sign for those of you who're trying to figure out if BTT is a good investment.
Market Performance
At the earliest stage, in February 2019, the BTT price was below $0.0005. It quickly grew up to $0.0008 and then declined a bit. For several months, the price was fluctuating between $0.0006 and $0.0009. There was a spike in May with a peak price at $0.0018. However, by the end of summer, the price dropped to the values it had in the spring. At times, it even was below $0.0004 and lower. In 2020, the price was shimmering around the $0.0003 value with short-term ups and downs. As you can see, despite the support from TRON, the price was struggling to exceed the value it had from the very beginning but it was no good.
Two years after the token launch things changed drastically. In February 2021, amidst the overall crypto market boom, BTT token has finally skyrocketed. On February 8 the price was $0.00049. The next day it doubled and since then has never dropped below $0.001. On February 22 the price was $0.0017. It took one month to increase by 2 — on March 22, the BTT tokens were traded at $0.0035. The next doubling was achieved by April 3, when the price reached $0.0071. Finally, on April 5, the BTT price reached its historical maximum (as of May 2021) crossing the $0.0135 mark for a while. Ever since the price has been in a zigzag-shaped decline.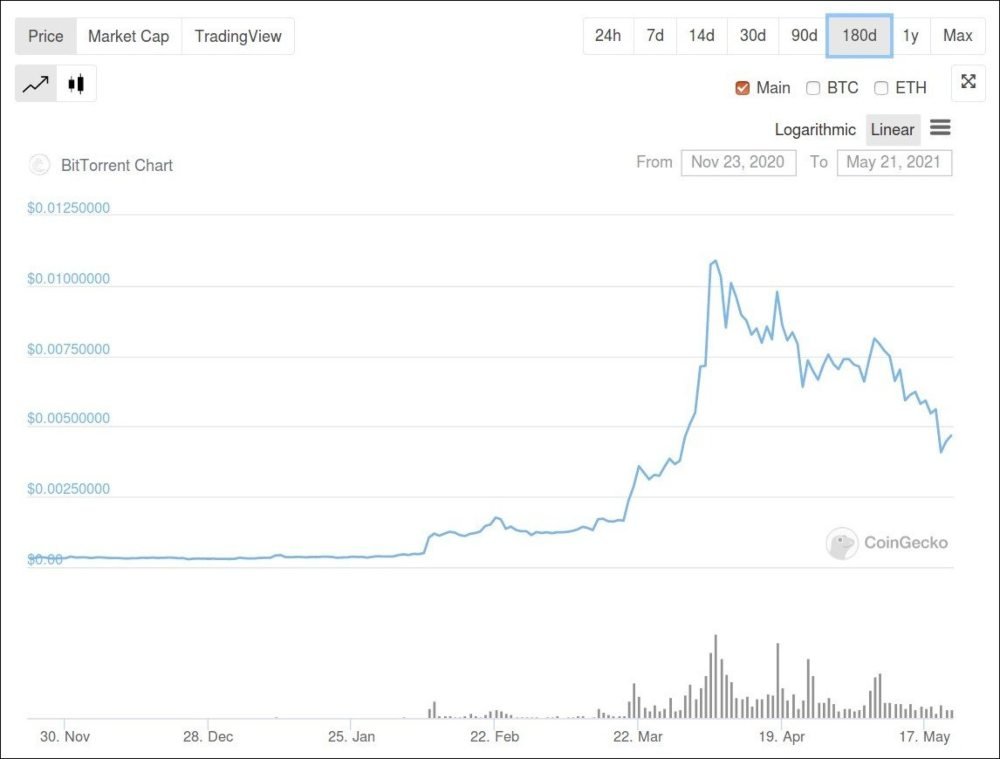 Partly this decline can be explained by the impact of the BTC price's sharp decline taking place at the same period. However, this downtrend shouldn't distract us from the fact that lately, BTT token price has grown significantly, notably distancing from its initial price. Considering the popularity and success of the BitTorrent products, we expect the token's price to grow bigger in future.
Price Prediction
Numerous experts agree that BitTorrent token price will be increasing steadily in the following years. Most of them expect the price to reach 1 cent by the end of 2021. It seems quite realistic as the current decline isn't likely to continue for the entire year. More optimistic analysts say the price will reach $1 by the end of the year and triple in 2022. This seems less likely as the price recovery will take some time. There is a long way ahead until the coin will even reach a half of a dollar.
🤗Time to catch the train!#BitTorrent #BTT #BTFS #DLive #uTorrent pic.twitter.com/hh6aADU6O0

— BitTorrent Inc.🅣 (@BitTorrent) May 21, 2021
In general, there are no serious reasons that might make us think that BTT token won't grow bigger in the following years.