Robinhood Gift Cards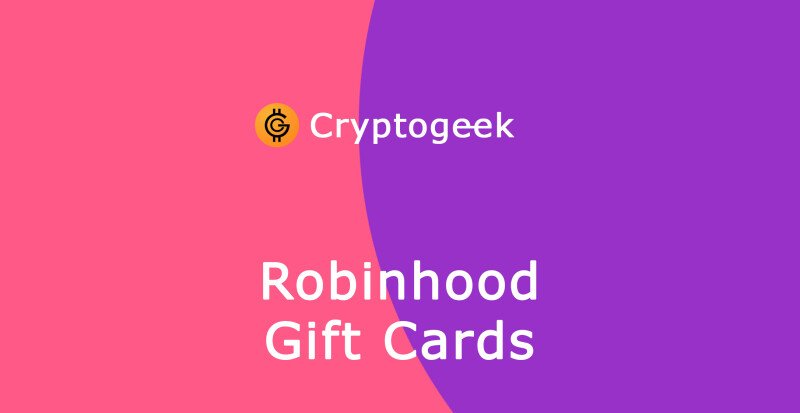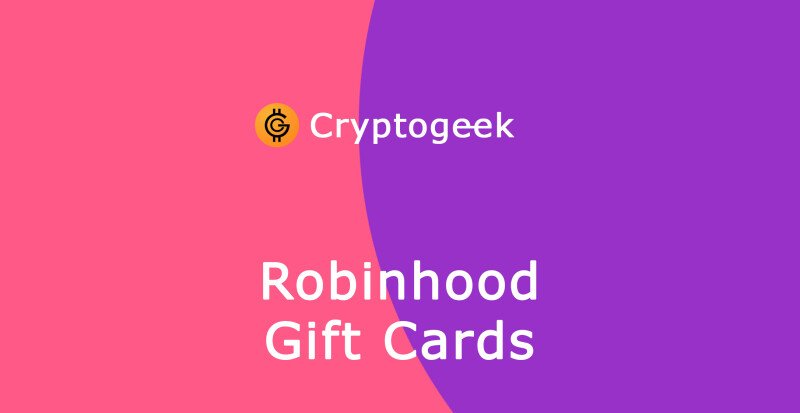 When Christmas or someone's birthday comes around, the theme of gifts becomes more actual. Not all of us know what to give as a present to our friends and family, or get from them in return. That's when the gift cards come into sight.
To make a cryptocurrency enthusiast happy, you can give them some funds to invest.
Every day, more and more Robinhood users wonder: "Can I buy a Robinhood gift card?" or "How many Robinhood accounts can I have?"
Let's find the answers together.
What is a Gift Card?
A gift card or gift certificate is a prepaid card that could be used by anyone. It also became a very popular present in case you don't know what exactly to buy.
On the other hand, gift cards are a complex business model:
1. Producing gift cards costs money;
2. Some percentage is taken by the seller.
Some gift cards have a minimum and maximum loading amount. And almost any gift card can be bought and registered online to simplify the procedure of getting it.
Can I Buy a Robinhood Gift Card?
Robinhood is a safe enough exchange with no commission for any transaction and mostly positive reviews. Being a successful company since 2014, they continued to develop, and last Christmas Eve, Robinhood gift cards were announced.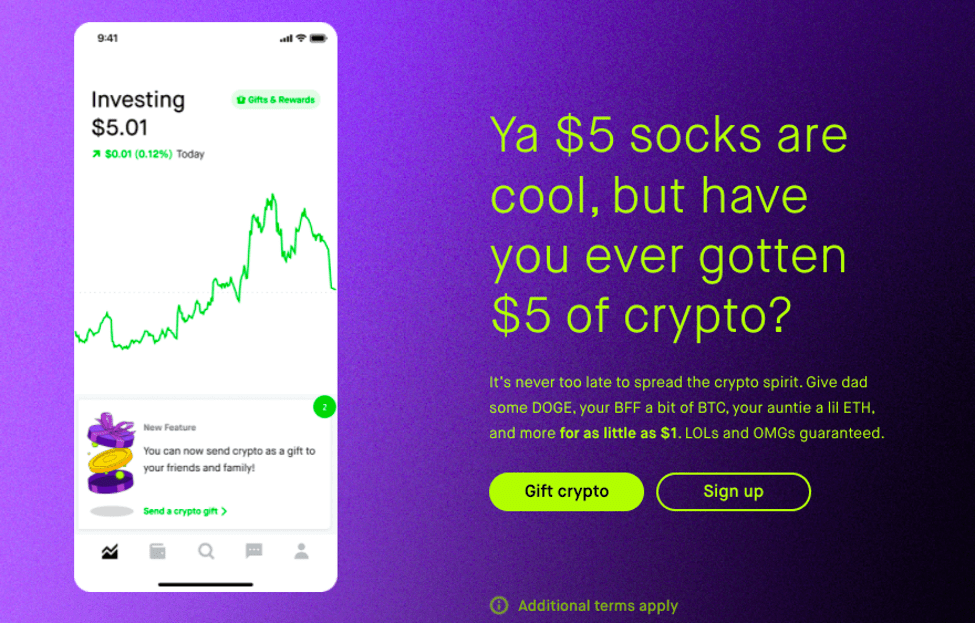 This gift card idea contained:
● A cryptocurrency balance (min. $1 worth) in one of seven popular coins, including BTC, ETH, and DOGE;
● Up to nine different designs;
● Ability to leave a personalized message;
● Tracking;
● 0% commission.
But currently, Robinhood gift cards are not available, as well as it's not possible to top the Robinhood account via other gift cards.
Instead, Robinhood gives an ability to get an Amazon gift card when completing a small survey. But it's important to remember that some people don't like the idea of impersonal presents like gift cards or just cash at all.
However, there's still a chance to make cryptocurrency traders happy with the gift of investing even without a Robinhood gift card.
To sum up, the answer to the question "Can I buy a Robinhood gift card?" is no.
Robinhood Amazon Gift Cards
Why did Robinhood start offering customers an Amazon gift card? It all happened a few years ago when Robinhood experienced an outage. It cost their users real money, and Robinhood launched $75 Amazon gift cards as a refund.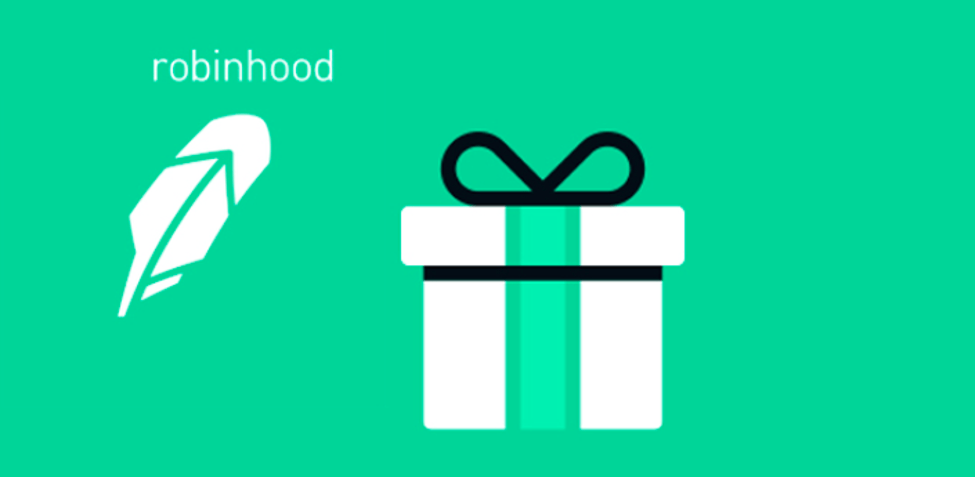 Not long ago, the platform gave its users another chance to earn a $5 Amazon gift card. Robinhood presented a short 10-minute survey on how to improve its services.
How About App Store Gift Cards?
Nevertheless, Robinhood has a web version, which is mostly used as a completely free mobile application. This app is available on both App Store and Google Play. As a result, many traders wonder if Robinhood accepts App Store gift cards. Yet, the answer is still no.
Not only can't traders use App Store gift cards, but they also have to link bank accounts to make any purchases through the app. That's all that Robinhood requires.
What to Do if You Are a Gift Card Owner
If you are a gift card owner, you can buy something or invest in the stock market to make your funds grow. But another difficulty shows up: traders can't use their gift cards to deposit on Robinhood. Why? Because Robinhood is regulated by the Securities and Exchange Commission (SEC) and can not allow prepaid cards for topping the balance.
Traders can reach their goals via two methods.
● The first remedy in this case is to sell those gift cards for cash. To do so, traders can use different platforms like Raise, which allows listing the gift card for a bit smaller price than it has on the balance.
● The second option is to make any purchase with your Visa gift card. And then redistribute the remaining from the bank account to the Robinhood one.
How Many Robinhood Accounts Can I Have?
When it's all clear with the Robinhood gift card and the fact that currently, there's no ability to buy a Robinhood gift card, let's move on to the question "How many Robinhood accounts can I have?"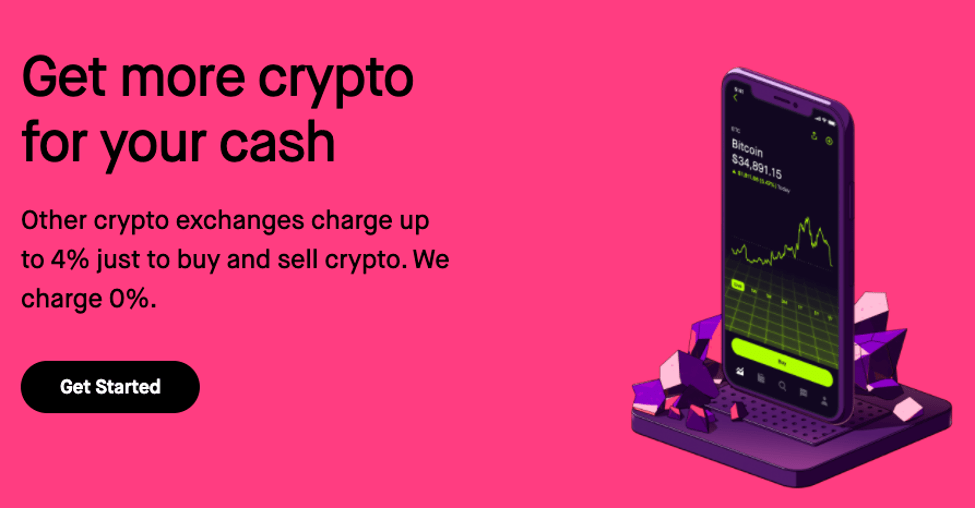 Many platforms nowadays limit the number of accounts. Robinhood is not an exception. As it is already mentioned in Robinhood's FAQ, the platform provides only "one account per customer".
Each account is assigned an individual Social Security number. As a result, it's impossible to open another account with exactly the same SSN: an automatic denier happens.
Robinhood has this policy not only to protect the user, but also to restrain the fraud and different money laundering schemes.
---
---