How to Mine Bitcoin Gold - The Ultimate Guide 2022 by Cryptogeek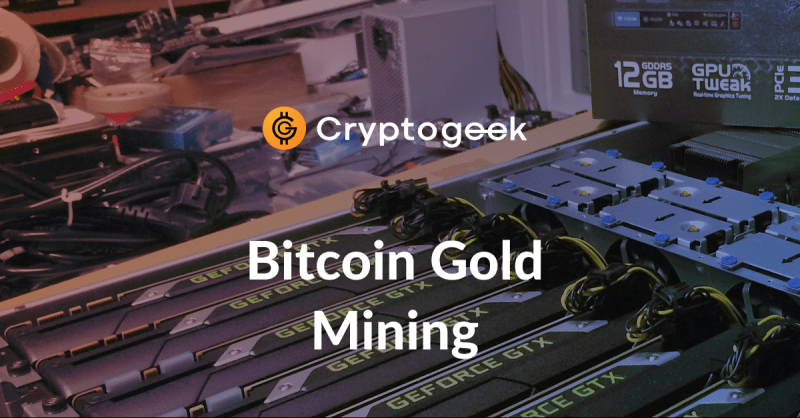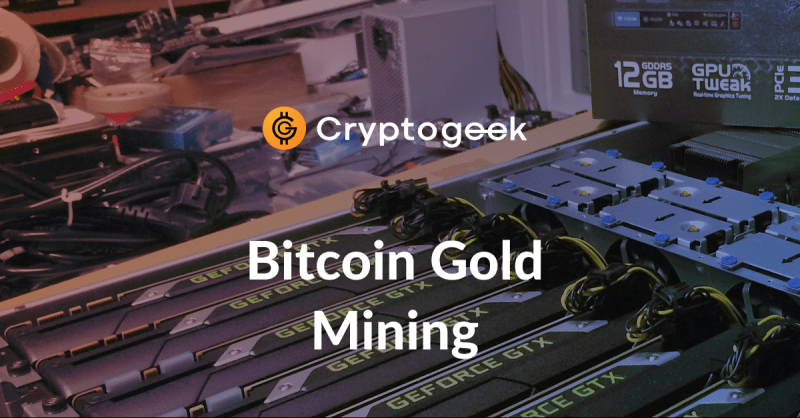 As Bitcoin mining became no good for those who don't own a data center packed with high-end ASIC devices, people make money out of mining altcoins. No use in thinking that home mining isn't profitable. There are coins that are relatively easy to mine and are valued in the crypto markets. One of them is Bitcoin Gold. As of December 2020, on HitBTC it costs over 9 USDT. Considering the fact that BTG can be mined via a GPU-based rig, this coin is the one to try.
Introducing Bitcoin Gold
Bitcoin Gold forked from Bitcoin in October 2017. That was the right time to spring on the crypto market as it was booming in late 2017 reaching its peak in December/January. So the new Bitcoin hardfork landed in the BTC owners' wallets and quickly gained attention amidst the hype and growing market. In the early days, the price peaked at $539 and then after the crypto downfall that took place in 2018, BTG lost most of its value. However, it was the overall crypto market trend and not the special thing about BTG. 
Both the website of Bitcoin Gold and the network itself was exposed to attacks. The website was struck by DDoS-attack in October 2017 while the network survived two 51% attacks in May 2018 and January 2020 with hundreds of thousands of BTG stolen as a result. These security breaches didn't stop miners and traders from using Bitcoin Gold although some of the exchanges treated these incidents as intolerable (for instance, Bittrex eventually de-listed Bitcoin Gold). As for now, Bitcoin Gold has a price of around $9 and a market cap of over $6 million. It grants BTG a place at the top 100 list of cryptocurrencies with the biggest market capitalization.

 The coin is traded on many exchanges and supported by many of the multi-currency wallets.
In terms of the novelty of Bitcoin Gold, the coin was designed to be ASIC-resistant and be friendly towards enthusiast miners. In 2017, the hashing function used for Bitcoin SHA-256 was already incompatible with CPU / GPU mining due to the spread of ASIC (Application Specific Integrated Circuit) miners. The keen home miners needed something different and Bitcoin Gold (alongside other new miner-friendly coins) made the case. BTG is based on the Equihash function which preserves the network from ASIC domination and makes it possible to mine BTG using relatively cheap hardware. Apart from being unavailable for mining with ASICs, Bitcoin Gold has nothing new if compared to Bitcoin.
Cutting ASIC-miners off the network is regarded as a benefit by some. There are different reasons for this. As decentralization is one of the pillars of blockchain and cryptocurrency spheres, ASIC can be seen as a problem because they create a threat to it. Huge mining farms concentrate a lot of hashrate. The computing power from these farms then is concentrated in a few mining pools that can theoretically conjoin to push certain changes to the network as they can form the majority. In theory, when the hash power is distributed among the individual miners, the network becomes more decentralized. Practically, there are no guarantees. Bitcoin Gold illustrates it by the fact it had 2 51% attacks on its network while Bitcoin which is mined with ASICs only, stays secure for its entire history. The second reason why getting rid of ASIC farms is considered as a benefit is more simple: people without mining farms want to get profit from mining, too. Such democratic cryptocurrencies as Bitcoin Gold provides GPU-owners with the opportunity to earn some money without competing with the mind-blowing powers of mining farms full of ASIC devices. Not a hard thing to grasp, isn't it?
The Bitcoin Gold community which developed the coin continues to work on implementing BTG to the lives of people. As the main purpose of Bitcoin Gold is serving as a means of payment, the developers created BTGPay. This network helps to connect BTG owners eager to spend their coins in exchange for goods with merchants who don't mind accepting payments in Bitcoin Gold. This is the straightforward crypto adoption case. More than that, BTGPay is used to find the best available local debit/credit cards supporting BTG as a currency. Also, BTGPay helps merchants to connect with eCommerce integrators and service providers in order to accept BTG payments on the best conditions. For merchants accepting BTG (and other cryptocurrencies) is a great opportunity to treat shoppers from all over the world equally. The same goes for shoppers. BTG can be the key to online shops all over the world without cross-border commissions and lags.
Preparations for the Bitcoin Gold Mining
Unlike the original Bitcoin based on the SHA-256 function, Bitcoin Gold uses the Equihash-BTG function. This function requires more memory than any ASIC provides while the regular GPUs are still capable of mining BTG. The coin is available for mining on numerous cryptocurrency mining pools. Finding one is not a hassle at all. The harder task is to figure out which pool is the best for you.  
Bitcoin Gold can be mined both with CPU and GPU. It's understood that GPUs bring much more hashrate hence profit than CPUs. Probably the default GPU you have in your computer is good enough for BTG mining, however, you can consider increasing the power via applying more GPUs or using a different GPU.
The Bitcoin Gold miner starter pack includes the following:
The mining pool that meets your goals (we are not considering solo mining in this article as it requires huge GPU mining farms)
BTG wallet for the mining rewards
An account on the exchange to sell the coins there
Before starting mining, it's necessary to take care of the mining rig cooling not to end up with a burnt GPU. Moreover, overheating leads to higher electricity costs. It's better to employ as many graphics cards as possible. Bitcoin Gold mining can be good enough with at least 6 GPUs as a smaller number of processors isn't likely to bring a worthy revenue regardless of the model. Such a rig requires a strong Power Supply Unit. Elsewise, the rig will overheat quickly and your electricity bills will skyrocket as a result. More than that, as normal Motherboards are not suited for working with 6 (or more) GPUs simultaneously, you will need a special (or custom) Motherboard. You will need a custom ATX case to connect all the GPUs. Such cases can be bought online. Alternatively, you can build your own case. Before buying all the devices and trying to get them together, you'd better check on the PC Part Picker website (or elsewhere) if these devices are compatible.
Check out the $BTG dedicated Freewallet. The wallet comes with a Built-in exchange and is available for Android & iOS
#wallet #cryptocurrencies #bitcoin
=> https://t.co/Ny5FftBo3R pic.twitter.com/qDVYPNl9l5

— Bitcoin Gold [BTG] (@bitcoingold) November 2, 2020
Mining won't make any sense without installing a crypto wallet. There are many decent crypto wallets supporting Bitcoin Gold namely Trezor, Exodus, Freewallet, Bitcoin Gold Core, Ledger Nano, etc. Creating a wallet account won't take much time nor effort. Most of them have a clear and intuitive interface. If you are going to spend or store mining rewards in a currency different from Bitcoin Gold you will need an account on the crypto exchange where you will be able to sell BTG. There are multiple exchanges supporting Bitcoin Gold: Changelly Pro, Binance, Upbit, OKEx, HitBTC, Bithumb, and many others. If you are looking for the quickest way to get rid of your BTG you should check the exchange trading volume. The bigger the trading volume is, the bigger is the chance of selling the coin quickly. If you want to turn the freshly mined BTG coins into fiat money you should check if the exchange is supporting the fiat money withdrawals in your country. 
Finding a decent mining pool is another important task. The fees charged by the pools are varying, the same goes for the hashrate, the stability of the connection, and other parameters. Besides fees, there are the following preferences to consider while choosing the mining pool: a payout scheme, the server location, and limits (for example, the minimum payout). Mining in the pool supposes that the block reward is distributed among the participants of the mining in this pool. At the moment of writing this review (December 2020), the Bitcoin Gold block reward is 6.25 BTG. Despite the rewards in the pool are small, it's still better to mine in the pool, as solo mining puts you in the position where your mining rig has to compete with mining pools that most probably have a bigger hashing power than a solo rig. Having stable small rewards is better than losing each round and having a zero. There are many pools where you can mine BTG: 2miners, MinerGate, Pool.gold, BTGPool Pro to name some. The instructions on how to connect the miner to the pool may differ.
Thinking of making some extra cash mining $BTG? With graphics cards you may already have? Start today with 2Miners
- servers located in USA, EU & Asia
- support on telegram
- regular and solo pool
-> https://t.co/oqwFID65RX
@pool2miners #pools #cryptocurrency #gpu #bitcoin pic.twitter.com/cgTFHvlCz8

— Bitcoin Gold [BTG] (@bitcoingold) November 13, 2020
There are many mining programs that can be used for BTG mining. There are Gminer, MiniZ, Simple miner, etc. The installation and connection of this software are described on the Bitcoin Gold website. Check for updates and details there. 
How to Mine Bitcoin Gold?
There are GUI and command line miners. The latter usually have better performance while GUI clients are more intuitive for beginners. Do a benchmark to learn what hashrate your rig is capable of and start mining. If your room gets hot don't be embarrassed. That's a normal thing. Beware of catching fire though. Regardless of the chosen mining client or the pool, you will be able to track the hashrate, the number of workers (active devices), and the number of valid shares sent by the miner. If these figures drop then you should check what's wrong. To gain the mining power you can overclock your cards however, you should do that with caution. It's better to read about overclocking specific GPUs you use to get the best result. Actually, the further things totally depend on the pool and the mining software you choose so we are going to leave you here. Have a nice mining experience and good returns!
---
---