How To Buy Crypto With a Bank Card on HitBTC - Ultimate Guide by Cryptogeek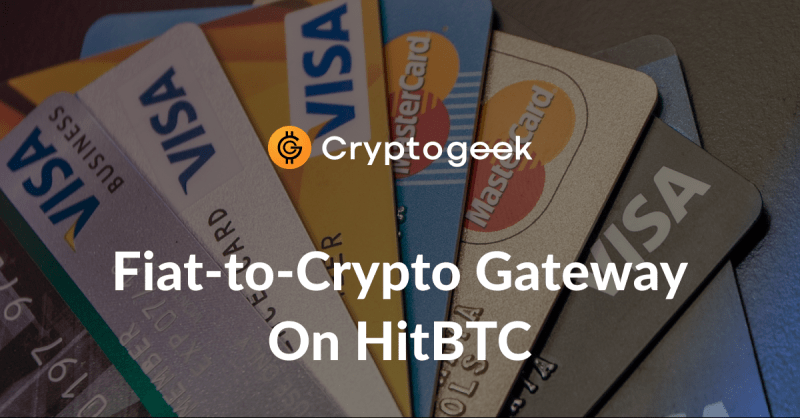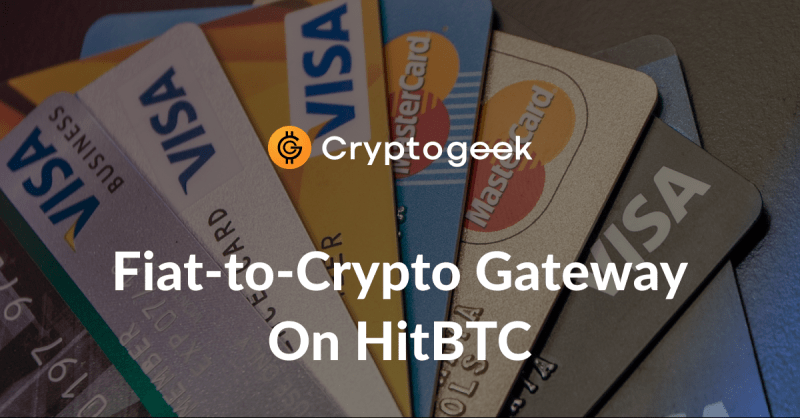 The opportunity to buy cryptocurrency with fiat money is a critical ability in the times when the new digital money gets global exposure. As cryptocurrencies continue a journey towards adoption, more and more people need platforms where they can exchange their fiat money for Bitcoin, Ethereum, or altcoins and become a part of a decentralized economy. In January 2021, a cryptocurrency exchange HitBTC introduced a new feature — now the platform customers can buy Bitcoin (BTC) or Ethereum (ETH) with a credit or debit card on the HitBTC website or through the mobile app. In this article, we will show how to do this and learn about the conditions of buying crypto on HitBTC. 
Introducing HitBTC
HitBTC is one of the industry leaders, a cryptocurrency exchange founded in 2013 and registered in Seychelles. As for liquidity, HitBTC is among the top 50 cryptocurrency exchanges with the biggest trading volume. Considering the quality matching engine, such liquidity grants users quick execution of trades. Another characteristic that HitBTC is famous for is the great number of supported cryptocurrencies. As of February 2021, there are over 440 supported currencies and over 1030 trading pairs available on HitBTC. There are not many exchanges in the crypto industry that can offer more options than HitBTC.
The trading process on HitBTC is enhanced with the ability to choose from numerous order types. It makes the process flexible and less risky. API keys are available to provide an experience of automated trading which is only becoming more popular as new trading bots hit the market. Those who want to boost profits by three, five, ten, or twelve times can get the leverage from the exchange as in 2021 it made margin trading available. Those who don't want to compromise their trades with market fluctuations can opt to use the OTC-trading service.
Another nice trait of HitBTC is that it charges nearly the lowest trading fees on the market. The registered users pay only 0.09% per transaction. As HitBTC uses a maker-taker model, the fees depend on the order types you use. All kinds of limit orders give high-volume traders a fee discount. The more you trade, the bigger the discount is. Starting with 20,000 BTC per month, market makers don't pay trading fees. Those who trade on 50k BTC or more, are rewarded for every transaction. Market takers (those who don't post limit orders) have to reach higher trading volumes if they want to enjoy fee discounts. Nevertheless, even the starting fee rate is lower than on most exchanges.
Crypto Gateway Details
On HitBTC the crypto gateway is executed through the platform's partners Moonpay and Banxa. The available options are buying BTC or ETH with credit or debit cards or via ApplePay. There are several supported fiat currencies including USD, EUR, AUD, and GBP.
Dear Traders,

Fiat to crypto payments are live on HitBTC!

Now you can buy cryptocurrencies with your Visa or Mastercard and have them arrive in your HitBTC account.

Buy crypto with fiat today on our platform.https://t.co/bLeog1XXkG

— HitBTC (@hitbtc) January 28, 2021
There are limits applied for buying crypto on HitBTC in one transaction. When using a Banxa option the minimum amount that can be spent is $30 while the maximum is $15,000. If MoonPay is used, the maximum amount is $12,000. Apple Pay is not available for those who use a MoonPay option. 
How to Buy Crypto on HitBTC?
It is better to start with registration and turning on 2-factor authentication. Registration on HitBTC doesn't take long. It requires providing an email and setting a strong password. However, it's better to fill in more personal info as withdrawals sometimes require the KYC process execution. 2-factor authentication is the way to avoid most chances of your account getting robbed. Not turning it on is negligence. The 2fa can be enabled through the installation of the authenticator app (Google Authenticator or a similar app). Such an app creates a token on the user's mobile device. This token is constantly generating one-time passwords that are good only for 30 seconds. One-time passwords are requested for every critical action like entering an account, withdrawing money, etc. It prevents strangers from accessing your funds. The only person who can access the account guarded with 2fa is the one who has an account owner's mobile device with the token. Okay, the account is created, 2fa is installed and the personal data is filled in. What's next?
The next step is clicking on Buy Crypto in the main menu in the upper part of the HitBTC homepage or in the main menu of the app. Another way to get to the page where the transaction is initiated is through proceeding to Account and tapping on the Deposit button. There you should choose ETH or BTC and click on Buy ETH/BTC With a Bank Card. When you get to the Buy With a Card Page, you just specify the currencies and enter the amount you are willing to spend or get. Also, you should choose if you are going to use MoonPay or Banxa. If Banxa is used you should choose whether you wish to pay with a card or through the ApplePay service. As all the details are filled in, click the Continue button. The transaction will be finalized on Banxa or MoonPay website.
---
---