Ethereum or Bitcoin Gambling Sites - Which to Choose?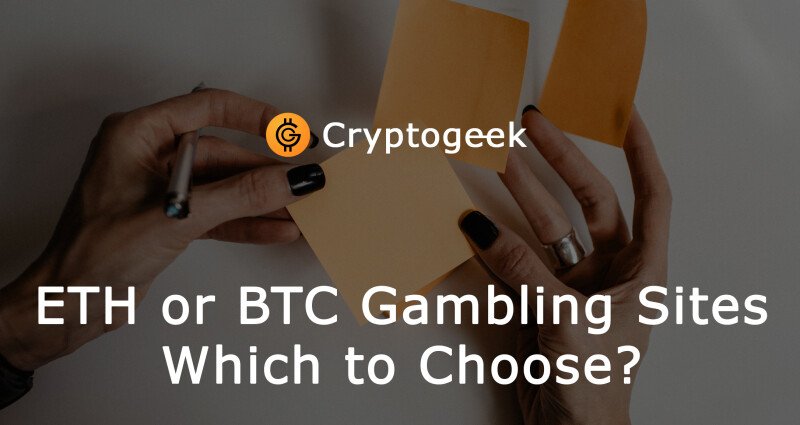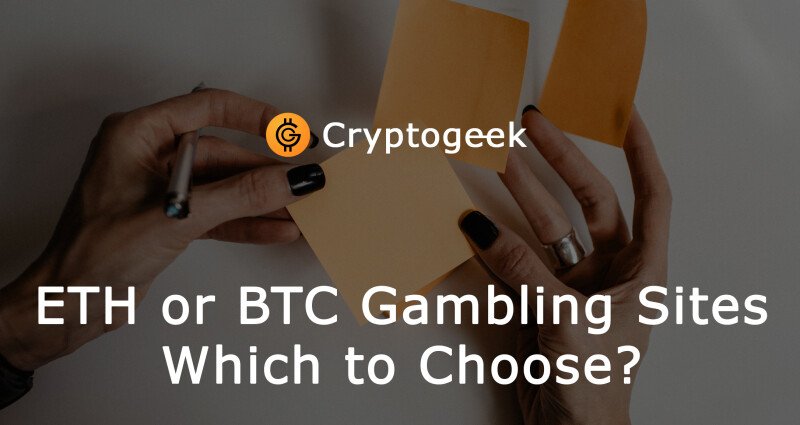 Gambling at its core has moved from just an entertainment activity that people try to grab fun from. Yes, people still grab fun from wagering on the outcome of different events in a pub, casino, bingo room, poker hall, arcade hall, sports betting vendors, lotto vendors, and most notably online. But gambling is now a way of life to some people who are proud to call it a profession, the class of which some of us belong. With crypto sites such as ethereum betting sites on the increase, it's important to make the choice to stick to one crypto of choice when it comes to gambling sites.  
This profession is one that not only enjoys the backing of the players, but also that of the regulatory authorities. So, we have seen a great surge in the adoption of various innovations that seek to revolutionize the gambling world. In this regard, crypto betting has become a big deal for professionals, with Ethereum and Bitcoin as the leading crypto coins around the betting space.
Contents
Bitcoin as a digital currency
Bitcoin is a digital asset that has its roots in the disruptive innovation of its unknown creator Satoshi Nakamoto in 2009. It's the first digital currency to go mainstream, repositioning financial payments and blazing a totally different trail in the peer-to-peer payment system. The asset has quickly grown from just peer-to-peer payments to gaining widespread approval and adoption from some unicorn startups, Fortune 500 organizations, and government authorities.
But beyond all these, Bitcoin has remarkably made its way to the casino industry, as a growing number of sportsbooks now adopt it as a banking method. Using Bitcoin as a payment option attracts a decentralized system of computers largely and securely interconnected to other decentralized systems. This is so that your payments are not only secure but the sportsbooks themselves are powered by this system, which makes it difficult to block them or even rig the activities against the sportsbooks and players. With this understanding, more and more fiat sportsbooks are making their way into accepting bitcoin. While bitcoin-only sportsbooks are on a permanent rise.
Ethereum as a digital currency
Ethereum is also a digital resource built as an open-source platform on which anyone and everyone can build their coin platform using decentralized application systems (dapps). Ethereum was first proposed by Vitalik Buterin, who would go on to partner with Gavin Wood to write the broader and more encompassing system. As an open-source resource, the platform uses its digital coin Ether to make payments and service provision seamless, effortless, and highly convenient.
Being the second highest cryptocurrency by market capitalization, Ethereum has a properly developed and operational smart contract system that makes it possible for different betting organizations to have their betting contracts implemented upon the doing of any predetermined event in the bookmaker's site. This blockchain network has really improved the efficiency of payments on the sites that offer it as a payment and withdrawal option. This accounts for why the platform is the most used crypto platform in the world, leading other dapps with its multi-dimensional offering to businesses, with the gambling landscape being a top beneficiary.
Gambling with Ethereum or Bitcoin?
Whether to gamble with Ethereum or Bitcoin isn't just something we can say or demand that you do. It extends to and permeates salient areas that need to be discussed, which you must understand as well, so you can be properly guided on which system to adopt. In this regard, we take a look at different points to help you make a sound decision as to which of the two systems you can rely on for your gambling needs:
1. Decentralization
In addition to being a payment system, Bitcoin is a decentralized system that allows other systems to run its blockchain network. Decentralization in Blockchain means that a system transfers its control from a specific and definitive authority, body, organization, entity etc. to a distributed network. The whole essence of decentralization is to reduce the influence that peers have on the direct predictability and control of another's digital assets. So the activities on the Bitcoin blockchain network are not subject to the whims of any single authority or body, which is why it thrives so well and has led to the adoption of sportsbooks.
In the same vein, Ethereum is also a decentralized open-source system that allows thousands of other crypto writers to write their crypto assets, launch and operate these on the Ethereum blockchain network. To add some context to this, according to State of the Dapps, a crypto app tracker, more than 3,000 decentralized apps are operating on the Ethereum blockchain network.
Looking at it critically, the concept of decentralization works for a lot of sportsbooks, given that no bookmaker really wants their system to be controlled entirely by anyone other than them. In respect of players, it works for them, because it has helped them to bypass regulatory authorities.
2. Transaction fees
Transaction fees are often specific and lower on Bitcoin and Ethereum than on fiat currencies. This has been the case in many online gambling transactions. But even in the cost-effective transaction fees charges, Bitcoin transactions and winnings in gambling sites usually attract more fees than Ethereum. This is mostly because the fees are fixed for most coins running on the Bitcoin network, but not always so for those on the Ethereum network.
3. Security, safety and anonymity
Both Bitcoin and Ethereum are cryptocurrencies, and as such, possess and offer players the wider protection that players demand to have when gambling. Most players seek to have a system that ensures discreet transactions are carried out in the most efficient and responsible way, and Ethereum and Bitcoin gambling sites offer these fully.
4. Bonuses and promotions
Of course, this post will be incomplete without covering this part. The truth is that bonuses and other promotional offers are available to players that bet with Bitcoin and/or Ethereum. Players just have to search for the gambling sites that offer such bonuses, register and grab these bonus offers.
Conclusion
We have covered the important areas that might be of concern to current and prospective punters. We have also looked at what distinguishes both crypto assets, leaving the punters to decide which appeals to them more. We hope you are able to decide after reading this post.
---
---