Bitcoin Cash (BCH) Price Prediction 2021-2025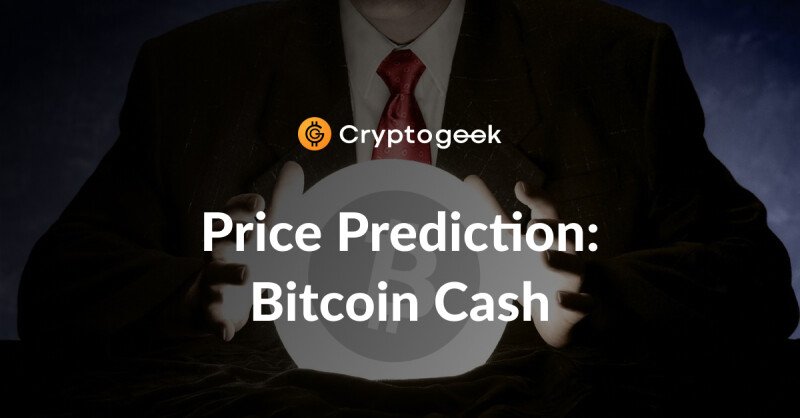 Predicting the prices of cryptocurrencies is something that many people consider to be useless. The reason is that the prices of cryptocurrencies are very volatile and the phenomenon itself is quite young so we don't have enough observations to make correct predictions sometimes. Moreover, many factors can't be foreseen because the industry is developing so quickly that the modern setting of the cryptocurrency market can dramatically change in a couple of days. That's why some people tend to laugh predictions off. At the same time, cryptocurrency traders and investors pay attention to the price forecasts. Everyday people request predictions of this or that coin's price on websites like Quora and Reddit because they want to understand if this coin is worth investment.
Bitcoin Cash is one of the most popular cryptocurrencies today. It was promoted as an improved version of Bitcoin. The creators of Bitcoin Cash (Roger Ver and others) claimed that thanks to the removing drawbacks of Bitcoin, Bitcoin Cash (BCH) can be widely used as a comfortable means of payment while BTC is not good enough for that. Bitcoin Cash has quickly gained a huge following. Many fans of this project consider it to be a true Bitcoin in contrast to BTC. Others criticize a toxic fanbase of Bitcoin Cash and accuse the platform of being too centralized and not being safe enough. It's understood that this polar perception of Bitcoin Cash leads to polar estimations of its future price. Fans of BCH believe that the coin is going to be on the top, while haters tend to anticipate its nosedive. We will try to figure out the future of Bitcoin Cash impartially but let's begin with the brief review of the Bitcoin Cash currency.
What Is Bitcoin Cash?
Bitcoin Cash (BCH) is a Bitcoin fork created in 2017. It was developed in order to make a faster and more convenient version of Bitcoin. The very name (Bitcoin Cash) hints that this currency is going to be used for day-to-day payments — something that original Bitcoin was yet to achieve on a high scale. Ironically, both currencies still didn't become an ordinary means of payment but it doesn't mean that this situation won't change later.
Get Profits with HODLing on Binance Earn
In order to achieve their goal, the developers of Bitcoin Cash increased the block size limit of Bitcoin from roughly 4 to 32 megabytes. This move has increased the number of transactions per second from around 7 (BTC) to 61. Another reason beyond the creation of Bitcoin Cash was the dislike towards the plans to implement SegWIt to the Bitcoin network. The lack of such plans is one of the Bcash's features.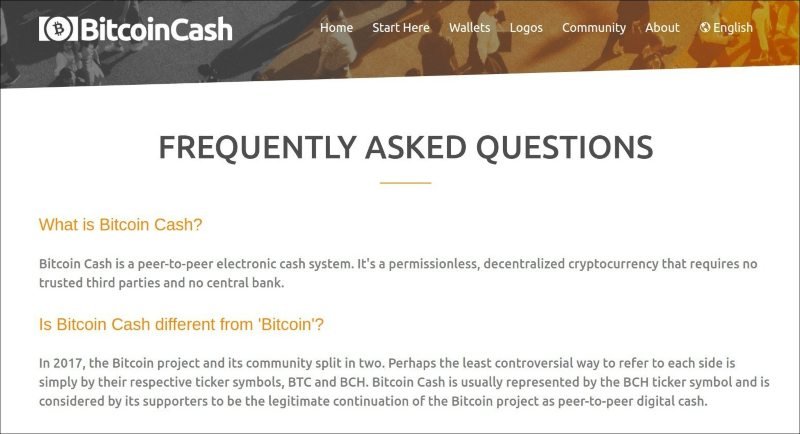 Probably one of the reasons behind the controversy that followed the creation of Bitcoin Cash is the use of the word "Bitcoin" in the name of a new cryptocurrency. It has led not only to a high price at the start and much attention to a new project but also to hot arguments between the supporters of the original Bitcoin currency and those who like Bitcoin Cash better.
Throughout time, Bitcoin Cash experienced a series of ups and downs. Despite losing over 80% of its ATH value by August 2018 the currency is still very popular. Overall, Bitcoin Cash is a successful cryptocurrency. All the time this coin was one of the top 10 cryptocurrencies. Soon after its launch, the asset was added to numerous cryptocurrency exchanges including Binance, Coinbase, ShapeShift, OKEx, Kraken, Hotbit, Bitfinex, Bitstamp, Gemini, and others.
Past Performance
Bitcoin Cash hit the market on August 1, 2017 — not long before the entire cryptocurrency market has reached its all-time high in terms of market capitalization. Due to the fact that the same month most of the biggest exchanges have listed Bitcoin Cash (OKEx, Kraken, Binance, ShateShift, etc), the price of a new altcoin has quickly started to rise. It raised from roughly $300 per coin to over $700 in three weeks. However, the price quickly dropped and then was quite volatile ranging between $300 and $650. The drop in the price is explained by the fact that many of the Bitcoin (BTC) holders received free Bitcoin Cash coins. When the price reached a high value many of these people decided to sell these coins. It resulted in a decline in the BCH price. The price was unstable until November 11, 2017. That was the day when the Bitcoin Cash price has surpassed a $1,000 mark and without hesitation continued to grow for weeks.

On December 20, Bitcoin Cash reached its all-time-high at $4,355.62. Not long before that day such industry giants as Bitstamp, Bitfinex, and Coinbase have included Bitcoin Cash in their list. Such support has catalyzed the growth of the asset. It's worth mentioning that listing on Bitstamp and Bitfinex led to a controversy over the name of the currency. To the displeasure of Bitcoin Cash fans, the exchanges have listed Bitcoin Cash as Bcash. Actually on Binance Bitcoin Cash was associated with a ticker of another cryptocurrency (BCC instead of BCH) and it was largely discussed in a crypto community, too.
Needless to say that after the entire cryptocurrency market reached its peak at the end of 2017 the crypto winter has started. Bitcoin Cash was affected by it as much as most of the cryptocurrencies. In early February its price had dropped below $1,000 — for the first time since November 11. In May the price was holding above $1,000 but in June it dropped again — this time shrinking to new 2018 lows. By September BCH price declined below a $450 mark. In December of 2018, the asset was added to an established Gemini exchange. It didn't help the price to rise up. Actually, in December 2018 the price has dropped below $100.

We should remember that in the same period the original Bitcoin (BTC) experienced similar patterns. Let's keep in mind that at times the BCH chart trends resemble the ones of BTC. When BTC started to climb up in May, the BCH price began to rise, too. Until the fall, BCH was floating around $300 per coin. When the Bitcoin price dropped in September, the BCH price dropped to slightly over $200.
At the beginning of 2020, the Bitcoin Cash price started to rise. The upward trend has ceased abruptly due to the most disastrous downfall of the cryptocurrency market in history. On the first days of March, Bitcoin Cash cost over $300 but on March 12 it closed at around $150. Nevertheless, shortly after the downfall, the cryptocurrency market demonstrated the ability to recover. Bitcoin Cash quickly regained some of the lost value and moved forward. For most of 2020, BCH was traded at $200 - $300 per coin. In December the price began to ascend. 
At the moment of writing this article (January 21, 2021), the price of Bitcoin Cash is around $448. The coin is ranked 8th by market capitalization which amounts to 8,419,027,332. Now let's try to figure out how much BCH will cost in the future.
Bitcoin and Bitcoin Cash Relations
In general, it is fair to say that all the time Bitcoin Cash price was highly dependent on the performance of Bitcoin and the overall cryptocurrency market. It followed general declines and uptrends steadily. The Bitcoin Cash fanbase at times shows the tendency to consider BCH as a replacement for BTC. Of course, we shouldn't rely on that attitude in the nearest future as by all accounts, Bitcoin (BTC) is way more popular than any cryptocurrency and this popularity is backed by the development of this network and the high trustworthiness and security that was demonstrated by Bitcoin for over 10 years in a row. According to research, 70% of US cryptocurrency owners don't have any cryptocurrency besides Bitcoin. It means that in the next several years, Bitcoin Cash will probably still be developing in the shadow of Bitcoin's popularity.
BCH is the most successful hard fork in history. The strength of the Bitcoin network will keep on benefiting Bitcoin Cash in the future as both currencies have much in common. More than that, Bitcoin Cash can be the first currency to use for people not satisfied by the Bitcoin network capacity.
Two coins have a strong one-way connection (as Bitcoin isn't dependent on Bitcoin Cash at this moment). The future price of Bitcoin Cash depends on the ability to maintain the public's interest in the project offering features that will make people prefer BCH over BTC. It's not an easy task as Bitcoin itself is not standing still. Currently, the Bitcoin Cash network is capable of processing more transactions per second but if Bitcoin developers manage to fix the scalability problem and increase the network capacity significantly, Bitcoin Cash will lose one of its main selling points. Considering the fact that 10 years after its launch Bitcoin is still not a matter of scam accusations, scandals but a strong and secure platform it has a huge advantage over altcoins including Bitcoin Cash. 
Price Prediction
Cryptocurrencies were the response to the financial crisis of 2008. The conventional banking system proved itself as not safe and it happened not for the first time. Bitcoin was an invitation to a parallel financial universe that doesn't depend on banks and authorities. Not many people took this invitation in the next 10 years. Cryptocurrencies exist simultaneously with common money and we still can't buy with BTC as much as we can buy with the USD. Probably things will change very soon.
The first global financial crisis since the creation of Bitcoin was sparked by the COVID-19 pandemic. It came even faster than it was expected. Time will show how good cryptocurrencies are in terms of when the traditional banking system is in collapse. As for now, most of the popular cryptocurrencies including Bitcoin Cash are quite stable in contrast to some of the fiat currencies. The current situation is a touchstone that will show if cryptocurrencies can reach a wider audience as an exchange medium and a store of value. Now we see the overall cryptocurrency market getting stronger.
2021
As the global financial crisis drives people away from traditional money the nearest times are seen as an opportunity for cryptocurrencies to grow in value and become more usable. As Bitcoin Cash is very popular it will most probably be used by many people. Investors will keep this project among the top currencies. Moreover, it keeps on developing. No doubt, by the end of Q2 of 2021 Bitcoin Cash will cost more than now probably surpassing a $500 mark or even reaching a $590 level.
2023
On a bigger scale, there is a chance for Bitcoin Cash to lose its grounds to Bitcoin as it keeps on growing too. Implementation of SegWit and Lightning Network can make it more interesting for investors and common people than Bitcoin Cash. It may slow the growth of the BCH price. We think that it won't grow bigger than $700 and won't drop below $500. The outcome depends on the success of the development of both networks.
2025
If Bitcoin Cash keeps on the successful development and manages to preserve its position as a decent Bitcoin rival, its price may reach up to $5,800 in five years. If it fails to stand the competition, it will grow slower and most likely will be floating $1,000 per coin at best.
---
---