The Top 5 Low Fee Crypto Exchanges in 2022 | Cryptogeek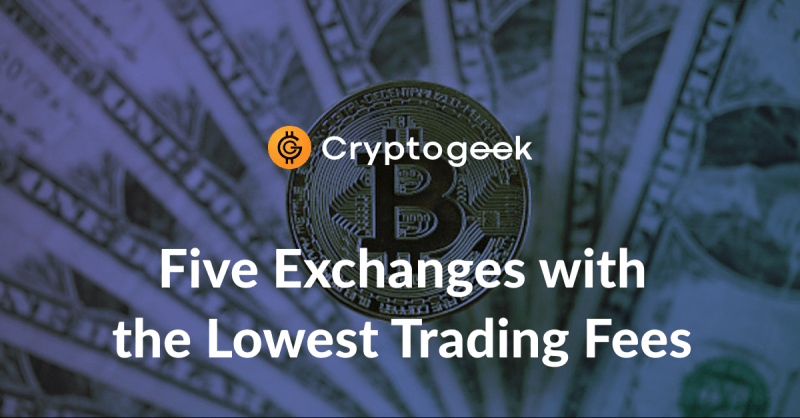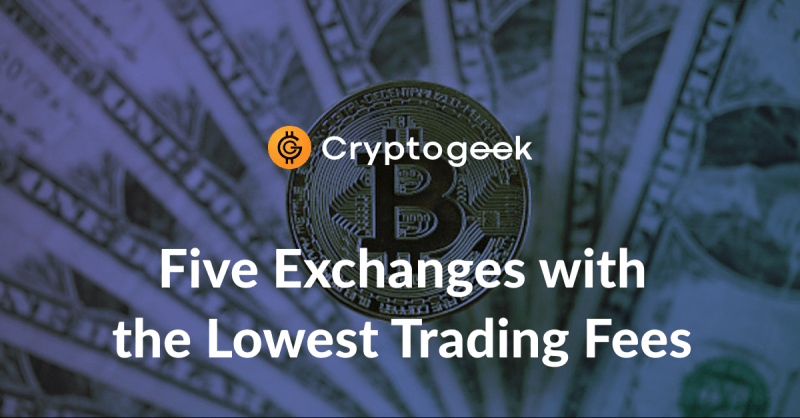 In this article, we will name the best crypto exchanges that charge the lowest trading fees. As the main purpose of trading is to get profit, it's important to consider how much money will be taken by the exchange in the process of trading. Choosing the exchange with friendly fees is as important as the trading skills themselves. It is something that determines how much money will land in your pockets.
Introduction
According to the Cryptowisser website, the average trading fee in the crypto industry is 0.25%. However, most of the top exchanges offer a more competitive fee policy charging only around 0.1%. In this article, we will learn that top exchanges collect even less than 0.1%. Let's test 5 exchanges and see how far they can go in reducing the commissions.
It's important to mention the difference between market makers and market takers because these two types of traders usually pay unequal commissions for the same transactions. Market makers are the traders who place limit-orders making the order book richer, hence "making" the market and adding liquidity to the exchange. Market takers are "taking" the orders from the book, decreasing the exchange's liquidity. As the exchanges are interested in having bigger liquidity, they usually incentivize those who make the market. Many exchanges charge makers with smaller fees or even don't charge any fees at all while takers usually have to pay higher fees. This differentiation between takers and makers plays a serious role in understanding the fee policies of the exchanges.
HitBTC
Trading fees: 0 to 0.25%
High trade volume bonuses: up to 0.01%
HitBTC has a complex fees policy based on the account level of the user and her/his trading volume. The lowest level users (those who didn't enable 2-factor authentication and didn't pass the KYC procedure yet) pay the highest fees charged on the platform — market makers are charged with 0.1% trading fees while takers pay 0.25%. These fees are relatively low. However, when it comes to the users who have already upgraded their accounts, the fees are much lower. You can see the full trading fee tier list in the picture below. The maximum fees collected from the upgraded account owners are 0.09%. It doesn't matter if the trader is a maker or taker. Traders with high trading volumes pay smaller fees. For instance, market makers with a monthly level between 500 and 1000 BTC lose only 0.05% in fees and don't pay fees at all starting with the 20,000 BTC volume. Starting with the 50,000 BTC volume market makers are paid 0.01% rewards for each transaction. Market takers with the 100,000 BTC monthly volume pay only a 0.02% trading fee.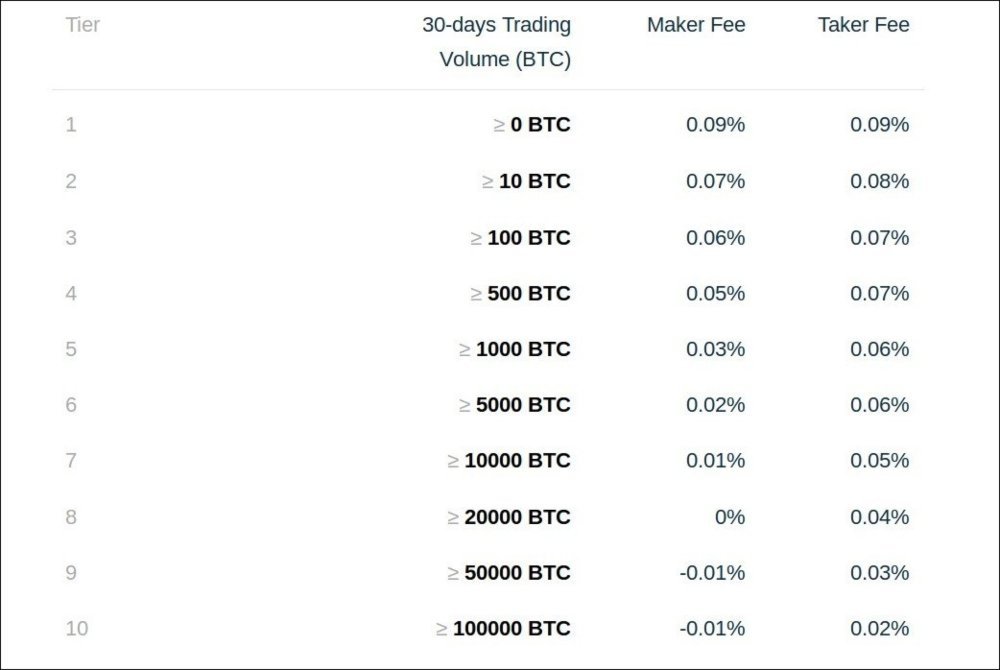 Resuming the facts, it's fair to say that HitBTC charges negligible trading fees which makes it one of the most worthwhile crypto exchange platforms to date.
Professional traders use HitBTC to access the most comprehensive selection of trading pairs available in the crypto market!

Browse our in-depth market list, you won't be disappointed!

Visit: https://t.co/3lZW7i6mMd pic.twitter.com/dKou9356q5

— HitBTC (@hitbtc) January 10, 2021
Binance
Trading fees: 0.02 to 0.1%
High trade volume bonuses: no
Unlike HitBTC, Binance doesn't provide market makers with bonuses. However, the trading fees level on the exchange is one of the lowest in the industry. The maximum fee level both for makers and takers is 0.1%. Those who trade in large volumes or hold certain amounts of the native Binance token (BNB) can enjoy trading fee discounts. Makers with a monthly trade volume between 1500 and 10,000 BTC pay a 0.07% trading fee. Takers can enjoy the first discount only after reaching the volume of at least 4500 BTC (the fee decreases to 0.09%). Market makers with a monthly volume of at least 20,000 BTC can enjoy a trading fee of as little as 0.05%. For takers, this fee is available after trading 80,000 BTC in a month. Those who don't trade that much can reach a discount on Binance via staking some BNB coins. You can get the same 50% trading fee discount (a 0.05% fee) if you hold over 3500 BNB (for makers) or over 9000 BNB (for takers). The lowest possible trading fees on Binance are 0.02% and 0.04% for makers and takers respectively. The condition is a trading volume excessing 150,000 BTC a month or holding over 11,000 BNB.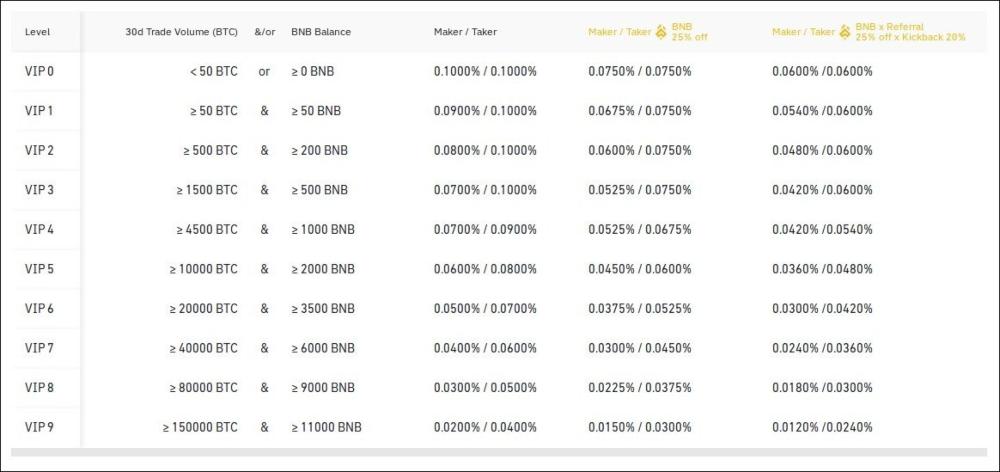 All in all, Binance is friendly for takers and Binance Coin holders. Discount levels have relatively large intervals if we compare them with conditions applied on exchanges we are going to showcase below.
Kraken
Trading fees: 0 to 0.26%
High trade volume bonuses: no
Kraken charges higher trade fees than Binance and HitBTC, however, it provides discounts determined by the trading activity. In contrast to the platforms mentioned above, Kraken calculates the users' trading volume in USD, not in BTC. Those who trade less than $50,000 per month, pay 0.16% (makers) or 0.26% (taker) fees. 0.1% fee (which is the highest possible commission on Binance) starts at $250,000 per month for makers (nearly 13 BTC as of mid-December 2020) and at $10 million per month for takers (around 518 BTC). This discount policy showcases how strongly Kraken rewards makers against takers and how little they demand in order to provide some discounts (however, HitBTC still grants bigger discounts to traders with corresponding trading volumes). For market makers, $10 million monthly trade volume brings the total elimination of trading fees.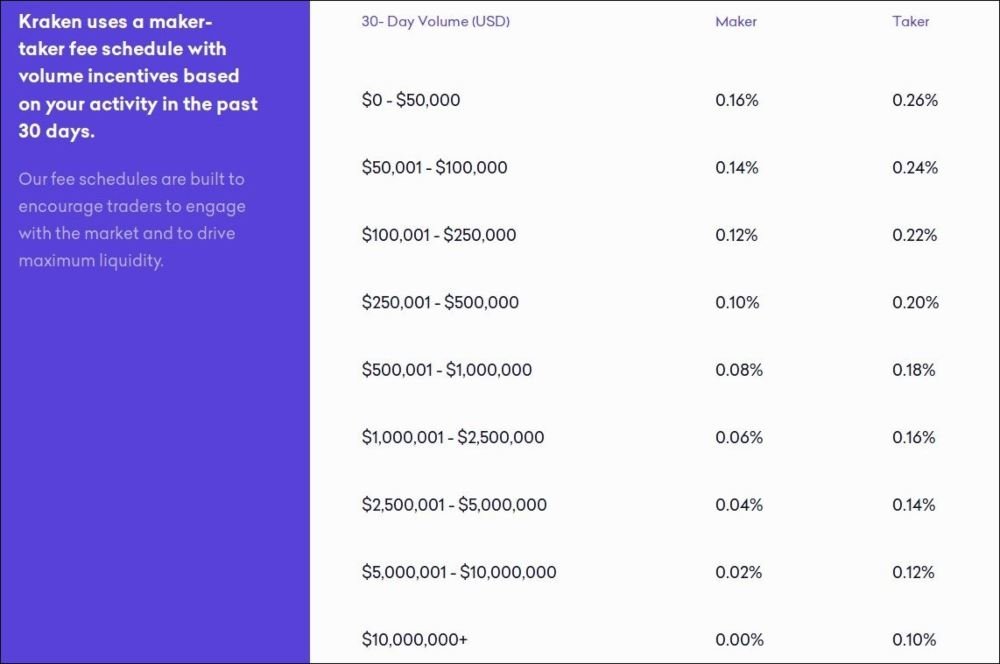 It is safe to say that if you are a kind of trader who prefers to post limit-orders, you have a higher chance of paying much fewer fees per trade than if you are a taker.
Bittrex
Trading fees: 0 to 0.2%
High trade volume bonuses: no
Bittrex is another exchange famous for its low fees. Just like the exchanges mentioned above, trading fees are based on the maker/taker model and are differentiated depending on the user's monthly trading volume. Bittrex is calculating the trading volume of users in USD. Both takers and makers have to pay a 0.2% fee if they don't reach at least $50,000 in one month. This fee rate is the highest rate for market makers among the exchanges picked for this article. Traders with a monthly volume between $50,000 and $1,000,000 enjoy discounted fees — makers pay a 0.12% fee and takers pay 0.18%. If we consider the current BTC price (mid-December of 2020), the volume interval is roughly 2.6 BTC to 51.8 BTC. This rate is softer for takers but not for makers if we compare it to the Kraken fee rate. Binance with its maximum fees of 0.1% is better, that's no brainer. The same goes for HitBTC where traders with volumes between 2.6 and 51.8 BTC pay even less (0.06% to 0.09%). Trading on Bittrex from 1 million to 10 million dollars per month Bittrex is still tough in terms of fees for takers (a 0.15% fee) and is quite alright for makers (only a 0.05% fee). For example, this maker fee is lower than the commission collected on Binance from users trading 1 million to 10 million per month. The Kraken fee policy for this trading volume level, in general, is more democratic. As for the HitBTC fees for this trading volume, it is almost the same for makers but takers pay as twice as less as on Bittrex. One has to trade over 60$ million (over 3100 BTC) as a maker on Bittrex to get the fees eliminated. That's not too much if we compare it to HitBTC's requirements for the fee elimination (it requires a 20,000 BTC monthly volume) but more than on Kraken where makers don't pay fees if they reach a $10+ million trading volume in 30 days. The minimum trading fee for takers is 0.08% which is relatively high although one needs to trade over $60 million to get such a discount.

The exchange with the highest trading fees on this list. Nevertheless, you shouldn't write the platform off, as the fees are still lower than on most crypto exchanges — especially considering the fee policy. 
Make the move to crypto in seconds.

Our new Instant feature allows you to buy and sell #Bitcoin with lightning speed.

Check it out: https://t.co/RLPJYXGv9S pic.twitter.com/gonFC08KYD

— Bittrex (@BittrexExchange) December 23, 2020
Poloniex
Trading fees: 0 to 0.125%
High trade volume bonuses: no
Poloniex is another exchange using the taker/maker model in trading fee policies. The fees charged by this platform are quite low if we compare them to most of the crypto exchanges and only the rest exchanges from this article can be strong rivals for Poloniex. The fee discount levels depend on trading volume (in USD) or alternatively on the held TRX coins amount. The starting level (for traders with the monthly volume lower than $50,000 or those who hold less than $50 in TRX) is 0.125%, no matter if the trader is a maker or taker. This is quite a small fee however still higher than on HitBTC and Binance. The discounts start at the $50+ thousand volume or $50 worth of staked TRX coins. Both makers and takers pay 0.095% instead of the 1.25% fee. That's better than on Kraken or Bittrex but isn't more favorable than the fees charged by HitBTC and Binance. The serious discount starts at the level between 1 million to 10 million (51.8 to 518 BTC as of mid-December 2020) in trading volume: makers pay 0.05% while takers pay 0.85%. That's way better than the discounts corresponding with the same trade volume on Binance. On this level, it favors takers better than on Bittrex and Kraken however, in no way these rates are better than on HitBTC. The $10 million (~518 BTC) trading volume decreases the fee to a 0.03% level for makers. The $50 million (over 2590 BTC) trading volume grants makers a 100% trading discount. Takers with the same trading volume pay 0.07% which is better than on Kraken, Bittrex, and Binance. The taker trading fee can be decreased further. To do so users should apply for Silver or Gold accounts. The minimum taker trading fee is 0.04%.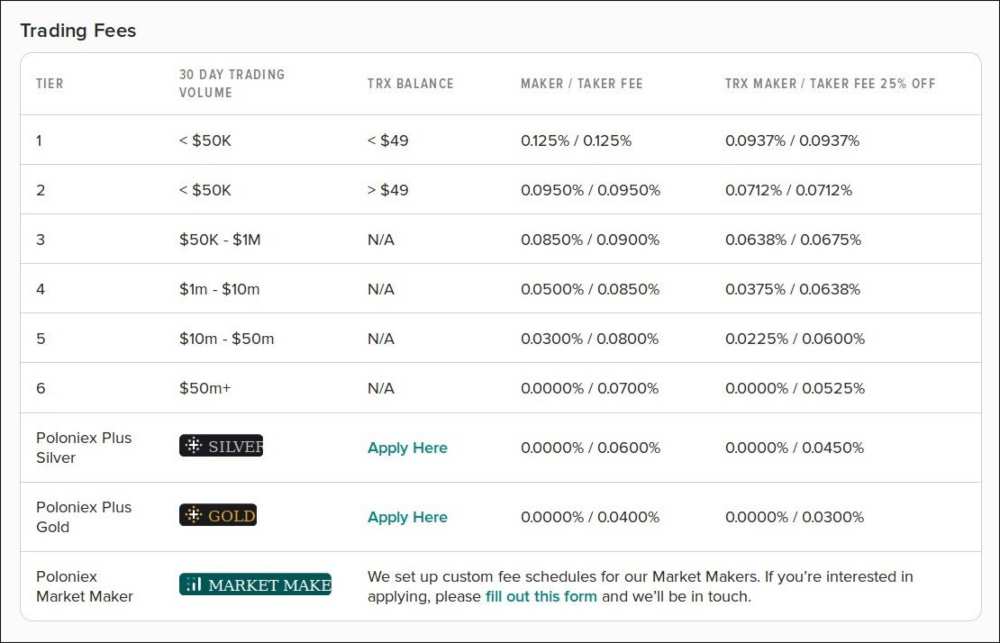 Poloniex beats all the exchanges except HitBTC in terms of trading fees, however, it's a bit more expensive at the moment of cashing out.
---
---