Nexo Lending Platform Review 2021 - Is It Legit? | Cryptogeek
Mar 04, 2021
The traditional financial sector has a section that many people around the world have used. Lending or borrowing is the process of getting a certain amount of funds and then returning them at a specific rate.
As soon as blockchain and cryptocurrencies began to take over the financial sector, they also began to get incorporated into various aspects of it. One of the many examples is blockchain-based lending platforms. There are tons of those available on the market today, and the one I'll be talking about is Nexo.
What is Nexo?
Nexo is a relatively young blockchain-based lending platform where you can borrow, lend or even trade funds. The company is relatively new to the market. Launched in 2018 with headquarters in London, Nexo offers crypto credit lines with lower taxes than usual, high-yield earning, the option to send and receive funds as well as a trading platform. All of this comes packed with custodial insurance and a Nexo wallet with top-tier security.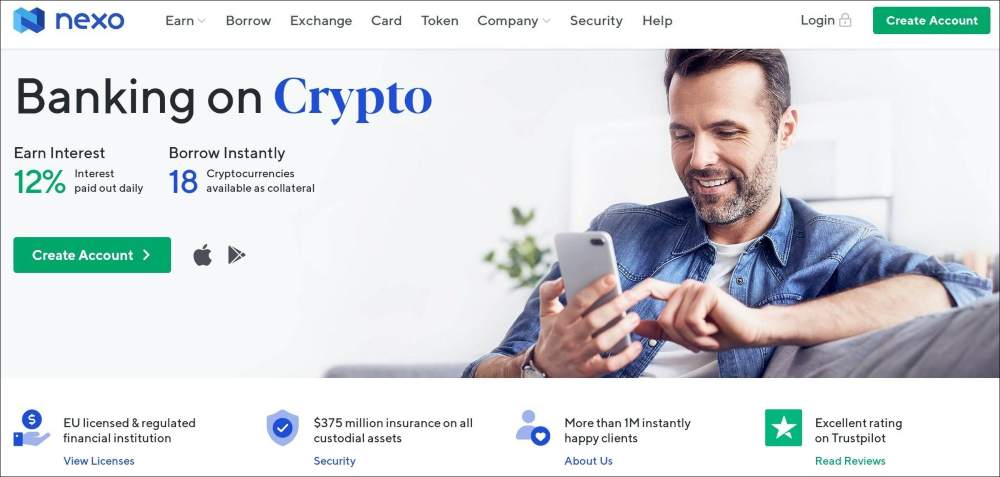 Nexo is available in over 200 countries and supports over 40 fiat and 17 cryptocurrencies. To borrow funds, you can do that in a fiat currency, and you will need to deposit your cryptocurrency. For lending, you are using your crypto or fiat assets.
Unlike a regular bank where you have to go through a credit check, with Nexo, that step is eliminated. To borrow from the service, all you need to do is deposit crypto as collateral.
Nexo Services
Nexo offers 4 services: Earn, Borrow, Exchange and Card.
Earn
To earn, you have two options, either to earn with cryptocurrencies or fiat. The principle is the same; the only difference is the accepted currencies and how much interest you will get.
On the fiat side of things, Nexo only accepts EUR, GBR, and USD, where all 3 currencies get 12% interest. If you want to lend your crypto, Nexo accepts 17 coins divided into two categories: stablecoins and other cryptocurrencies. The difference is that you get the 12% interest with the stablecoins, and you get only 8% with the others.
In both cases, you have the option to earn in kind or in NEXO. The difference is how you plan to receive your rewards. If you go for the NEXO option, you are getting the percentage mentioned above. If you go with "earn in kind," you will receive a reward in the same currency as the one you are lending. With that, you will be getting 10% or 6% interest.
Borrow
The process of borrowing from Nexo is pretty simple and straightforward. To get a loan from a bank, you'll need to go through the vetting process, regardless if you have some collateral or not. With Nexo, that is eliminated, and all you need is to have one of the 18 coins from their list. This includes the 17 coins Nexo supports and the native token of the platform — NEXO.
Nexo's idea behind this is to avoid selling your cryptocurrencies but still manage to get a loan. Even though Nexo claims that there are no fees, that only applies for the transfer. For returning the borrowed funds, you have APR starting from 5.9%, but keep in mind that it is variable.
When you go to borrow, the number of funds you need to leave as collateral will depend on your loan amount. Nexo's LTV or loan to value is 50%, meaning that the collateral should be double the amount you want to borrow.
As for the payments, they offer flexible options and don't "force" you to make monthly payments. The maturity of a loan is 12 months. If you don't return the funds you borrowed, you won't be able to get your collateral back, and the loan will be extended for another 12 months.
You won't have too many limitations when borrowing from Nexo. Apart from the regular ones, there is a limit on the amount you can borrow. The minimum is $10, and the maximum is $2 million.
Exchange
To keep you on the platform, Nexo has developed an exchange with some decent trading pairs. Unlike some of the exchanges that we know, Nexo works by routing the trading through multiple exchanges. They claim that they have the best market prices, something that shouldn't be taken for granted. On the other hand, considering how the system works, that may be true.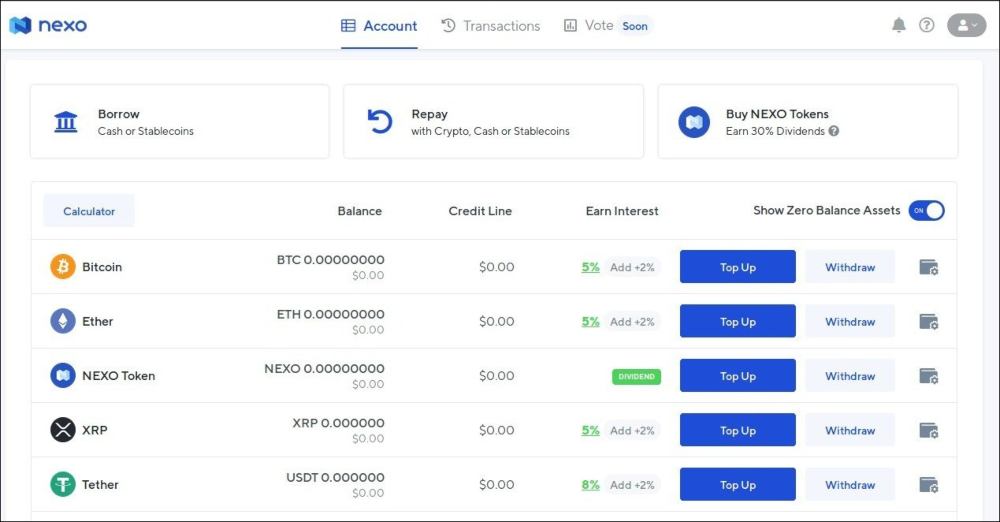 As for trading, there are over 75 trading pairs, including crypto and fiat currencies. You have the regular cryptocurrencies and the stablecoins that Nexo uses on their other services. You can also find a few trading pairs, including their own NEXO coin. As for fiat, the only currencies available are EUR and GBR, but no USD.
One slightly unique thing is the lack of price fluctuations. When you place the order, the price remains the same, unlike other exchanges where the price can fluctuate several percent. In addition to that, everything is instant, and as soon as you place the order, your balance will be updated.
The #NexoExchange gives you the freedom of unlimited swaps!

• No limit on the number of swaps
• Up to $50K per single transaction
• 75+ trading pair for you to swap between

For more check: https://t.co/K9Zl94cuKS pic.twitter.com/Zglnt7DEEz

— Nexo (@NexoFinance) February 27, 2021
In regards to limitations, there is one where you have a cap on the maximum amount you can trade in one transaction. The limit is $50 thousand, which is not a lot, but you don't have a limit on the number of transactions you can make. In other words, as long as you keep each transaction below the $50k mark, you are good to go.
The overall process is simple. You need to download the app, select the pair you want to trade, enter the amounts and click exchange. Everything is instantaneous.
Card
Nexo is a company that tries to offer multiple services to keep users on their platform. With that idea in mind, they also released their Nexo card. It is like a prepaid card, but you are getting them from your Nexo wallet instead of loading them with funds.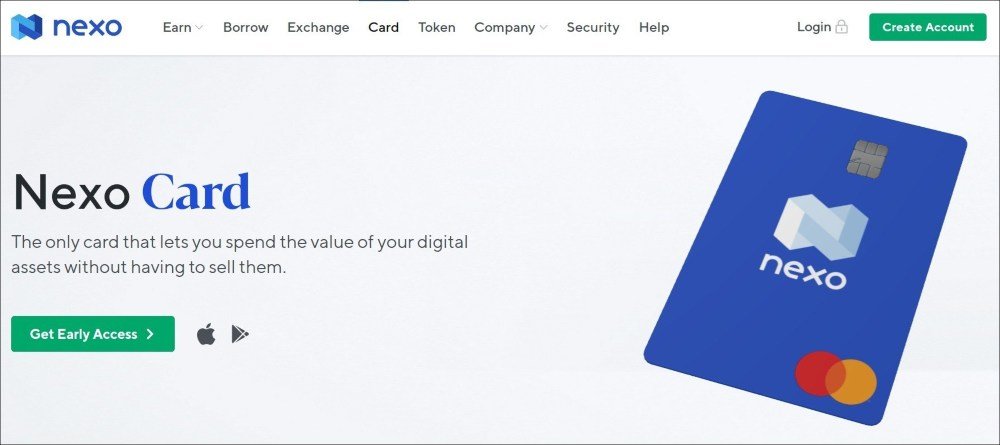 The card is developed to act like any other debit or credit card you have, meaning that you can use it to pay, withdraw funds from ATM, pay for online services, and more. Since it's accepted by over 40 million merchants across the globe, you have plenty of flexibility when it comes to using it.
Nexo's card is linked with the wallet, meaning that you can use the same app for the wallet and control the card. You can block or unblock the card in a few seconds. Like most banking apps, you can track your payments and enable push notifications for inbound or outbound transactions. If you are the type of person that does a lot of online shopping, the virtual card option will be perfect for you. Basically, you can create virtual card information and use it to make the payment. That way, the card information on your original one remains private and safe. A cashback option is also available, enabling you to get 2% on any purchase you make. The cashback rewards can be paid out either in NEXO or BTC, but not in the other coins supported by the exchange.
Conclusion
Crypto lending platforms are not something new. Several have existed before Nexo, and many more will come in the future. Up until this point, I can say that the services that Nexo offers are excellent.
Unlike some of its competitors, Nexo offers the full set of features, meaning that you won't need multiple platforms. On the usability side of things, it's relatively simple to use and set up, as most of what you'll be doing will require several clicks or taps. Speaking of taps, the mobile app is basically the entire service at the palm of your hand, meaning you won't need access to a computer.
Overall, I recommend Nexo to anyone looking to lend, borrow or trade. It is far from a perfect service, but the advantages outweigh the disadvantages.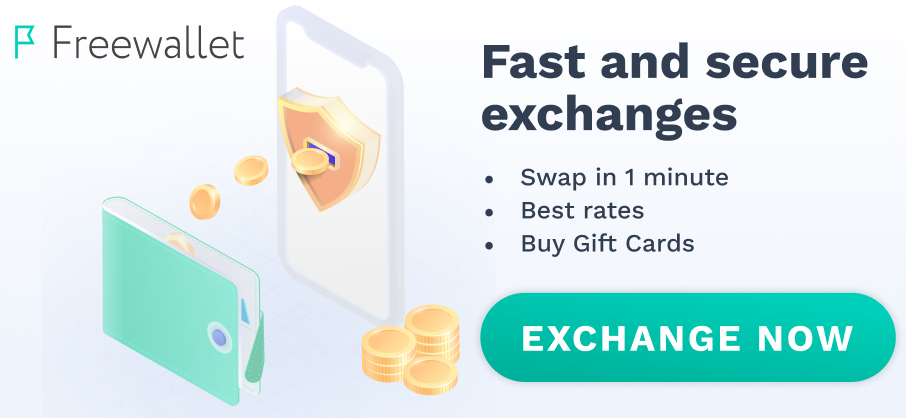 Martin Alekseevich
29 March 2021
Decent platform