CryptX Terminal Reviews 2021
Aug 03, 2021
The founder of a multi-functional cryptocurrency platform CryptX, Joseph Bolkvadze believes that bots are the future of crypto trading. Considering how many opportunities bots bring to traders, there is no doubt that they will play a huge role in the trading process. Moreover, bots are already quite popular. Today, we will review CryptX Terminal, a platform allowing us to manage trading bots. In this review, we will highlight the main features of this platform, figure out if it is safe to use it, answer if CryptX Terminal is a scam, and other standard questions.
What Is CryptX Terminal?
CryptX Terminal is a one-stop crypto trading platform with a wide range of features associated with the use of trading bots. It's important to note that features provided by CryptX Terminal are not limited to trading bots functionality. Rather, the platform provides a rich trading experience with analytics tools, market arbitrage, and other features. 
The platform supports trading via bots on 10 exchanges: HitBTC, Binance, Binance.us, Coinbase Pro, Kraken, Bitfinex, Bitstamp, KuCoin, and OKEx. As you can see the list is quite solid as the exchanges are among the top exchanges by trading volume. More than that, these exchanges support hundreds of cryptocurrencies so you will have a big choice of coins.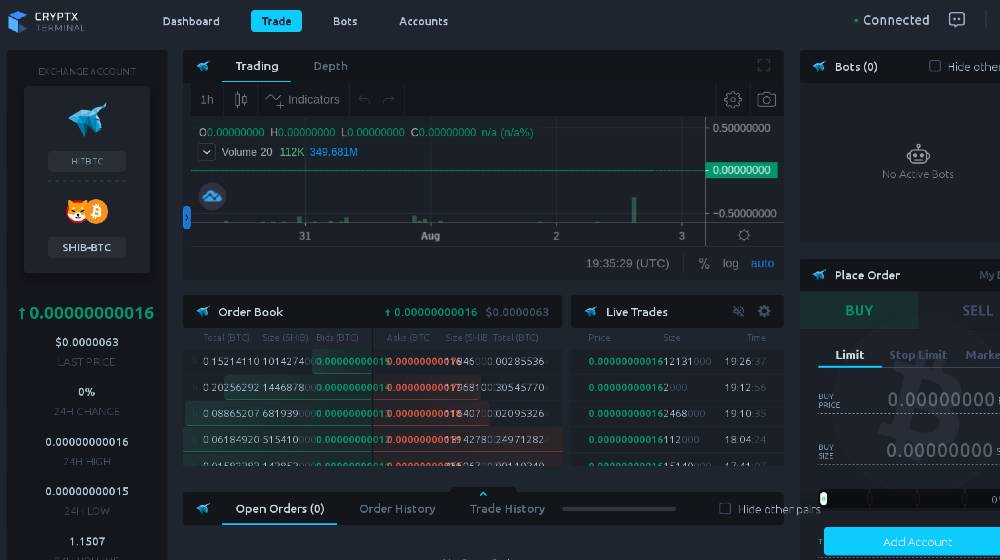 CryptX Terminal is just one of the many services developed by the company CryptX. The company provides such services as crypto ATMs, crypto wallets, crypto exchange, etc. CryptX proclaims that its goal is making cryptocurrencies easy for everyone. This goal is reflected in the company's products including CryptX Terminal. 
CryptX Terminal was launched in January 2021 after two years of development. Three team members are open to the public. They are George Gvazava (CEO), Irakli Merebashvili (CTO), and Nana Tsiklauri (UX/UI Designer). The company is registered in Georgia.
Main Features
On CryptX Terminal, you can manage multiple exchange accounts and wallets via API keys without the need to visit each platform to perform actions. It is a convenient way to benefit from opportunities provided by each exchange instead of limiting yourself with features of the single platform. You will be able to trade more coins, use more features, and trade at the best prices. More than that, CryptX Terminal provides a feature of arbitrage between accounts. Also, you can set your reports or use inbuilt reports from CryptX. 
One of the main focuses of CryptX Terminal is trading bots management. The platform provides a wide array of pre-programmed bots. So if you are looking to give the platform a ride, you can simply choose one of them and see how it works. If you don't have much experience in using bots, you can try to use one of the bots set by CryptX, too. There are such bots as Accumulator, Bollinger Bands, MACD, Order Chain, RSI, and others. Automated trading allows doing dozens of transactions simultaneously — that's a great way to boost your profit from small transactions as a human being is barely able to do as many trades per minute as bots. If you have a deep understanding of trading via bots and you know exactly what you want, you may customize the bots on CryptX Terminal to get the maximum profits from the trading process.
💡Things to know before using CryptX Terminal ‼ pic.twitter.com/xEX70BKjjx

— CryptX Terminal (@CryptxTerminal) March 12, 2021
Also, CryptX Terminal provides a quality analytics service (Analytic Reports and KPIs) allowing you to set the goal and compare the results with what was planned. The reports can be customized. In general, the data you get from the reports, reflect how profitable (if profitable at all) your investments are.
How to Use CryptX Terminal?
The registration takes only a couple of minutes. You only have to provide an email address, a full name, set the password, and confirm the registration via email. As the account is created, you can try the platform. The free trial is 30 days which is more than enough to get a good acquaintance with the platform's features and characteristics.
We have already mentioned that ease of use is the priority of CryptX and CryptX Terminal proves it. There are only four main sections on the website that nevertheless provide rich functionality. The sections are Trade, Dashboard, Bots, and Accounts.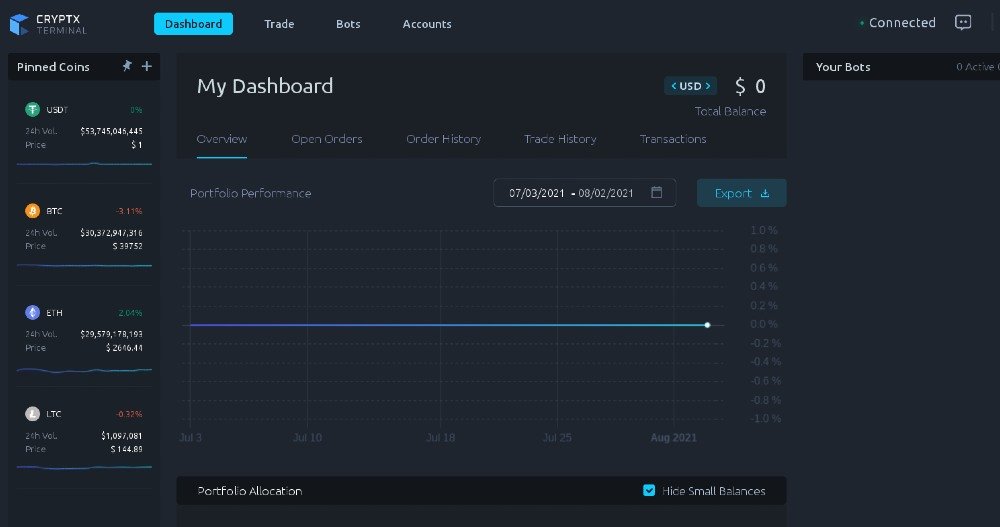 In the Dashboard tab, there are several sections. The Pinned Coins is the list of the coins that interest you the most. You can see this section on the left. At any moment you can take a glance at Pinned Coins and see the price, the change, and the current volume of your top coins. At the center of the page, there is a My Dashboard section. There is a total balance that can be displayed in USD and BTC. Also, it has Overview, Open Orders, Order History, Trade History, and Transactions tabs. The Overview tab provides a portfolio performance chart. In the Open Orders tab, you can see the open orders you have. The accounts, exchanges, and order types are specified. In the Order History tab, you can search for the orders you were posting in the past. There are several filters to help you find the one that you need. The Trade History and Transactions tabs are designed similarly. Another section is Your Bots. You can see it on the right. It shows the number of active bots and errors.
The Trade tab takes us to the trading environment. There are two subsections in the Trade tab: Trading (with a candlestick chart for selected exchange and crypto pair) and Depth (showing the market depth chart). Under the charts, there are Order Book and Live Trades sections. At the bottom of the Trade page, there are lists of your orders and other actions: Open Orders, Order History, Trade History, etc. On the right, there is a list of your active bots and the section in which you can place new orders.
In the Accounts tab, you can add more accounts associated with different exchanges or wallets supported by CryptX Terminal.
The Bots tab is designed for managing your bots. By default, there are 2 available bots — Accumulator and Multiorder Accumulator. More bots can be added as you make a subscription. You can set the bot's parameters by clicking on the bot's name. You can edit the bot's name and associate an account with it. Also, you can specify the pair of currencies for the bot. In the Randomize Settings, you can set the trading strategy for your bot via indicating the type of orders, the possible number of simultaneous orders, price limit, and so on. In order to prevent losses, you should indicate the limits at which the trading should stop in the Stop Trigger section.
Costs
There are three plans that can be bought with several currencies. American dollars, Euros, Pounds Sterling, Yen, and Bitcoins are accepted. The plans are Starter Plan, Advanced Plan, and Professional Plan.
Starter Plan is free. It supports the management of a single account and two exchanges. The trading volume limit is set at $10,000 per month. Users with a Starter Plan can have one bot and do a single backtest per day. Also, the plan provides monthly KPI reports, and standard-level support.
Advanced Plan costs $37. It allows you to connect to multiple accounts and exchanges. The monthly trading volume is $1 million. Also, it grants the use of up to 10 bots and 100 daily backtests. The KPI reports are provided annually. The support level for Advanced Plan owners is standard. You may try this plan for free in the first month after signing up.
Professional Plan is $74. In contrast to Advanced Plan, it has no trading volume limit, an unlimited number of possible active bots and 1,000 backtests per day. More than that, Professional Plan owners enjoy lifetime KPI reports, and VIP-level support access. The plan can be tried out for free in the first month after signing up.
Is CryptX Safe?
Before you choose to use CryptX Terminal you should make sure that the platform is not a scam. Usually, the anonymity of the team behind the brand is regarded as a red flag. Happily, the team members of CryptX are public and it makes this enterprise seem legit. 
In terms of security measures provided by the platform, there are such features as login alerts and 2-factor authentication. The latter can be considered as one of the most popular and efficient means of account protection. There is not much info about other ways that CryptX provides security. The lack of negative feedback online tells us that CryptX Terminal is rather a safe platform.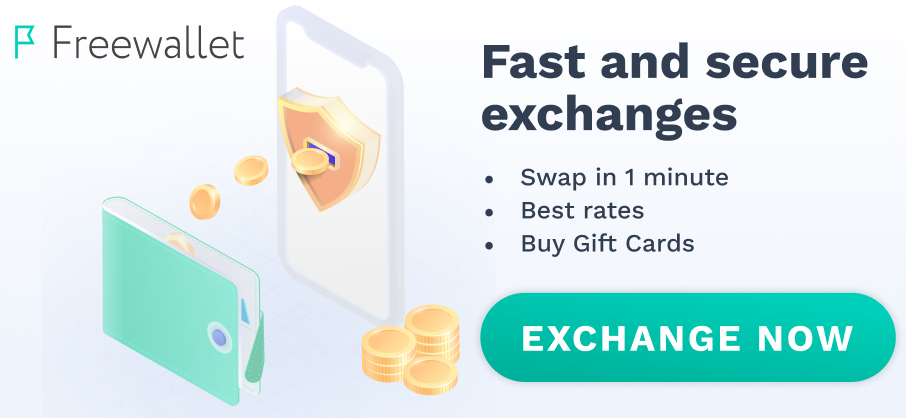 Yannis Ziakas
15 January 2022
Extreme user trap scam, bu cancel button, hilariously predatory model stay away.