Fetch.ai (FET) Price Prediction 2022 - 2030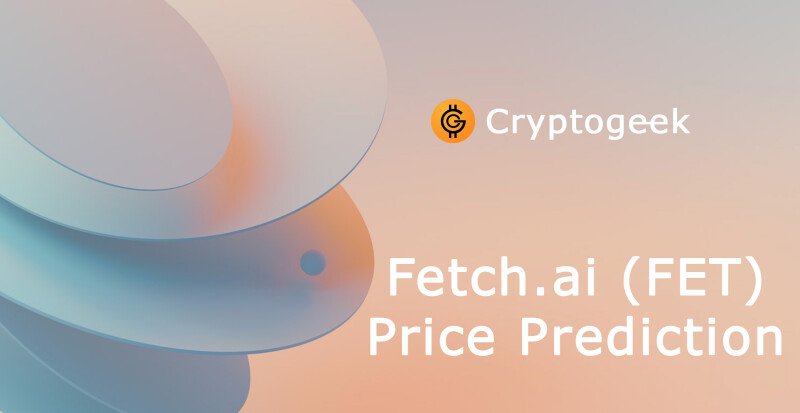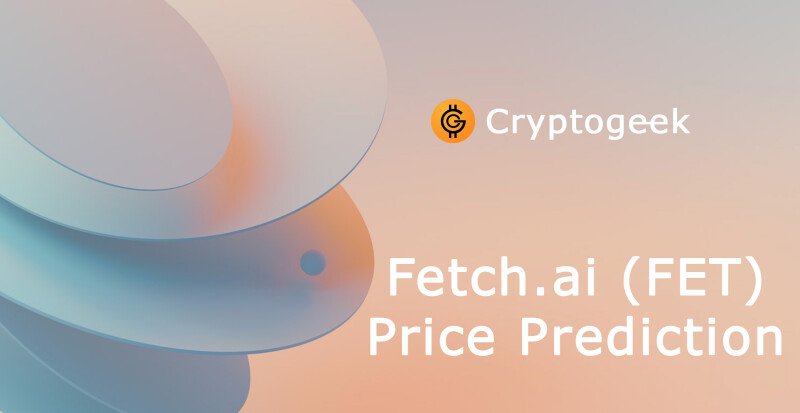 Blockchain, cryptocurrency and AI – this may sound like a combination of three modern buzzwords, but it actually describes an exciting project we'll look at today. 
Cryptogeek has a separate page dedicated to Fetch.AI, but here we're going to learn a bit about their token in particular and then discuss its probable future. Because price predictions are always more exciting than mere business talk, aren't they?
We have to preface this article with a classic warning: it does not contain any direct financial advice, but provides you with information from open sources and our inference from it. Any investment decisions you make will be entirely on you, and we advise you to conduct your own research beforehand. That being said, let's dive in!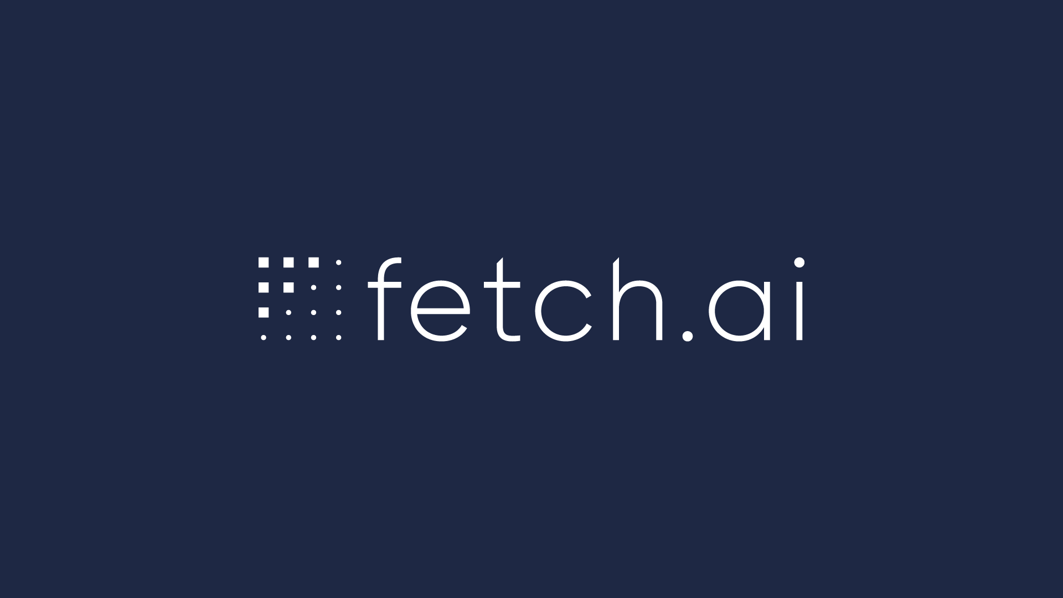 A brief overview of the company
According to their website, Fetch.AI share the primary value of the cryptocurrency revolution – #removethemiddleman, as they eloquently put it.
Fetch.ai network is a layer-1 network for Ethereum built on an interchain protocol. It is based on the Cosmos-SDK (just like the Binance Chain it was initially launched on). The Fetch.AI's network is designed to allow for building Dapps and peer-to-peer applications. It reached an impressive figure of 30,000 TPS during the private testing period with the block duration of under 1 minute.
The company brings digital twins as their know-how to the market. Digital twins are programs that act on behalf of the user, pulling isolated pieces of information from all around the web and putting them together to perform a particular task. As an on-the-ground example, they can automate manual interactions within marketplaces, making them more efficient and reducing the cost of operations. So the company's mission is to bring machine learning and artificial intelligence solutions to those who don't have enough time to figure them out (and let's be honest, that covers a big chunk of the population).
The nodes within the system are divided into two categories: "trusted" and "trustless." The latter can be operated anonymously, while the former requires you to provide identity proof while giving you access to more sophisticated search mechanisms.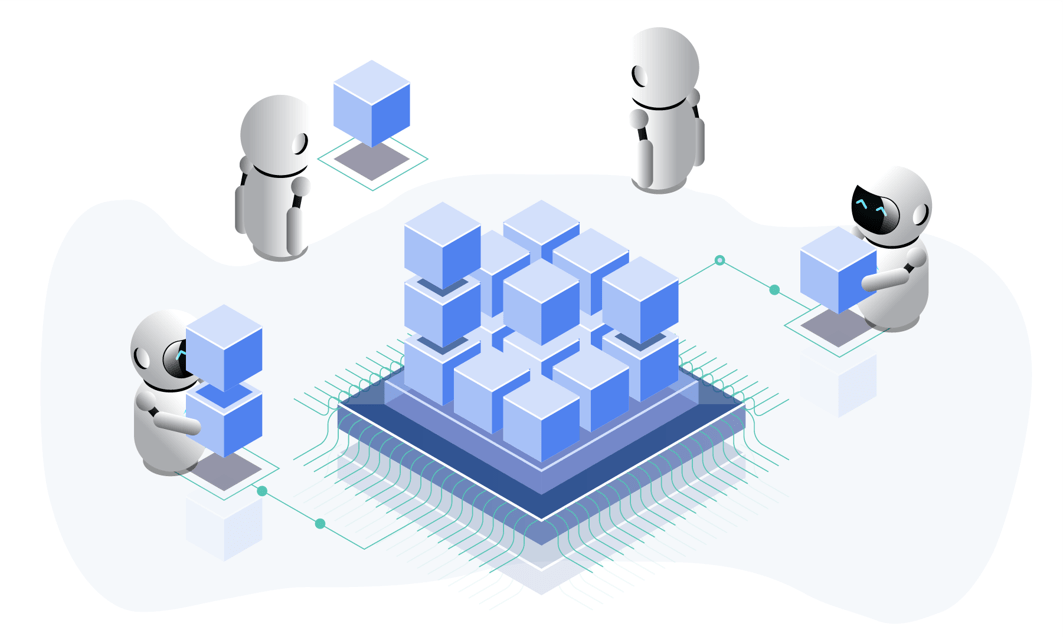 When visualized, the twins look real cute
The main sectors of the economy that the company targets are transportation (optimizing parking spaces and micro mobility), transportation (facilitating direct trading on marketplaces), green energy, the hotel business and supply chains.
The company also provided its platform for the launch of Resonate, a social platform for NFTs.
What Is Fetch.ai (FET)?
FET is the native utility token of the company.
Potential use cases of it include:
Registering, paying gas fees and exchanging value within the Fetch.AI network;
Opening access to advertisement and advanced search mechanisms within the system;
Rewarding those who perform tasks within the system;
Building and launching digital twins;
Linking agents and nodes to the network;
Safeguarding the network through staking.
It is also employed in virtually all smart contracts within the system.
The maximum supply of the token is 1.1 bil FET, and 64% of it is currently in circulation (data from Feb 2021).
The project's mainnet launch happened in late March 2021 and brought some significant changes (if you're not sure what a mainnet launch means, check out our recent guide on the matter). During the launch, Fetch.AI enabled Inter-Blockchain Communication for the token, which made it easier to feature the token on DEXs (decentralized exchanges), rendering it more available to the general public.
Interestingly enough, the token stood at the roots of the Binance Launchpad platform. It was the very first token to be launched on it in January 2019, sharing this honor with BTT (we've recently issued a price prediction for it as well).
FET Coin Price Analysis for the Past Several Years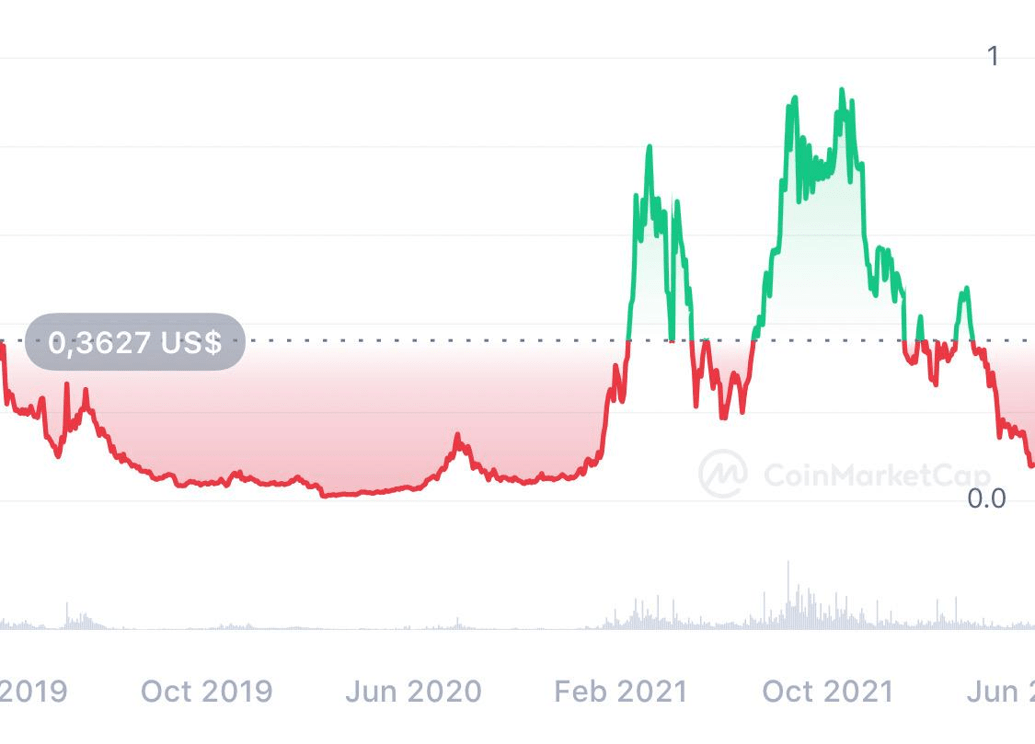 The token was launched in March 2019 with an initial price of $0.36. By July, it fell by 78% to $0.08 and held this price as a plateau until January 2021. 
The first months of 2021 were a bull ride for FET: it saw 10x from $0.08 to $0.8 but then dropped even lower to $0.02 by the end of June. The price skyrocketed again three months later, with mid-September and November seeing $0.9 (the current all-time-high). 
After that came a slow decline, with the price receding to the original $0.36 this May. FET has been in a downtrend ever since.
FET Coin Price Prediction for 2022, 2023, 2024, 2025, 2027, 2030
It's finally time to roll with our FET crypto price prediction.
Walletinvestor.com sees the token as "strong bearish". Their overall prediction is grim: they forecast a potential drop to 0.00627 USD with a negative 92.634% ROI. A more detailed prediction of this figure year-by-year: 
2023 = -92%;
2024 = -77%;
2025 = -85%;
2026 = -94%;
2027 = -96%.
Despite that, the platform has some good(-ish) news for the token's price in the next year. They believe it can hold the level of $0.2 from late August up until November, with the price even jumping to $0.3 around mid-September. After a 6-month bearish trend, the price is predicted to reach $0.2 for a brief period in late March 2023, but as we've seen, beyond that, it's all downhill.
Cryptonewsz.com is more confident in its forecast. They believe the price will increase in the coming years, with the growth slightly stagnanting around 2026 but eventually exceeding the $1 mark by the end of the decade.
Their prediction looks as follows:
2022 = $0.41 (max = $0.44, min = $0.39);
2023 = $0.47 (max = $0.55);
2024 = $0.46 (max = $0.53);
2025 = $0.63 (max = $0.73, min = $0.54);
2026 = $0.57 (max = $0.62, min = $0.51);
2030 = $1.52.
technewsleader.com is the most optimistic when it comes to the FET price prediction. They forecast an unbelievable growth over the next decade:
2023 = $0.22 (max = $0.24);
2023 = $0.33 (max = $0.37);
2024 = $0.47 (max = $0.56, min = $0.46);
2025 = $0.69 (max = $0.78);
2026 = $0.95 (max = $1.16);
2027 = $1.46 (max = $1.67, min = $1.42);
2028 = $2.16 (max = $2.47);
2029 = $3.06 (max = $3.60, min = $2.97);
Q&A part:
Is FET a good investment?
Nobody can know for sure. Existing predictions vary greatly from overtly negative to overtly positive, which is not very common. The company itself believes that they have the potential to withstand the current bear trend. 
Where can I buy FET?
The token is listed on many popular exchanges, including Binance, BiKi, BiONE, BitAsset and HitBTC. See the list of the best offers below.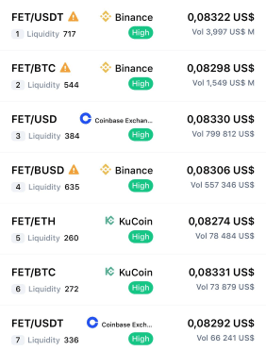 Who are the people behind Fetch.AI?
Humayun Sheikh is the founder and CEO of the project. His name is also associated with companies like Mettalex, uVue and itzMe (all of which he founded as well, amazingly enough). Other key figures in the project include Toby Simpson (former COO) and Thomas Hain (former CSO).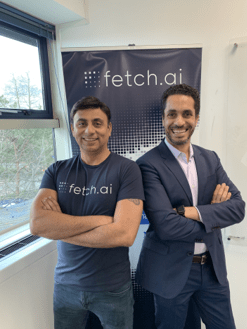 Conclusion
Now you have a general idea about Fetch.AI, their business model, unique solutions and functioning of their token. Hopefully, it will help you when deciding whether to invest in FET or not.
---
---