WhiteBIT Reviews 2022 - Is It Safe?
Nov 26, 2021
Estonia is one of the leading countries in blockchain adoption. The Estonian government was early to pay attention to the potential of this technology and now is actively adopting blockchain-based solutions to everyday life. But apart from governmental initiatives, entrepreneurs go blockchain, too. Today, we will speak about the Estonian cryptocurrency exchange WhiteBIT. In this article, we will review the main WhiteBIT features and see if it is easy to launch an account on this exchange and complete the KYC procedure. As security is an important factor while choosing an exchange, we will observe protection measures available on WhiteBIT. We will see if WhiteBIT is a scam or a trustworthy exchange. More than that, we will shed light on the exchange's background, see how high the fees are, and answer other important questions.
What Is WhiteBIT?
WhiteBIT is a centralized crypto-to-fiat cryptocurrency exchange launched in 2018. The exchange is notable for its wide functionality and strong security. Apart from trading and exchanging fiat money for crypto and vice versa, WhiteBIT users can enjoy such features as margin trading, staking, P2P platform, trading competitions, etc. WhiteBIT claims to have cutting-edge technology that allows quick transactions and matching.

As of November 2021, WhiteBIT is one of the top 50 crypto exchanges by trading volume. The exchange supports over 100 cryptocurrencies. The exchange is available in 190 countries and has over one million users. WhiteBIT is not available for the residents of the American Virgin Islands, American Samoa, Guam, Afghanistan, Iran, Iraq, Yemen, North Korea, Northern Mariana Islands, Libya, Pakistan, Puerto Rico, Palestine, Syria, USA, Somalia, Sudan, and Crimea. 
WhiteBIT is AML-compliant and has a lot of partners in the industry. There are over 300 employees in the company. The key figures are the CEO Vladimir Nosov, CFO Glib Ushakov, and CMO Oleg Kiyan. The very fact that the team members of the exchange are not hiding and show their names and faces eagerly makes WhiteBIT look legit. Like most cryptocurrency exchanges, WhiteBIT has a referral program that allows users to earn via inviting other people to join the platform.
Registration and KYC
To open an account on WhiteBIT you should provide an email and set the password. Then, you will be requested to provide a 4-digit code sent to your email address for confirmation. As soon as you are done with it, you will be able to access WhiteBIT's services.
Access to the full functionality, however, is only possible if you complete a KYC procedure. KYC on WhiteBIT requires you to provide the following data: first name, middle name, last name, the date of birth, gender, a full address including a ZIP code, then the ID number, and a selfie showing your ID documents and your face. As soon as WhiteBIT completes checking the sent information, you will be able to use the platform without limitations.
Main Features
Key features are, of course, ones associated with the exchange of currencies. WhiteBIT offers a wide range of features allowing you to trade or exchange one currency to another, including fiat to crypto pairs. It has several centralized exchange interfaces — basic and PRO trade exchanges, margin trading platform, peer-to-peer exchange, quick swap service (called "Exchange"), and a decentralized exchange, too.
Basic and PRO trading interfaces have different layouts. In terms of functionality, both interfaces provide enough features for full-fledged trading. PRO has some extra features, for instance, margin trading with up to 5x leverage. On both exchanges, users can post numerous types of orders which help to prevent risks. The supported types of orders are market orders, limit orders, stop-limit orders, stop-market orders, stop-conditional orders, and market-conditional orders. Both interfaces allow traders to use indicators, see candlestick charts, and a market depth graph.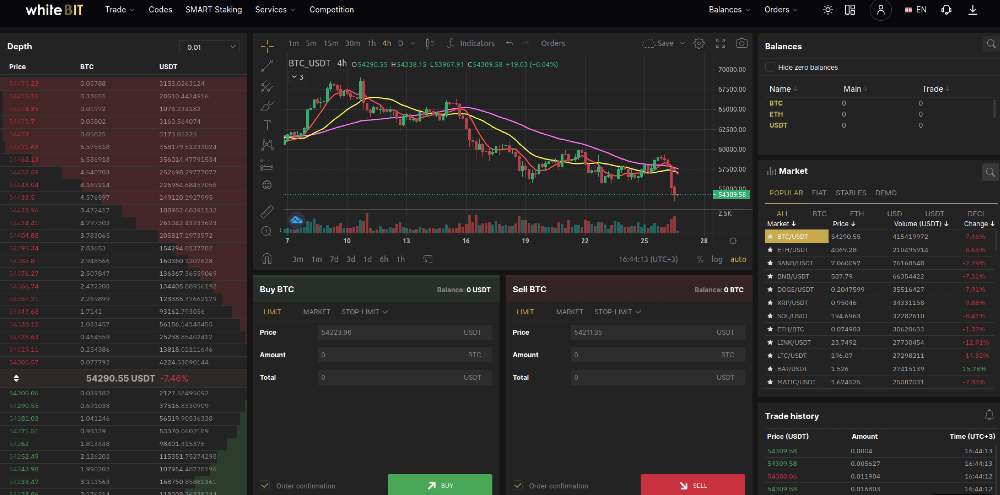 Margin trading interface fully or almost fully coincides with PRO Trade. Margin trading on WhiteBIT allows you to earn five times as much without leverage on the same trades. However, it is recommended not to use leverage until you have a strong understanding of the market and solid trading experience as mistakes while margin trading cost much more money.
The Exchange feature allows you to swap one of 16 cryptocurrencies for Euros, Rubles, or Hryvnia, as well as for a number of crypto coins. That's a convenient tool for withdrawing your crypto coins as fiat money or making a quick swap of cryptocurrencies.
The P2P platform on WhiteBIT is called Bitcoin Global. It doesn't require KYC. It is available in 160+ countries. The platform supports over 100 currencies and half a dozen payment methods. This exchange supports fiat-to-crypto and crypto-to-fiat pairs. The use of Bitcoin Global is free of charge for the first month. What makes the platform especially convenient is the ability to customize filters to see only the offers you really need. WhiteBIT serves as an escrow to make sure that everyone involved gets what they want.
Like many other exchanges these days, WhiteBIT added a staking service. The decentralized exchange provided by WhiteBIT is called WhiteSwap. This exchange is based on the Ethereum blockchain. The exchange leans on 9 liquidity pools (Ethereum and stablecoin/stablecoin liquidity pools).
Fees
Trading fees on WhiteBIT are very democratic. The platform charges 0.1% from makers and takers. Only a handful of exchanges have smaller trading fees. There is a daily fee for those who use margin trading. This fee is 0,098%. Swapping coins via the Exchange tab is charged with a 0.1% fee.
As for withdrawal fees, they differ from currency to currency. For instance, the Bitcoin withdrawal fee is 0.0004 BTC which is a bit lower than on most platforms. The Tether withdrawal fee is only 2 USDT. All in all, WhiteBIT has competitive fees.
Is WhiteBIT Safe?
No matter how good the interface is, how many features the exchange has, and how low the fees are. If the exchange cannot provide you with a safe environment where your funds and data will be safe, you risk losing everything you have earned via trading. In terms of security, there are several things to consider before you start to use any crypto exchange. You should make sure that the exchange is not a scam or at least it looks trustworthy. Another thing that you should check is what are the protection measures available on the exchange. If you feel that you cannot trust the platform based on the feedback from the users of the exchange or/and don't find the available security measures enough for safety, you'd better avoid using the exchange you consider and find a better one. 
First, let's dive into the possibility of WhiteBIT being a scam. There are many facts showing that most probably this platform is legit. First off, the team is public. It means that the platform owners are accountable. The next thing is that the exchange follows the laws associated with the crypto industry and doesn't violate like some other exchanges (Binance, etc). If you check the comments section of the official Twitter account of WhiteBIT, you won't probably find comments of users begging to unblock their accounts or complaining that they cannot withdraw their money or enter the account. Such comments are common for exchanges with weak protection or scam platforms. The negative comments on TrustPilot are adequately replied to by the platform reps and it seems that WhiteBIT cares about its reputation and users' comfort and safety. All in all, we cannot claim that WhiteBIT is a scam or is likely to be a scam. Most probably, this platform is legit.
✨Learn about our advantages✨

Let's consider just some of the reasons why you should join us:
📌 no KYC for crypto deposits & withdrawals of up to 2 BTC (in equivalent);
📌 the highest interest rates for HODLing digital assets (up to 30% APR); pic.twitter.com/Oim4pWZo3y

— WhiteBIT (@WhiteBit) November 24, 2021
Now let's name the security measures offered by WhiteBIT. You will see that the platform does enough to make your trading journey safe and free of worries. The key protection measure is 2-factor authentication. This measure can be found on most crypto exchanges, although certain platforms prefer not to use such a tool for privacy reasons. 2-factor authentication requires you to install a Google Authenticator app on your mobile device and scan a WhiteBIT QR-code with it. This action will create a token in your mobile app. The token will be generating one-time passwords for WhiteBIT. Each password is valid only for 60 seconds. When 2fa is enabled, no one will be able to enter your account or withdraw money from it without providing a one-time password. Considering the fact that it is impossible to get an actual password without accessing your mobile device, it is nearly impossible to hack your account if it's sealed with 2-factor authentication. That's why we consider this measure a crucial one for your safety.
As for the rest of the security measures, on WhiteBIT you can enable an anti-phishing code that will safeguard your correspondence with the exchange (the messages from WhiteBIT impersonators won't contain this code). Also, in the Security tab, you can always see the info about the visits to your account with IP addresses and other data. You can easily terminate all unauthorized logins in one click.
In general, we should conclude that WhiteBIT seems to be a safe platform. Judging by the user feedback, the main possible drawback is the slow reaction of the support team.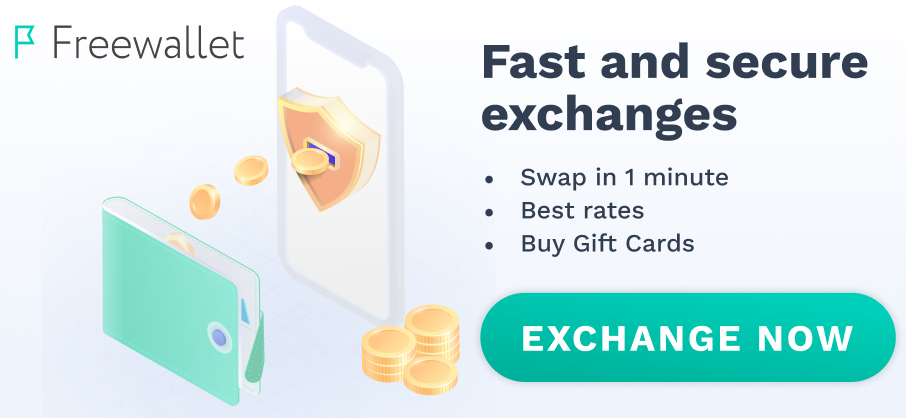 Had a very unpleasant experience!!! This is a good company as long as you don't ask for your money back. Because if you do, you're going to have a problem. They will keep coming up with all kinds of silly excuses for why you can't take your money out. As luck would have it, I stumbled upon gavibrenaid.com, a company that helps track down scams and recover lost funds and bitcoins. With their help, I was able to get my funds back.
Dodgy company, no support, stay away.
Not safe and very sloooooooooow.
Elowen Ortiz
5 November 2021
Not sure if I can recommend it for newbies, but I can say that transaction fees are very low here. I didn't like this exchange very much.