Remitano Exchange Review 2021 - Is It Safe?
Sep 02, 2021
There are many types of platforms where you can buy cryptocurrencies or exchange one coin for another. Usually, we hear about exchanges but exchanges are first and foremost exist for crypto traders who make a profit on multiple transactions thanks to the volatility of these coins. Investors who buy certain cryptocurrencies for long-term investments or people looking to sell this or that crypto coin can use platforms that suit this purpose better or at least have a simpler interface. One of these platforms is Remitano. It has existed for quite a while and has a huge user base. We will review Remitano's features, see if this platform is safe to use, and what the fee structure is. Also, we will answer the question if Remitano is a scam, and point out other crucial facts that any investor needs to know before depositing money to the platform.
What Is Remitano?
Remitano is a peer-to-peer cryptocurrency marketplace. It was launched back in 2016. The platform is managed by Babylon Solutions Limited. Remitano is registered in Seychelles. The main purpose of Remitano is to allow users to sell and buy cryptocurrencies from each other. The platform serves as an escrow while the transaction is taking place. Remitano aims to provide its service in a user-friendly manner. Apart from investors, Remitano is used by merchants as a payment gateway. To receive access to merchant functionality you should register as a merchant in a respective section of the website. The platform has over 3 million registered users from over 30 countries. Currently, the full list of supported countries includes Algeria, Argentina, Australia, Bangladesh, Belarus, Bolivia, Brazil, Brunei, Cambodia, Cameroon, Canada, China, Colombia, Côte d'Ivoire, The Democratic Republic of Congo, Denmark, European Union, Ghana, India, Indonesia, Israel, Japan, Kenya, Laos, Malaysia, Mexico, Myanmar, Namibia, Nepal, New Zealand, Nigeria, Norway, Oman, Pakistan, Peru, The Philippines, Poland, Qatar, Russia, Rwanda, Singapore, South Africa, South Korea, Sweden, Switzerland, Taiwan, Tanzania, Thailand, Turkey, The UAE, Uganda, Ukraine, The United Kingdom, Vietnam, Zambia, and Zimbabwe.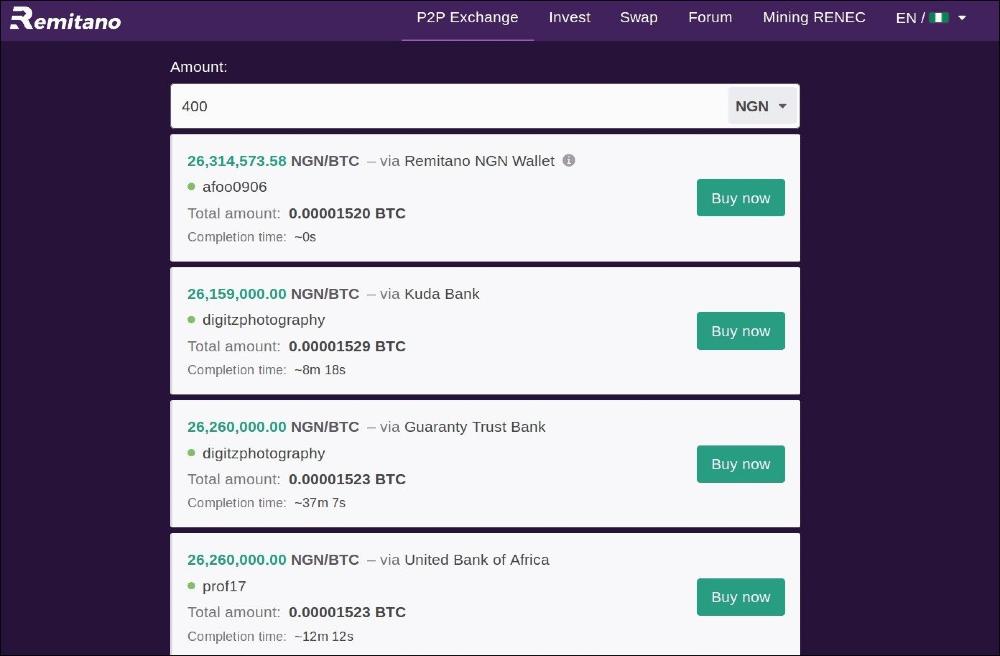 People eager to sell their crypto create ads on Remitano while those who want to buy these coins choose the sellers who offer the best conditions and the deal is taking place. Those who want to buy crypto can create respective ads, too. Remitano escrows the deal and guarantees that if the buyer doesn't receive money, he gets refunded. It creates a safe and trustworthy environment for people wishing to buy and sell cryptocurrencies at prices they choose independently from the market prices.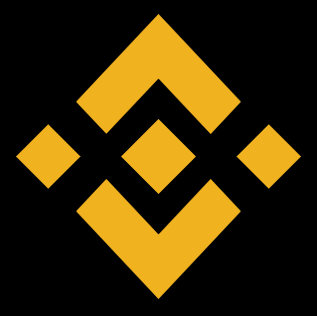 Get Profits with HODLing on Binance Earn
Main Features
First and foremost, Remitano is a cryptocurrency marketplace. As of September 2021, Remitano supports trading of 6 cryptocurrencies: Bitcoin (BTC), Ethereum (ETH), Bitcoin Cash (BCH), Litecoin (LTC), Ripple (XRP), and a US dollar-pegged stablecoin Tether (USDT). However, there are more supported cryptocurrencies available for other transactions (swaps, investments, etc). The full list is as follows: Bitcoin (BTC), Ethereum (ETH), Binance Coin (BNB), Tether (USDT), Litecoin (LTC), Ripple (XRP), Cardano (ADA), Chainlink (LINK), Polkadot (DOT), Dogecoin (DOGE), Stellar (XLM), EOS (EOS), Bitcoin Cash (BCH), TRON (TRX), Tezos (XTZ), Ethereum Classic (ETC), NEO (NEO), Monero (XMR), and Uniswap (UNI). 
🔔Nigeria Tops List as Africa Becomes Largest BTC P2P Market in the World🇳🇬😉 #BTC #Bitcoinhttps://t.co/dTOQymuYWx

— Remitano (@remitano) August 26, 2021
There are many supported fiat currencies on Remitano, as well. The basic fiat currency on this platform is Nigerian Naira (NGN). Other supported currencies are Euro (EUR), American dollar (USD), Great British pound (GBP), Australian dollar (AUD), Canadian dollar (CAD), Indonesian rupiah (IDR), Japanese yen (JPY), Russian ruble (RUB), Philippine peso (PHP), Malaysian ringgit (MYR), Indian rupee (INR), Venezuelan bolívar (VES), South African rand (ZAR), and over a dozen others.
Remitano uses fiat wallets for several national currencies (MYR, NGN, INR, IDR, and VES) in order to serve as an intermediary between sellers and buyers 24/7. Without a fiat wallet, one of the sides would have to be ready to confirm the transaction when it takes place. If a Remitano fiat wallet is used, the transaction gets confirmed automatically. 
It's understood that Remitano offers several payment methods so you will be able to deposit money from different locations using the method that is more convenient in the country you live in. One of the basic payment methods is bank transfer which is available for users from all countries supported on Remitano. Some operations can be executed via banking cards. One of the supported payment methods popular in Western countries is Simplex. You can find this payment method in the P2P sector of the Remitano platform ("Create Your Buying Ad"). 
Please note that the platform doesn't allow you to sell/buy less than 0.02 BTC. More than that, the first buy you make on Remitano can't be more than 2 BTC worth. Other limits can be applied by sellers.
Apart from posting ads about buying and selling crypto, Remitano users can swap cryptocurrencies in a Swap section. Swapping has no limits over how many times and which amounts you wish to swap. The process is simple: you choose the currencies you want to exchange one for another, input the amount, select if you want to swap coins at your price or a market price, and click on Buy [CURRENCY]. A Market Price option means that the final price at which you swap the coins can be different from what you have picked. As you push the button the transaction will take place exchanging the coins you have chosen.
Another feature provided by Remitano is Altcoin Invest. To benefit from this feature, you should proceed to the Invest tab and choose the coin you'd like to put your money in. To do so you should pick the currency in the list and tap on the Invest button opposite the coin's name. Then you will have to confirm that you have chosen the coin correctly and put the amount you want to buy. Then, every 24 hours the info about your profits will be updated. The profit is paid in USDT. As soon as you close your investment, the profit is sent to your wallet. It's worth noting that you won't be able to withdraw any of the invested money until the investment isn't closed. The investment takes place via Binance. The investment cannot be lower than $20.
To make the investment more profitable you might use leverage. On Remitano, you can use a 2x leverage with a 9% annual interest rate. Before using a margin, make sure that you realize the risks because if the market trend won't play out well for you, you will lose money. If everything goes well, you will nearly double your profits using the leverage. To use margin, you should pick Margin 2x instead of the Normal option in the Invest section. Your position is liquidated by Remitano as soon as the price of the asset you have chosen drops to 41%. Happily, some features help users to avoid the worst outcome. One of them is Warning Risk. The system calculates the risks and warns users if the situation gets too risky. Another way to avoid liquidation is an auto-stop loss function allowing investors to set a price threshold at which the order is closed automatically to avoid the bigger losses. 
Another way to earn money on Remitano is through its affiliate program. If some people sign up to Remitano via your invite link, you will receive 40% of the fees paid by these people and 10% of the fees paid by their referrals. That's quite a generous affiliate reward.
Fees 
As for commissions for using a P2P platform, Remitano is quite straightforward. You may post an order for free or take the order for a 1% fee. That's the way Remitano gains liquidity. Makers pay nothing while takers are charged with a relatively high fee.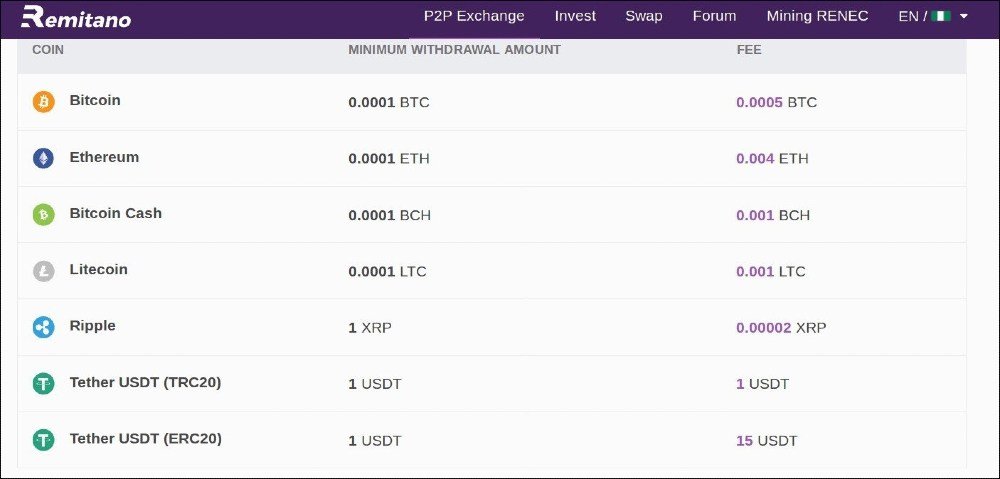 The withdrawal fees are average. For instance, BTC withdrawal is charged with a 0.0005 BTC fee. If you withdraw Tether, the cost varies from 1 USDT to 15 USDT for a TRC20 token and an ERC20 token respectively. Deposits are free. Altcoin Invest doesn't come for free. The fee is 1% of the USDT you get as a profit. 
Is Remitano Safe?
There is no record of any security failures connected to Remitano in over 5 years of the platform's operation. This is very solid evidence that Remitano is not a scam and does a great job in making its platform safe. 
As Remitano is an escrow service, it doesn't hold users' money. So if the platform gets attacked by hackers, the users' funds won't be affected. Users cannot scam each other as Remitano controls the traders and guarantees that if something goes wrong, the user gets a refund. However, it's up to users to pay attention to suspicious offers, check the sellers' rating on Remitano, and see if the prices are realistic as some users tend to sell coins at bloated prices. It's better to rely on yourself as some users claim that the support service is not always helpful. The company is not regulated so if you use it, you get yourself in charge of security. The available tools include blacklist, emergency lock, the limitation of trusted devices, VPN access, etc.
Martin Alekseevich
15 March, 12:39 PM
Decent exchange, reasonable fees and responsive support! I like it