Cryptal Reviews 2021 - Is It Safe?
Aug 09, 2021
Finding a trustworthy, safe, and convenient cryptocurrency exchange is a huge part of the trading success. We shouldn't think that there are too many exchanges as each trader has specific individual preferences and only by choosing from the wide selection of quality products one can find the best platform to gain the maximum profits. So no wonder, the new exchanges continue to emerge. Today we will review quite a new trading platform Cryptal. We will see what the main features of Cryptal are, how secure this platform is, we will learn if Cryptal is a scam, and answer other crucial questions.
What Is Cryptal?
Cryptal is a Georgian-based cryptocurrency exchange launched in 2020. The company behind the exchange is CryptX. It operates a huge ecosystem consisting of the ATMs network, trading bots management platform, cryptocurrency wallet, online casinos, etc. One of the main goals proclaimed by CryptX is to make cryptocurrencies easy for wide masses of people. The company is advancing its goal through the intuitive interface and the inclusivity of its services. It's understood that the exchange is one of the principal parts of the CryptX ecosystem.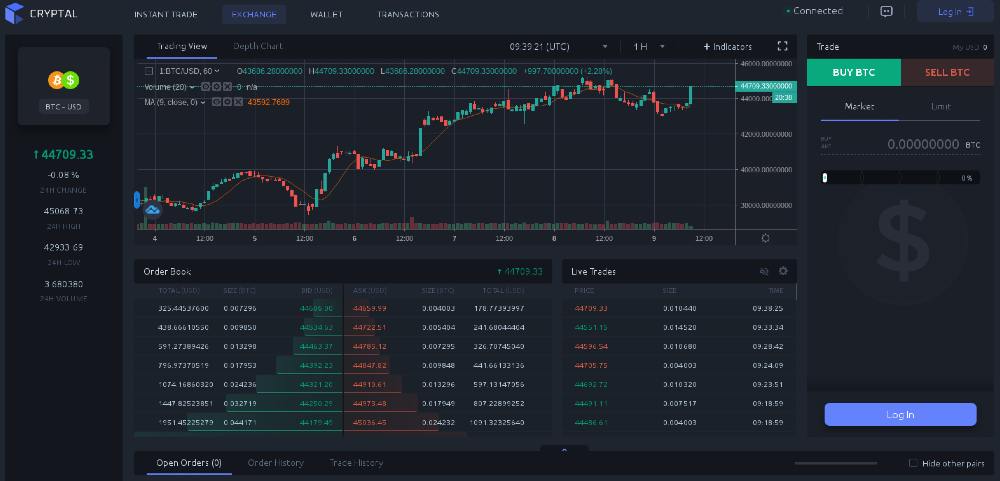 The company was launched in 2018 by Joseph Bolkvadze. The current CEO of the company is George Gvazava, a young finance expert who was included in the famous Forbes 30 Under 30 list in 2018.  
Main Features
Cryptal provides numerous features including different ways of purchasing cryptocurrencies. You can do it by posting orders in the order book or you can opt to use an Instant Trade feature allowing you to buy and sell cryptocurrencies at a specified price right from Cryptal. The prices in the Instant Trade section are updated approximately every 1.5 minutes. What's especially good about Instant Trade is that this feature allows you to buy cryptocurrency with fiat money which makes Cryptal an entry-level exchange. Unlike most OTC services, Instant Trade allows users to purchase relatively small amounts of cryptocurrencies alongside huge sums. There are standard offers ($50, $200, $500, and $1,000) and the option to enter a custom amount. If you want your crypto coins to be instantly withdrawn to your personal address you should specify this address while buying coins. If you are alright with keeping these coins on Cryptal you just don't input your wallet address and money is kept on your balance. Visa and Mastercard are accepted for payments on Cryptal.
So-called instant trades are executed in the tab of the same name. The exchange with order books, candlestick charts, and overall standard trading view can be found in the Exchange tab. There is a Depth Chart section showcasing a market depth chart and a TradingView where you check the basic price info, put indicators, etc. Under the charts, you can find Order Book and Live Trade sections. The latter is displaying the list of trades in real-time. The prices, transaction sizes, and time are shown. The Order Book section is a standard order book box containing active sell and buy orders. Under the order book, you can see the history of your orders, open orders, and other info. On the right, there is a panel where you can place your own order. On Cryptal, one can place the market and limit orders. Limit orders allow traders to prevent losses in cases when the price is going lower or higher than it was expected. On the left, one can see the basic information related to the chosen pair — the price, the 24h change, 24h volume, and the extremes (min and max prices in the last 24 hours).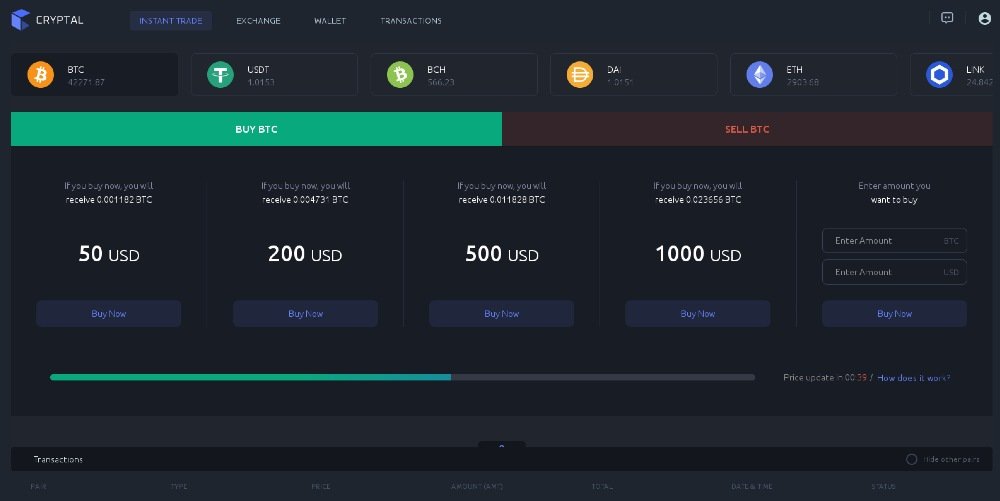 Another tab of the Cryptal exchange is Wallet. There you can check your balance details, withdraw or deposit money. The balance can be displayed in USD or BTC. You can see both the total balance of your portfolio and each currency's value (in BTC or USD), too. Depositing and withdrawing money is impossible for users who haven't verified their accounts. As Cryptal requires KYC (Know Your Customer), so you have to upload personal information to be able to use all the crucial features of Cryptal. The requested info includes name, surname, postal code, country, town, address, and phone number. The verification process implies that you should send photos of the documents confirming your identity. Note that US investors are restricted from using the platform.
In the Transactions tab, you can check all the needed info about the transactions you have made on Cryptal. To make it easier to search for a specific transaction there are ways to sort the transactions from the list. Transactions can be sorted by type (withdrawal, deposit), method (credit card, wire, crypto), date, and currency. 
📣 #Cryptal is happy to announce that we have added #PolygonMatic, which can be bought and sold for USD, GEL, and BTC ‼️#cryptalexchange #cryptocurrency #trading #Crypto pic.twitter.com/XB1SB8TotG

— Cryptal (@Cryptalexchange) June 8, 2021
Apart from fiat currencies, Cryptal supports the following cryptocurrencies: Bitcoin (BTC), Ethereum (ETH), Tether (USDT), Chainlink (LINK), Litecoin (LTC), SHIBA INU (SHIB), DAI, Polygon (MATIC), and Bitcoin Cash (BCH). What makes Cryptal even more accessible is that the platform supports fiat money deposits. You can deposit money to your account on Cryptal in many different ways. Deposit methods include wire transfer, depositing via a bank card, or cryptocurrency deposits.  
Fees
On Cryptal users pay a fixed 2.5% fee regardless of being maker or taker (makers are the traders who "make" liquidity via posting limit orders while takers are traders who just "take" liquidity from the order books via market orders). While many exchanges provide fee discounts for makers, this is not the case on Cryptal. The trading fee rate is relatively high if you compare it to fees on other high-profile exchanges.
As for deposit fees, if you deposit cryptocurrencies you pay nothing. When you deposit via VISA and Mastercard the fee is 3% while the American Express deposit fee reaches 4.5%.
The withdrawal fees on Cryptal are quite democratic. If you withdraw Bitcoin you will be charged with a 0.0005 BTC fee. You will have to pay similar fees while withdrawing other crypto coins.
Is Cryptal Safe?
Safety is a characteristic that can't be neglected while choosing a proper crypto exchange to use. There is no use in trading if all of your profits get stolen by hackers or the exchange itself. That's why you should make sure that the platform is not a scam and provides enough protection measures so you will be able to keep your money safe.
Is Cryptal a scam? We believe this is not the case. Unlike most scam exchanges, Cryptal provides info about the team members. More than that, you will barely find serious criticism directed at the platform by its users. Usually, even decent exchanges get roasted and accused of being a scam from time to time but Crytpal users seem to be satisfied with the service. That's a good sign. 
As for available security measures, we recommend you to enable 2-factor authentication (on Cryptal it is called Google Authentication, a feature that can be turned on in the profile settings). This protection measure drastically decreases the chances of being robbed by hackers. When 2fa is on, no one will be able to access the account or withdraw money from it unless the one-time password is provided. This password can be generated only on the account owner's smartphone via the Google Authenticator app. If thieves don't have an access to your smartphone they won't likely be able to hack your account.
Another protection layer is email verification. Every time you leave the exchange page, it logs out soon after. To get back you are requested to provide a one-time password that is sent to your email address. There is little info about other protection measures available on Cryptal, however, everything we have mentioned above shows that this exchange is quite safe and trustworthy.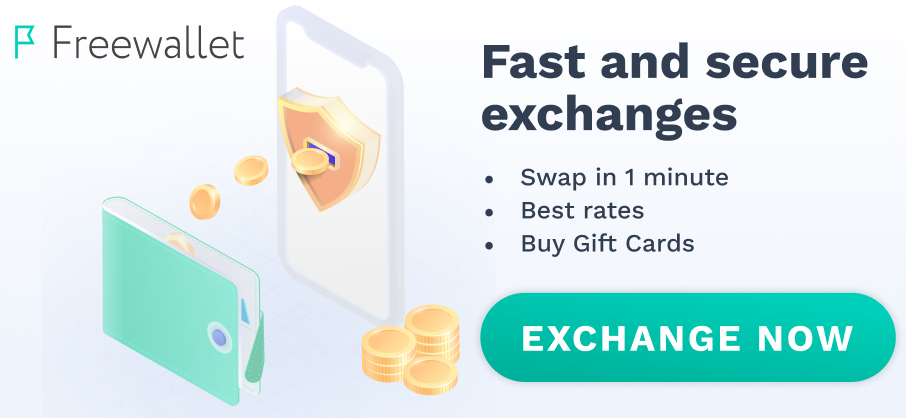 I recently created an account and participated in trading. There were no problems, I have no big complaints about the service. I think it is worth advising it.