Coinigy Review 2021 - Is It Safe?
Aug 17, 2020
Ultimate Coinigy review by Cryptogeek team. Is Coinigy safe to use? Should you really use it? Read this guide and decide for yourself.
Coinigy Overview
Coinigy is a great platform that gives you the ability to combine all of your wallets and exchange accounts in one interface using API keys from all different exchanges. The platform was founded in 2014 by a group of dedicated developers, traders, analysts, and evangelists that believe in the global crypto-financial industry.  
Basically, Coinigy is a multi-exchange trading platform that creates a unified view of all major Bitcoin exchanges in one visually appealing dashboard.

Coinigy's development team consists of programmers, software developers, and traders with years of experience in the financial markets. Robert Borden, the Founder, and CEO has over 10 years of programming experience with fellow founder, William Kehl, who is the president of the company.
In fact, Coinigy is not only a trading terminal but also a universal account for managing all of your wallets. The platform is based in the United States. This approach greatly facilitates the work of traders. The fact is that some exchanges do not accept users from certain countries.
Coinigy is not a cryptocurrency exchange. Coinigy developers position their project as a universal professional platform for trading digital currency and managing your accounts from a single account.
Today Coinigy works with 45 cryptocurrency exchanges, 13 of which can fully trade and manage your wallets. We are talking about Bitfinex, Bitstamp, Bittrex, CCEX, CEX • IO, Cryptopia, GDAX, Kraken, Liqui, OKCoin, Poloniex, Vaultoro, and Vbtc.
Traders can also access the platform through the Coinigy for Android mobile app. Unfortunately, the iOS version is not yet available, but the team is working on a release. The Android version allows traders to have a 360-degree view of all their trading accounts and access to a variety of charting / trading solutions from anywhere in the world at any time.
The company's website offers only an English version. Therefore, only those traders who speak English will be able to work comfortably here.
Features
The Coinigy platform includes a simple interface and versatility. On Coinigy, you can follow the charts of the exchanges and analyze prices in real time. Some exchanges also have the ability to participate in real-time trading. You just need to choose the exchange you like, fill in the required input data and you are ready to trade.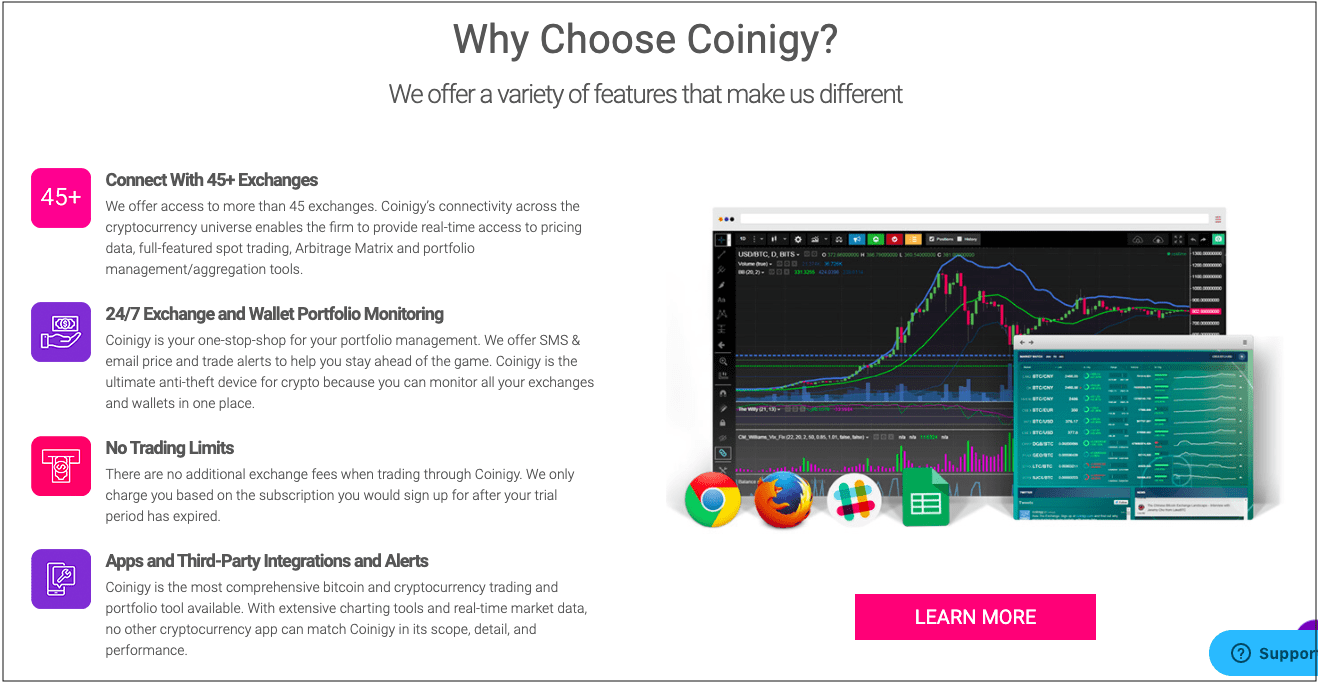 The advantages of working with the site include:
Ability to trade on different exchanges using one account;
Professional platform for trading in the cryptocurrency market with extensive technical analysis capabilities;
Possibility of placing pending orders, as well as a stop loss and take profit;
Due to the fact that all exchanges are collected in one account, the user can engage in arbitrage transactions, saving time on transferring funds from one exchange to another;
The company offers a special scanner that detects the difference in quotes on different sites;
Mobile application for the Android operating system;
Ability to set alerts at any level and receive notifications by SMS, email, or as a sound signal directly in the browser;
Each new client of the exchange can try all its features by creating a trial account. There are no functional limitations here. Only the trading session time is limited. Flexible pricing policy and the absence of additional commissions is another important advantage of the site;
A large number of different scanners that allow you to receive additional analytical information about investor sentiment, as well as various technical signals.
Some users note that the platform still has some technical problems, in particular, the so-called lags. In addition, some problems are observed with the depth of the market.
Coinigy Fees
Before getting started with Coinigy, users can try out a 30-day trial period, which is free. During the trial period, traders can access all the features provided by the Pro plan, including unlimited trading, portfolio management, access to mobile applications, charts, technical indicators and support.
The Pro Trader program costs $ 15 per month. The Coinigy Pro Trader version offers unlimited trading 24 hours a day, 7 days a week with no additional fees. Access to mobile applications for portfolio management is also available. High definition charts filled with 75+ indicators. You will have an unlimited number of API accounts, with unlimited graphics, with ongoing support. ArbMatrix is ​​also included in the Pro trial, which is excluded from the trial.
How to Get Started with Coinigy
The registration procedure is not much different from creating accounts on most exchanges. You need to enter your email address, password and confirm it.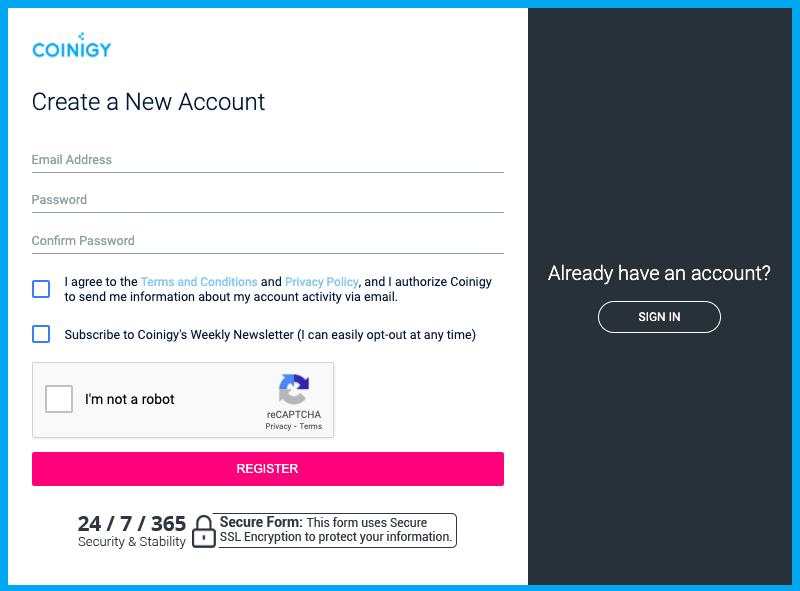 Then, a message will be sent to the mail with a link, by following which the user will confirm the email. This completes the registration procedure and you can start working.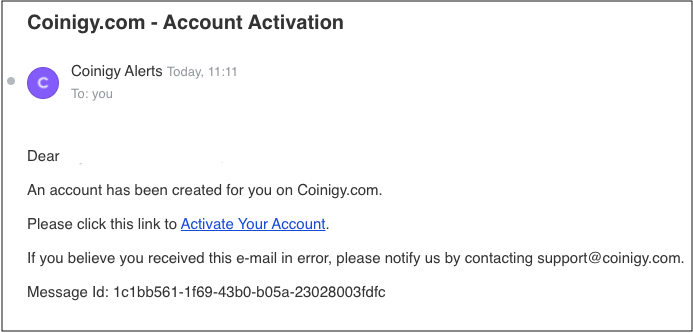 How to Use Coinigy 
As a chart, the site uses the well-known online trading view terminal, designed specifically for professional Forex and stock market traders. It offers a wide range of tools for technical analysis of any asset, ranging from indicators to graphical settings.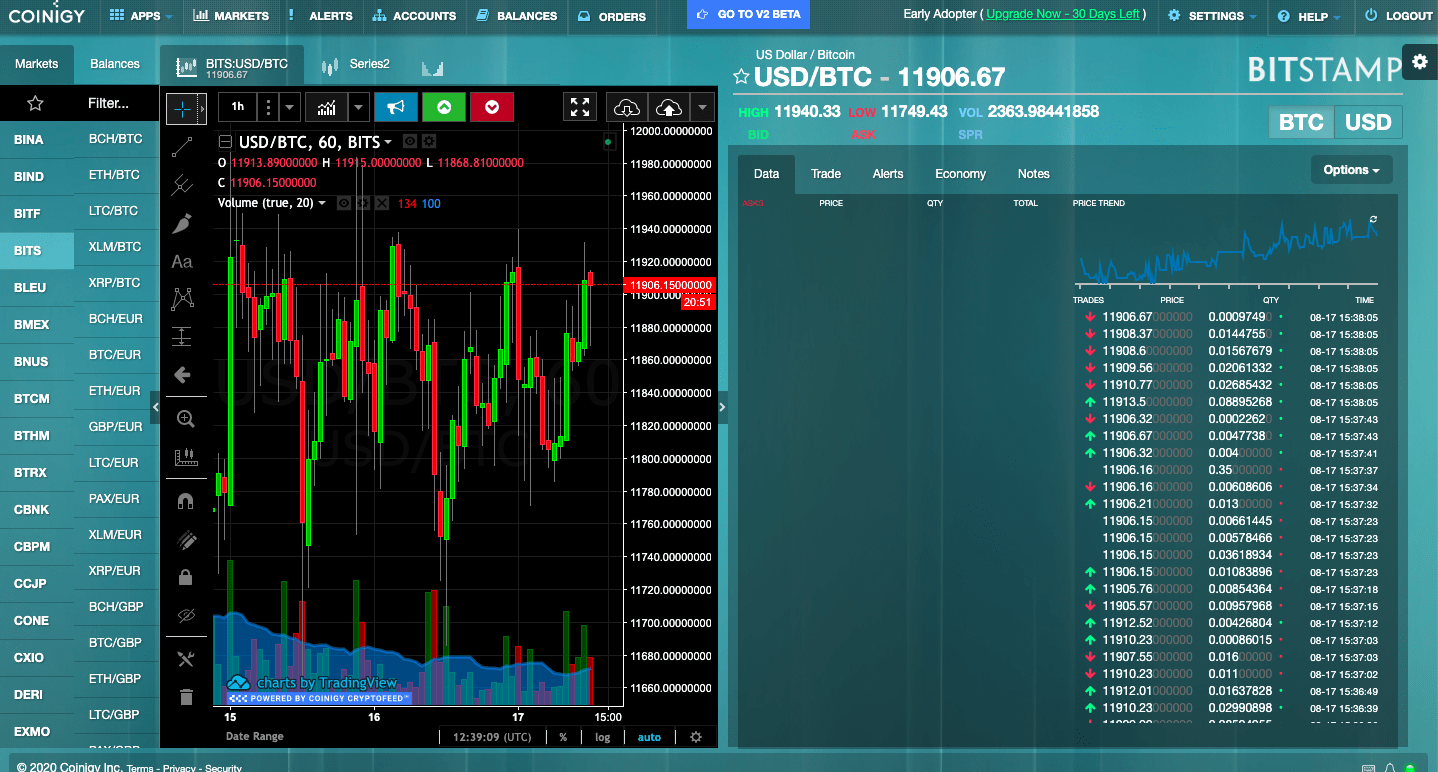 To the left of the chart, there is a column in which you can select an exchange and an asset. This is a very convenient filter with which the user can at any time find the desired site and start working on it with the selected asset.
The platform offers several types of orders. The site offers to prescribe the order size manually. Also, there is a convenient function for setting volumes as a percentage. Traders are offered the opportunity to place limit deals.
Another interesting function is setting sound signals when the price reaches certain levels. This option is useful both when placing pending orders and when a trader wants to know about the price reaching a certain level.
Customer Service
Customer support is easily accessible through a secure client area. Clicking the live chat button will open a chat window at the bottom right of the screen. Contact us to contact customer support by email. Here you can send them an email and receive direct updates to the attached email address of your account.
Is Coinigy Safe?
Coinigy places an incredibly high value on security.
There are many ways to protect user data:
All user data is encrypted with 256-bit AES encryption and sensitive user data (encrypted or not) is never returned to the client.
Every request to Coinigy goes through a verified and secure SSL.
Coinigy uses a multi-tier server architecture with complex credentials to ensure server integrity.
Coinigy never processes your funds directly. All funds are stored in the wallets of the exchange.
All user requests are filtered and checked on the front-end and back-end for XSS, CSRF, Clickjacking and Session Impersonation attacks
Coinigy only uses parameterized database queries to further prevent attacks.
Coinigy is hosted in Google data centers and has a team of 30 years of web security experience and best practices.
Coinigy has included some features that users can use to keep their accounts secure.
Some of these features are:
Coinigy supports passwords up to 40 characters. Use a long, unique, and complex password with a combination of alphanumeric characters.
Coinigy supports two-factor authentication (2fa) using Google Authenticator. It is a free standalone service that does not use Google servers.
Coinigy recommends that you set limits on your exchange API keys that limit the capabilities they have to only the functionality you want Coinigy to use.
The user is responsible for the security of their Coinigy account. It is very important to remember this.
Conclusion
Coinigy has everything you need for big trading. You have a great user interface, real-time data and order books on all exchanges through one common interface, great charts and over 60 technical indicators, the platform is safe and secure, and has two-factor authentication (2FA) with a huge number of supported exchanges. Coinigy is a good choice for beginners and experienced traders.