Coinexx Reviews 2022 - Is It Safe?
Dec 23, 2021
As cryptocurrency trading became a thing for professional traders, some forex brokers started to offer cryptocurrency-based pairs in their rosters. Currently, CDF instruments can be traded for cryptocurrency and vice versa via several forex brokers. As the opportunity is attractive for many people including amateur traders, scammers are here to make their dirty money out of the trustful clients. Today we will review the controversial forex trader Coinexx. It promises good returns but has polar user reports on different platforms. In this article, we will review the main features provided by the broker, see if Coinexx is a scam or rather a trustworthy platform, is it safe to use it, and so on.
What Is Coinexx?
Coinexx is an unregistered forex broker headquartered in an offshore jurisdiction of Seychelles. For most professional traders, this info is enough to dismiss the rest of the info about the broker as the lack of registration is a disturbing fact meaning that on Coinexx traders are not protected from any kind of misconduct.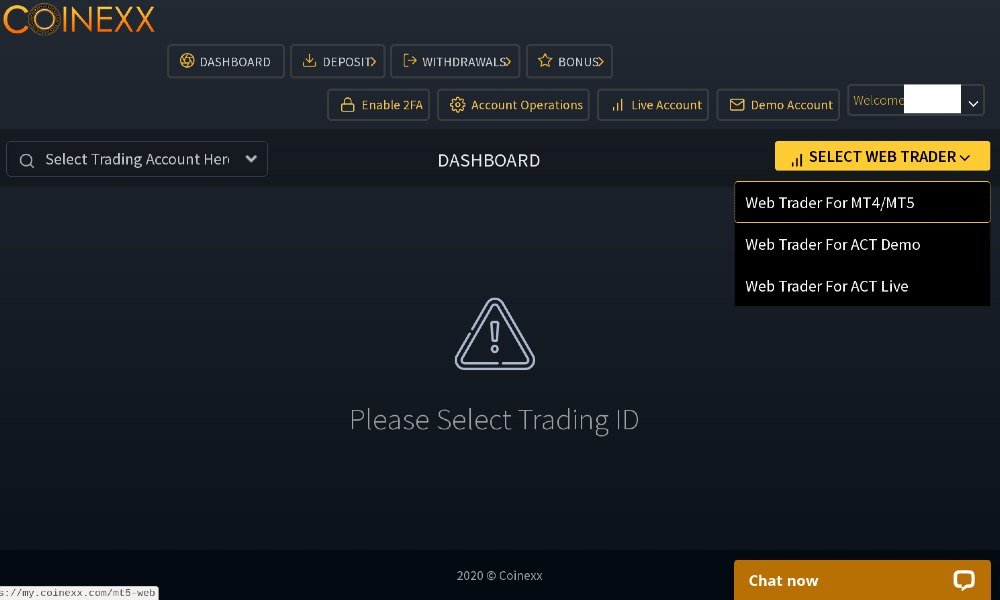 Coinexx allows trading cryptocurrencies and other assets via MT4 and MT5. The platform supports over 20 cryptocurrencies. Apart from crypto, on Coinexx you can trade indices, commodities, and forex. The minimal deposit on Coinexx is 0.001 BTC. According to the Coinexx website, spreads are 0. The maximum leverage is 500x, however, for cryptocurrency pairs the leverage can't exceed 5x. Operations with cryptocurrency are performed via MT4 or MT5 (MetaTrader) terminal. MetaTrader provides users with necessary tools such as charts, indicators, scripts, EAs, etc. The platform can be installed as a desktop app or a mobile app (iOS or Android) or accessed via the browser.
In general, the platform structure is way different than regular crypto exchanges. Opening a trading account might be an uneasy task. It's better to enable 2-factor authentication first. This measure effectively prevents account hacks. You may try out the platform without investing real money by creating a demo account. The account for trading real money is called a Live account. There are several types of accounts you can open: MT4, MT5, and ACT-TRADER accounts. Base currencies for ACT-TRADER and MT4 accounts are USD and EUR. Base currencies for MT5 accounts are USD, BTC, XRP, ETH, LTC, and BCC. 
Registration & KYC
The signup process is easy. You are required to provide a first name, last name, country, phone number, and set the password. The next step is verifying the account via email. As soon as you are done, you get a profile on Coinexx. Some of the account types might require uploading documents although the CoinExx website claims that trading is possible without registration.
Main Features
With Coinexx, you can trade on the forex market. Coinexx uses ECN spreads. The maximum leverage is 500x. There are 70 forex trading instruments supported on Coinexx. The same conditions go to commodities trading. Coinexx supports trading natural gas, silver, gold, and oil. Also, you can trade 5 stock indices on Coinexx. On top of that, Coinexx supports 4 fiat-to-crypto pairs: Bitcoin, Ethereum, Ripple, and Litecoin are traded against USD. The selection of crypto coins is quite small and doesn't reflect the modern-day positions — Ripple and Litecoin are far from being top 5 cryptocurrencies. However, it is still an opportunity to start trading crypto. The maximum leverage for cryptocurrencies is 5x. 
It is possible to set a Pro ECN account. It allows you to use the maximum leverage, access the liquidity of top-tier banks, enjoy tight spreads and low fees ($2 per lot). According to the website, Pro ECN accounts suit best scalpers, crypto traders, and those who use automated trading. Pro ECN account guarantees a 100% deposit bonus. 
User Experience
To open an active account you should click on the Live Account button and choose the terminal you are going to use and specify the leverage and the base currency. The trading process is managed via the dashboard. In the Accounts Operations tab, you can change the leverage amount (from 100x to 500x), change the password, or send funds between your accounts. 
Initiating an MT5 web account wasn't smooth due to a bug — the window for filling out the credentials became unresponsive to commands and got partly transparent or invisible. For different reasons, other attempts to use MT5 were no good, too. The connection was established at some point but it failed only after a couple of minutes. All in all, using MT4 turned out to be impossible.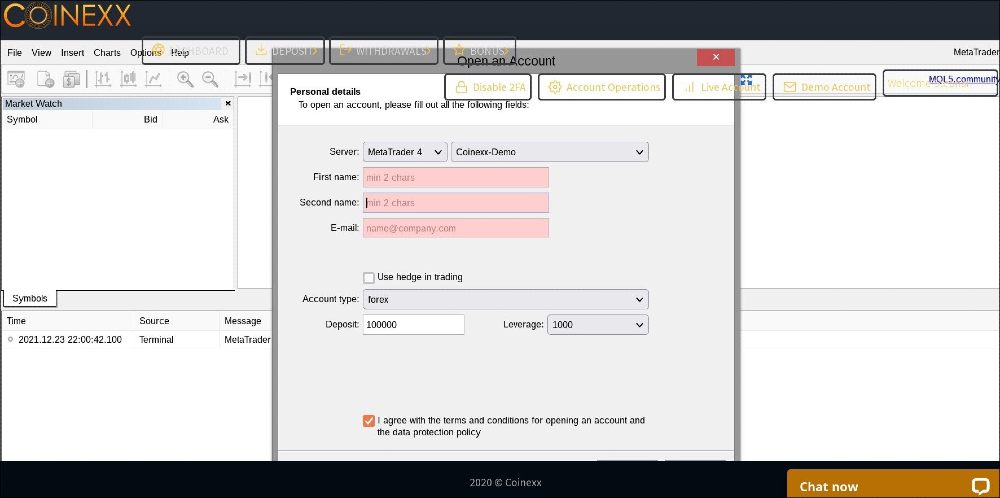 On CoinEx you are required to log in after several inactive minutes. Logging in is associated with completing a CAPTCHA task, usually, these tasks are dysfunctional — for instance, you are asked to select stairs on the picture with no stairs at all. This circumstance is annoying. 
Is Coinexx Safe?
We strongly recommend not to use any trading platform if you are not sure that this platform provides all the security measures you need and if you are not sure that this platform is not a scam. Unfortunately, many trading platforms in the crypto industry have weak protection and are subjected to hack attacks and some of the platforms turn out to be scams. You can lose everything you have earned if you choose the wrong place for trading. Now, let's see if Coinexx is a worthy enterprise.
According to the website, all the user assets are stored offline. It means that online attacks cannot reach for your money. That's a good thing. All the withdrawals are performed manually and double-checked. Coinexx claims that the platform doesn't use API for withdrawals. It means that suspicious withdrawals won't be processed until the platform makes sure that the transaction is made by the account owner. For better security, Coinexx uses end-to-end encryption of all the user data so no one will be able to steal your sensitive data through hacking of the Coinexx servers. The user accounts can be protected via 2-factor authentication which makes it impossible to enter the account or withdraw money for anyone who doesn't have access to the account owner's mobile device. That's a strong security feature that prevents theft of your money.
Now, let's see if all of the written above makes sense. The main issue with Coinexx is that many negative user reports and articles are claiming that this broker is not trustworthy. Multiple users boldly call Coinexx a scam claiming that the platform doesn't allow them to withdraw any money and the support team is only responsive until the moment you deposit your money to the account. On TrustPilot, you will easily find multiple reports of misconduct from the broker's side. One of the users claims that the broker closed 26 of his positions although there was no margin call. Others believe that the platform acts as a Ponzi scheme and doesn't allow you to withdraw any money until there will be enough other new users investing their money. It may take months until you will withdraw your money. 
, I would like to complain about the pending withdrawal on my coinexx account (account I.D can be provided on request) I withdraw with btc to another wallet address and the money is yet to reflect since over 48 hours

— Vin (@Vindyjay) December 12, 2020
We cannot conclude that Coinexx is a scam only based on negative reviews, as they cannot serve as firm evidence. However, such complaints indicate that the company is far from being decent and customer-oriented. Reputable companies are usually quick to react to online criticism and offer help. However, it is not the case for Coinexx. The fact that there are little to no reviews about this broker makes them seem worse. We've already mentioned that Coinexx is not registered. This is a disturbing fact, too.
It seems that the website of the platform is buggy, which is not a good characteristic for a trading platform where time is money. We've found out that even opening an account on Coinexx is not an easy thing to do. Some users claim that at some point they were not even able to access the website. We conclude that using Coinexx is risky and it's better to stay away from this platform.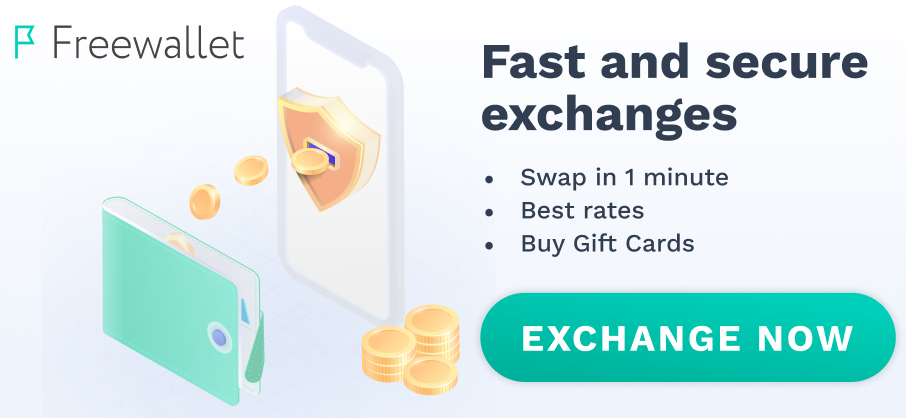 Gran Pablo
27 December 2021
Agree on that. Shady platform