Coinchange Reviews 2022 - Is It Safe?
Aug 30, 2021
There are hundreds of cryptocurrency exchanges as of today. There are several well-established names of the platforms used by millions of people each month. However, despite the harsh contest, the platforms continue to emerge and offer something new so traders are willingly giving new exchanges a try. Today we will speak of a little-known trading platform that however has something special to offer to users. This exchange is called Coinchange. In this article, we will tell you about the main features of this platform, we will answer a question: is Coinchange a scam, we will check if it is safe to use Coinchange, and figure out some other important things before you will decide to try the platform yourself.
What Is Coinchange?
Coinchange is a cryptocurrency trading service registered in Canada. The platform brands itself as a smart bridge to cryptocurrencies and DeFi investments. Coinchange strives to be a regulated company providing users with a state-of-art security trading environment. KYC procedure on Coinchange is obligatory. The exchange is special because of zero trading fees.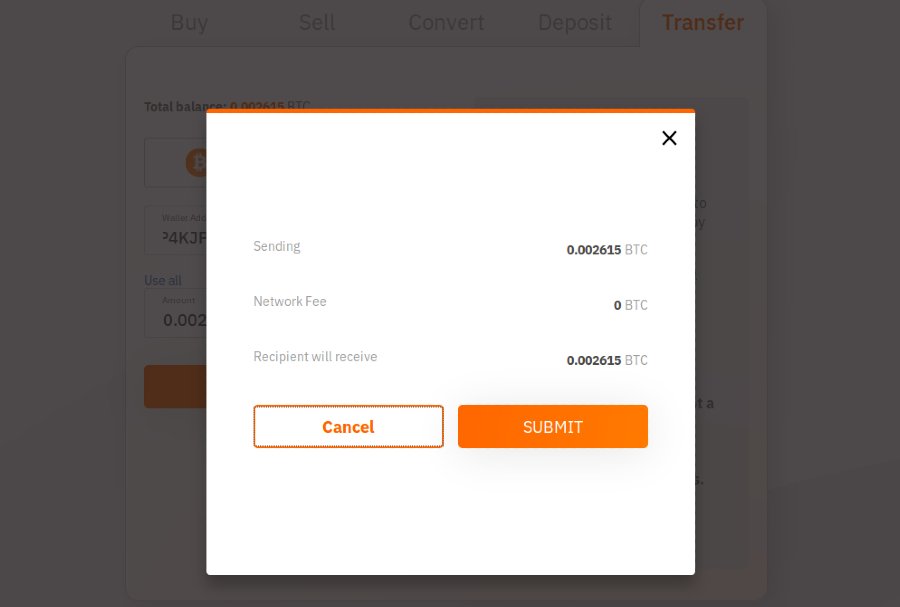 The company was initiated in 2017 as a brokerage enterprise. By 2020, Coinchange has focused on the DeFi sector and cryptocurrencies. On top of trading, it allows you to store crypto with 25% annual interest.
The company cites its mission as empowering its clients with DeFi instruments. Coinchange works in partnership with Visa, Jumio, Coinbase, Kraken, Huobi Global, Bittrex, and other big companies.
The names of the leaders of the Coinchange team are publicly available and have LinkedIn pages. It draws trustworthiness to the company. The company CEO is Max Galash while CTO is Oleg Serebryany. Apart from the Canadian office, Coinchange has another office in the USA. Both addresses are available on the company's website (see the About Us section). What's especially good is that, unlike many exchanges, Coinchange provides its service all around the globe.
Main Features
Coinchange is a minimalist platform in terms of supported coins. There are only four currencies you can trade on this exchange. They are Bitcoin (BTC), Ethereum (ETH), a stablecon USD Coin (USDC), and American dollar (USD). The latter is an important feature as not many exchanges provide fiat-to-crypto pairs and it's good that Coinchange provides its users with such an opportunity.
Join World's Largest Crypto Exchange
Join World's Largest Crypto Exchange
To get started you should create an account and verify your identity via a short procedure of uploading a document identifying your person and a selfie. To start using Coinchange you should deposit USD, BTC, ETH, or USDC. There are two ways to deposit fiat money: Bank Transfer (available only for the US banks' clientele) and Wire Transfer. In this case, if you choose the latter, Coinchange won't charge you any additional fees on top of what your bank will charge you.  
As for available trading and earning options, Coinchange provides plenty of them. First off, you can buy (the Buy section) USD with cryptocurrencies (BTC, ETH, and USDC) at prices closely corresponding with ones on Coinmarketcap. The prices are automatically selected from the connected liquidity pools with the best rates. The platform doesn't apply any limits to the size of the trades you make. The operations are not charged with fees. Another option is selling cryptocurrencies (BTC, ETH, and USDC) for USD (the Sell section). The fee is zero, as well. Another section is Convert. It allows you to change BTC for ETH and vice versa at zero commission.  
As soon as you are ready to cash out, you should proceed to a Transfer section to withdraw your money. USD can be withdrawn via Bank Transfer (the USA users only) or Wire Transfer. Currently, Coinchange is connected to Huobi, Kraken, Bittrex, Binance, and Coinbase, choosing the best rates from markets of these exchanges automatically. In order to prevent delays or other problems associated with side exchanges, Coinchange has its own funds that can be used to execute transactions regardless of troubles coming from the third party.
Pool Tokens to Earn Rewards on Binance

Pool Tokens to Earn Rewards on Binance

Toronto, ON: Coinchange, a fast-growing DeFi platform, announced today the Early Access launch of their High Yield Account, which allows users to earn passive income on their deposited account for up to 25% annual interest.

Read more:https://t.co/DAAF2NGOvO

— Coinchange (@coinchangeio) August 24, 2021
Apart from the functionality allowing exchanging currencies at zero fees, Coinchange allows users to invest in high yield accounts with 25% annual interest. As of August 2021, the only supported asset for this feature is a USD-pegged stablecoin USDC. Also, there is a mention of the OTC desk on the website dashboard but it seems that the service is not activated as of now. At least, the OTC desk is nowhere to be found and the only thing pointing at it is a partially concealed phone number on the homepage of Coinchange.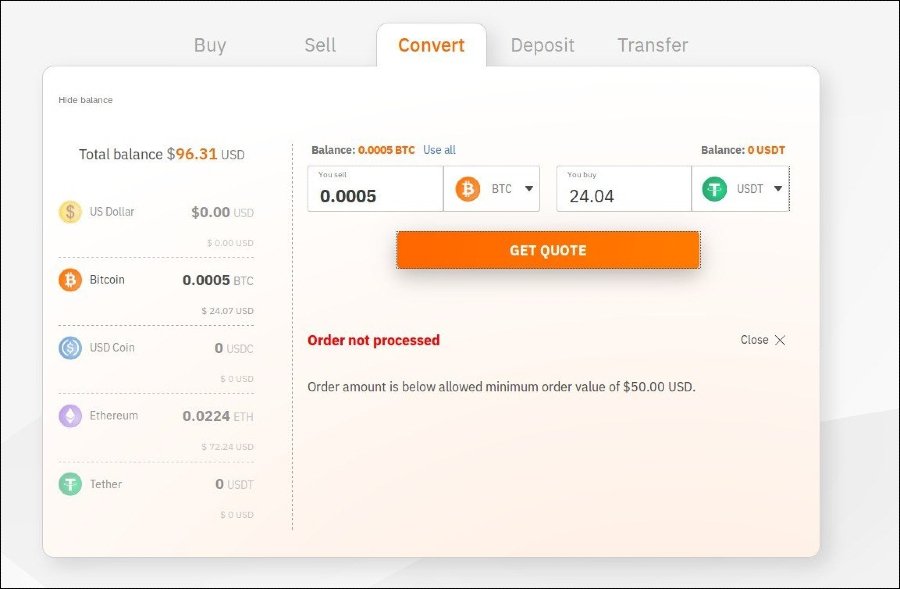 After a short test, we have discovered that the website works smoothly and users have full control over the situation. However, we've found a condition that was not obvious to us before the test — there is a minimum amount for any transaction which is $50. If you request a transaction below $50 you get a message saying that the order cannot be processed. Well, $50 is not a big deal for traders or investors. In general, the transactions on Coinchange are quick and free. No hidden fees were collected as it was declared.
Get a Loan Secured by Your Crypto Assets
Get a Loan Secured by Your Crypto Assets
Fees
In contrast to probably all of the existing crypto trading platforms, Coinchange doesn't charge any fees at all. Unfortunately, the company doesn't explain how they achieve this but the fact is still here: on Coinchange users don't pay trading fees, spread fees, deposit fees, and even withdrawal fees. Never. That's a crucial selling point of Coinchange.
Is Coinchange Safe?
Before you deposit money to your account on any exchange you should make sure that the platform is not a scam and that your money is protected. We see Coinchange as a legit operation because it is regulated (the Canadian MSB license is active until 2023), the key team members and advisors are fully public, and there are no online reports from users warning others that Coinchange is dishonest with its clients. All these facts along with the resectable list of partners suggest that Coinchange is not a scam.
Now let's see if any serious steps are applied by Coinchange to protect its users' funds and data. The platform claims that it offers state-of-art security. Coinchange doesn't use smart contracts to escape the risks associated with poorly programmed smart contracts which at times become an easy target for hackers. To protect users from volatility at the moments of withdrawals of large amounts of coins, Coinchange is automatically choosing the pools with the locked liquidity and withdraws the money from the most proper pools to prevent users from losses. More than that, Coinchange claims to use only the pools with the highest liquidity in order to avoid so-called flash loans attacks in which hackers attack the protocols of the low liquidity pools. 
Trade With Up To 125X Leverage on Binance
Trade With Up To 125X Leverage on Binance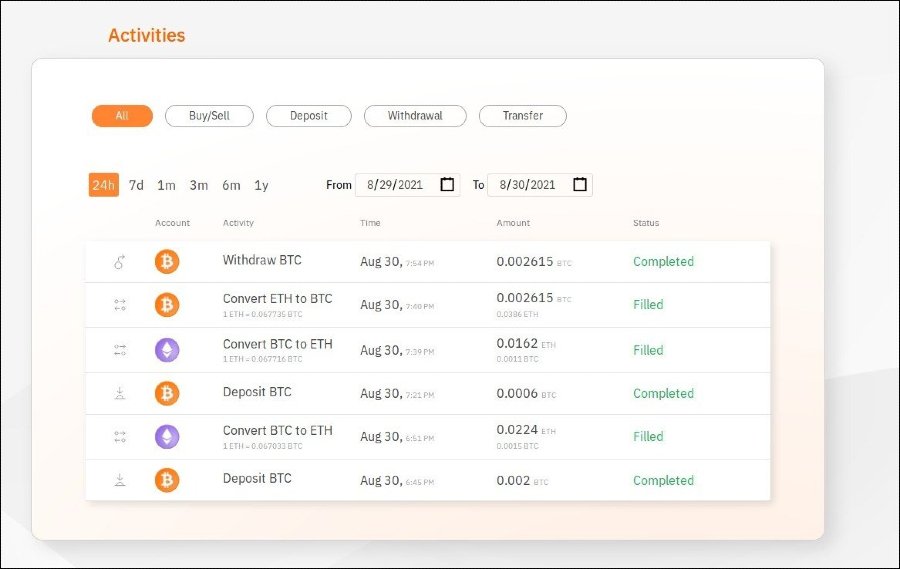 The wallets used by Coinchange are presented by Fireblocks. This company provides multi-signature wallets with strong encryption. Fiat money transactions are protected by Silvergate Bank. Users get real-time notifications about all the actions associated with the account. Another partner is CloudFlare. It is responsible for protecting the platform from DDoS attacks. Both fiat and crypto transactions, as well as other actions, are checked via the fraud detection control that prevents suspicious activity on the account. Users are recommended to enable 2-factor authentication that prevents strangers from accessing the account.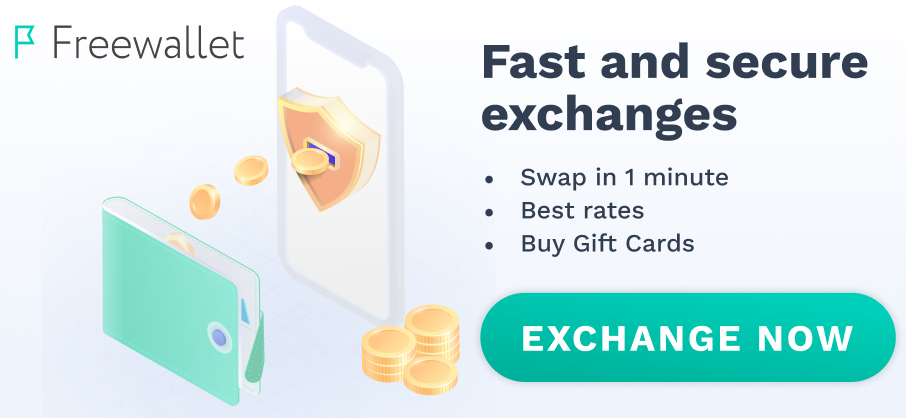 Francesco
20 December 2022
Super
TIMOTHY S GRANVILLANI
14 June 2022
Excellent