CEX.IO Exchange Review 2021 - Is It Safe?
Full address:
CEX.IO LTD 2nd Floor, 1-5 Clerkenwell Road, London, EC1M 5PA, United Kingdom Company No. 08757996 Correspondence address: 24th Floor One Canada Square, Canary Wharf London E14 5AB, United Kingdom
Fees:
Trade Volume 30d, BTC Taker Maker
≤ 5 0.25% 0.16%
≤ 30 0.23% 0.15%
≤ 50 0.21% 0.13%
≤ 100 0.20% 0.12%
≤ 200 0.18% 0.10%
≤ 1000 0.15% 0.08%
≤ 3000 0.13% 0.04%
≤ 6000 0.11% 0.00%
> 6000 0.10% 0.00%
May 27, 2020
Overview
CEX.IO is one of the oldest exchange platforms and can be used almost all over the world. CEX.IO was established in 2013 in London as a cloud mining provider and a cryptocurrency exchange. Now, it has offices in the UK, US, Ukraine, Cyprus, and Gibraltar. The platform serves over 3 million users worldwide and provides a variety of services.
Today this exchange supports Bitcoin, Ethereum and the number of other currencies. CEX.IO supports a variety of payment instruments including credit and debit cards as well as bank transfers.
CEX.IO Features and Services
CEX.IO exchange platform provides a set of necessary instruments for trading cryptocurrencies. You can track the market price in real-time using the online charts, place trade orders, track your transaction history, and use API tools for automated trading.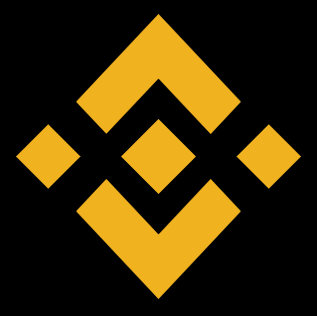 Get Profits with HODLing on Binance Earn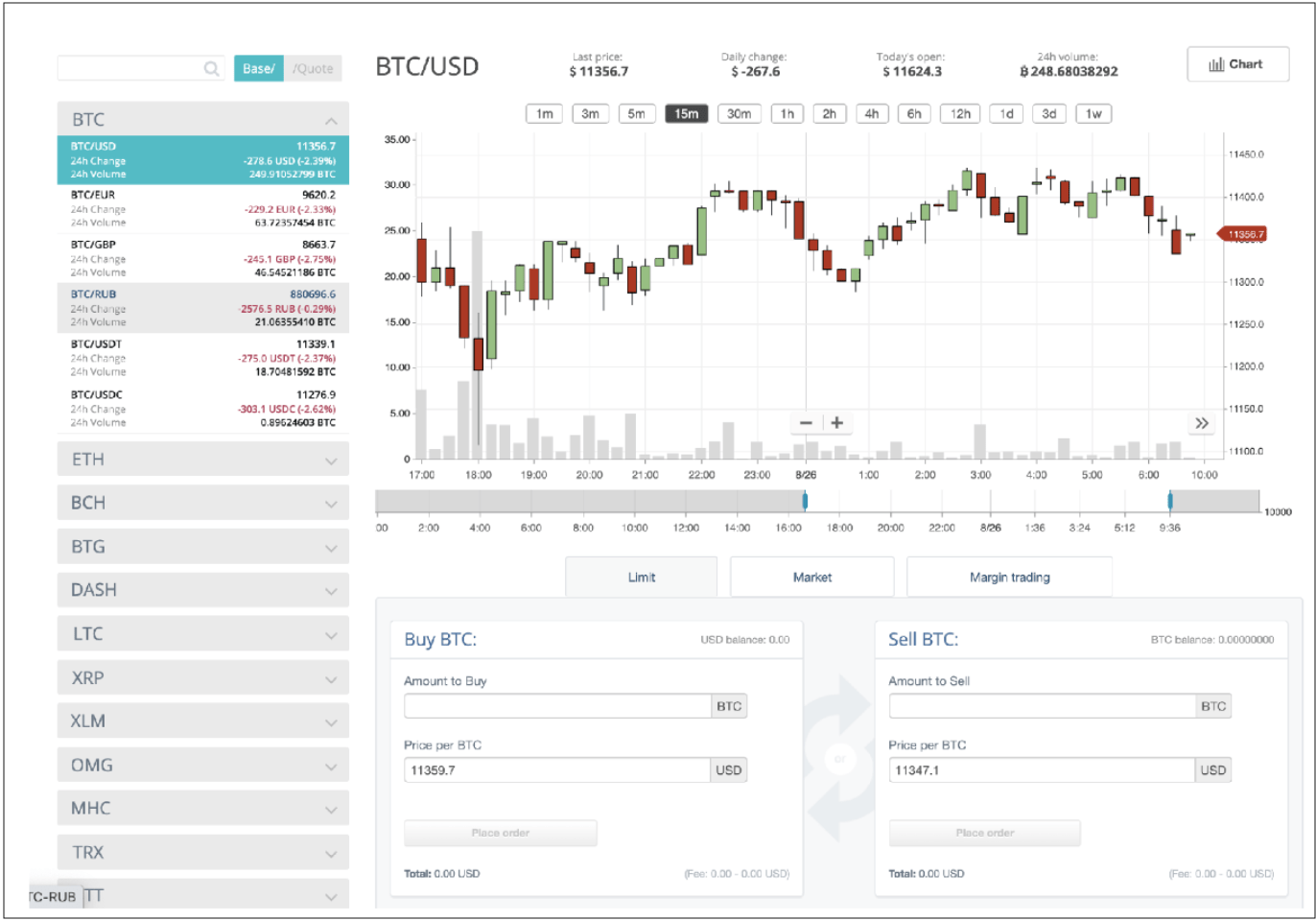 Besides, CEX.IO supports staking for 8 cryptocurrencies (ATOM, XTZ, NEO, TRX, ONT, MHC, ADA, and MATIC).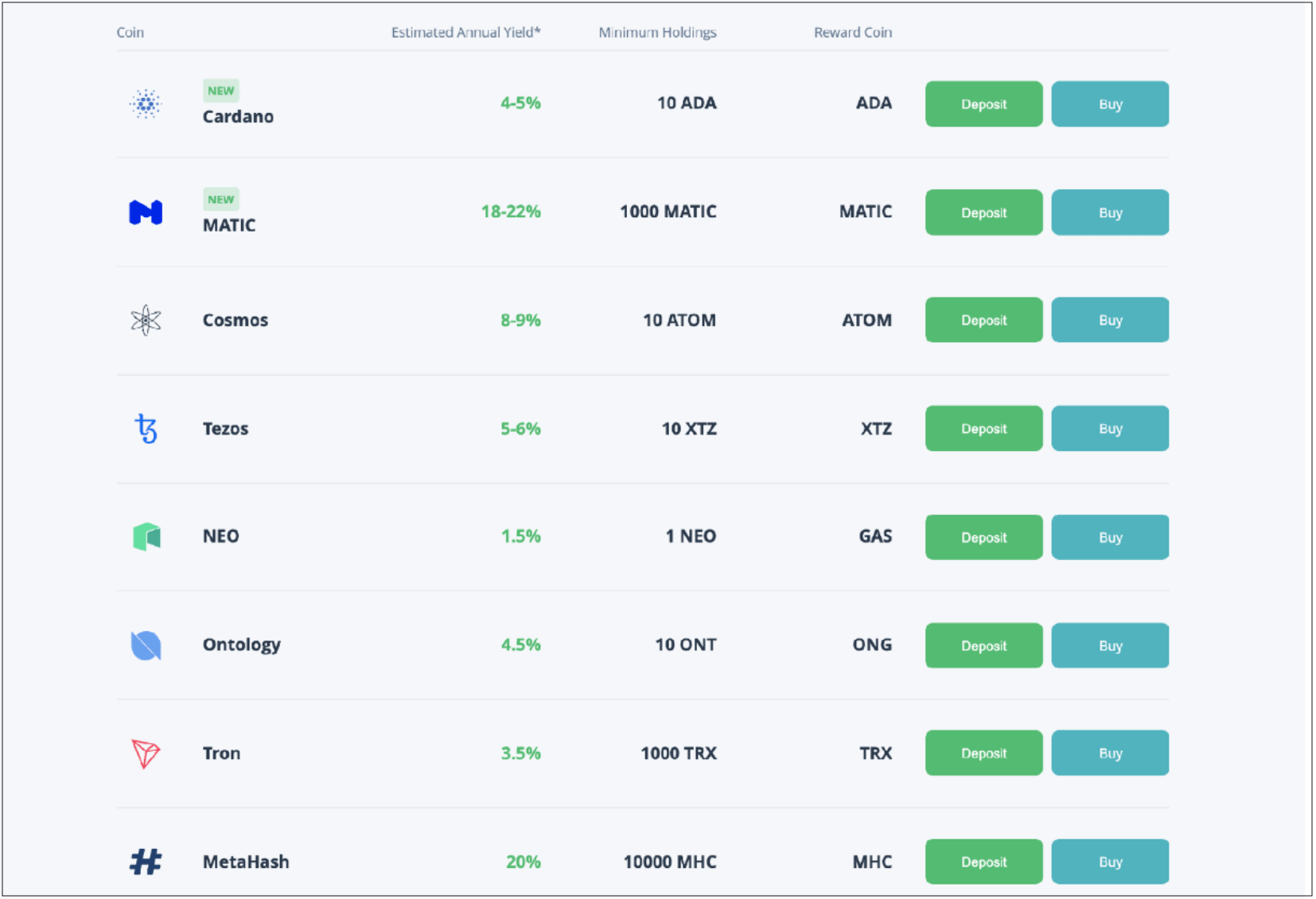 The CEX.IO exchange is quite easy to use. The combination of this user-friendliness and a variety of features and trading tools makes the exchange suitable for both experienced traders and novices.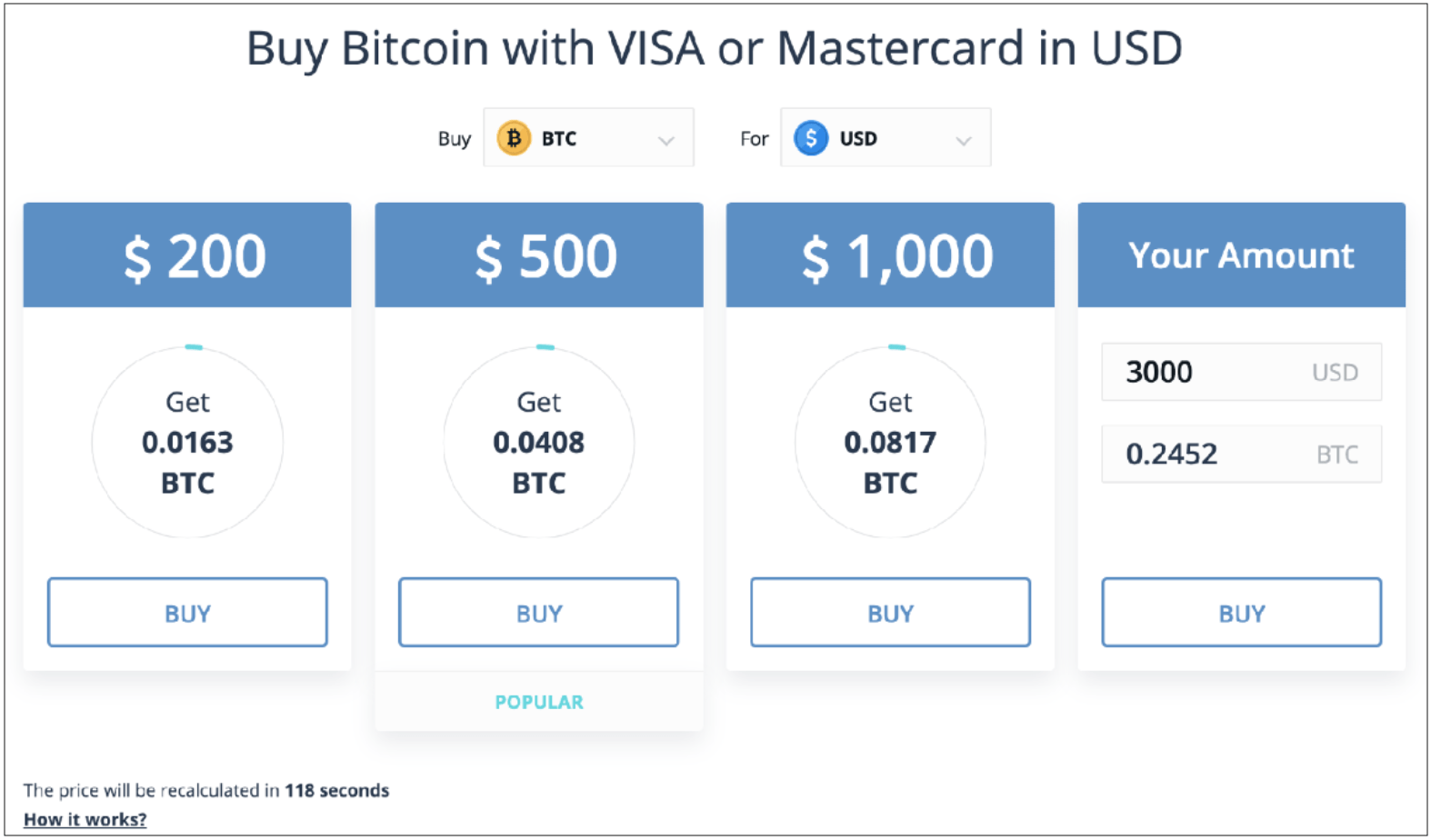 CEX.IO provides a variety of services and options to the customers:
Instant Buy crypto with a credit card available on the Buy/Sell page. It allows CEX.IO users to buy crypto immediately by just providing card information.
One of the simplest cryptocurrency staking. You just deposit stake-abke currency to your CEX.IO account and earn by just holding this crypto on your CEX.IO account.
API tools for REST, WebSocket, or FIX.
Talking about the mobile app, CEX.IO has two versions of it — for iOS and Android. In the mobile app, you can buy and trade cryptocurrencies the same way as you do on a website. It also has some additional features for your on-the-go trading:
Instant Sell option. It allows you to sell your crypto for fiat (USD, EUR, GBP, RUB) in one click and then withdraw your fiat funds to your card or CEX.IO balance.
Instant Exchange where you can convert one currency to another even if there is no direct pair on the platform.
Order notifications to be aware of the status of your trading.
Price alerts that you can use to know when the price matches the desired rate or changes by a specific value.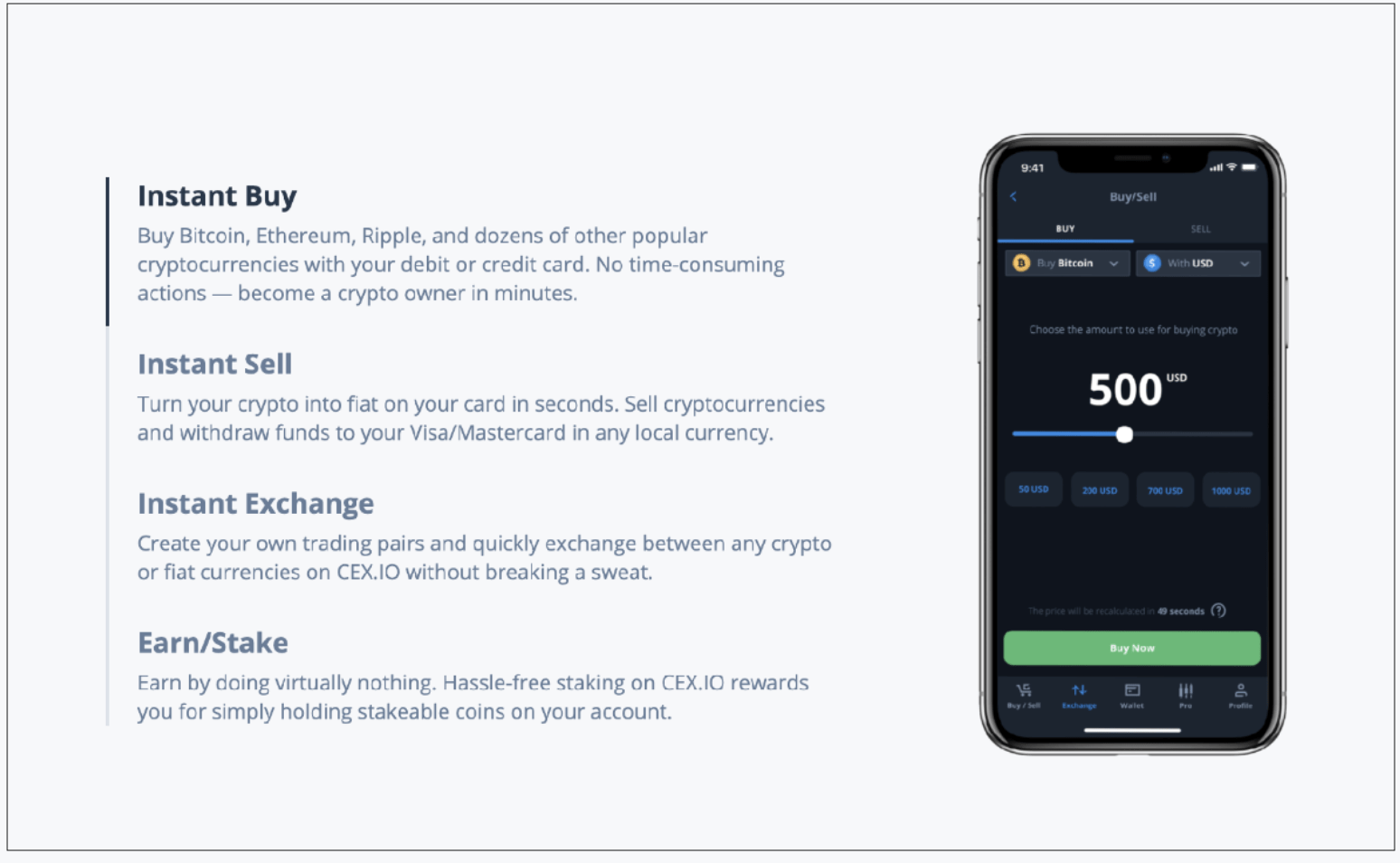 Previously CEX.IO offered margin trading on its platform. In 2020, they introduced a separate platform for digital assets margin trading based on Contracts for Difference (CFDs)— CEX.IO Broker. Currently, CEX.IO Broker (also known under the beta name CEXBro) is in open beta available for users. It offers up to 100x leverage and some of the most competitive trading fees.
CEX.IO payment options and supported cryptocurrencies
CEX.IO provides a range of payment methods. They are debit/ credit (Visa/Mastercard) cards, cryptocurrency, bank transfer (SWIFT, SEPA, ACH, Faster Payments), Skrill.
Debit and credit card payments are convenient and completed almost instantly. Deposits via bank transfers are free. Withdrawal via SEPA, ACH, Faster Payments is also free.
You can deposit and withdraw fiat funds in USD, EUR, GBP, RUB, or any supported cryptocurrency. Availability to certain payment methods in certain countries and territories depends on the local regulations. You can check what payment method is allowed in your country, as well as the fees and account limits, on the Limits and Commissions page.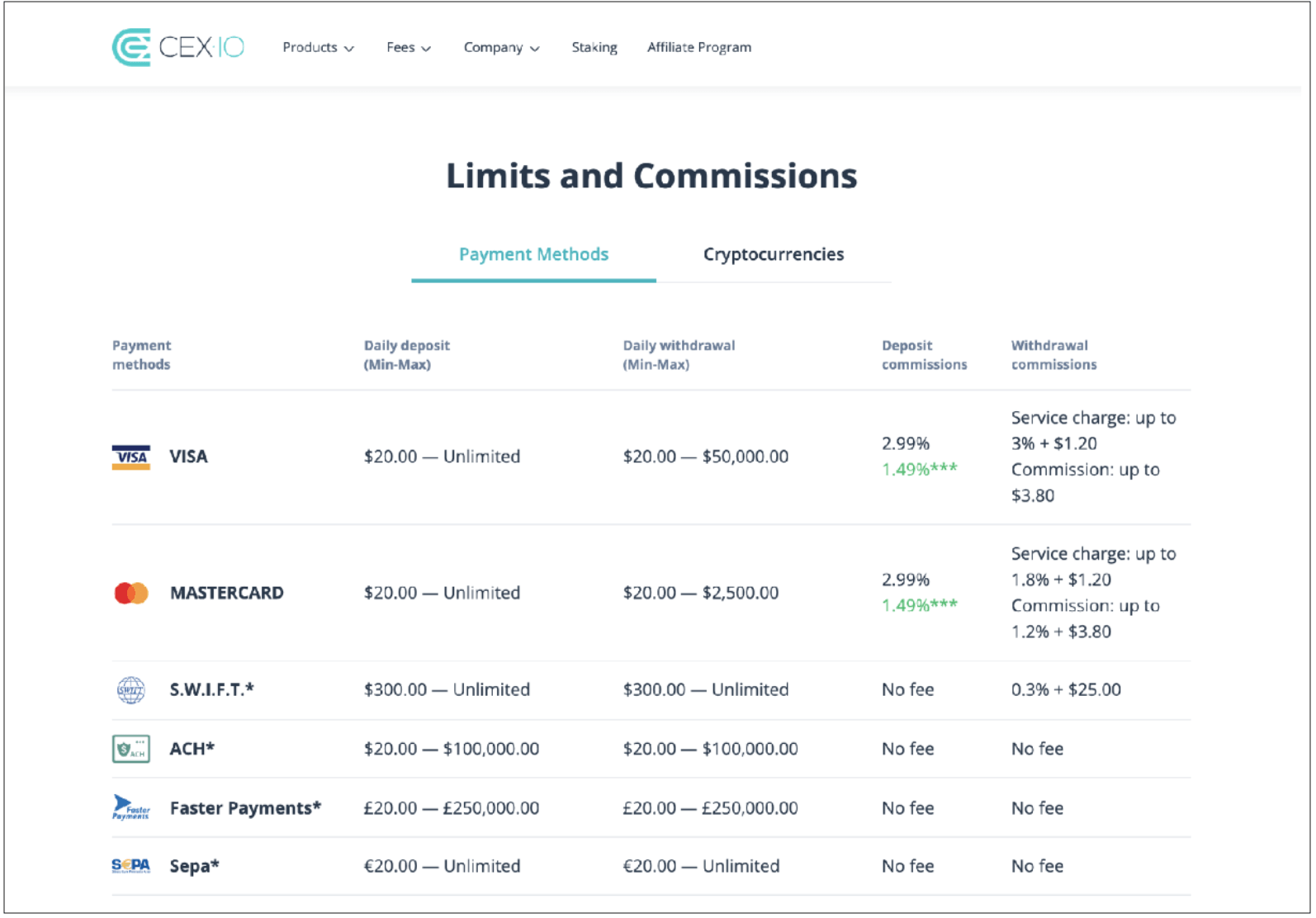 Currently, CEX.IO supports over 25 cryptocurrencies. They include Bitcoin (BTC), Ethereum (ETH), Bitcoin Cash (BCH), Ripple (XRP), Litecoin (LTC), Bitcoin Gold (BTG), DASH, Stellar (XLM), MetaHash (MCH), BitTorrent Token (BTT), OmiseGo (OMG), Cardano (ADA), NEO, GAS, Basic Attention Token (BAT), TRON (TRX), Cosmos (ATOM), Tezos (XTZ), Gemini Dollar (GUSD), Ontology (ONT), Ontology Gas (ONG), Tether (USDT), USD Coin (USDC), WABI, MATIC, LINK, 0x (ZRX), HoloToken (HOT), Compound (COMP), Polkadot (DOT). Golem (GNT). The number of currencies and pairs is growing over time.
How to use CEX.IO
Getting started with CEX.IO is easy and takes only a few minutes. You just need to open an account using your email address, provide some basic information about yourself. Then you'll get an Intro account type with a $100 daily limit for deposits and withdrawals.
For your funds and data security, it is highly recommended to enable 2FA (2-factor authentication) on your account.
With an Intro account, you can buy crypto instantly using your debit or credit card on the Buy/Sell page. The purchased cryptocurrency is credited to your CEX.IO account within minutes.
To increase your account limits, you'll need to pass the verification.
Verification on CEX.IO is a usual KYC (Know Your Customer) check that is implemented by regulated exchanges. Some may find the verification process tedious. However, it's important to understand that by letting the exchange know who you are, you increase your account and funds security. The exchange will know that it's you access your account and initiate financial operations there.Moreover, by verifying customers, the exchange also complies with the regulations of the financial institutions it cooperates. Hence, more convenient payment methods are available.
There are different levels of account verification on CEX.IO. You can find the overview on the Limits and Commissions page: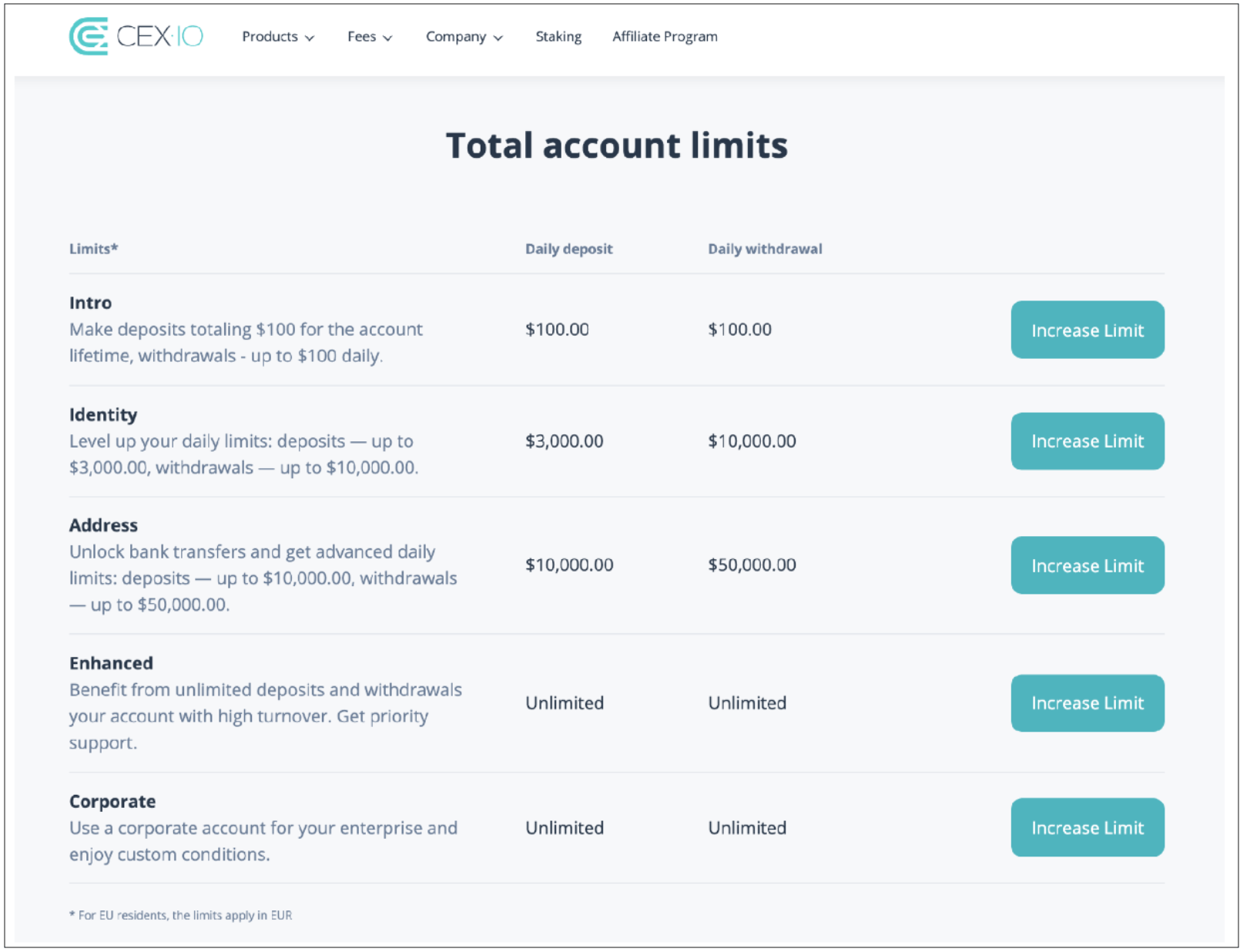 Identity
Identity verified accounts can buy up to $100 worth of Bitcoin. These users can use a payment card or cryptocurrencies to fund their purchases. To apply for an Identity account, you'll need to provide your government-issued identity document and some additional information.
Address
If you want to use wire transfers and deposit $10,000 every day, you need to apply for the Address account type. To do so, you'll need to provide proof of your residence.
Enhanced and Corporate
Enhanced and Corporate accounts have no limitations on deposits and withdrawals. To get an Enhanced account, you'll have to provide some additional information, like your source of income and so on. If you want to open a Corporate account, you'll need to submit official information and supporting documents about your company.
CEX.IO Security and Regulations - Is It Safe To Use?
Is Cex.io really safe to use? Recently, CEX.IO has been ranked the top 10 exchanges by CryptoCompare with an overall A grade. The CryptoCompare Exchange Benchmark rating evaluates over 165 exchanges around the world on different aspects. They are adherence to regulations, platform security, liquidity, asset diversity, senior management team, API connectivity stability and performance, and a number of negative events, while ensuring the necessary transparency in crypto asset trading. CEX.IO received its highest score (12.5 out of 15) for security.
These are some of the CEX.IO security measures:
Two-Factor Authentication (2FA)
SSL encryption certificate
Cold storage for cryptocurrency funds to keep your funds offline
PCI DSS certificate that allows secure processing of card payments
Internal AML/KYC policy and procedures
Also, CEX.IO earned high scores in Market Quality (11.2), Team/Exchange (11.0), Data Provision (10.1), and Legal/Regulation (9.2).
In addition to the CryptoCompare rating, CEX.IO also made into the Coin Metrics list of trusted exchanges. The analytics platform developed evaluate real trends and trading volume, as well as identify exaggerations in public metrics.
Regulations are an important chapter in CEX.IO's life. The exchange works to obtain licences and registrations in multiple jurisdictions.
CEX.IO has received a Distributed Ledger Technology (DLT) issued by the Gibraltar Financial Services Commission (GFSC) and Money Transmitter Licenses (MTLs) in 28 US states and counting. Recently, CEX.IO announced applying for the license with the Monetary Authority of Singapore (MAS) and starting its expansion to the Asian market.
So, trading on CEX.IO you know that you work with a regulated and trustworthy exchange.
Given all that, we can conclude that CEX.IO is a very safe platform.
CEX.IO Fees
CEX.IO trading fee depends on the trading volume and diminishes with the higher volume. Buying or selling crypto using a credit or debit card, though involves higher fees than trading via the platform, is instant and convenient. Users can choose suitable trading options that
meet their trading goals on the exchange.
Deposit and withdrawal fees vary from the payment method. If you deposit using debit or credit card, you'll pay some fees, while deposits with SWIFT, SEPA, ACH and Faster Payments are free of charge. Withdrawals with SEPA, ACH and Faster Payments are also
with no cost.
You can find more details about the fees on the Fee schedule page.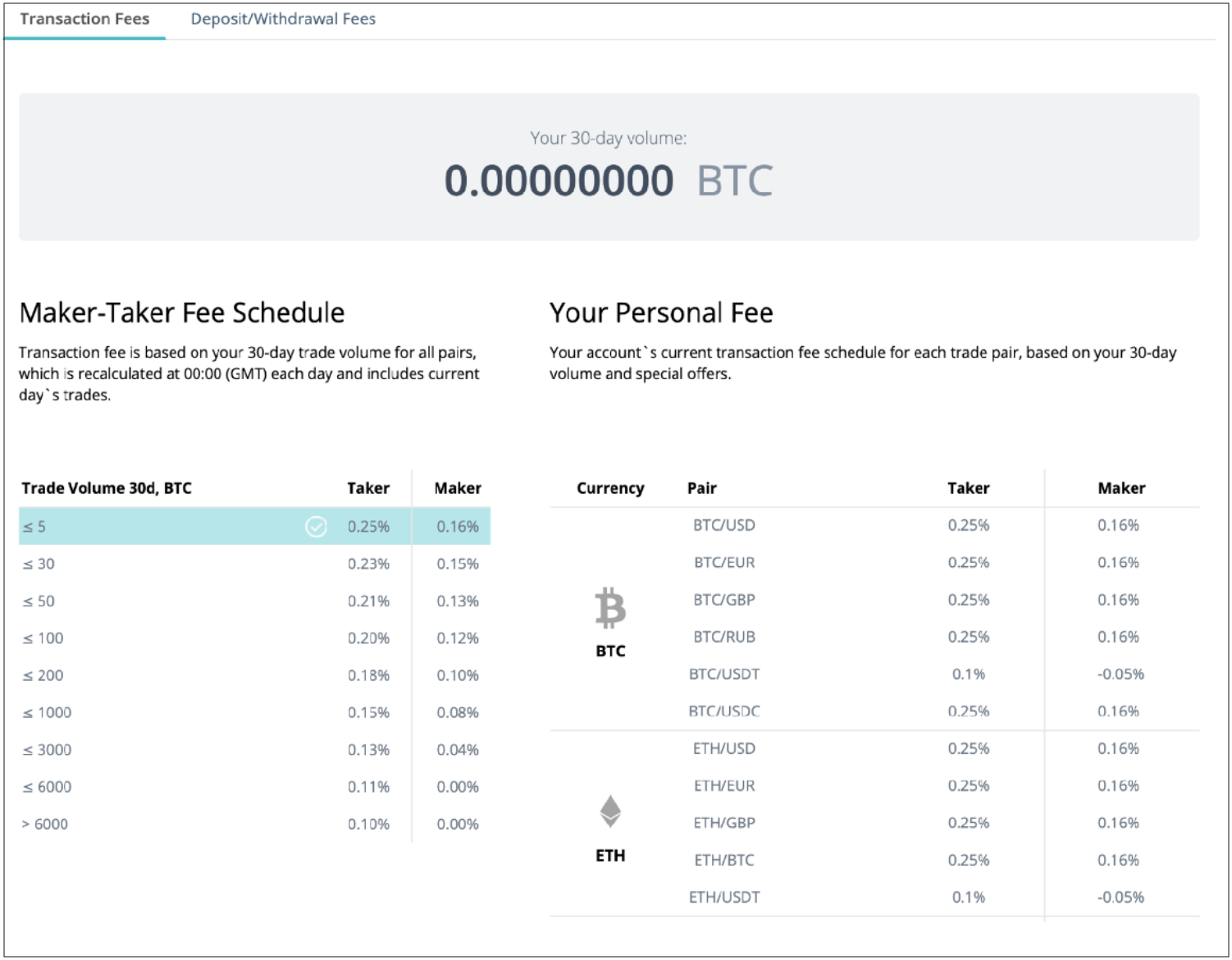 CEX.IO Support
CEX.IO provides 24/7 customer support via several official communication channels. You can contact the support by sending an email to [email protected], or submitting a ticket request, ask general questions in the chat or via phone call. Usually, you get a reply to your email within 48 hours, which is better than some other platforms.
Conclusion
CEX.IO is a platform with deep experience on the market and has a pretty high trading volume. They offer their services in a huge number of countries, support various payment methods. This allows people around the world to purchase Bitcoin and over 30 other
cryptocurrencies.
Their Instant Buy and Instant Sell options offer an easy start for newbies who are just getting around the crypto. It also provides the necessary set of trading instruments for experienced market players.
Bekhelit
12 May, 10:53 AM
Best app for stacking
Meisam Taheri
12 May, 9:28 AM
Your work is excellent. I hope you make more progress soon and add new tokens to your protocol. Good luck to you
Kerry Smith
15 September 2020, 8:57 AM
Excellent service, reliable, instant. Selling crypto with immediate withdrawal to a card is a blessing (when you are suddenly short of funds). The mobile app is super convenient when you are on the go.
CEX.IO Broker (CEXBro) is mega intuitive and easy to use. You can feel like a professional trader in a few minutes after using it.
Mitchell Soldado
6 January 2020, 5:44 AM
I was really worried when I lost my phone and forgot the password, I though I had no chance to give my account back. But the 2fa works great and it was easy and fast. No problem with that at all.
Richard
4 January 2020, 6:27 PM
The verification passed through smoothly, I was allowed to trade within 200$
Bell
1 January 2020, 2:21 PM
I am able to buy crypto with the credit card, that's good news for me. But I can't put up with the fee and some hidden comission. There is nothing illegal I suppose, but isn't fair enough.
Diamond
22 December 2019, 4:24 PM
Cex is working with big volume
Pablo
22 December 2019, 10:04 AM
I like how the verification system looks like. First time, there is no need to present a big number of the documents. There are some levels of the verification, if you are with the 200 $ per day, you can just litteraly creat a login and password, if you need more like 1000 or 4000 then you'll be asked about the passport and so on. That's fair, I think.
Bonn
30 November 2019, 12:48 PM
I haven't noticed that the exchange has some kind of hidden fee for btc. Apart from official fee CEX charges additional percent. There is a tricky thing, they mentioned about it in the terms and conditions, but it's a long document with a lot of unnecessary info. It's a really hard to find the exact thing in it. So, everything is legal, but not fair.
Vasil
25 November 2019, 6:55 PM
Despite the cumbersome procedures I think this exchange is a good one. It provides a good service, tools and analytics. It makes some sense to use it.