Safe Galaxy Crypto (SAFEGALAXY) Review
Mar 27, 2022
With numerous crypto coins showing a decent level of growth over the last decade, more and more coins are unveiling added features and hence luring customers to purchase these coins.
Out of the thousands of different coins, one of the coins that have grown tremendously in a few months is Safe Galaxy. With over trillions of tokens and amassing a market cap of over $21 million, the reign of the coin is far from over. In general, when it comes to different cryptocurrencies, you might have already heard about Bitcoin and Ethereum. Both of these coins have attained a value exceeding several thousand dollars and are expected to keep on growing.
The primary reason behind the growth of these coins is that cryptocurrencies are much more accessible and can be utilized as universal currencies.
Even though cryptocurrencies are often volatile, they can incur and or enable transactions worth millions in under a few minutes. On the contrary, a transaction using your very own local bank is expected to take at least a couple of days.
Now, if you're wondering how to buy Safe Galaxy Crypto or where to buy Safe Galaxy Crypto, you've come to the right place. 
What is Safe Galaxy?
Talking about Safe Galaxy Crypto as a whole, the coin is a deflationary token that works to yield liquidity on the Binance Smart Chain. Moreover, considering that the token is limiting its supply, the coin may grow to be a much more liquid asset over the years to come.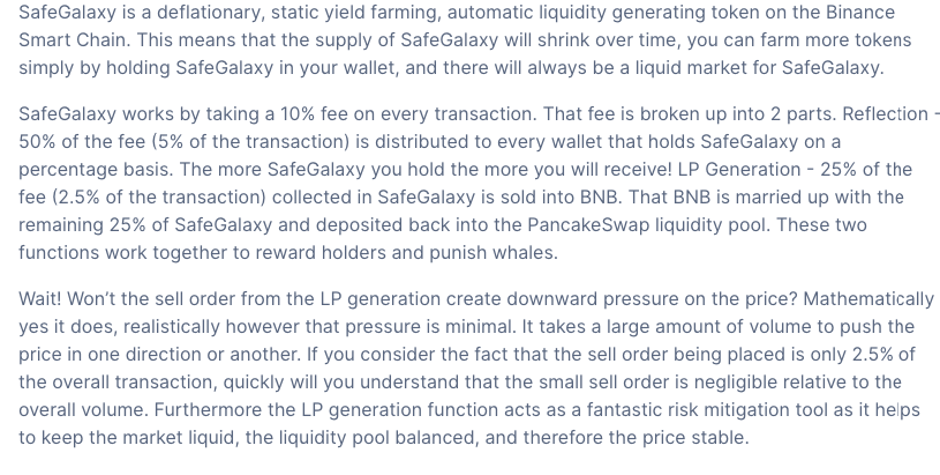 The Safe galaxy project, has been gathering attention over the last year or so. It was launched in March 2021. The founder CEO of this company is Spencer, an individual driven by the want to discover a coin that enables faster transactions.
According to the Safe Galaxy website, Safe Galaxy is a frictionless yield and liquidity generating token on the Binance smart chain. BSC is a branch of Ethereum with additional features that supports its fast performance. Safe galaxy's contract protocol works by applying a 10% fee on every transaction. That fee is divided into two parts – 5% is distributed to all wallet holders, and 2.5% is sold into BNB. The remaining 2.5% pairs up with BNB and are auto-locked in Pancake LP.
This contract provides complete transparency to holders and allows them to include or exclude certain addresses from receiving rewards. The roadmap is divided into 3 quarters listing presale contracts and lances on Coingecko and Coinmarketcap. Furthermore, partnerships and secret projects have also been included alongside the various functionalities of the token.
The Emergence of the Coin
As of March 2022, the Safe Galaxy token currently possesses a market cap of $21 million and the coin possesses over 26,500 holders, with more and more holders to come. Its initial growth can mainly be owed to how the people at Safe Galaxy pay attention to customer queries. In this way, people are more or less likely to resonate with the coin itself.
Based on its start, the coin had a supply of trillions, which was expected to be lowered as more and more of the supply was burned down. 
Safe Galaxy News
As of right now, the news is circulating that galaxy protocol will exchange SAFE GALAXY tokens for GALAXIA in July. They will exchange under the strategy "dollar for dollar." This will run over a minimum span of 6 months. As there is no record of static movements in the past year, no news regarding its revival is yet to be found. Its Twitter account has been demoted to 471 followers from 2.7 thousand in its peak days.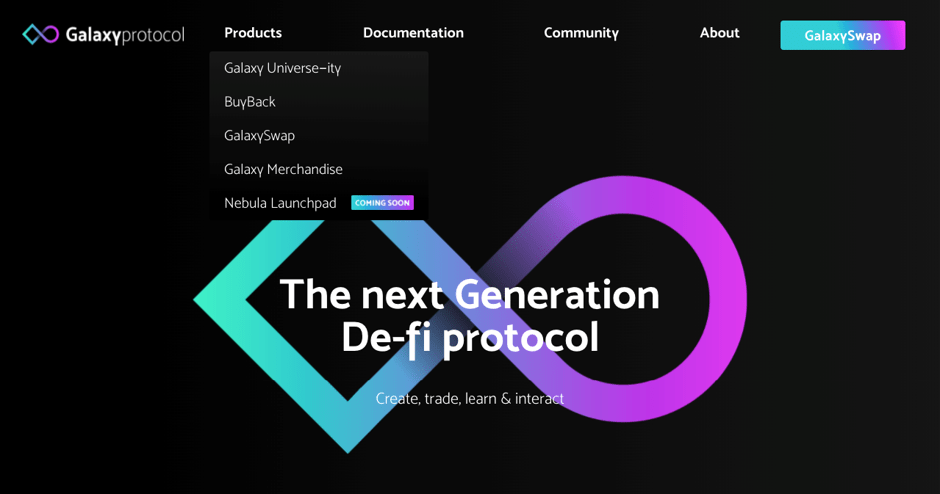 Safe Galaxy Price History
At the time of its launch, Safe Galaxy Crypto Price was said to be deflationary, which meant its supply would shrink over time. Static yield farming means holders are simply required to hold Safe Galaxy in their wallets, and they can profit.
As per the whitepaper, the safe galaxy had a total supply of 1 quadrillion with a reserve of 100 billion. It had more than 26,000 owners. It was said to be a short-term investment, as the company itself disclaimed it a high-risk investment due to high resistance in supply and demand. The team realized this themselves and made Q/A sessions where they answered all questions. Currently, this coin is inactive. The LIVE price of this coin is <0.0000001 USD with a market cap of $0.
Is Safe Galaxy a Good Investment?
According to its whitepaper, the roadmap, Safe Galaxy was about to perform the secret project, Authentic. If we compare Safe Moon whitepaper, this was three times smaller. Technical analysis of Safe Galaxy shows that it reached a peak point of 0.000029 PKR on May 11, 2021. After that, it has been in a constant downfall attaining 0.000001 PKR to date. For the past 1 year, there has been no movement in its momentum.
Furthermore, there is no expected rise in favor of this currency. Although Binance is still exchanging tokens for Safe Galaxy, other platforms such as Coingecko and Coinbase are not in support. Compared to Safe Moon's 40,000 followers on Twitter, the safe galaxy had 2.7000 followers meaning it was not popular. Old investors are already facing net loss without any recovery chances. As the coin is inactive, there can be no further investments. Existing coins are exchanged only.
Should You Consider Investing in Safe Galaxy?
Investing in Safe Galaxy might not be such a wise move after all. Keeping in view how the coin has stopped growing and is not staying consistent with any of the promises that it initially tried to fulfill, the coin may just further deplete over time.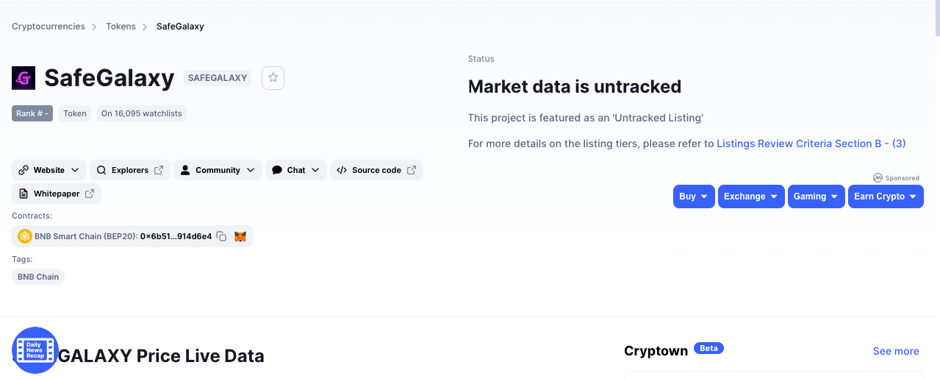 Even then, this isn't confirmed in any way whatsoever. Considering that most crypto coins tend to break out of their set barriers and exceed levels that are unheard of, your Safe Galaxy tokens may just end up reaching the stars, provided that you're just as lucky as the people who purchased Shiba Inu tokens towards the start of 2021.
How and Where to Buy Safe Galaxy?
Safe Galaxy tokens are managed by Galaxy Protocol. To buy the coin, all you need to do is download MetaMask or any other trusted wallet. Then you'll need to set up your wallet. Jump to PancakeSwap and click connect. Copy the token address and set slippage to 11% in settings.
Lastly, enter the amount and swipe. You'll then be good to go. Another method used to exchange Safe Galaxy tokens is buying BNB and exchanging it for the same amount. Furthermore, Safe Galaxy tokens are also expected to be exchanged into Galaxia shortly.
As of right now, Safe Galaxy is not supported by Coinbase or Binance. This is because the coin's future is unprecedented and may or may not grow considerably over time. The coin initially showed a lot of potential. However, time has shown that the coin would not grow as much as analysts had initially predicted. 
As we can see, this project has fallen off rails. The team failed miserably on launching a Galaxy Swap, and they are getting rid of Safe Galaxy altogether. Although the beginning was very promising, the cause of the downfall for the company was solely growth beyond management resources.
Moreover, nowadays, Safe Galaxy is being seen as more of a one-hit-wonder, consequently being labeled as a 'shit coin.' A 'shit coin' is a coin that shows near to no potential as well as no chances of increase based on factual analysis. Investing in such a coin may be highly risky and may only give out a profit if you're lucky. Right now, the holders of this coin are experiencing a considerable number of losses and more.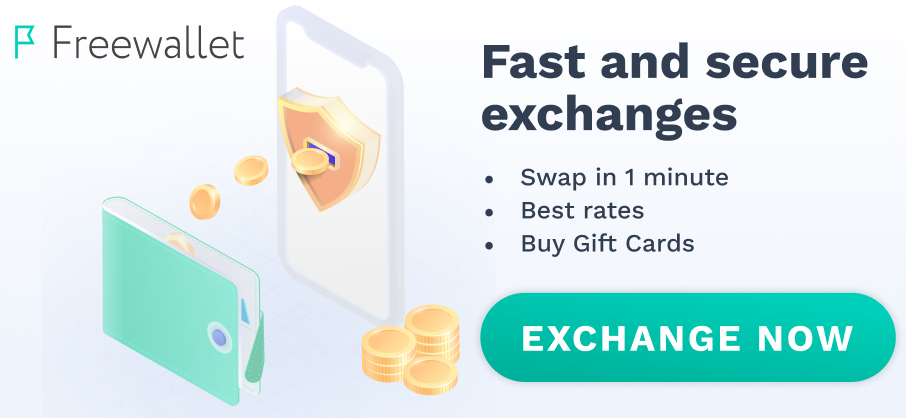 I think this coin is no longer traded on the exchanges