EOSDT Price and Reviews
Market cap:
$ 70,789.60719
Total supply:
170,000,000.0
May 31, 2020
EOSDT is a first decentralized USD-pegged stable coin launched as part of the Equilibrium network. A 1:1 parity with USD is protected. This coin is represented on a number of exchange platforms, including decentralized exchanges and HITBTC, Bequant, Bancor, etc. It's also supported by many wallets. You can buy EOSDT for USD with a bank card, using the MoonPay service.
EOSDT Stablecoin Overview
Equilibrium is the network of smart contracts. Its developers decided to operate on the basis of the EOS mechanism, due to the lower fees and high speed. The project was started in 2019. Thanks to the great popularity of EOS in China, the project's website was also translated to Chinese back in May 2019.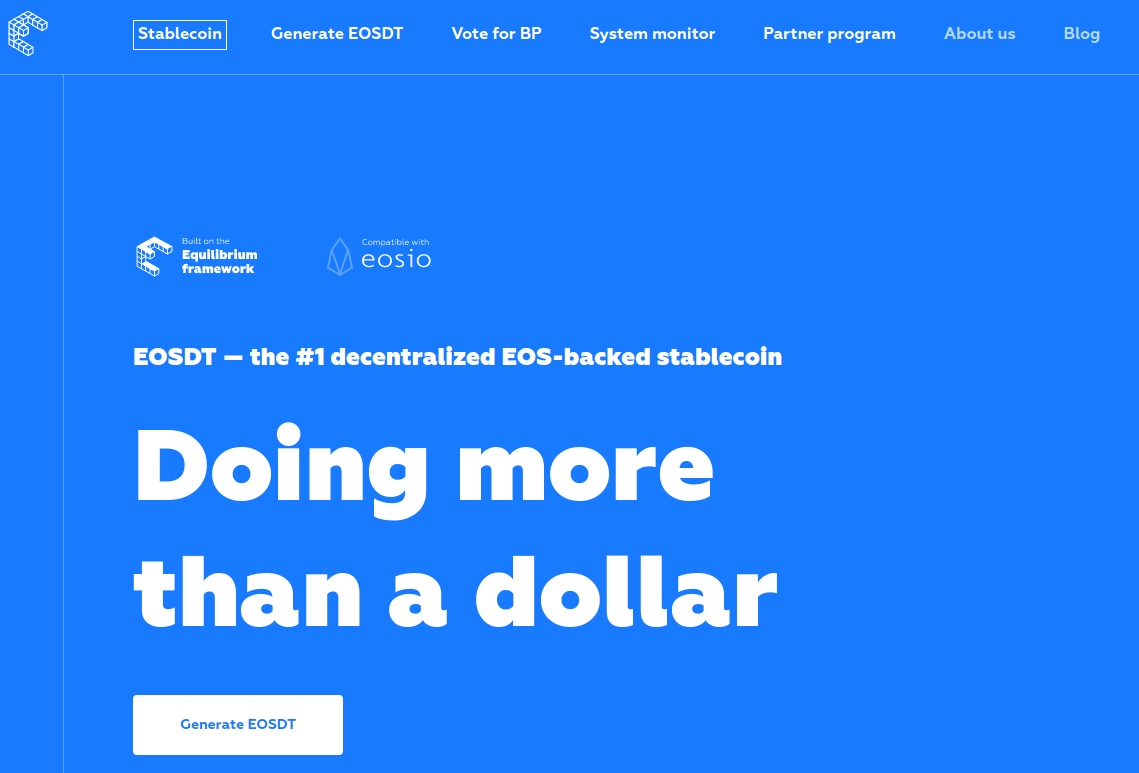 How is EOSDT backed?
The auto arbitrators are spotting price deviations from the peg and implement arbitrage mechanisms for the EOSDT coins. 
EOSDT is backed by users' own crypto reserves (in the form of EOS coins). Using a dedicated self-service gateway, you'll be able to generate your own EOSDT coins. The goal of using this coin is to set market participants free from the uncertainty and negative effects of market fluctuations.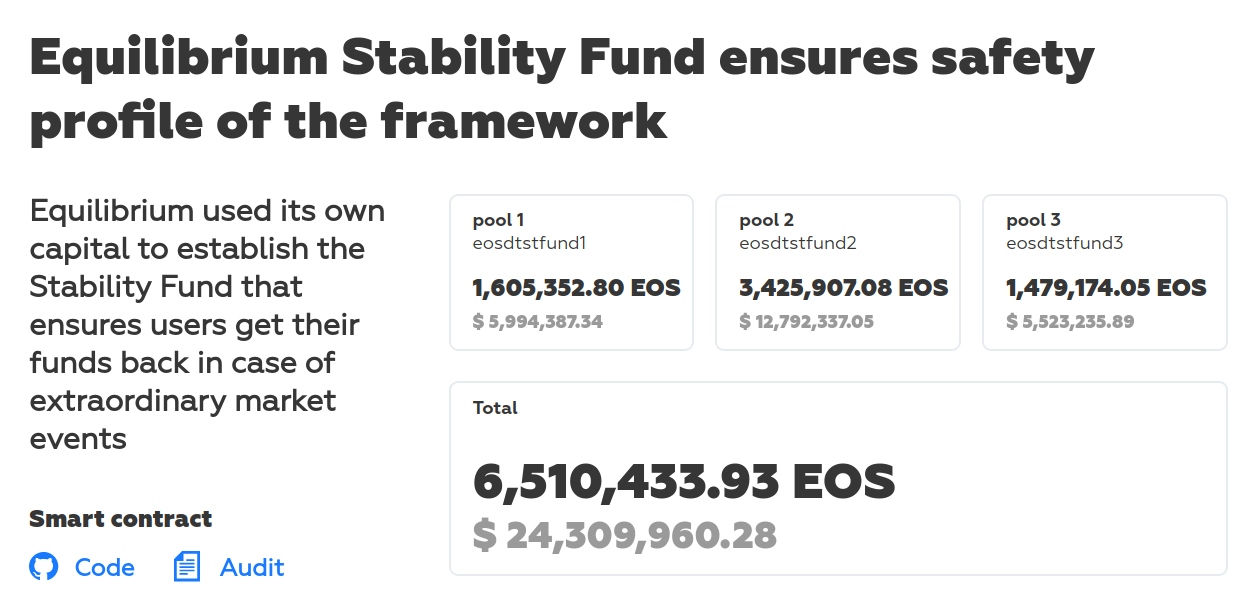 The parity protection mechanism for the coin is based on the 170% collateral requirement. Upon that, a critical collateralization ratio is 130%. Your collateral is being stored on the EOS-based smart contract, which no third-party has access to.
If collateral fails to put a sufficient amount, the liquidation penalty is going to be automatically charged. There is also a stability fund, whose function is to pay the money back to users in the event of unfavorable changes.
At the time of writing this review, the collateralization ratio is equal to 345% in contrast to the minimum required ratio of 170%. Undercollateralized coins are liquidated through the execution of smart contracts. In particular, it is achieved by implementing automated margin calls. 
Whereas the EOSDT coin is backed by EOS, the role of governing token of the system belongs to NUT. Participants also pay the NUT tokens to redeem the fees of the ecosystem. 
How to generate EOSDT?
1. Set the level of collateralization and decide how many coins you are going to lend yourself.
2. Send the respective amount of EOS to cover this agreement.
3. Get EOSDT minted upon your request
4. After that, your task is to maintain your collateralization ratio.
Rewards
The project has a partner program. As compared to average partner programs of other networks, the rules are quite unusual. By enabling the generation of EOSDT in decentralized apps or web applications of partners, they will be rewarded with half of all NUT-based fees paid by the referred users. The integration process is implemented by adding a widget to the partner's application. If you stake EOS or NUT tokens, you'll also get revenue.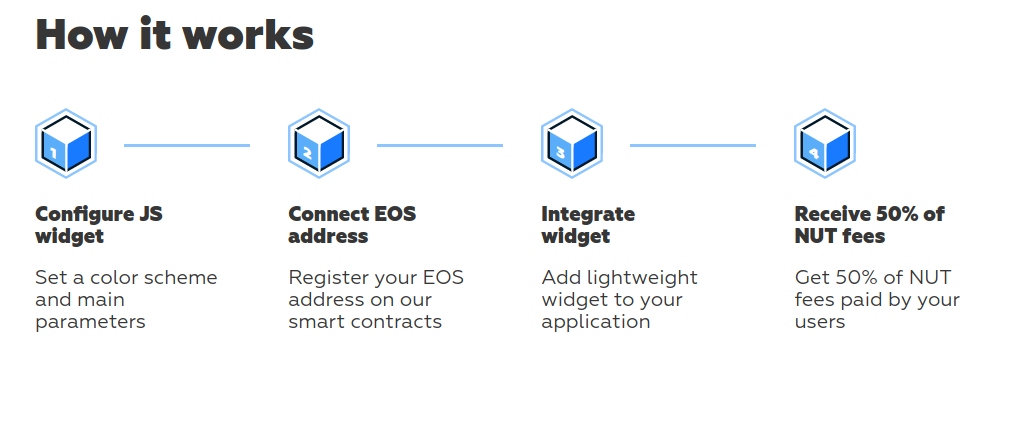 Use Cases
The Equilibrium platform provides you with helpful application scenarios and use cases. One of them is hedging by adding EOSDT stablecoins to your trader's portfolio. Another one is to integrate the Equilibrium payment gateway to roll out the payment system or one of the payment methods. Finally, you can launch the lending system.
Partnerships
Among the partners featured on the project's website, we can find sound brands of exchange platforms, wallets, applications, and information sources. For example, there are Huobi Global, Coin360, imToken, Lynx. 
The team behind EOSDT has recently announced a coming integration with pTokens that will make EOSDT compatible with the Ethereum blockchain.
In November 2019, in collaboration with BlockShow Asia, Equilibrium held Crypto DeFiance event, where leaders of decentralized finance could share their knowledge and experience. 
What's new
The Equilibrium has launched a system monitor dashboard that displays current statistics on EOSDT and NUT. In particular, this is about current supply stats and collateralization level.
The project has partnered with a decentralized trading platform EOSlocally, that will enable support of EOSDT soon.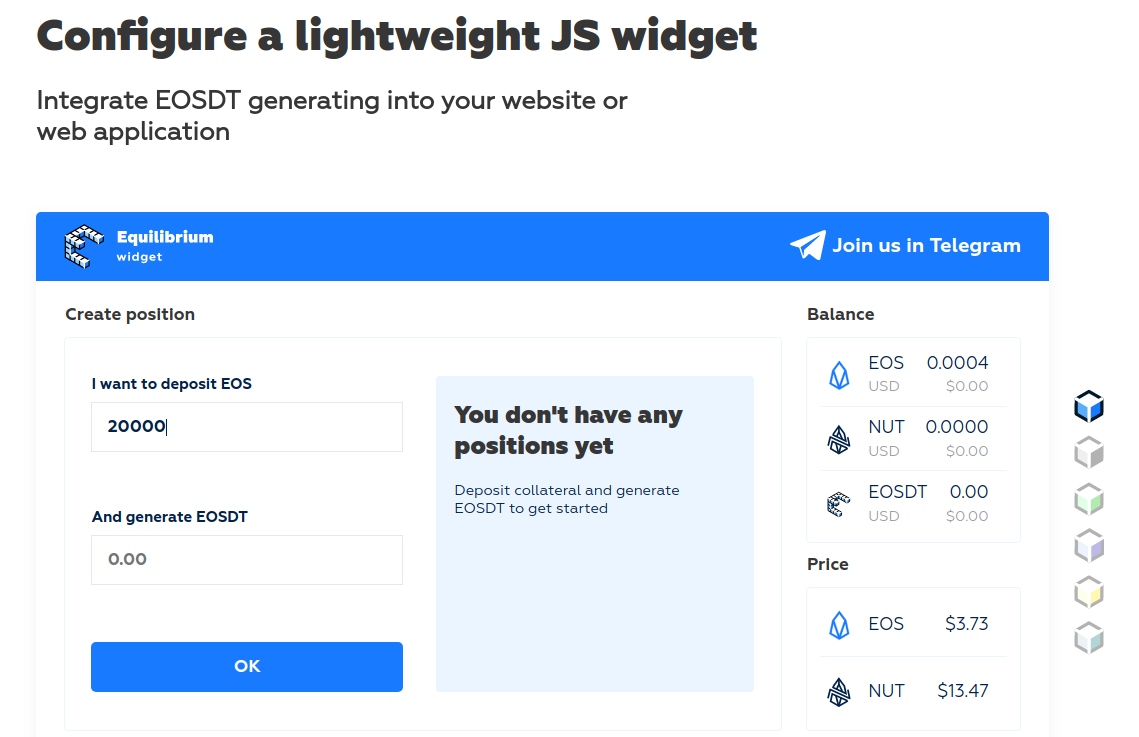 Being a decentralized platform, Equilibrium also focuses on keeping the public discussion on the future and various aspects of decentralized finance. To support this idea, the team is running interview series with tech influencers of the industry. By the way, it's possible to earn 40 EOSDT extra if you have a good question to one of their guests. You can keep up with the EOSDT blog to stay ahead of the curve!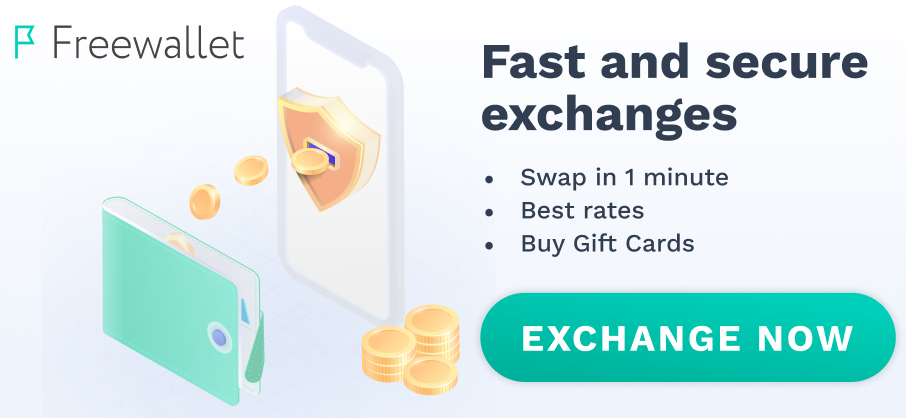 SteelScissors
7 February 2020
It's declared that it isn't volotalie. Well, if it's true, it could be a really good tool to protect some of the funds for the rainy day. It wouldn't give a profit but it could give an assurance. We'll see.
It could be an interesting project, I mean this stable coin. I'm going to take a look on it. As I understand we can use this coin like some kind of protection from losing the funds due to volatility. It may be really useful thing
It perfectly match for a fiat trading, many exchanges don't charge any fee for stable coin deposit and it could be more profitable to use eosdt. Also, it's quite profitable to withdraw them. It will be a much more popular soon I think. It has a low volatility and you can be sure that you don't lose the money. I've made a couple of operations with that and it looks perspective, in my point of view.
It's just a beginning, I suppose. The stable coin is backed by USD and it's good thing to protect the funds. You'll be sure that your money won't just dissapear, like some scum coins. The equilibrium fee is 0,this is really attractive too, I think. Anyway, it could be an interesting project to follow
All the pros of 2.0 blockchains & asset-backed stablecoins. 130% minimal collateralization. 1% APR. Great tool for leveraging & hedging your EOS position