Cameron Winklevoss Net Worth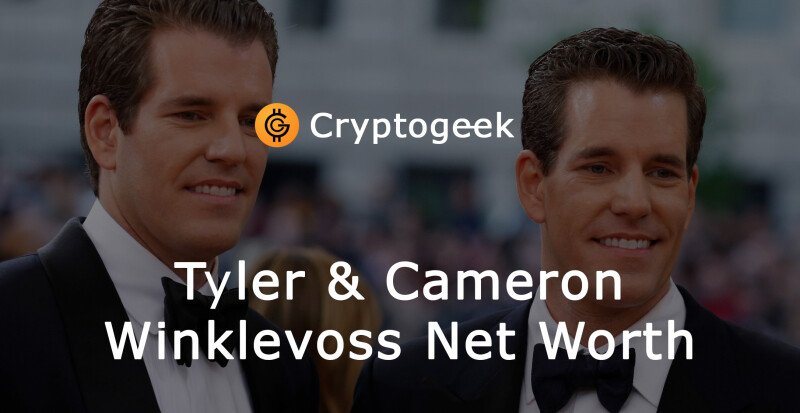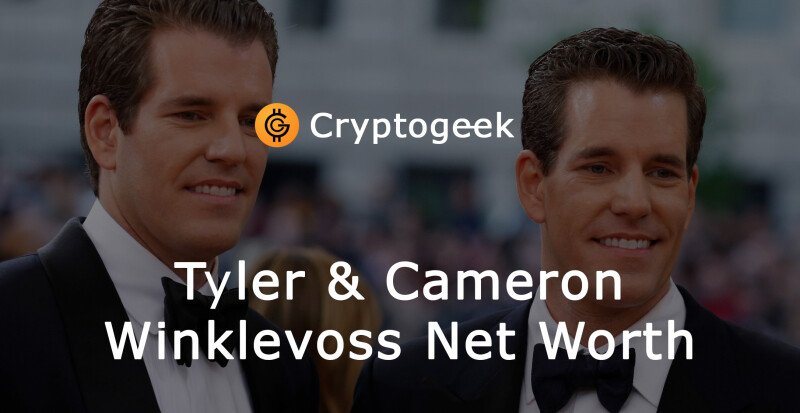 Have you ever had a childhood dream where you wanted a twin who was your other half or a split image of you? While you may not have one, these two brothers certainly have each other.
Cameron and Tyler Winklevoss are identical twins who not only look the same but are mirror images of each other. This means that their replication isn't limited to how similar they look. But if Tyler is left-handed, Cameron is a righty. While one has a birthmark on the right side of the shoulder, the other has a similar one on the left.
This twin duo not only can complete each other's sentences but have the same thought process. With such a similarity and being each other's best friend, this duo has conquered the world of crypto and business. If this dynamic pair intrigued you, read below to learn more about them.
Winklevoss Twins Early life and Education
The Winklevoss twins were born in Southampton, New York, on August 21st, 1981, to Howard and Carol Winklevoss. Shortly after the twin's birth, the family moved to Greenwich, Connecticut, where the twins were raised and brought up.
The Winklevoss twins attended Greenwich Country Day School when they were young. Their similarity attracted people, and they were often stopped on the road to ask them who the older of the two were. Like every other kid, they didn't know the answer because they were twins after all.
After their middle school education, the pair shifted to Brunswick School to continue their high school education. That was when what we can call the legacy of the Winklevoss twins began.
In junior year of high school, the twins started a web designing business. The business, though, got them a few good hundred dollars; the twins shut it down because they lacked time to focus on it. This was because web-designing wasn't the only thing the pair excelled at, but they were engrossed in their academics and participating in various other activities.
While they excelled at academics, soccer, lacrosse, and tennis, their most prominent recognition came from rowing. The pair worked as a team and participated in many national and international rowing events during their high school.
After graduating from high school, Tyler and Cameron went to Harvard to get a degree in Economics. In university, their love for rowing was still intact, and they participated in many competitions and named many trophies to themselves.
However, the main highlight of their time at Harvard wasn't only rowing, but HarvardConnection was what brought them to the limelight.
The Birth of HarvardConnection
HarvardConnection was an idea of a social networking site for the students of Harvard. The twins developed this idea while sitting in their dorm and got help from two seniors for developing the program.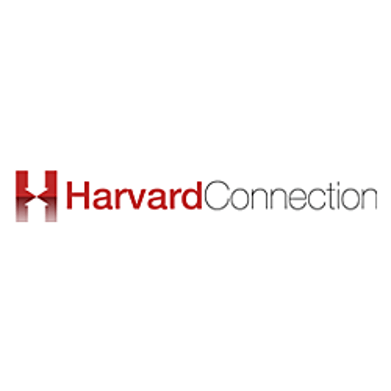 However, both of those seniors graduated, and that was when Mark Zuckerberg came into the picture. Mark was supposed to design the remaining work for HarvardConnection. However, he delayed the work and told the twins that it was in progress.
In between all this, he came out with Facebook.com, and that is when the war began. HarvardConnection sued Zuckerberg for stealing their idea. After years of trials, the issue was finely resolved in court in 2008. The twins got 20 million dollars and 45 million in Facebook stock.
Gemini Exchange – A Popular Name in the World of Crypto
Though HarvardConnection didn't work out, this didn't stop the twins from pursuing their business ventures. After graduating from Oxford with an MBA degree, Tyler and Cameron founded Winklevoss Capital Managements and Gemini Cryptocurrency exchange.
Gemini is what has stood as the highlight of the twins' career among their many ventures. Gemini is a famous cryptocurrency exchange firm known for its security and user-friendly services.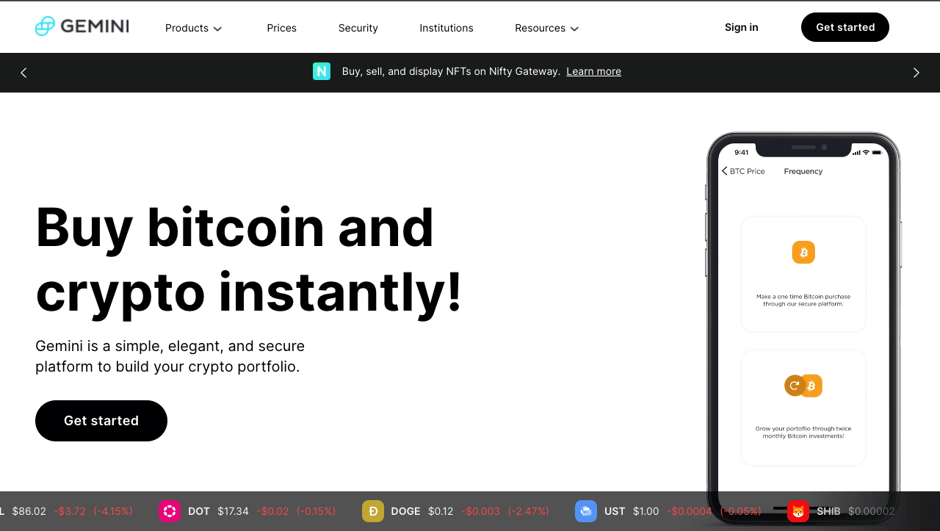 The platform offers its currency called Gemini dollars and allows the exchange of up to sixty different varieties of crypto. This service is accessible through an application and website. Its policy to ensure user safety has led Gemini Exchange to the heights it stands today.
Curious about why Gemini is one of the most popular exchanges? Check out this Crypto Geek article where we tell you all about it.
Cameron Winklevoss Net Worth
Both Tyler and Cameron have achieved a lot working in many ventures together. However, there are businesses in which they have worked alone too. While co-owning Gemini and other ventures with his brother, Cameron Winklevoss has also worked in an initiative called "Guest of a Guest."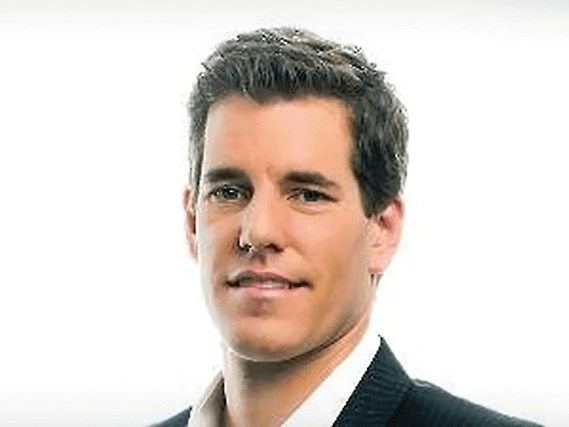 This particular website solely focuses on the nightlife and parties the United States offers and is an excellent place for both locals and travelers to search through. All his ventures combined make Cameron Winklevoss net worth stand at $3.8 billion.
After knowing all this, there is no denying that Cameron Winklevoss has come a long way. He started from scratch and made a name out of himself based on his determination and hard work. If he had given up after the mishap of HarvardConnection, he would probably be leading a completely different life.
Cameron's life stands as a great lesson on how one should pursue their dreams despite continuous and impending failures. This is because success will for sure knock on your door at one point.
Tyler Winklevoss Net Worth
Like his brother, Tyler Winklevoss net worth results from his utmost belief and determination. He began from nothing and literally became everything. Tyler Winklevoss net worth stands at $3.8 billion today.
Among his many ventures, out of which Gemini is the highlight, Tyler still enjoys other activities too. He still loves rowing and is investing in many online currencies. All this, when considered, makes Tyler not only a great businessman but someone who takes time out for the activities he enjoys as well. This is one excellent quality a business person should have and why Tyler and Cameron are doing so well.
However, while the twins are doing exceptionally well individually, together, they are a force to be reckoned with.
So what's the Winklevoss twins' net worth combined?
When combined, Tyler and Cameron Winklevoss net worth make up a hefty amount. However, the twins deserve each penny from it. The Winklevoss twins' net worth stands at an estimation of $26 billion today.
This net worth results from some smart decisions and their equally working and pretty great business minds. Not only did they earn money from participating in rowing competitions when they were young, but their early investments in Bitcoins and its rise now, and their business in Gemini helped them climb the ladder of success and turned them into millionaires.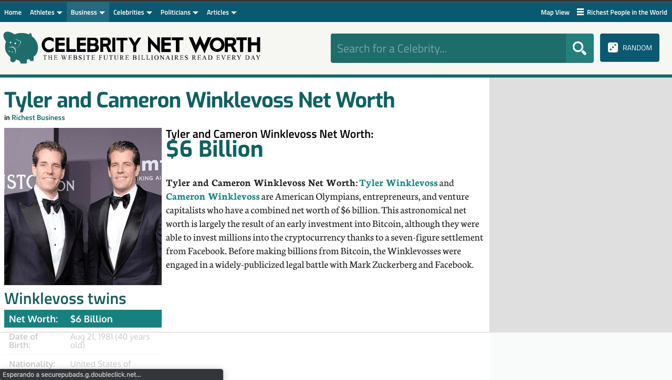 However, one thing which makes the public love this identical pair even more, is their humbleness and philanthropic nature. The twins do not take all the success and money they have for granted and carry their hearts on their sleeves.
The pair has donated hefty amounts to organizations, associations, and people in need in many instances. They believe that what they earn should be used to help the world. Hence, Tyler and Cameron's Winklevoss net worth is something they not only deserve but also put to good use.
Conclusion
You definitely get a best friend in the form of a twin, and the Winklevoss twins are proof of this. Not only had this iconic duo helped each other in school when they were young, but they became rowing partners and now are successful business partners too.
The life they have is an example of how sheer determination, hard work, and a tad bit of luck can change your life around. They developed an interest in the business from their father's venture. This interest, combined with their early investments in crypto, led them to form one of the leading businesses in the United States.
Gemini, for sure, has been a fantastic initiative that changed the twins' life; however, their support for each other is what brought them to the point they are at.
---
---